The Absolute Best Blue Gray Kitchen Cabinet Paint Colors for 2023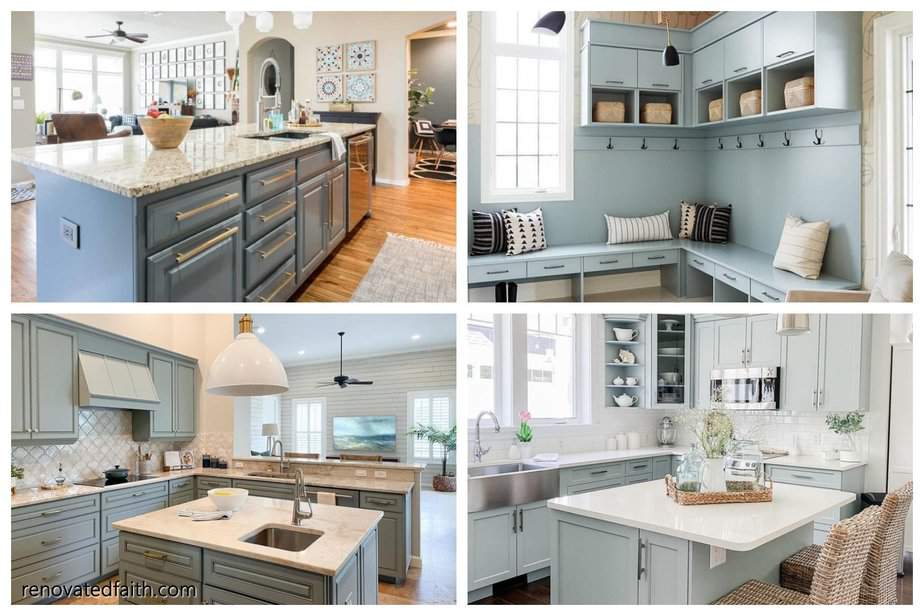 Blue Cabinet Paint Colors That Add Life To Any Kitchen
Add personality and style to any kitchen with this guide to the most popular blue-gray kitchen cabinet paint colors!
---
Blue-gray paint colors are such a popular choice for kitchen cabinets because they have the unique ability to add color to any dull kitchen but still blend in like a neutral to any color scheme.
Because not all blue-gray paint colors are equal, I'll show you which are the best option for your kitchen colors and size. Included are tips for knowing when to paint all of your kitchen cabinets a blue color or just the island.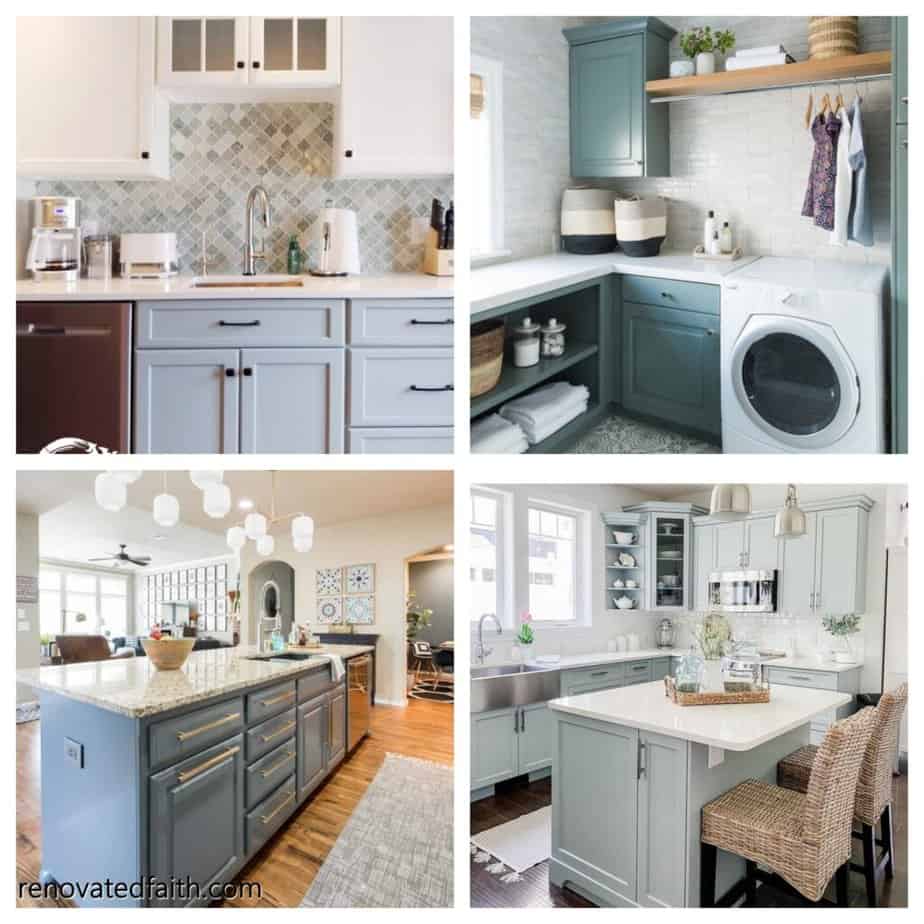 Picking the best blue-gray color choice for your cabinets is so simple with these helpful tips and this list of over 30 of the most popular paint colors in this category.
LET ME SHOW YOU:
Why these popular kitchen cabinet paint colors are not just trendy but also reliable colors that blend well
Different shades that will work well for your own home and coordinate with the rest of your kitchen
The best brand of paint to use on your kitchen cabinets and the right way to paint them yourself
Why you don't have to carry so many of life's burdens in this week's Renovate Your Faith devotional at the end of this post.
(As an Amazon affiliate I earn from qualifying purchases. I only use affiliate links for products I use and love. Please see my full disclosure HERE).
Is blue a good color to paint kitchen cabinets?
Not only is blue a popular color to paint kitchen cabinets but it has an amazing ability to blend in with the rest of your kitchen and act like a neutral paint color.
To take a look at the color psychology of blue-gray paints, they give any room a relaxing and laid-back feel while still infusing fun and life into a kitchen without being over the top.
RELATED: The 33 Most Popular Colors for Kitchen Cabinets | How To Pick The Best Shade of White for Cabinets
What shade of blue is good for the kitchen?
The best blue paint for a kitchen is one that has a gray undertone. Unlike a royal blue cabinet paint, the neutral gray undertones of these blue paints promote a relaxed serene feel in any kitchen. The gray gives these colors a laid-back feel, where brighter blues would be too stark or jarring to the feel of your kitchen.
Some of these paint shades will lean harder toward blue and others will lean more toward gray, but even when someone says "blue" cabinet color, they more than likely want a blue-gray.
What colors go with Blue-gray cabinets?
The flexibility of blue-gray paint colors is mind-blowing because when blue-gray colors are paired with brighter colors, they act as neutrals!
Blue-gray paint colors also have an unexpected ability to coordinate well with black, white, and especially wood tones.
No other color is as adaptive as an accent OR a neutral in any room as blue-gray paint colors. Until now, blue-grays were most common in bedrooms and bathrooms but now they are trending in kitchens. And that makes sense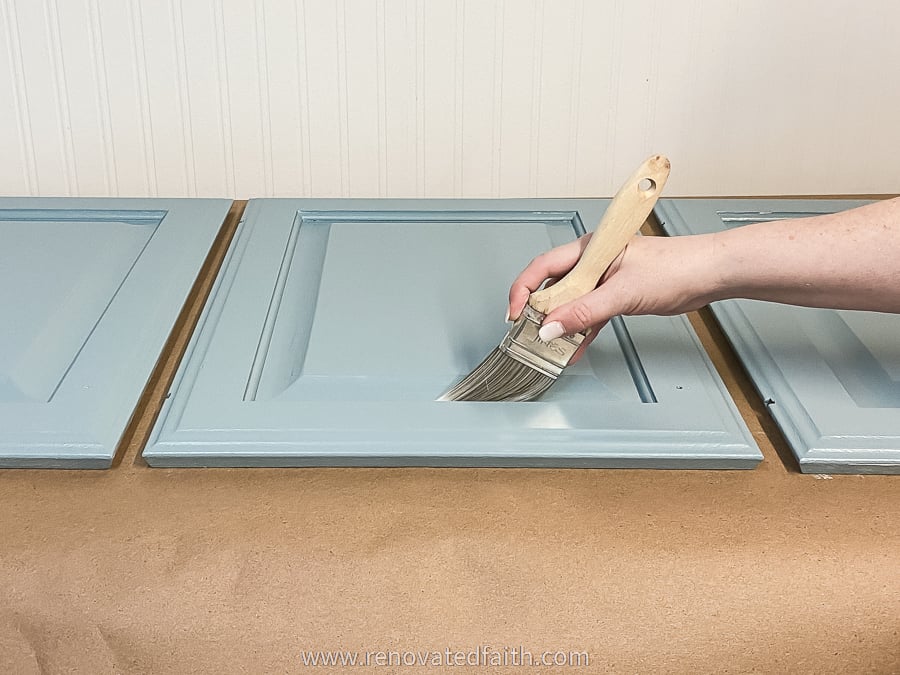 What is the Best Blue Grey Paint Color for Kitchen Cabinets?
As I mentioned, some shades can lean more towards blue and some more towards gray. Whether you pick a grayer shade or a bluer shade depends on exactly where you are putting the color – on all the cabinets or just the island.
The Undertones of Blue Cabinet Paint Colors
To make matters more confusing the blue can have an undertone itself. A Blue-gray can have green undertones which give the kitchen a coastal, beachy, spa-like feel that is still inviting although it's not warmer. Accessories and furnishings are really easy to coordinate with a blue-grey with green undertones.
Sometimes a blue-gray can have purple undertones, which is not quite as flexible but when the purple undertone is subtle, it can make for a really fun look that's not too unexpected or stark.
HOw TO Paint Your Own Cabinets Like a Pro
Where to Put Blue Gray Kitchen Cabinet Paint COlors
Should I Paint All My Cabinets Blue or Just the Island?
If you want to paint all of your cabinets in a blue-gray, go with a color that is predominantly gray. Since the cabinets comprise such a large part of your kitchen, going with a more neutral shade (with more gray) will be a subdued but still a gorgeous color change.
If you go with a bluer gray for all of your cabinets, such a large area in a color that's even slightly brighter can be too over-the-top or stark.
With truer blues, a little can go a long way and sometimes having these bluer shades on all your cabinets can be too overpowering. Examples of shades below that lean more gray are Benjamin Moore Boothbay Gray, Benjamin Moore Kendall Charcoal and Sherwin Williams Software.
If you have your heart set on a bluer blue-gray, consider just painting the island in that color and painting the rest of the cabinets white. This is what I did with my kitchen below and it allows you to add personality without the blue being too showy. Examples of shades below that lean more toward blue are Benjamin Moore Van Courtland Blue, Benjamin Moore Nimbus Blue and Farrow & Ball Hague Blue.
A painted kitchen island creates such a nice focal point especially if you have a light backsplash and cabinet color. Also, painting just your island blue is a great compromise between the traditional style of white cabinets and a trendier color on all your cabinets that could be too overpowering. It still gives a nod to the trend of brighter colors in the kitchen without going "all in".
A blue-gray island with neutral cabinets is also great for resale or if you get bored with the blue island. The island color of a kitchen is so much easier to change than the paint color on all the cabinetry.
What about painting just the uppers or lowers in a blue-gray?
Painting half and half can be hard when it comes to balancing color tones so one color doesn't overpower another. If you paint just the island blue, it can still be considered a focal point or accent color that isn't too overpowering in a room.
Navy blue cabinets can be great but you have to make sure you execute well. Dark blues can dominate and suck all the natural light out of a room, making the kitchen feel very dark if not black. If you go with dark blue cabinets, balance them with light floors or walls and make sure you have enough natural light coming into the kitchen.
Another downside of dark cabinets is that they show fingerprints, dust, and food much more easily than lighter colors. Especially for small spaces and small kitchens, consider a light blue to set a cool but light and fun tone for a kitchen.
THE ABSOLUTE BEST PAINT FOR CABINETS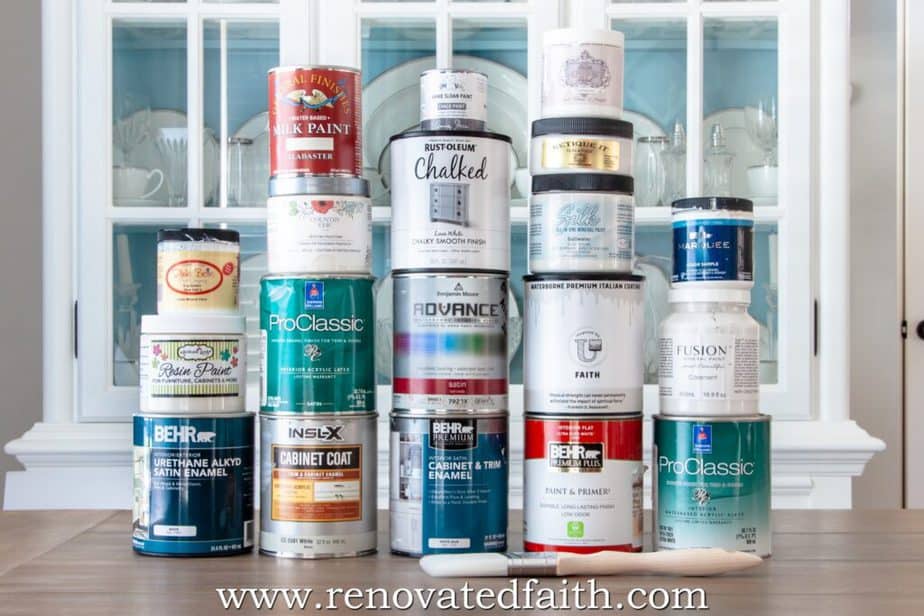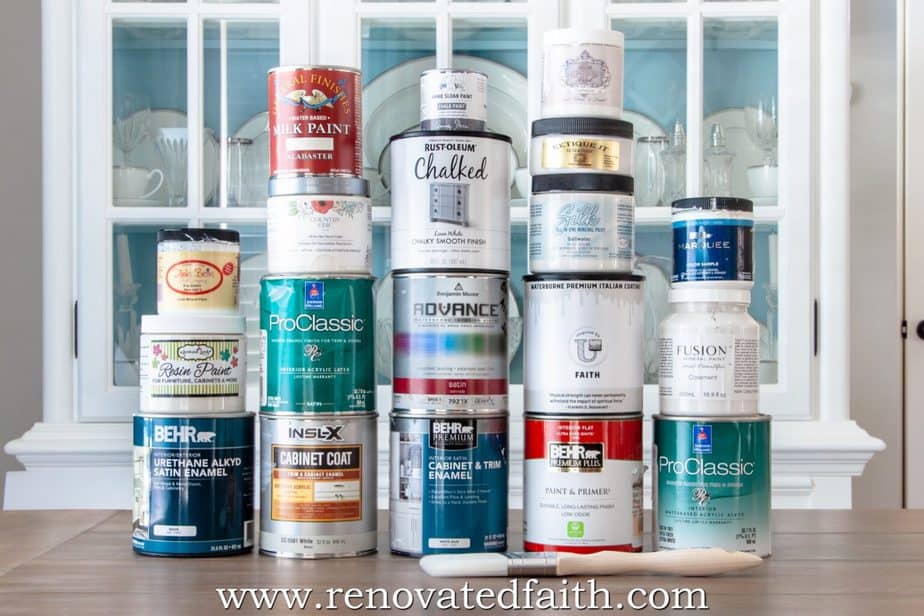 The Best Blue Gray Paint Colors, 2023
Remember, if you find a shade you like but it's in another brand than the actual paint you want to buy, most paint stores have other brands' color codes on their computers:
Blue Gray Paint Colors Benjamin Moore
The kitchens below are painted with various shades of Benjamin Moore blue paints for kitchen cabinets. Some have more or less gray but there are several options along the gray-blue spectrum so you are sure to find the perfect blue-gray paint color for your kitchen.
Benjamin Moore Boothbay Gray
Benjamin Moore Boothbay Gray is a design staple for modern blue grey kitchen cabinets. It's a beautiful gray color with subtle but still detectable undertones of blue. Shore Style Living did a gorgeous job of integrating the stainless steel farmhouse sink to help the blue undertones really pop without being too obvious.
This laundry room by KMD Designs would even make doing laundry enjoyable. I love how Boothbay gray looks with the brass knobs and crisp white subway tiles.
This kitchen shows how BM Boothbay Gray coordinates well with creamy whites also making it a very versatile blue-gray paint color.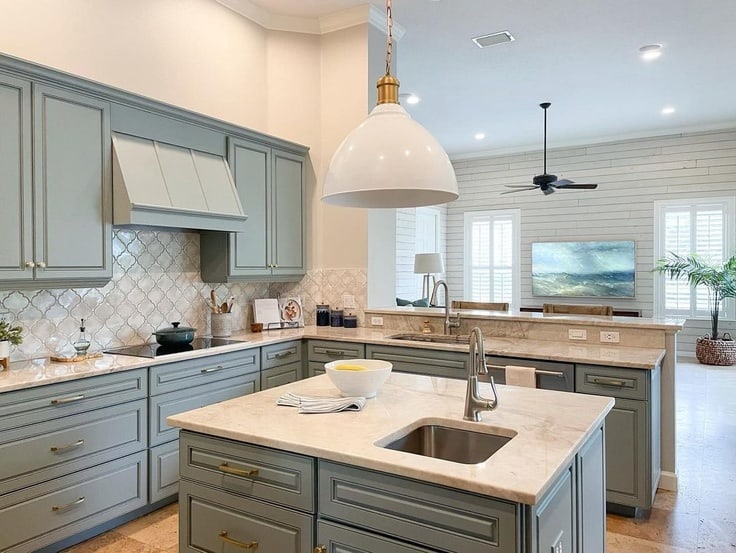 Benjamin Moore Water's Edge
Benjamin Moore Water's Edge is such an elegant Old World blue-gray that is on the dark side with an LVR of 31.48. If you want a deeper blue-gray cabinet paint color, a great option as it also has a subtle green undertone that makes the color more calming even though it's not a warm color.
Pine Wood Homes knocked it out of the park with Benjamin Moore Water's Edge on this bathroom vanity.
The Best Blue Grey Kitchen Cabinets with Black Granite
Benjamin Moore Water's edge is one of the best blue-gray paint colors for black countertops. It coordinates well with dark colors while still conveying a light and airy look. The Styled Nest Interiors opted for a white tile flooring to contrast with the dark counters and cabinets.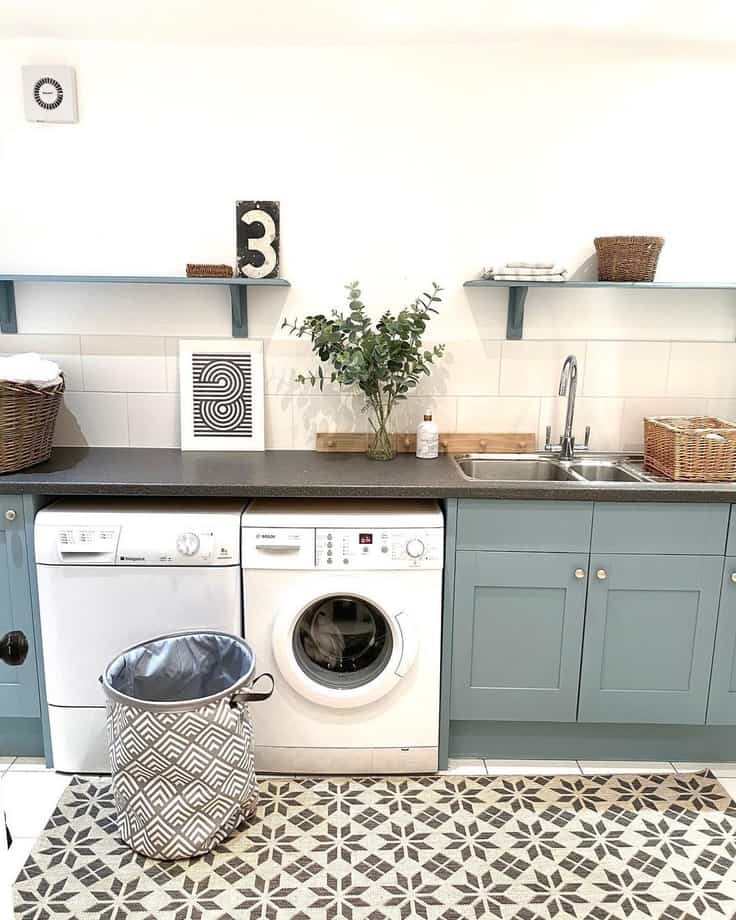 This kitchen shows how grounding Benjamin Moore Water's Edge looks on the lower cabinets with Sherwin Williams Pure White on the uppers and Sherwin Williams Repose Gray on the walls.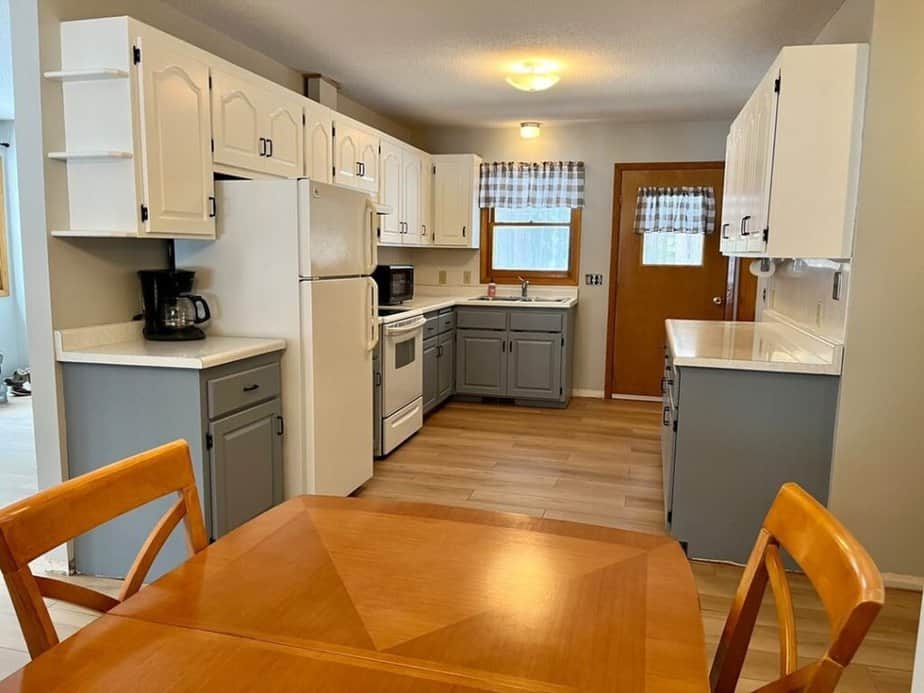 Benjamin Moore Van Courtland Blue
With my kitchen cabinets, I wanted a pop of color so I knew I wanted a blue-gray kitchen cabinet paint color that was heavier on the blue undertones. Benjamin Moore Van Courtland Blue proved to be a great option that was not too bright. My cabinet color is Sherwin Williams Alabaster. To see how to paint your cabinets like a pro, be sure to check out this post: The Ultimate Guide To Painting Your Cabinets for Beginners (With Professional Results)
RELATED: How Much It Costs to Paint Kitchen Cabinets (DIY or Hire a Pro?)
Here is Benjamin Moore Van Courtland Blue on a bathroom vanity cabinet, which looks great against a crisp white countertop.
Benjamin Moore Kendall CHarcoal
Benjamin Moore Kendall Charcoal is a gorgeous color option if you want the look of dark gray cabinets with a subtle blue undertone. Mavena Designs did a great job coordinating the Repose Gray walls and white oak floors.
Gray cabinet colors are a great alternative to soft black because they still allow for a light and airy look. But even with grays, you want to make sure to have enough contrast by using a lighter wall color or flooring material.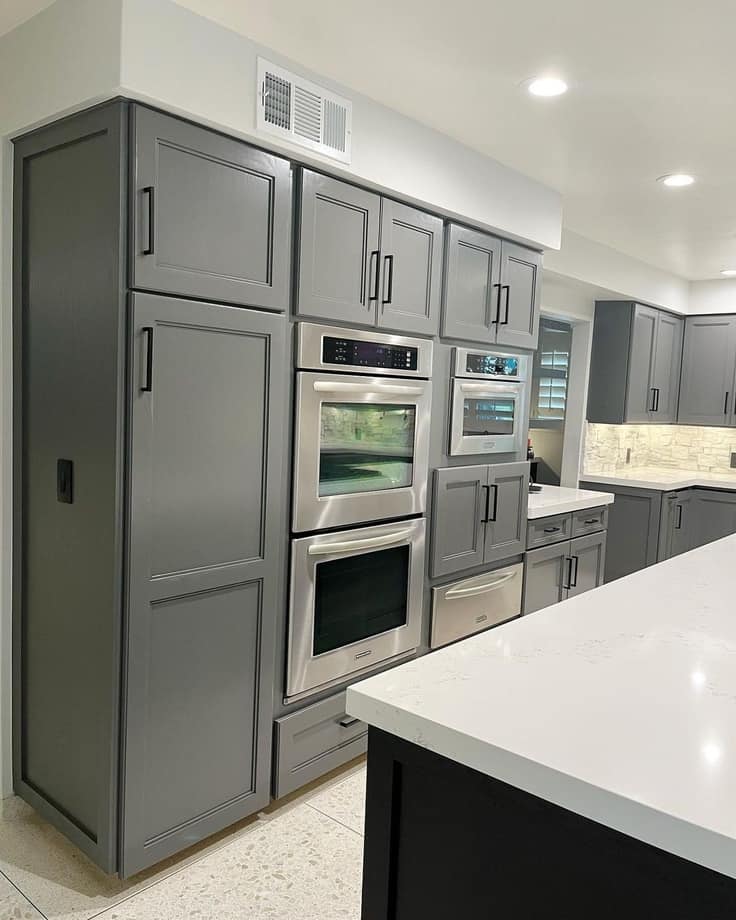 Benjamin Moore Mount Saint Anne
Benjamin Moore Mount Saint Anne is one of my favorite light blue cabinet colors as it has the perfect mix of light gray and pale blue.
If you are wanting to go with white uppers and blue-gray lower cabinets, BM Mount Saint Anne is one of the best cabinetry colors for this look because it works well as a neutral. The upper cabinets are painted in Sherwin Williams Pure White.
Renovated Faith: What's In A Name?
Benjamin Moore Providence Blue
This kitchen by Gretchen O Studio shows the beautiful contrast between Benjamin Moore Providence Blue and bright white. Although BM Providence Blue is a darker color, it has just enough of the color blue to add some personality to blue kitchens.
Benjamin Moore Solitude
If you are wanting a warm gray kitchen cabinet color, Benjamin Moore Solitude is a great option because the blue undertones are very subtle. I love how it coordinates so well with brass hardware.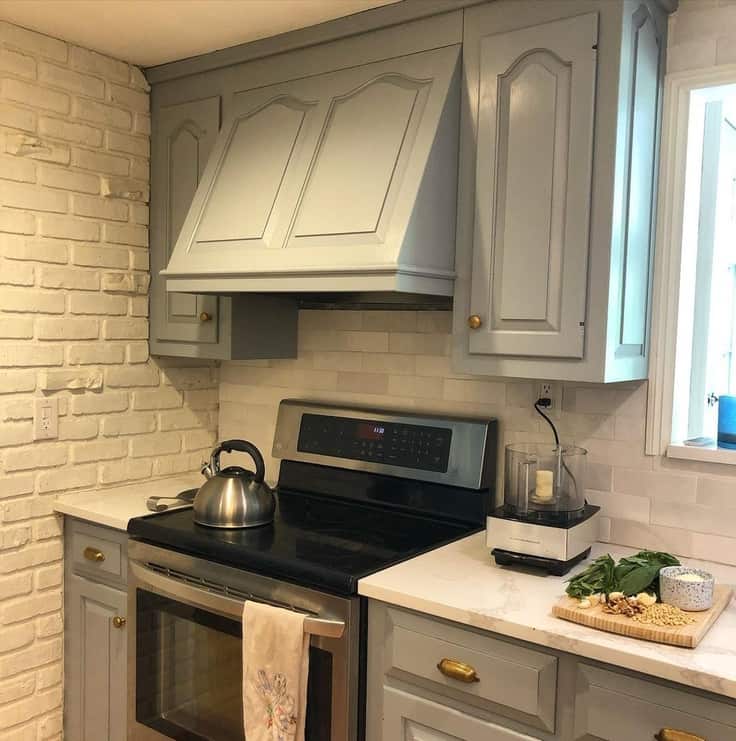 Benjamin Moore Cloudy Sky – A Great Option For Blue Gray Kitchen Cabinets with White Countertops
Benjamin Moore Cloudy Sky is another great gray-blue cabinet color that works well with bright whites, not to mention how stunning it looks against those black window frames.
Benjamin Moore Nimbus Gray
Benjamin Moore Nimbus Gray is a popular choice among blue cabinet paint colors, and it looks amazing against bright whites.
Benjamin Moore Stillwater
Kitchens By Design nailed these color combos by using a blue-gray subway tile and then Benjamin Moore Stillwater on the kitchen island. Stillwater was a great choice because it is a neutral gray but the blue undertones play nicely with the backsplash color.
Benjamin Moore Kensington Blue
Benjamin Moore Kensington Blue is another popular shade and the perfect choice if you want a color that is balanced evenly between gray and blue undertones. This shade looks stunning with stainless steel appliances.
Benjamin Moore Stonybrook
Benjamin Moore Stonybrook looks just as stunning in this Studio McGee laundry room as it does in kitchen spaces. This bold color looks amazing with the white countertops and light gray tile backsplash.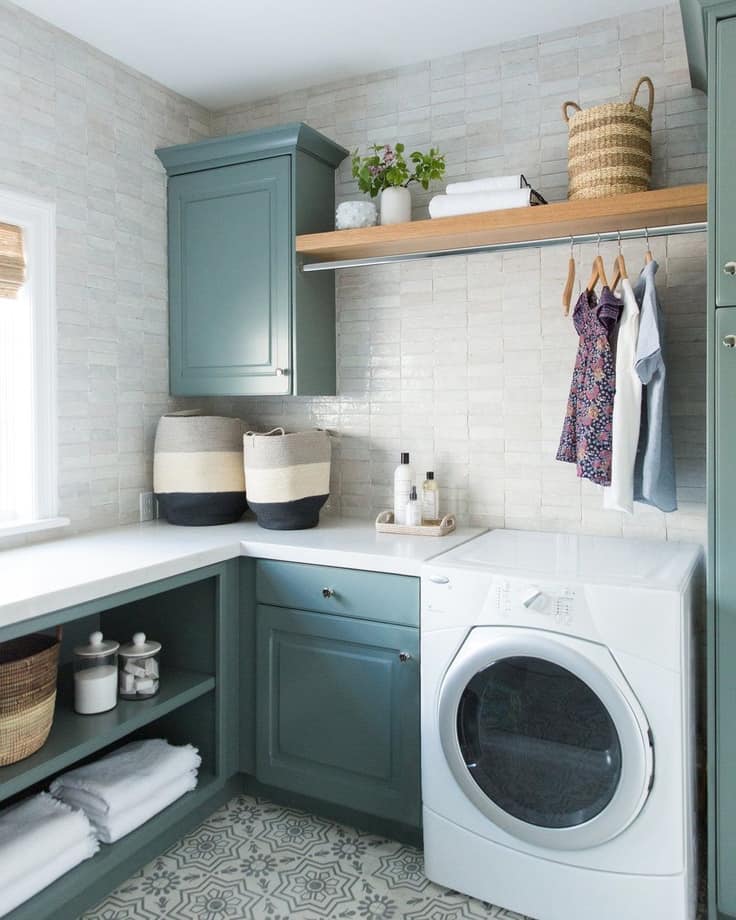 Benjamin Moore Stonington Gray
If you are looking for a light gray cabinet color with a touch of light blue, Benjamin Moore Stonington Gray is an excellent choice. This shade looks fabulous with wood tones whether you are going with a modern look or something more rustic.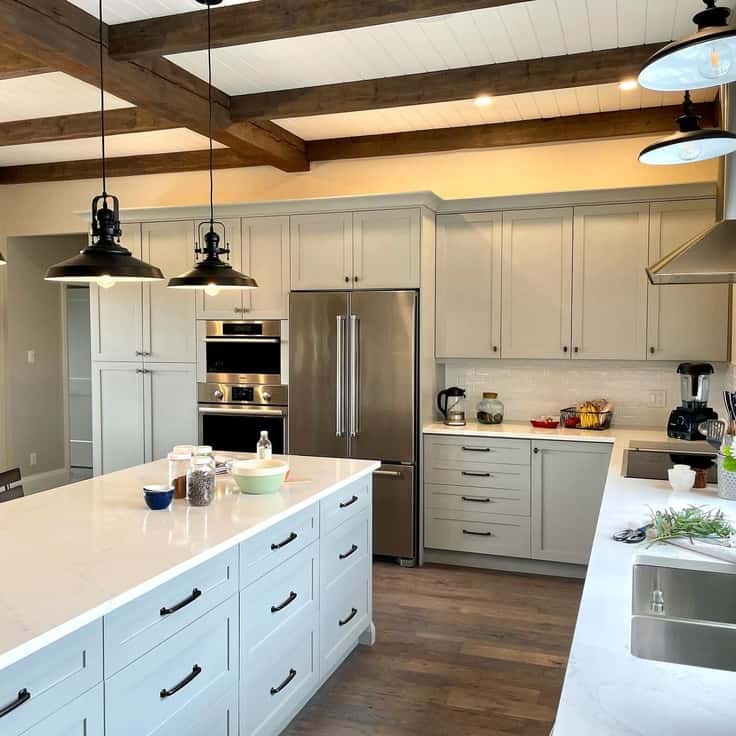 Farrow and Ball Hague Blue
Farrow and Ball Hague Blue is a great choice when you want your island to be a focal point, although it is still neutral enough to use as a color for blue kitchen cabinets. Hague Blue also looks great with brass accents in this kitchen by Pillar and Peacock.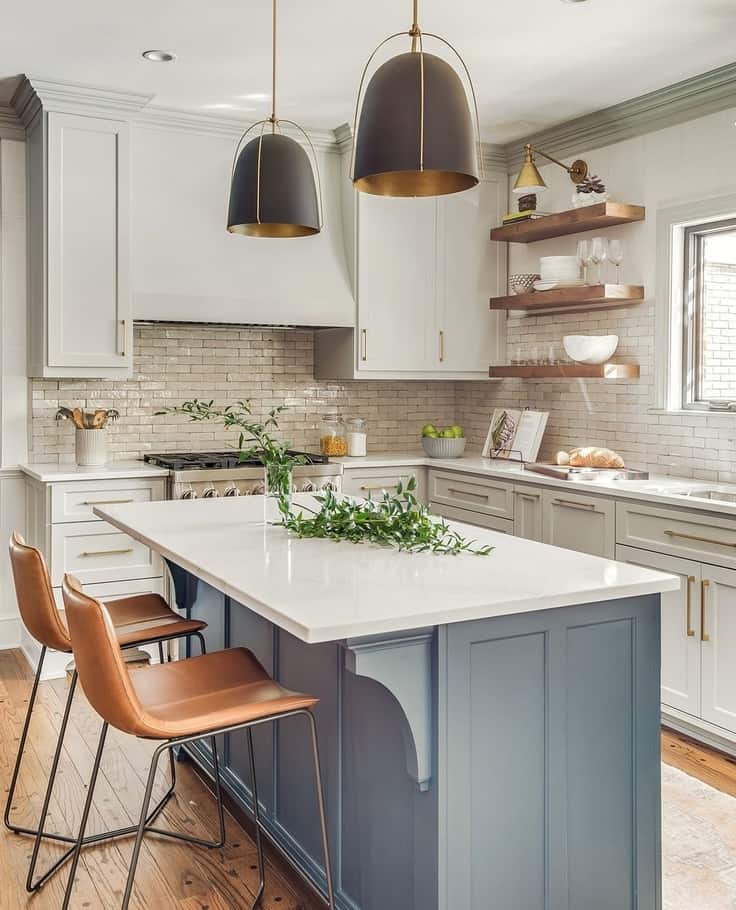 Pratt and Lambert North Star
Pratt and Lambert North Star is a darker shade with moody blue hues. A great way to break up this shade is by contrasting it with wood tones as Bloom in the Black does with vintage items.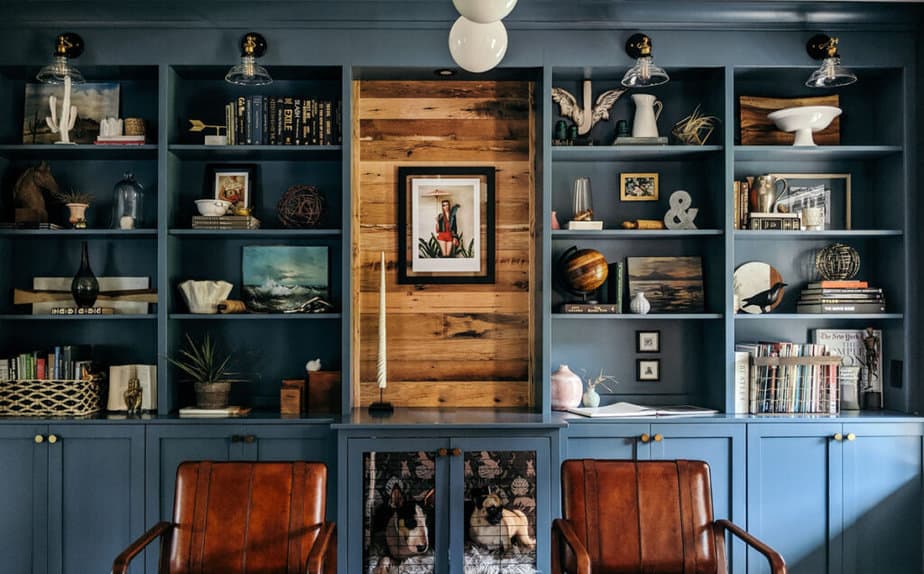 Sherwin Williams blue Cabinets
Sherwin Williams has several beautiful paint shades to use as blue cabinet paint colors. If you are painting your cabinets yourself, don't forget to use Benjamin Moore Advance and just ask for the Sherwin Williams shade at their paint counter. You can see why I like Benjamin Moore Advance here: The Best Paints for Cabinets (24 Brands Blind-Tested & Reviewed)
Sherwin Williams Software
Sherwin Williams Software is a great neutral gray-blue paint color. The lighter countertop and wood flooring create the perfect balance in this kitchen by The Elliot House.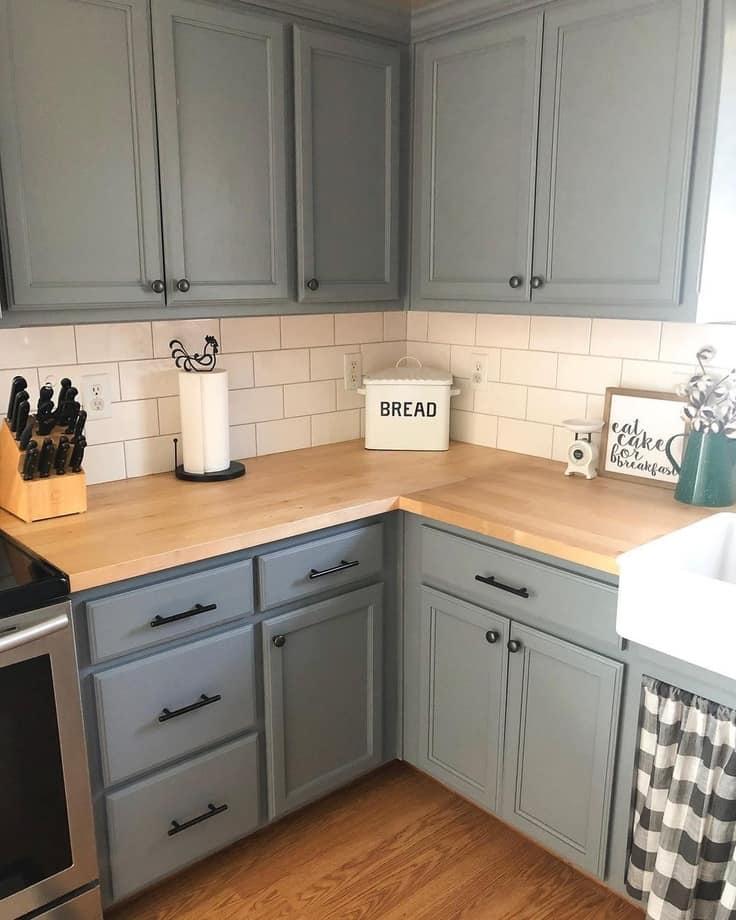 Sherwin Williams Storm Cloud
Sherwin Williams Storm Cloud was clearly the best choice as an island color with white cabinets. The pendant lights help to keep this kitchen light and airy.
Sherwin Williams Gray Screen
Sherwin Williams Gray Screen is my favorite pick for a light gray kitchen cabinetry color. The reason it's such a good color is because of the balance between light gray and white while adding just a touch of a blue undertone. Not to mention, it is stunning with the brass hardware in this kitchen by Ashley Upchurch Interiors.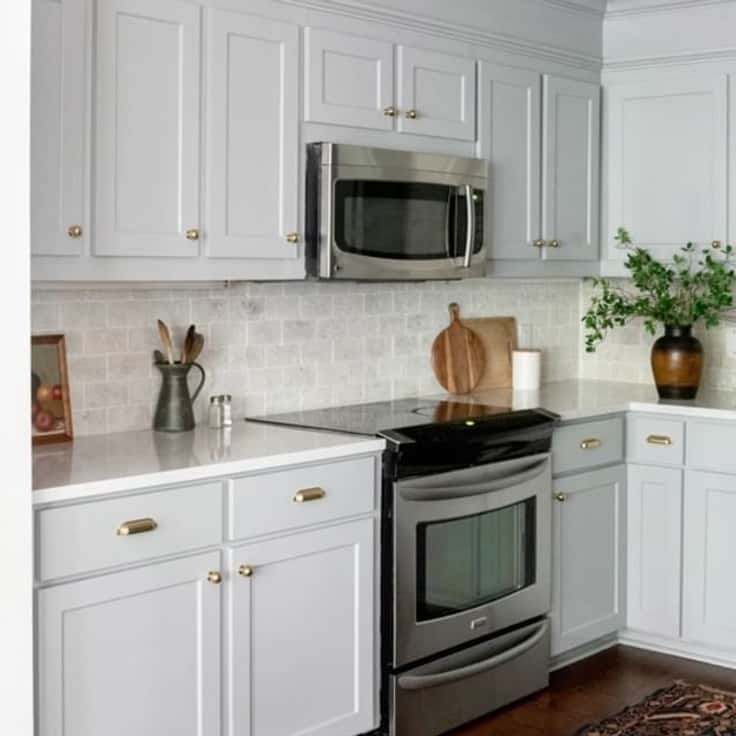 Sherwin Williams Passive
Another great light gray-blue cabinet color is Sherwin Williams Passive. This gorgeous color is the perfect shade to coordinate with white walls.
Sherwin Williams Web Gray
Sherwin Williams Web Gray is one of my favorite warm grays when it comes to kitchen paint colors. It's a great shade for front doors as well because it's a vibrant color without being too bold. I love how well it works as an island paint color on this beautiful kitchen by The Polished Habit.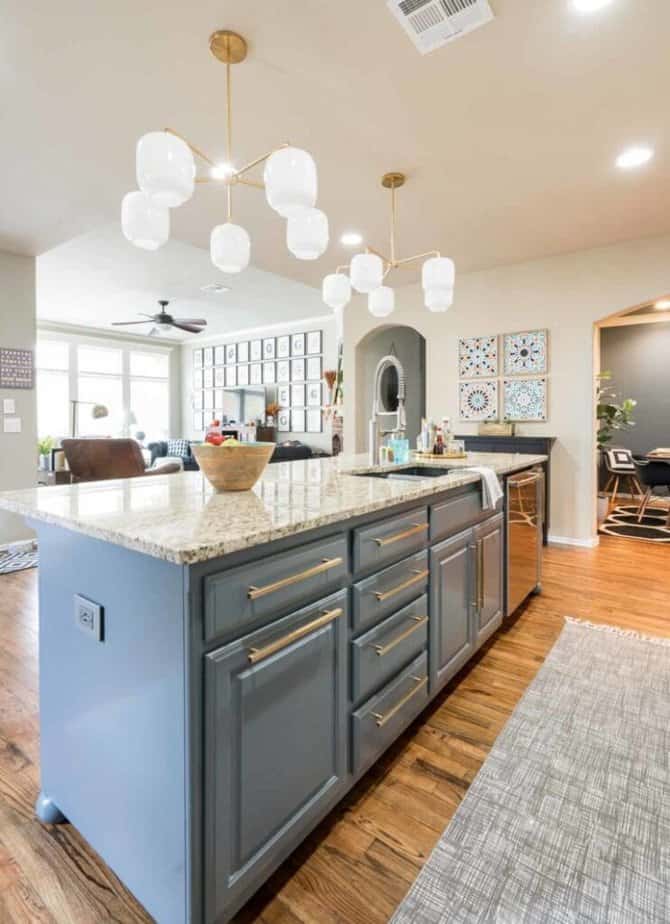 Sherwin Williams Silver Strand
Not only is Sherwin Williams Silver Strand a great option for blue gray kitchen walls, family rooms, and living rooms but it is great for kitchen cabinets as well. This is one of those shades that will keep you guessing as the color changes from a blue hue to a grayer hue during different times of the day. See a complete review here: The Ultimate Guide to Sherwin Williams Silver Strand
Sherwin Williams Cityscape
Sherwin Williams Cityscape is a gray-blue shade on the darker side of the spectrum. I love how it looks on contemporary designs like this stunning desk from Repurpose and Upcycle.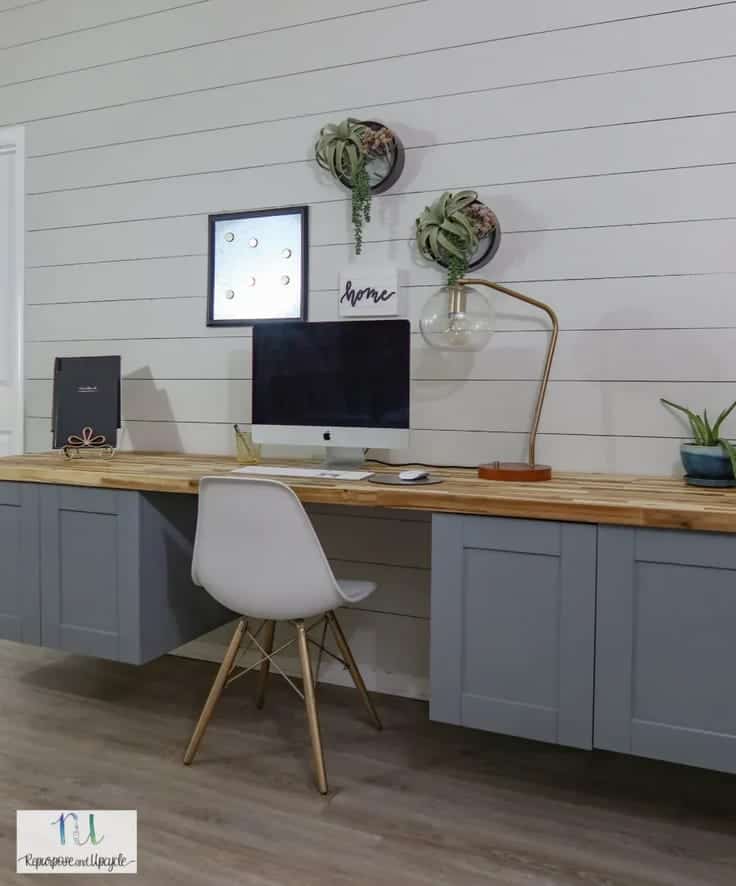 Navy blue is a classic color option for kitchen cabinets and there are several choices to choose from.
My favorite shade of navy is Benjamin Moore Hale Navy because it works incredibly well as a neutral. The Sherwin Williams equivalent to BM Hale Navy is SW Naval and it was actually the 2020 color of the year. You can read more about why it's my favorite navy paint color here: Benjamin Moore Nale Navy Review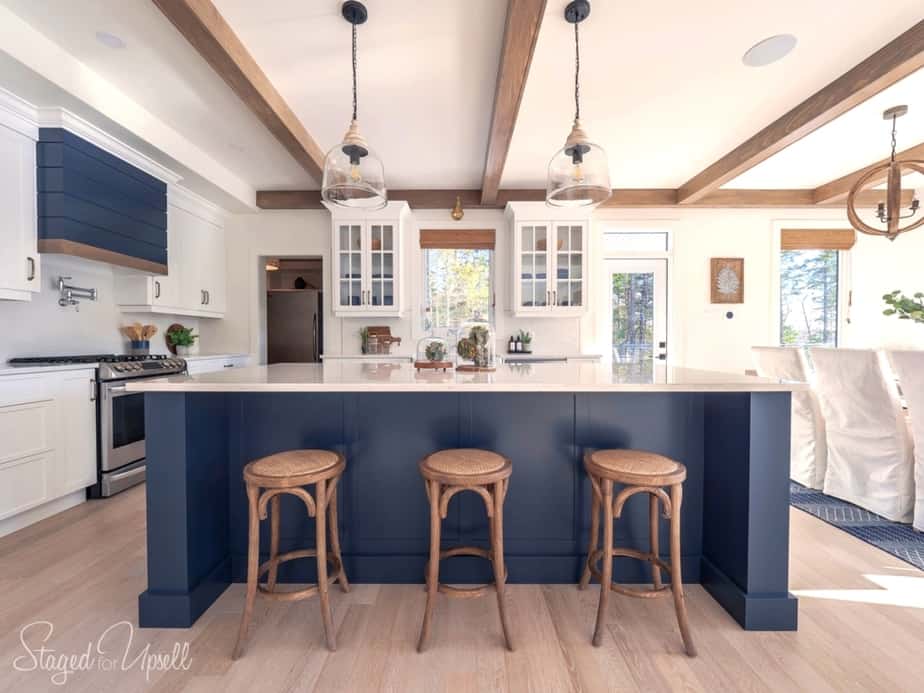 Here's how Benjamin Moore Hale Navy looks on my grandmother's vintage dresser!
Behr Midnight Dream
Another pretty option is Behr Midnight Dream if you are looking at deep navy colors or dark blues. It's a good idea to contrast with lighter walls and floors and to make sure you are using it in a kitchen that gets lots of natural light.
The Best White Paint Colors To Coordinate with Blue Cabinet Paint Colors
These blue/gray shades are some of my favorite cabinet colors but if part of your cabinets will be white, you want to make sure you are picking the right shade of white to coordinate with the blue cabinet color you pick.
Did you know that there are hundreds of shades of white cabinet paint? Fortunately, there are some tried and true white neutral paint colors that will never let you down. Sherwin Williams pure white is probably my favorite neutral white although I used SW alabaster, a slightly creamier white on my own cabinets.
When you are going with a blue-gray with cool undertones, you want to look at neutral whites that have a neutral or bluer undertone instead of a yellow color base. Some safe options are Benjamin Moore White Dove, Benjamin Moore Chantilly Lace, and Sherwin Williams Pure right.
For the best neutral white paint colors, be sure to check out this post where I highlight the best neutral whites and when to use them: The Most Reliable White Cabinet Paint Shades
Use the Posterboard Trick to Find The Perfect Shade For Blue Gray Kitchen Cabinets
It's a great idea to get samples of your paint color but don't settle for stick paint samples or the tiny samples in your paint sample because they aren't big enough for an accurate comparison. Get a small container of the paint to paint on a large sample or use the Samplize stick-on squares (click here for prices).
Oftentimes, I see homeowners paint the sample directly on their old cabinet color. But unfortunately, doing this makes it really difficult to see a true comparison of what the new samples would look like. That's because the old paint is influencing the look of your new paint sample on the cabinets.
For example, if you put an Agreeable Grey paint sample on the wall of a room that is already a yellow-beige, then Agreeable Gray is going to look very gray because the yellow undertones will trick your eye into thinking AG is cooler than it really is. I've seen the same with light and dark colors.
To fix this problem, put your cabinet paint sample on a white piece of poster board. Then, stick the poster board to your cabinets. This way your brain is comparing the paint on your sample to pure white and it isn't easily swayed by the color already on your old cabinets. The white border around the sample acts as a boundary for your eye to better anchor itself back to pure white.
You can also use a project board (like for science fair projects) to bend around a corner and then stick the paint sample over it. This allows you to see and compare how the sample looks in your house from two different light sources at once!
You can use command strips to adhere your piece of poster board to the cabinets. Colors can vary based on how natural light hits the samples at different times of the day. Live with the samples on your cabinets for a couple of days to see any color changes throughout the day before making a final decision. This poster board trick will ensure that you don't buy the wrong color for your cabinets.
RENOVATE YOUR FAITH: How God Really Sees You
For more spiritual encouragement, click here for the rest of my project posts that also include Renovate Your Faith devotionals.
FAQs: Blue Gray Kitchen Cabinet Paint Colors
Do blue and Gray Go Together in Kitchens?
When considering the best blues for kitchens, we aren't considering blue primary color shades. Because the blue cabinet paint colors we are considering all have gray undertones, they do coordinate with grays and other neutral paint colors.
What is the cabinet color trend for 2023?
A big trend for this year is to have a classic white kitchen design but a splash of color with a blue-gray island. This look provides the traditional look of white cabinets but also you get a splash of trendy blue-gray with the kitchen island. Also, as trends change, it's much easier to repaint the island instead of all of your cabinets again.
What Benjamin Moore grey paint has blue undertones?
Several Benjamin Moore gray paints with blue undertones are Benjamin Moore Boothbay Gray, BM Stonington Gray, BM Stillwater, and BM Kendall Charcoal.
What Wall Colors Go With Blue Gray Kitchen Cabinets?
I recommend a neutral color for interior walls so you have more flexibility with accessories, furnishings, and decor. That's especially the case with blue gray kitchen cabinets. To add extra warmth to the room, add a neutral paint color like Sherwin Williams Agreeable Gray so your kitchen doesn't feel too stark or cold.
What Are The Best Behr Blue Gray Paint Colors?
You can find several great blue-gray paint colors at your local Home Depot including Behr Hush, Behr Cumberland Fog, Behr Light French Flower and Behr Watery.
More Posts Related to The Best Blue GrEy Paint Color for Kitchen Cabinets
The Ultimate Guide to Painting Cabinets White
The Top Tried and True Cabinet Paint Colors (33 Shades in Real Homes!)
How to Fill Wood Grain in Oak Cabinets
The Easiest Way to Install New Hardware on Cabinets
The Best Paint for Cabinets (24 Brands Blind-Tested and Reviewed)
Benjamin Moore Hale Navy Review
French Blue Vintage Vanity Makeover on a Budget
25 Popular Kitchen Paint Colors With White Cabinets
Final Thoughts on The Best Blue Kitchen Cabinet Ideas
It's amazing how you can get the look of brand new cabinets by painting them yourself. With these blue cabinet paint colors, you can give your kitchen personality while still making it feel like home. Whether you are looking for a bold color with bluer undertones or a more muted blue-gray that works well as a neutral, this post will show you great color ideas so you can pick the perfect shade!
Before you make your final decision on a cabinet paint color, be sure to use the poster board trick above and live with the color for a few days. Also, be sure to check out my post on how to get a professional finish on painting cabinets: A Beginner's Guide To Painting Cabinets Like a Pro
A Word About Thank With Google
I'm so excited to be one of Google's paid early testers for their Thank with Google pilot program. Thank with Google is an experimental feature that allows you to purchase a virtual sticker and directly show your appreciation for content on my website. As a loyal supporter, you can now feel more connected and engaged because you have the ability to express yourself and share what this work means to you.
There are a variety of stickers to select from and every time you send a paid sticker, you can add a personal message which I love receiving. For me, these virtual stickers translate into direct revenue to support the work that goes into the content you enjoy at Renovated Faith.
You can find the Thank with Google feature in multiple places on my site. If you try it out, let me know what you think! Thanks as always for your support.
The Best Blue Gray Kitchen Cabinet Paint Colors, YouTube Video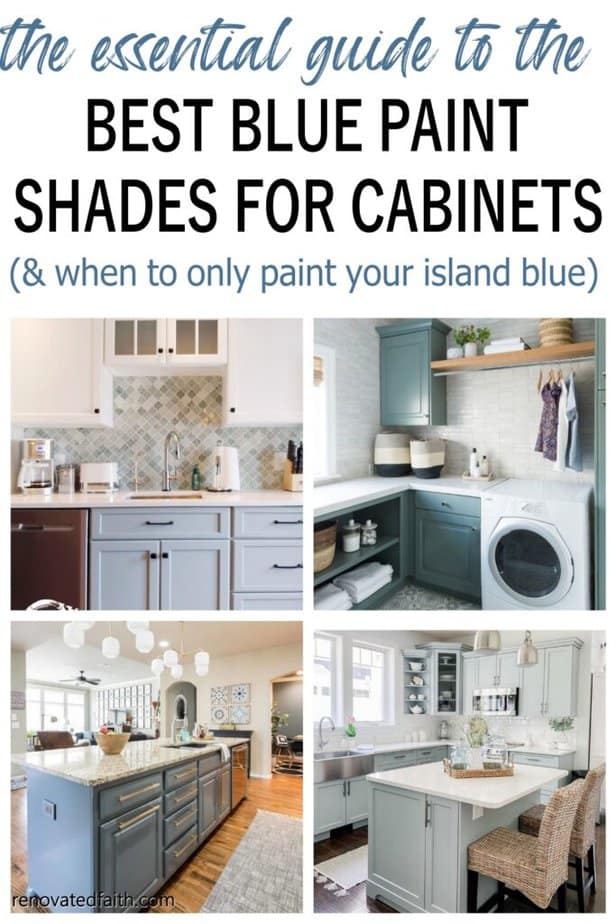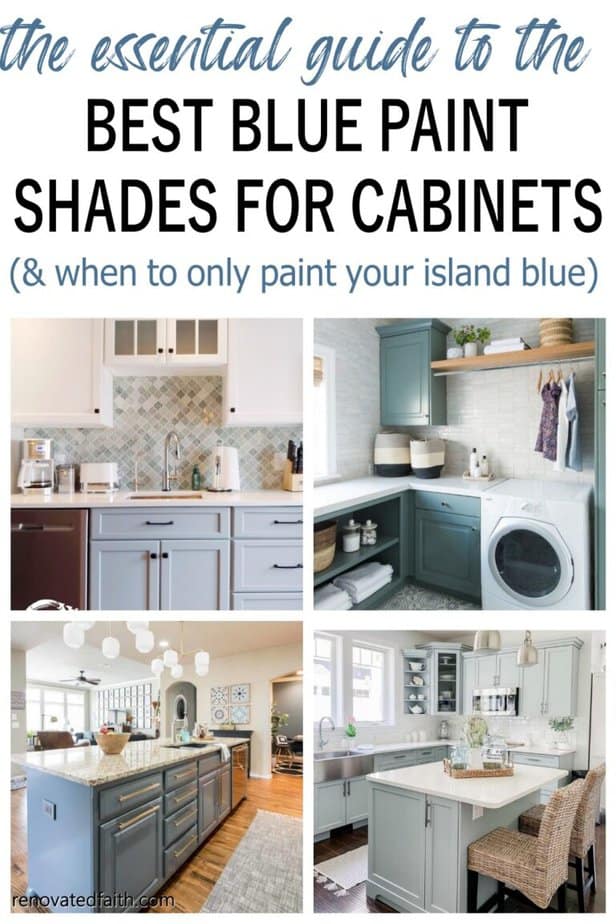 I love to hear your thoughts and questions! Scroll down to leave a comment and I WILL reply! ❤️
Blessings,
Be sure to follow the fun here!
The Most Popular Blue Gray Kitchen Cabinet Paint Colors