The Best Paints for Cabinets (24 Top Brands Blind-Tested & Reviewed)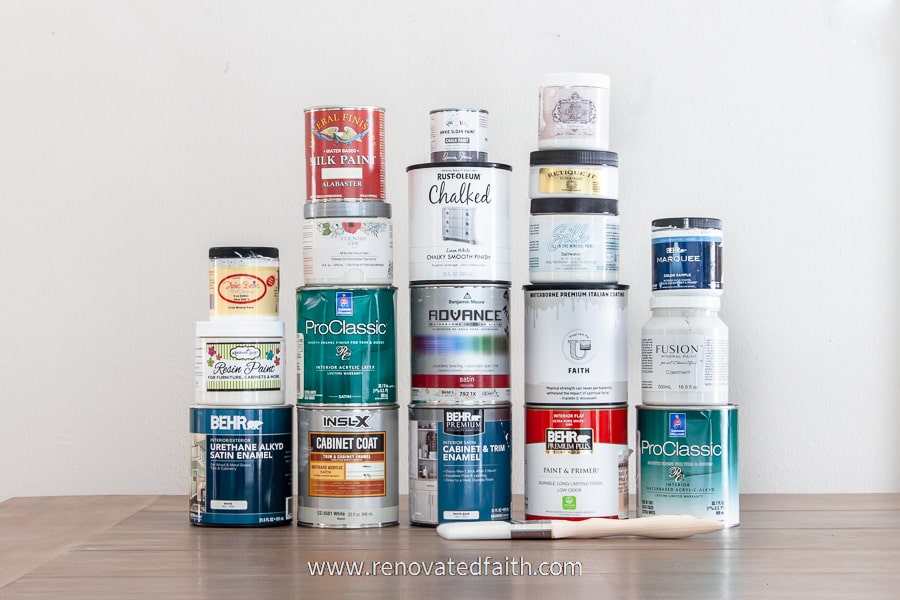 The Best Cabinet Paint on a Budget
After blind testing and reviewing twenty-four top brands, here is the ultimate DIY guide on the best paint for cabinets.
---
The type of paint you use will make or break your DIY cabinet painting project. After blind tests in 5 categories, doing over 35 hours of research, talking to professionals across the country, and spending a small fortune on 24 different paints, I would choose Benjamin Moore Advance as the overall best paint for cabinets.
The results of my blind tests are consistent with the experience of several painters I spoke with, making so many complimentary reviews for one paint brand nothing short of impressive.
To see how each paint performed individually, check the complete list of best results below.
LET ME SHOW YOU:
How I tested to find the perfect choice of cabinet paint and a FREE printable PDF of the results
Why the most expensive paint isn't the best cabinet paint
The best tips on painting kitchen cabinets so you get a smooth finish and better coverage
Some encouragement in this week's Renovate Your Faith devotional that God is doing His best work when we least expect it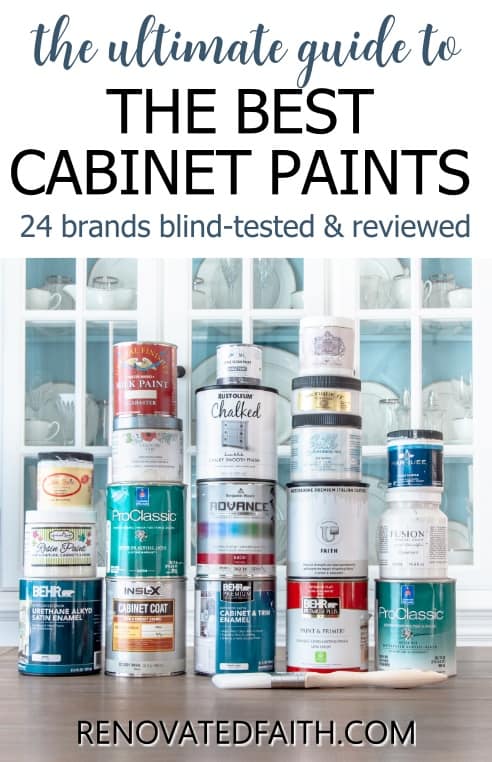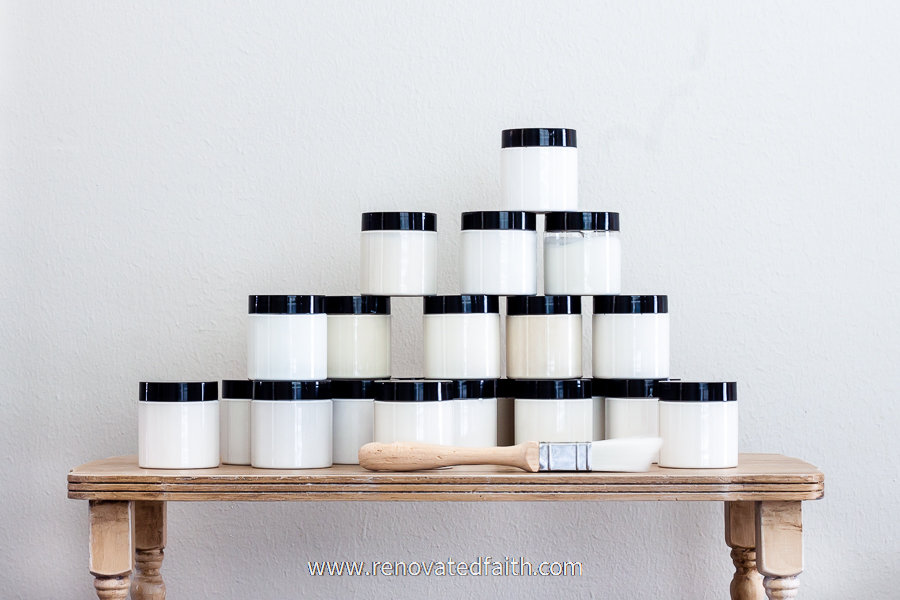 Why Quality Matters When It Comes To The Best Cabinet Paint
Painting your own cabinets is worthwhile, but it is still a lot of work. Don't leave the finished product up to chance by using just any old paint. Cabinet paints are not created equal, and as you'll see from my testing, the most expensive paints are not necessarily the best!
The last thing you want to do is to have to sand and repair peeling areas or, worse, repaint the cabinets all over again because your paint product didn't adhere or protect the finish.
Abraham Lincoln once said, "If I have 6 hours to cut down a tree, I'll spend 4 hours sharpening the ax."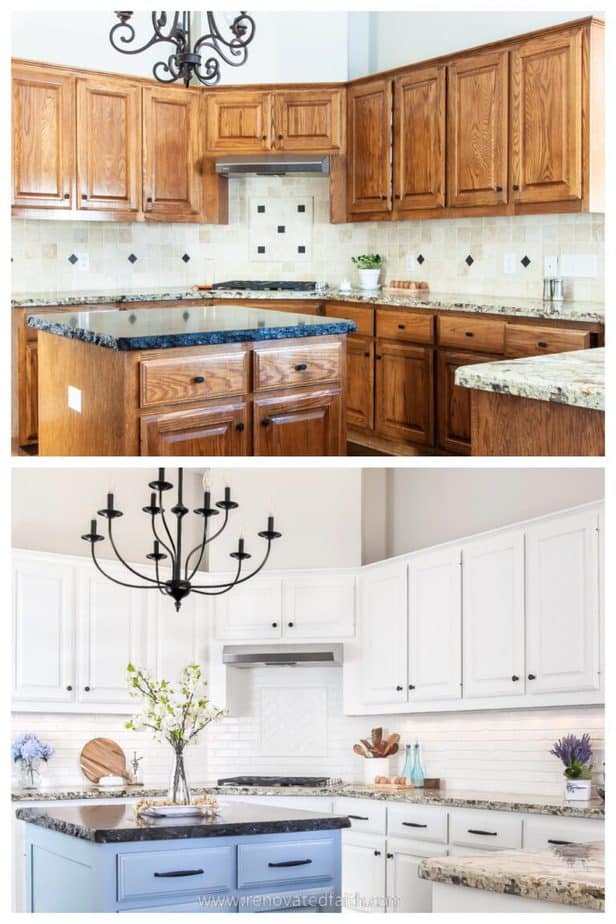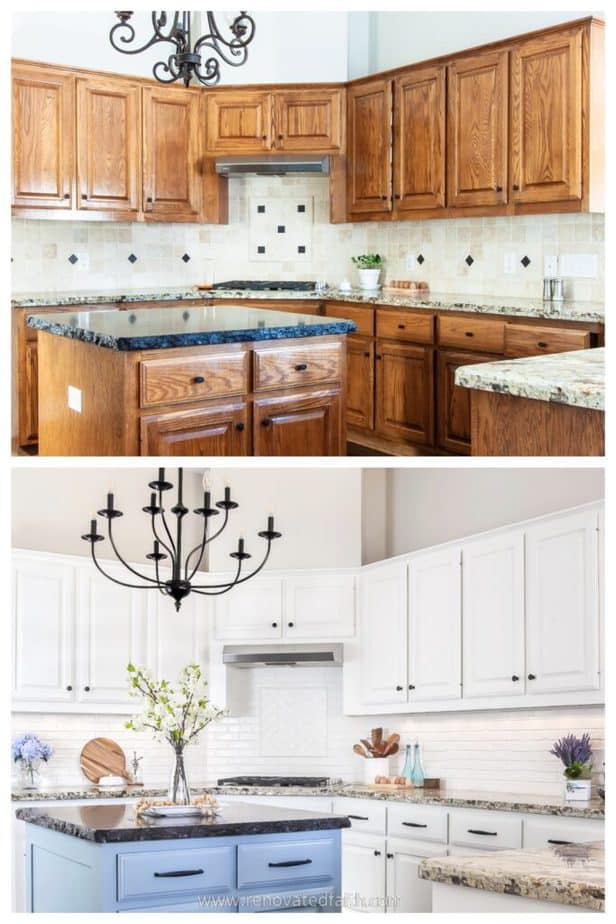 Your most important prep work when painting cabinets is choosing the right paint. Finding an option that is not only a durable paint but goes on smoothly and covers well is vital to the success of your cabinet painting project. Fortunately, I've done all the research and testing for you to find the absolute best paint for kitchen cabinets!
Disclaimer: I did not test "Adherence" because for any cabinet project, you WILL need a good primer, and one of the primer's main jobs is to help the paint stick to the cabinet. I primed with Zinsser Cover Stain under each of the paints on the long boards.
My Top Picks for the Best Paint for Kitchen Cabinets, 2024
For a printable version of the FULL list of results for all 24 brands, click here: The Best Paint for Cabinets, Printable PDF
This formula is paint perfection in a can giving you a good finish that is just as smooth and durable as it is gorgeous. READ REVIEW
Don't underestimate this low-budget wonder! It gives the competition a run for their money. This formula is also the best Behr Cabinet Paint (Home Depot Cabinet Paint) READ REVIEW
This premium Italian coating is available to DIYers to give you a luxurious finish on your cabinets. READ REVIEW
VOC stands for volatile organic compounds, meaning they can be harmful to breath and have a strong smell. Not only is Dixie Silk a 0 VOC paint, but it also has incredible flow and leveling with a paint brush or roller. READ REVIEW
An oldie but goodie, this traditional latex paint will never let you down! READ REVIEW
Not only is it the best Benjamin Moore Paint but the BM Advance line was the overall winner in all categories tested. READ REVIEW
Chalk paints are not great for cabinets but this chalky gives you a smooth matte finish with great coverage and no brush strokes! * READ REVIEW
*If you like matte finishes, most cabinet paints have different sheen options including flat and satin. Satin is still someone matte but is more durable than completely flat paint and still gives you great results.
How to Paint Oak Cabinets White Without The Grain Showing
Don't forget to check out my full step-by-step tutorial with all my best tips to get a gorgeous finish on your cabinets. You can also download the free Cabinet Painting Roadmap here: The Ultimate Guide to Painting Kitchen Cabinets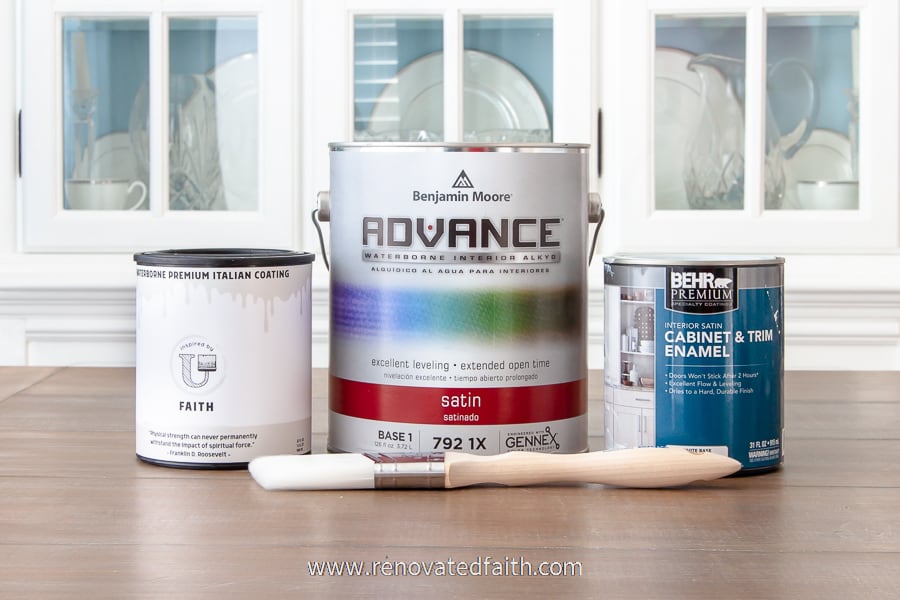 ☑️ Want to add some serious character to your home while also increasing its value? Whether you just moved in or are thinking about selling, don't forget to download your FREE printable checklist here: The Easiest Ways to Increase Your Home's Value
Terms Defined for Picking the Best Paint for Cabinets
The Top 10: What is the Best Paint for Kitchen Cabinets?
For a printable version of the FULL list of results for all 24 brands, click here: The Best Paint for Cabinets, Printable PDF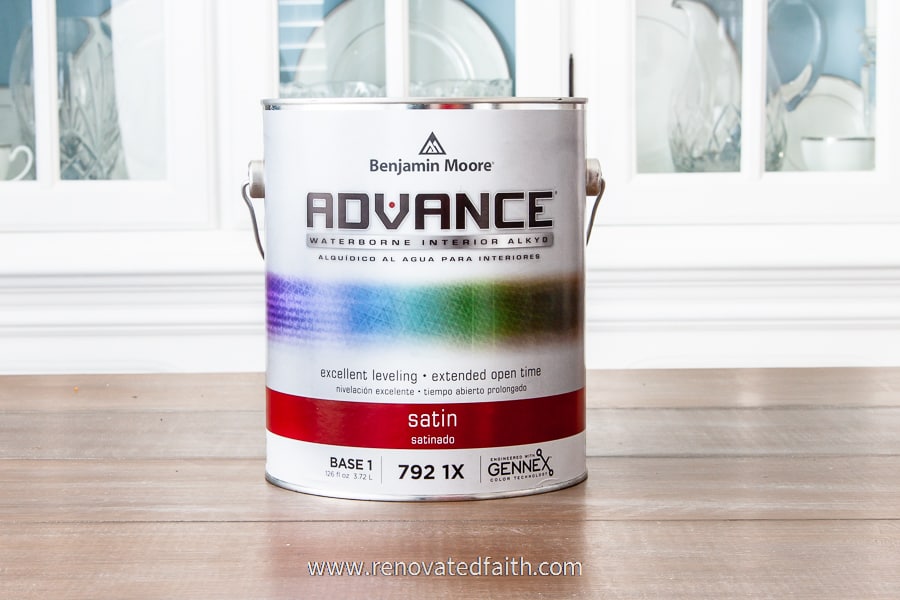 According to my blind tests, this formula excelled in every area. Benjamin Moore Advance is a high-quality waterborne alkyd paint meaning it has the positives of oil-based paints in a water-based formula.
This interior paint not only brushed on well but also rolled beautifully to a satiny smooth finish which is so important when painting wood cabinets. Benjamin Moore Advance cures to an extremely hard and durable finish. I found that I could easily scrub off dried waterproof mascara without taking off any of the painted surface. It is rare to find so many positive attributes in one paint product making it your best bet for your kitchen cabinet painting project.
As you can see in the video, this paint also levels out well on open wood grains and has outstanding coverage even on dark cabinets. It's available in almost an unlimited number of colors and is Low VOC. You also don't have to worry about shipping prices because you can find Advance at a Benjamin Moore paint store near you.
POSITIVES
Outstanding coverage
Dries to a super smooth finish
Excelled in the "Scrubability" Test
Unlimited Color Options
Low Price at $0.53 per ounce
NEGATIVES
Slower drying time than some of its competitors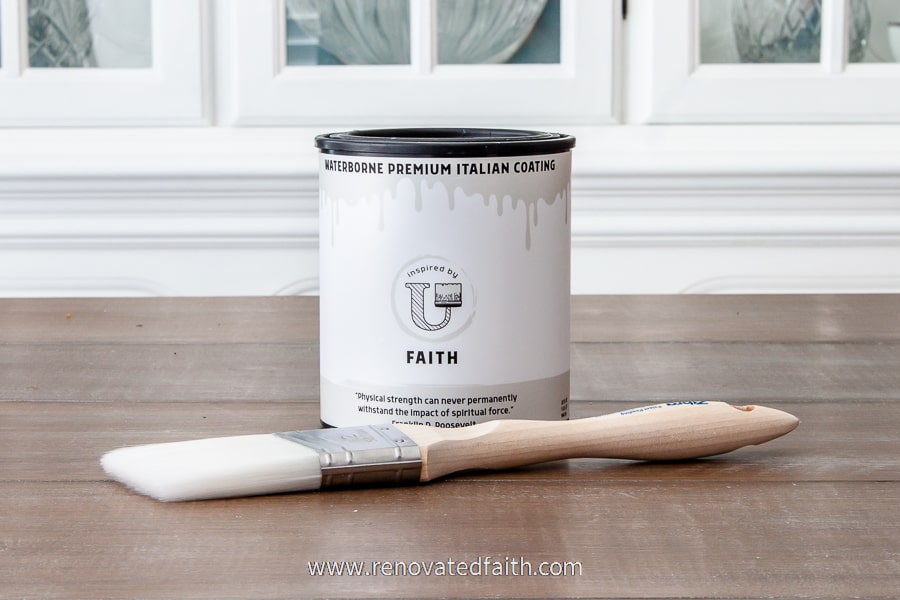 Inspired by U might be a product you haven't heard of but their products are exceptional as they are Milesi premium Italian coatings made accessible in the US to DIYers. This formula is incredible as it settles well, does not yellow over time, and has a super smooth finish, especially with a paint brush or roller.
This product dries to an exceptionally hard surface without a long dry time. Also, the VOCs are very low.
This is the Best Splurge Option but honestly, it's very reasonably priced for the quality you get and it's less expensive than several other paints tested that didn't perform nearly as well.
POSITIVES
Exceptionally smooth paint job
Fast dry Time
Stain and scrub resistant
Low-VOC's
Great coverage
NEGATIVES
There's a shipping cost and its only available online
Limited color options
Paint comes only in quarts,
A little pricey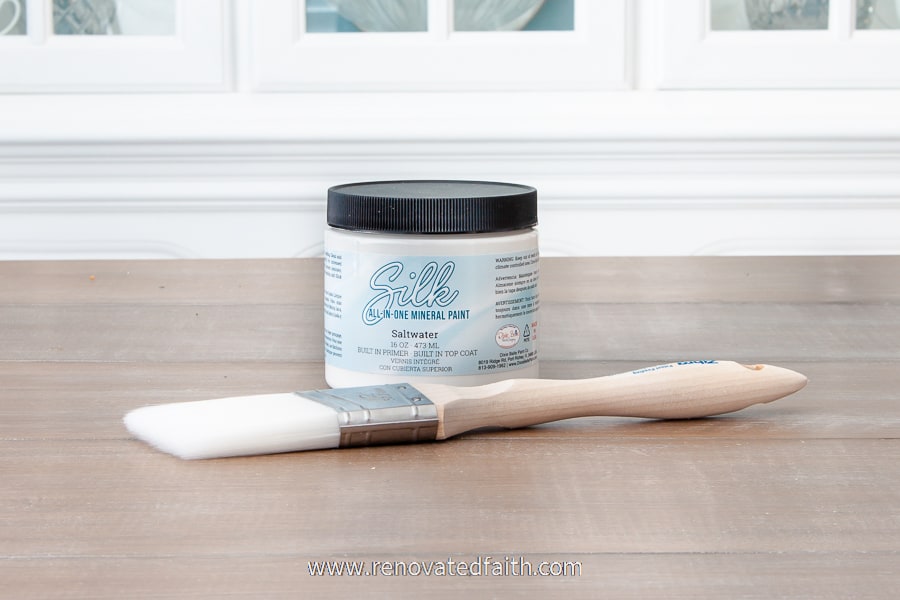 I was impressed with not only how smooth this paint settled out but also on how well it covered. Dixie Silk is Dixie Belle's newest formula of mineral paint that has a topcoat combined. I love the color options and it is NO-VOC so you can feel completely at ease painting around children and pets. It also has a fast dry time and great "scrubbability." Dixie Belle Silk doesn't only give your cabinets a beautiful finish but is also fun to paint with.
POSITIVES
Dries to a smooth finish
Extremely durable
Fast Drying
Beautiful Color Options
NEGATIVES
Comes in small containers
A little pricey
Limited Colors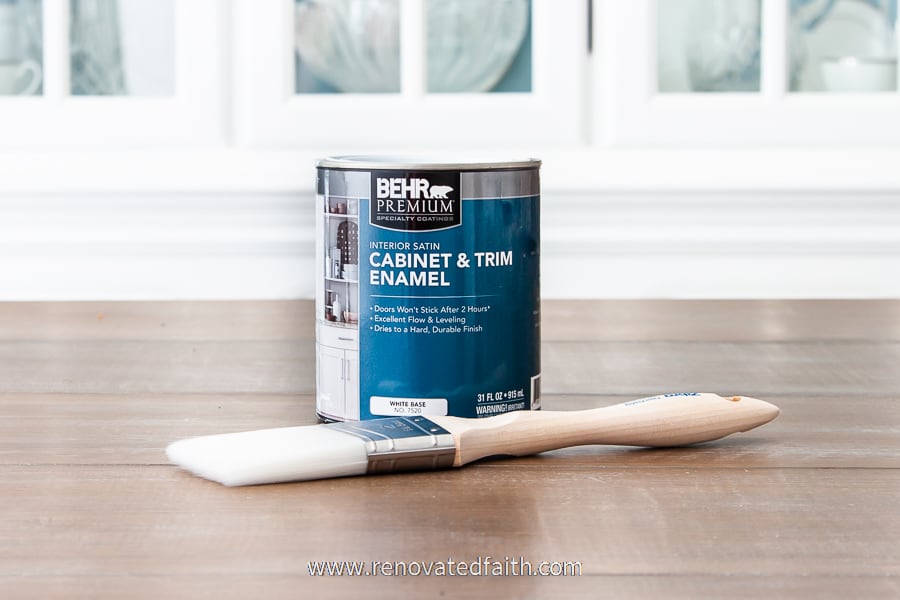 Behr's Interior Satin Cabinet and Trim Enamel is an unbelievable paint for the price. It has incredible coverage, dries to a hard finish and dries fast. It wasn't quite as "scrubbable" as numbers 1 and 2 but I don't want that to minimize how well it performed in all categories at such a low price point of $0.36 an ounce! That's why I chose Behr's Satin Cabinet and Trim enamel as the Best Budget Option!
POSITIVES
Low price for great quality
Available locally at Home Depot
Unlimited color options
Impressive Coverage and Durability
Smooth Finish with a brush or roller
NEGATIVES
Leveling Ability and scrubbability are not quite as good as the top two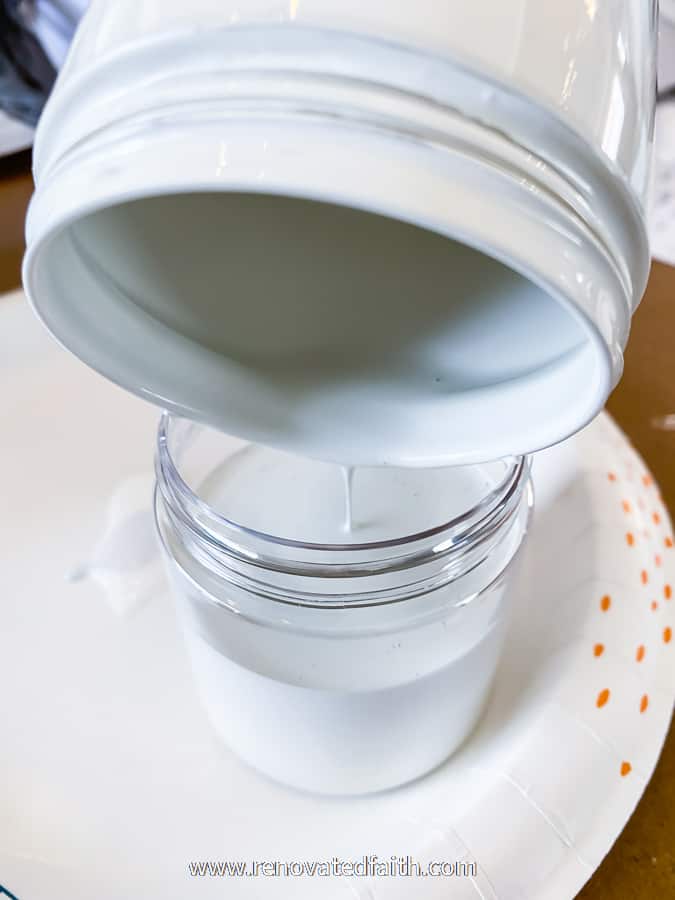 Wise Owl's One Hour Enamel is a really unique paint. It's somewhat viscous without being too thick. As seen in the video, this paint's free-flowing nature makes it really fun to work with and somehow it has the ability to CURE in one hour. This is a water base alkyd enamel hybrid but most paints in that category don't dry fast making Wise Owl One Hour Enamel the best Fast Dry Option. This paint will give you a smooth, abrasion-resistant finish in no time for DIYers and professionals alike. It's a little pricey but worth the splurge!
POSITIVES
Fast Drying
Cures to an extremely hard, non-abrasive finish
Excellent cover and leveling capabilities
NEGATIVES
Pricey
Shows minimal brush strokes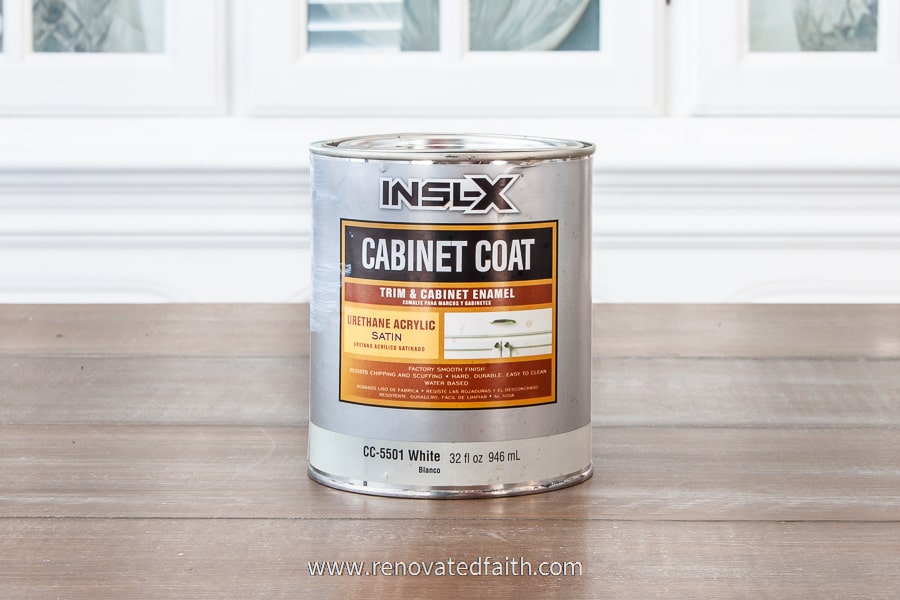 INSLX Cabinet Coat is a urethane-acrylic formula meaning it falls into the hybrid category. This paint gives cabinets a hard, durable finish with great coverage. It also adheres well to wood surfaces and levels into large open wood grains really well. While it doesn't leave many brush strokes, it left more roller marks than some of its competitors.
POSITIVES
Super durable
Adheres well
Great Coverage
Available at any Benjamin Moore store or online
Unlimited color options
NEGATIVES
Leaves some roller marks
Twice the price of Benjamin Moore Advance
Behr's Urethane Alkyd Satin Enamel is another hybrid enamel with the benefits of water-based paints. It has great flow and leveling abilities and good adhesion. Several reviewers said that it was easy to use in a sprayer. While it didn't perform quite as well with a brush, it left no roller marks in the surface. Also, you can find this paint at any Home Depot for only $0.30 an ounce.
POSITIVES
Quality paint at a very low cost
Great for use with a roller or paint sprayer
Unlimited color options
Available at any Home Depot
NEGATIVES
Leaves Minimal brush strokes
Doesn't level as well as some of it's competitors
This has been my go-to paint for years and it has never let me down. I got the idea for the waterproof mascara scrubbability test from using this paint on my grandmother's vanity. It levels well with great flow but now I think its coverage is lacking compared to some of the top paints. Also, since it's a traditional latex it is fast drying, easy to use and the best Lowe's cabinet paint.
POSITIVES
Great scrubbability
Very smooth finish when brushed or rolled
Unlimited color options
NEGATIVES
Doesn't cover as well as some of its competitors
Slightly more prone to brush marks and roller marks
This paint can be used on cabinets, furniture, or even concrete. It is said to be an all-in-one product but I always like to primer cabinets first. This has a chalky finish and ironically is really smooth with both a brush and roller which is why I selected it as the Best Chalk Paint for Cabinets. It's not quite as scrubbable as its competitors but you could add an optional topcoat. It's also durable and has low VOCs.
POSITIVES
Chalk paint finish that is super smooth
Durable
Adheres well
Ultra-Low VOC
NEGATIVES
Pricey
Not as scrubbable as some of its competitors
Behr Marque has been my go-to paint for trim as its coverage is great and it will not show brush strokes. Although it does show some roller marks, they are minimal. You can also find Behr Marque at any Home Depot store and it comes in unlimited color options.
POSITIVES
Low-Cost Quality Paint
Good Coverage
Few brush strokes
NEGATIVES
Doesn't roll as well as some competitors
Not as durable as some of the top paints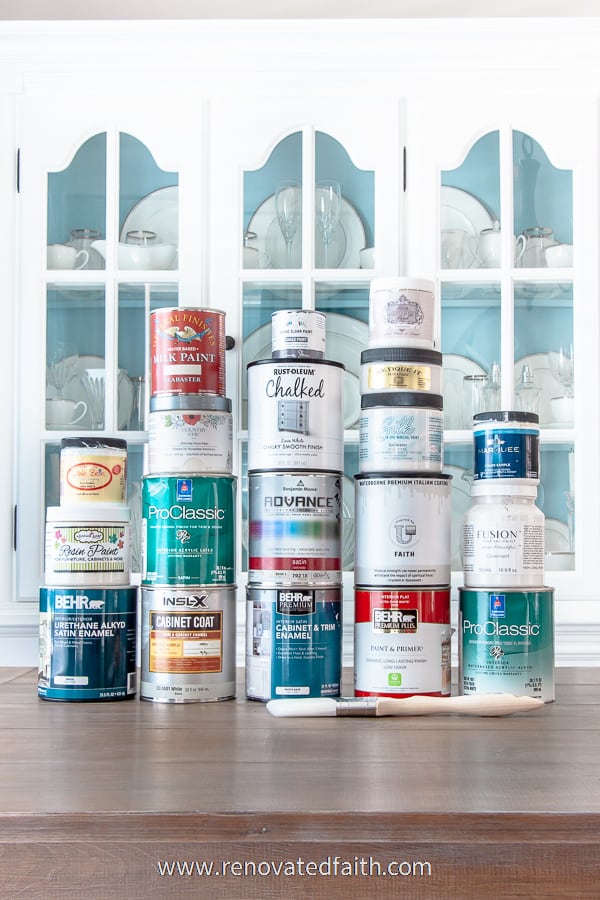 The Best Paint for Kitchen Cabinets – The Full Results
Here is all the data from the cabinet paint testing. Be sure to check out the YouTube video to see exactly how I tested to find the best paint for cabinets. If you have trouble seeing it, you can find it here as well: The Best Paint for Cabinets, Printable PDF Results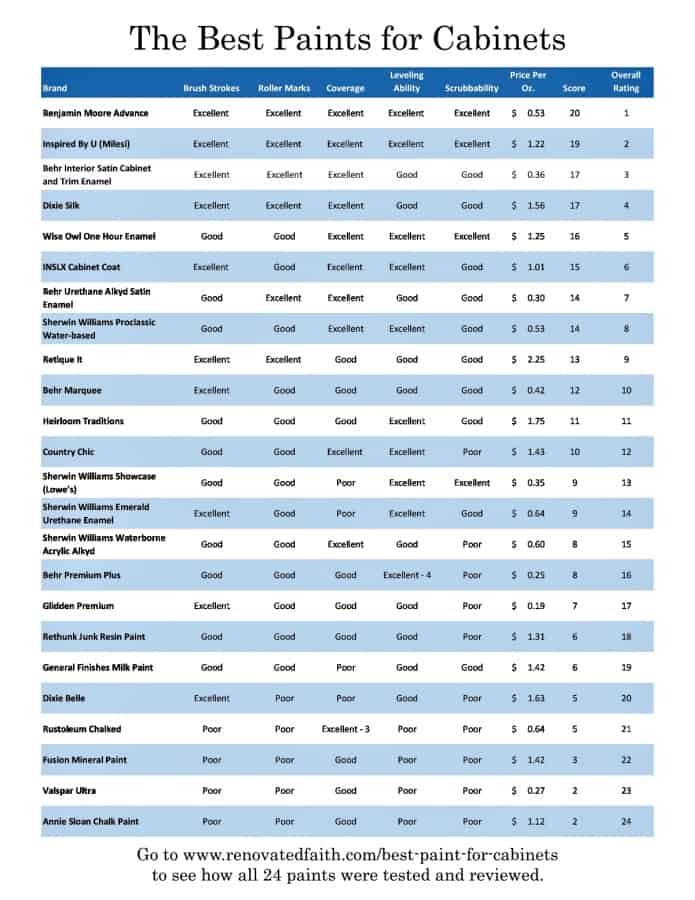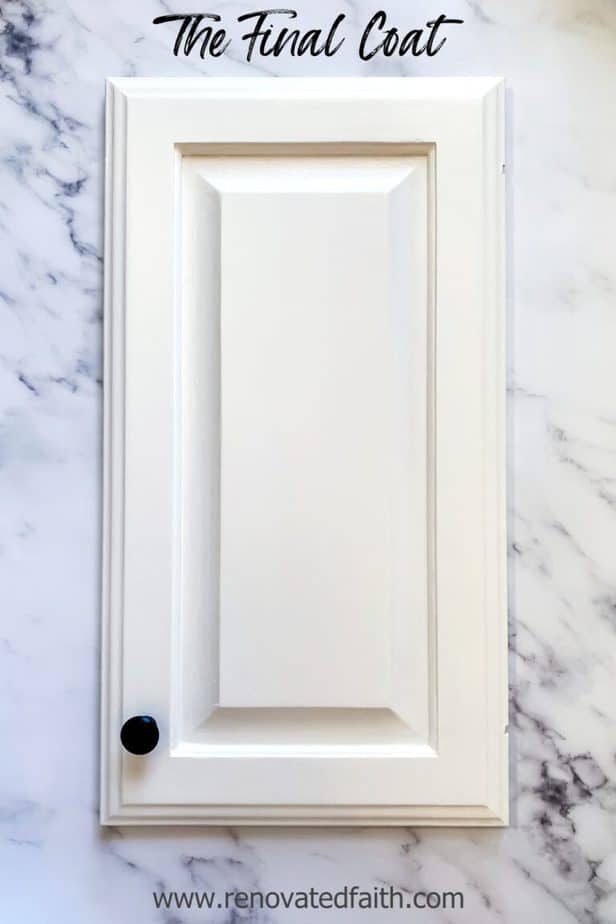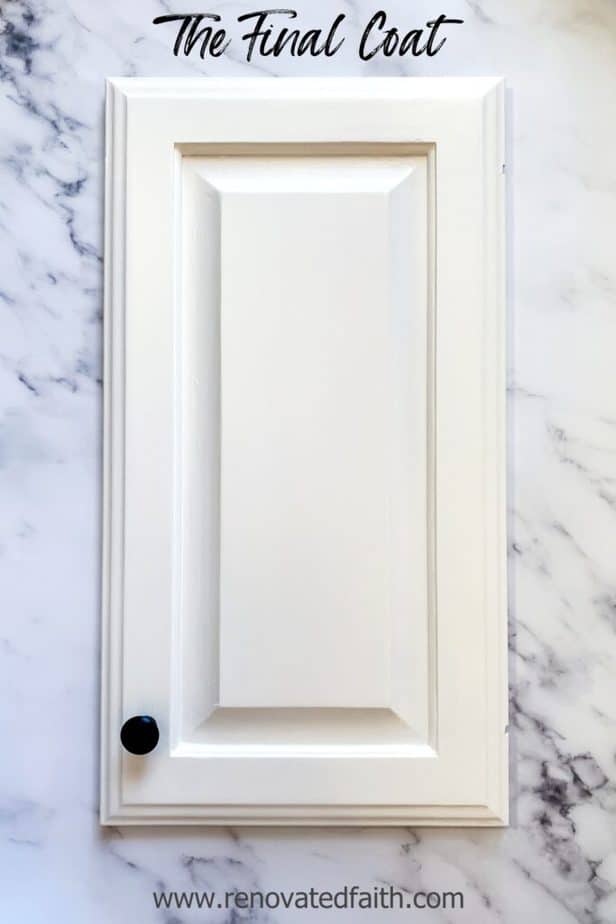 Above is the final finish of my cabinets in Benjamin Moore Advance color matched to Sherwin Williams Alabaster in a satin sheen.
RELATED: The Most Popular Colors to Paint Kitchen Cabinets | The Best White Cabinet Colors | Gorgeous Blue Gray Cabinet Paint Colors
To see every stage my of cabinet painting process, go here: The Ultimate Guide to Painting Cabinets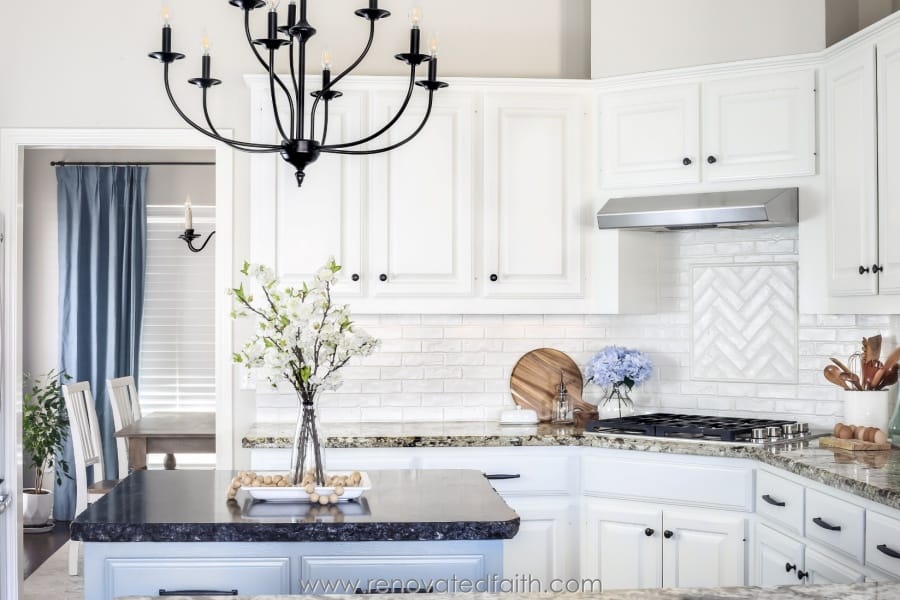 Why I Wanted to Find the Best Brand of Paint for Kitchen Cabinets
"Do you need special paint for wood cabinets?" Here's why any old paint at your local home improvement store won't cut it:
When we first got married 18 years ago (that makes me feel so old) one of our first projects was to paint our kitchen cabinets?
We were on a tight budget and didn't want to spend a lot so what did we do? We went to Lowe's and bought the cheapest paint we could find…Olympic Paint in Pure White. (I didn't test this paint because it is no longer being sold.)
Unfortunately, we didn't know that the paint was so thin it was like painting with skim milk. That was a hard lesson learned as I put no less than 13 (yes, that's not a typo) coats on those cabinets.
The Moral of the Story: The Cheapest Paint Isn't Necessarily The Cheapest Paint
You can spend a whole lot more by buying 10 gallons of "cheap paint" that doesn't cover well than 3 gallons of more expensive paint that covers better. Also, it's a lot less time-consuming!
Fortunately, I have learned a lot about DIY in the last several years and wanted to find the absolute best paint for cabinets as I get ready to paint the cabinets in our new home.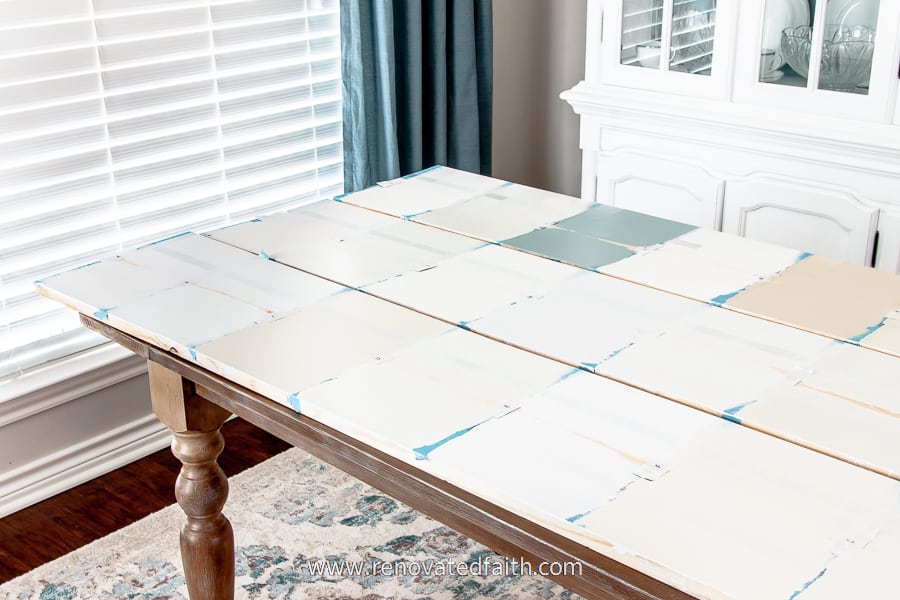 How Do You Make Old Cabinets Look Modern?
If you have orange honey-oak cabinets in your kitchen as I do, there are more than two main problems. Yes, they are orange, but also most oak cabinets have a very open grain which means they don't have the smoothest, most modern-looking finish.
Fortunately, I'll show you the best paint for oak kitchen cabinets that levels into the grain as well as some tips to get them looking completely smooth!
How Much Money Do You Save By Painting Cabinets Yourself?
Painting your own cabinets is such a budget-friendly way to make a huge upgrade in the room of your house that is most important for resale. I was quoted a cost of over $3,000 to hire painters for my kitchen cabinets, but by doing it myself, I paid just $492. See exactly how much it costs to paint your cabinets vs hiring a pro here: How Much Does It Cost To Paint Kitchen Cabinets
For more low-cost ways to make a big impact on your home, get this free list: The Easiest Low-Cost Ways to Increase the Value of Your Home
What to Consider When Picking The Best Brand of Paint for Kitchen Cabinets
There are several considerations when picking the best paint brand for kitchen cabinets like coverage, smoothness, durability, and cost.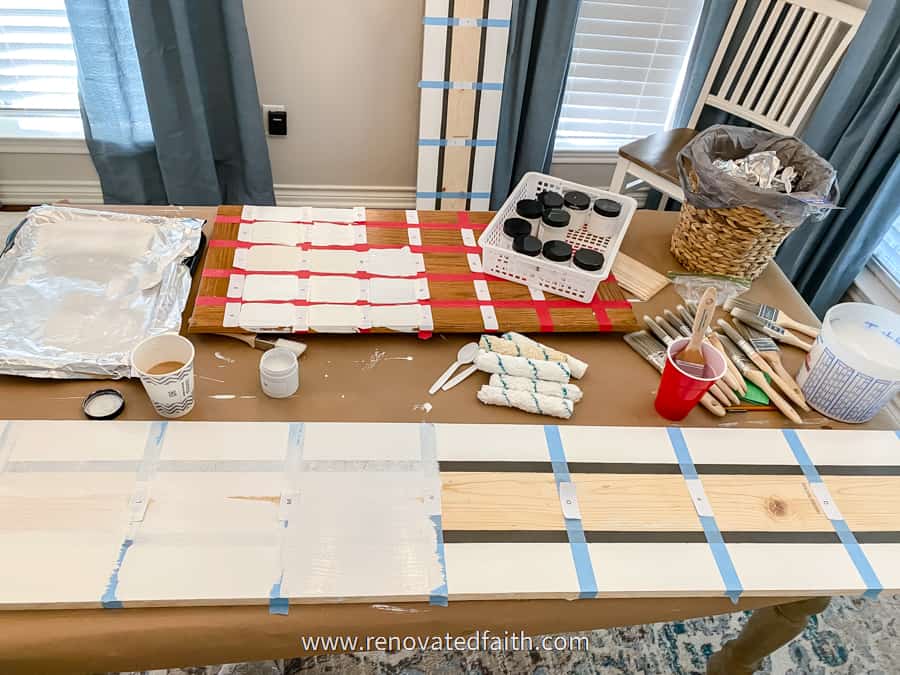 How I Tested Cabinet Paints With The Best Coverage
As I mentioned in the introduction of this blog post, coverage has a huge effect on how many coats of paint you have to apply which also affects your application time and cost. That's why coverage is one of the biggest considerations when picking the best cabinet paint for kitchens.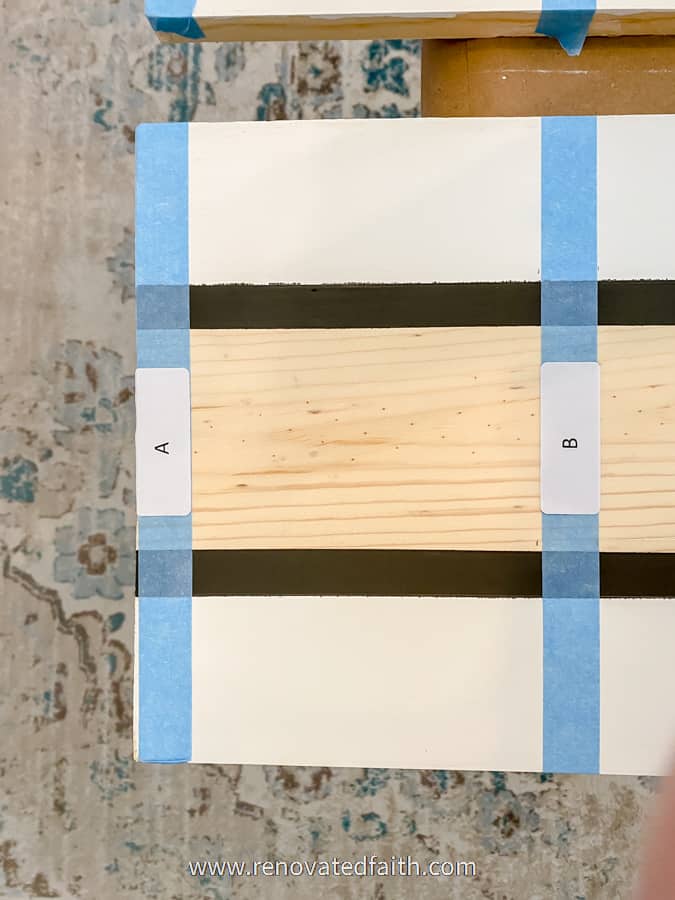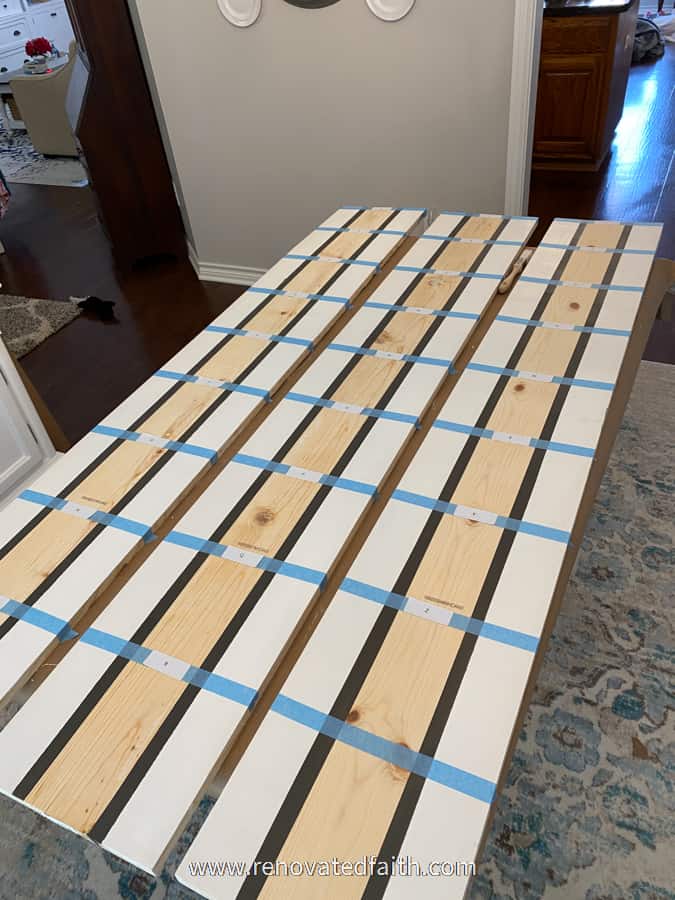 To test coverage, I painted a black line down the length of two sides of the line after painting on a couple of coats of primer. Then, I painted each sample of paint in 10-inch bands on the board. After the second coat of paint, the brands that no longer showed the black line had the best coverage. The one where the black line was most prominent had the worst coverage.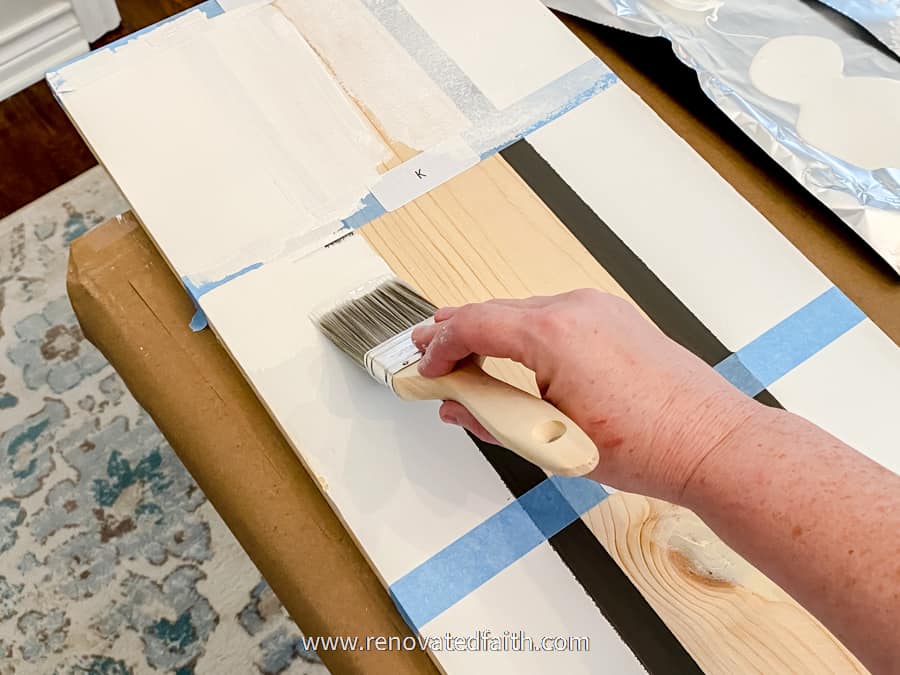 How I Tested Cabinet Paints With The Smoothest Finish (With a Brush and Roller)
When it comes to a smooth finish, I'm such a stickler! Unfortunately, one of the downsides to painting honey oak kitchen cabinets is that they have a very open grain. In other words, you can see lots of small indentions on the entire wood surface. To specifically test which paint finishes would settle into the wood grain to make smooth surfaces, I painted a sample of each on the back of one of my own cabinet doors.
You also want to make sure that your paint doesn't show brush strokes or roller marks. To test for a smooth surface, I painted one side of the board I mentioned above with a brush and the other side with a roller for every paint sample. I'm glad I tested both because some paints that did great with brush strokes did not go on very smoothly with a roller!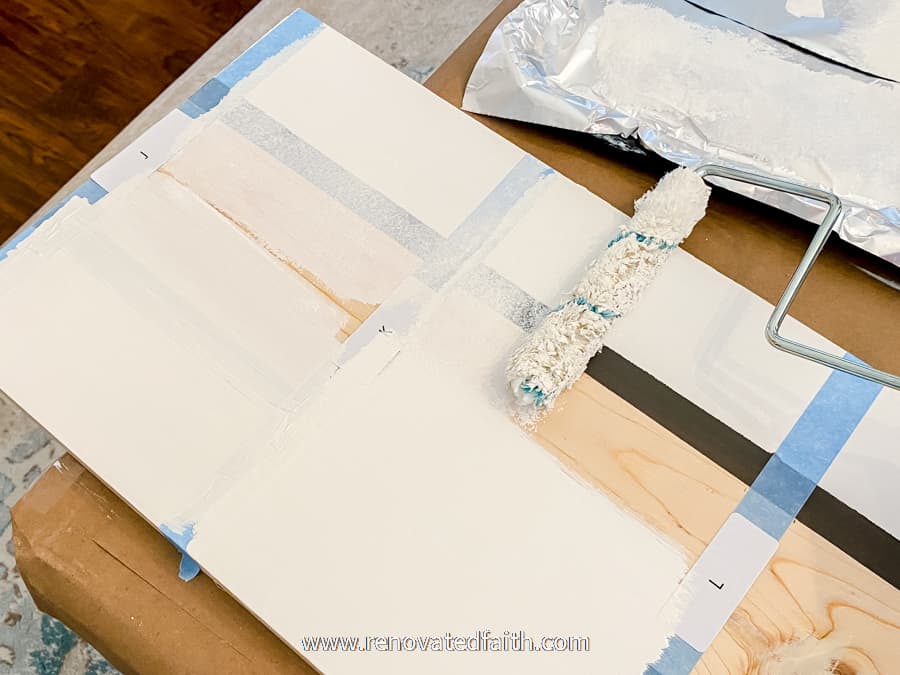 How I Tested "Scubbability" and Stain Resistance for The Best Kitchen Cabinet Paint
In a cabinet refinishing group, I got the idea to test for stain resistance. Apparently, the two most notorious substances for staining white cabinets are coffee and tomato sauce.
However, the test I learned the most from was the mascara test. I got this idea when I got mascara on the surface of my grandma's vanity I painted. I assumed I would have to repaint it but to my surprise, it was scrubbed off with a microfiber cloth without any of the paint coming off.
So, I put a stroke of water-proof mascara on each sample to see:
Which painted surface the mascara could be completely removed from with dawn, water, and a microfiber cloth
Which paint would not rub off along with the mascara
I used black microfiber clothes so I could easily see if any white paint was coming off with the mascara.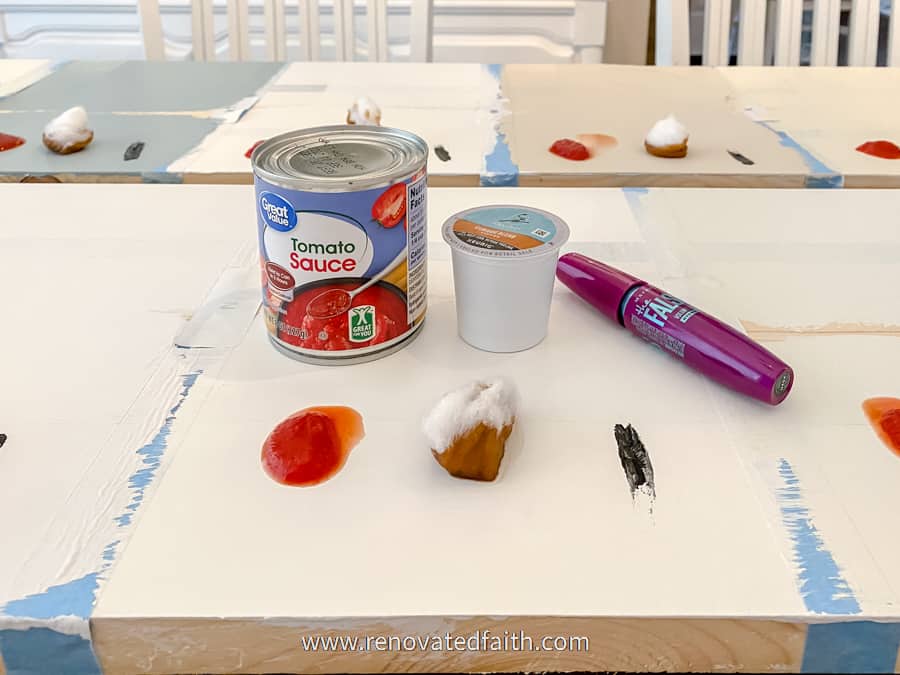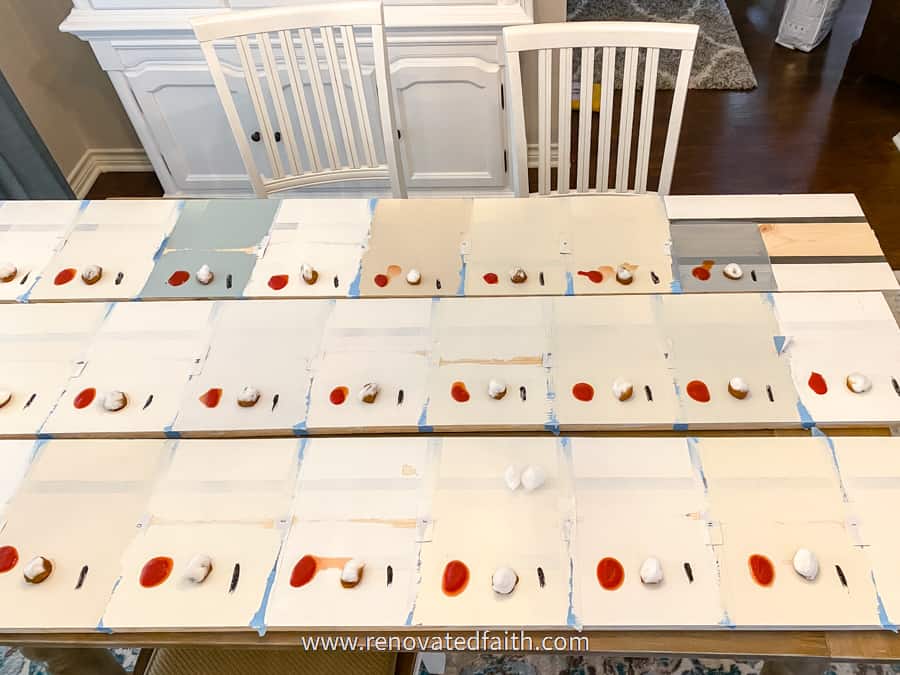 How I Tested the Most Water-Proof Cabinet Paints
When I tested the best clear coats for furniture, I put a cold drinking glass on different surfaces to see which clear coats would leave a ring. I did the same test with cabinet paints and all of them did really well. No painted surface of any bubbled up after having a cold glass on it for 48 hours! There was one paint (Rustoleum Chalked) that peeled. Annie Sloan Chalk Paint's unwaxed sample showed that the paint can partially reliquify when sitting in contact with water. That's why you should always use a protective cost like Varathane's Waterbased Polyurethane. You can see why I much prefer it to wax here: The Absolute Best Clear Coat for Wood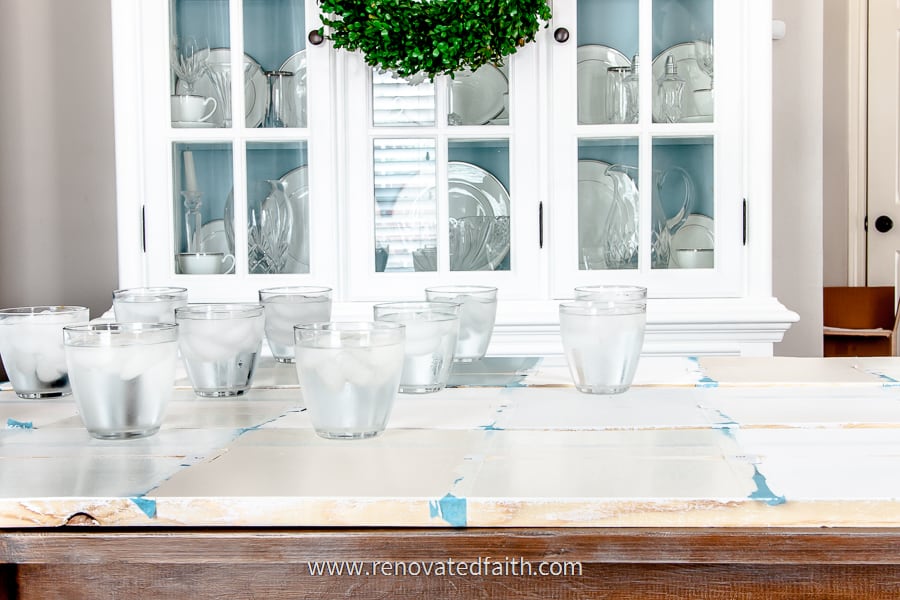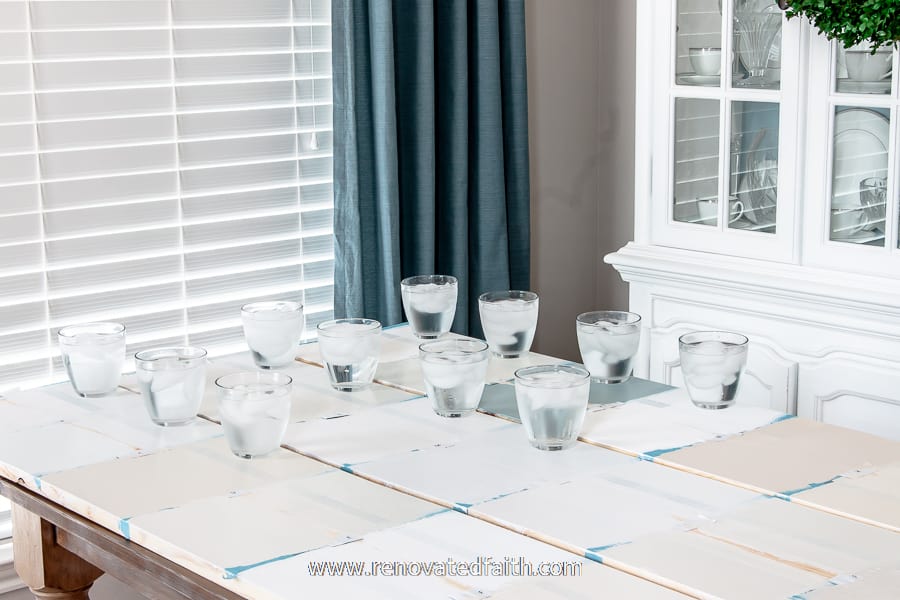 How I Tested Leveling Ability of the Best Kitchen Cabinet Paints
To test how well a paint leveled out on an uneven surface, I used the back of one of my oak cabinets which has a very open grain. After the paints cured, I looked at each sample to see which leveled out the most on such an uneven surface.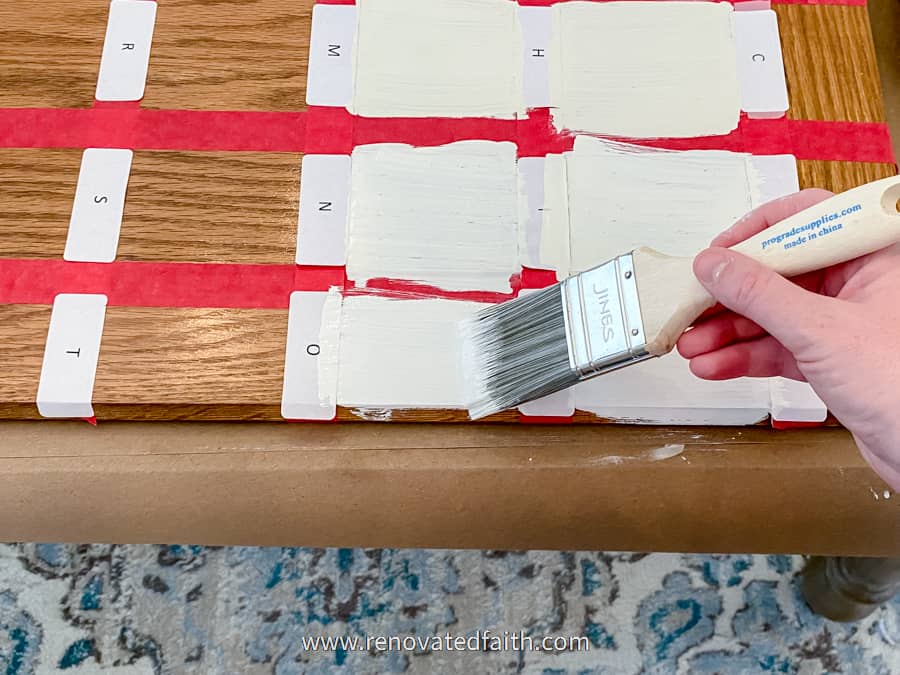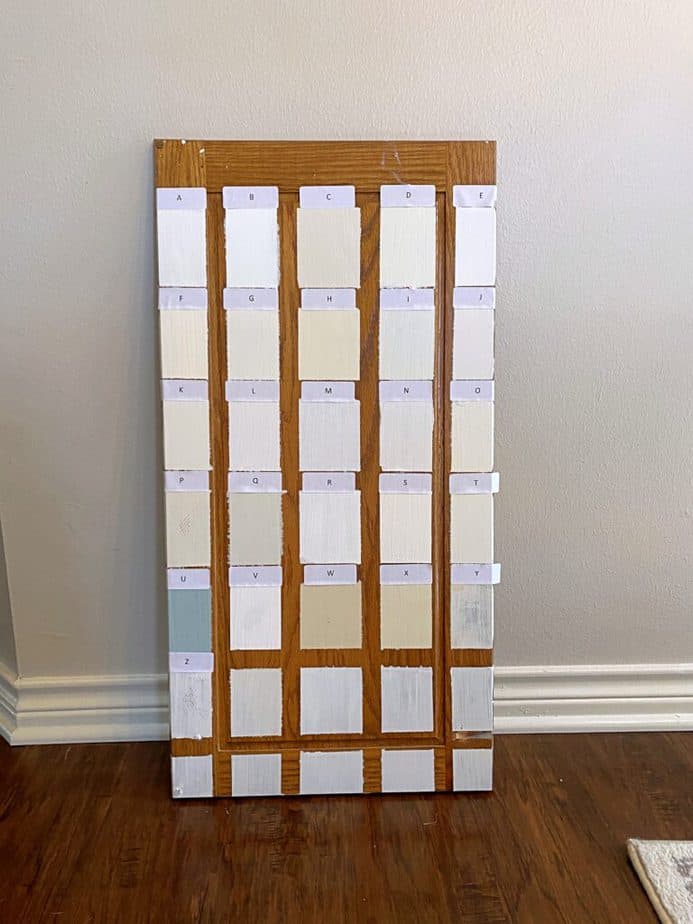 Complete List of Cabinet Paints Tested and Reviewed (In Alphabetical Order)
All of the below brands and paint types were allowed to cure for a full 30 days before any testing. I used a base coat of the same primer before painting on each type of paint:
Annie Sloan Chalk Paint
Behr Interior Satin Cabinet and Trim Enamel (Home Depot)
Behr Marquee (Home Depot)
Behr Premium Paint (Home Depot)
Behr Urethane Alkyd Satin Enamel (Home Depot)
Benjamin Moore Advance
Dixie Silk
General Finishes Milk Paint
Glidden
Heirloom Traditions
INSLX Cabinet Coat aka Benjamin Moore Cabinet Coat
Inspired By U (Milesi)
Rethunk Junk
Retique It
Sherwin Williams Emerald Urethane Enamel
Sherwin Williams Proclassic Acrylic Alkyd Waterborne Hybrid
Sherwin Williams Showcase (Lowe's)
Sherwin Williams Proclassic Water-based
Valspar Ultra Cabinet Paint
Wise Owl One Hour Enamel
Behr from Home Depot has always done well with Consumer Reports which is why I tested several types of paint from them and I'm glad I did.
Also, you'll notice Annie Sloan chalk paint is listed. Most people wouldn't consider chalk paint to be cabinet paint but because so many are using it on cabinets, I decided to include it. Also, all of the specialty paints had tutorials on their homepages with instructions on how to use their products to paint cabinets. Also, the chalk paint was waxed for the water and scrub tests.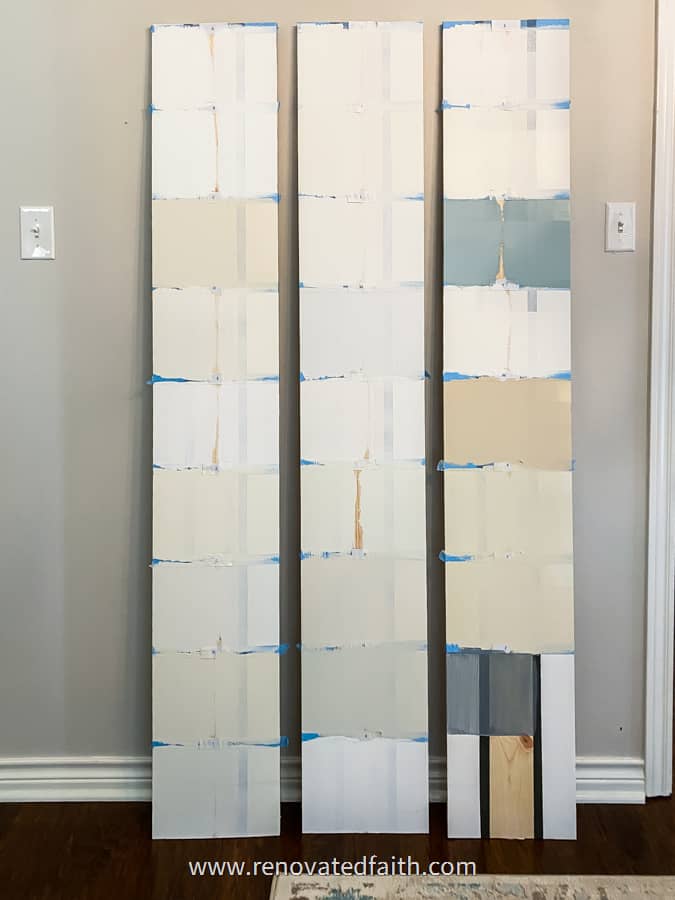 What is the Best Paint for Cabinets?
There are several kinds of paint on the market and each has positives and negatives. Here's a guide to the right type of paint for cabinet painting:
What Kind of Paint is Best for Kitchen Cabinets?
Traditional Oil-Based Cabinet Paints
Cabinet paints have come a long way in recent years. Initially, the only kind of paint for cabinets was oil-based paints. They were durable and hardened quickly but this would also sometimes lead to cracking or even chipping. They settled well making for a really smooth surface, but they had a really slow dry time. Also, they had a strong smell since VOC levels were really high. Also, some white oil-based paints are prone to yellowing over time – which is less than ideal for white cabinets. Oil or enamel paints are still used today but are less common.
Traditional Latex Water-Based Cabinet Paint
Later, latex or water-based paints began to come on the scene. They had some malleability which led to less cracking but this also make them less durable and not quite as smooth. They had low VOCs and easier clean-up, but the surface wasn't as buttery smooth as their oil-based counterparts.
Hybrid Cabinet Paints
Then, hybrids came on the market often called "acrylic-alkyd formulas". These hybrids are special cabinet paints that have easy clean-up, low VOC and fast-drying times of latex paints BUT also have the durability and smooth finish of oil-based paints. The fact that they have the same or better durability is so important for cabinets that are subject to daily use and are subject to a lot of wear.
Specialty Cabinet Paints
These are paints usually sold in small amounts in boutiques or online from independent retailers. Most of the paints are also marketed for furniture. These can comprise more than one kind of paint but they are usually all sold in small amounts for high prices.
Professional Two-Part Catalyzed Paints
A catalyzed paint is a fast-drying finish that comes in two parts. After you paint on the finish, you then have a window of time to paint or spray on an acid catalyst (hardener). These two-part paints give you a GORGEOUS finish, but they are not DIY friendly. The VOCs are crazy high and there is a steep learning curve. They are most often made in Italy and have to be bought in large quantities.
What makes it difficult is that it's not obvious what paints are in which category. If you are looking at an oil-based paint, it usually includes the words "enamel paint" or "alkyd paint". The hybrid paints will usually have one of these words but also include "water-based" or "water-borne" in the title.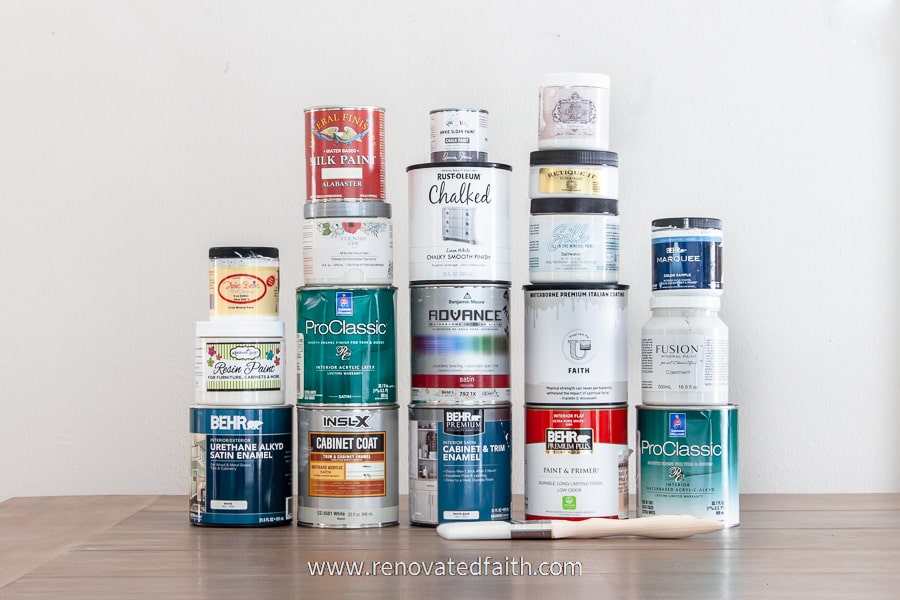 What Do Professional Painters Use to Paint Kitchen Cabinets?
Professional painters will often use different formulas of Sherwin Williams and Benjamin Moore paints. To make the waters even muddier, some professional painters use the catalyzed paints I mention above.
The Best Paint for Wood Cabinets (DIY-Friendly)
For this post, I tested paints from Sherwin Williams, Benjamin Moore, the big box stores, and also specialty paints like chalk paint. While there are some great professional catalyzed coatings out there, I'm not reviewing those because the scope of this post is what the average DIYer can get their hands on and ease of use at a low cost. Also, for each of the paints evaluated, you can use a paint roller and brush or a paint sprayer.
Best Paint Finish for Kitchen Cabinets
Not only is it important to consider different types of paints but you also want to pick the right paint finish (or paint sheen) for your project.
The paints coming from the big box stores and paint stores all have different options as far as sheen ranging from flat (or matte finishes), eggshell, satin, semi-gloss finish, gloss, and sometimes a high-gloss finish.
The shinier or glossier a paint is the more durable it is. However, glossier finishes show defects and surface imperfections more easily. For that reason, it's unconventional to use glossy finishes for cabinets.
But the main reason high gloss finishes aren't used on cabinets is because of style. The look of matte and eggshell paint finishes are much more sought-after as farmhouse decor has risen in popularity. But while matte and eggshell finishes aren't very durable a great compromise and the most popular choice for cabinets is a satin paint finish.
A satin paint sheen is the best finish for kitchen cabinets because it gives you enough sheen to help with durability but not so much sheen that the finish shows imperfections or looks dated.
If you are concerned about durability or have extremely high traffic areas in your home, you might want to consider semi-gloss paints. It's not much glossier than a satin finish but is also a little more durable. As long as you stick with high-quality paint brands, satin finishes or semi-gloss finishes are the best options and will give you all the durability you need.
The Best Supplies for Painting Kitchen Cabinets
For painting cabinets, you can either brush, roll or spray. You can also do a combination of two. If you opt for spraying, you can paint the cabinet doors in your garage and roll the cabinet bases. That way you don't have to take all the extra time to tape off your cabinet boxes.
I personally like to roll both my cabinet boxes and doors.
Although several prefer a foam roller, my favorite roller for painting cabinets is this 3/8″ microfiber roller from Home Depot. It gives you an incredibly smooth finish without roller marks and is very forgiving when painting over defects in the painted surface. I absolutely love this roller and used it on my own cabinets and on every furniture project. You can see the current price here: Home Depot Best Roller
My favorite brushes for cabinets are Zibra brushes. They not only give you a flawless finish but the brushes just glide over the surface of whatever you are painting. They are a little more expensive but I've never lost a bristle with these and they are fun to use.
The Best Way to Paint Kitchen Cabinets
Here's a quick run-down of the important steps to paint your cabinets but you'll want to see the detailed instructions here: The Ultimate Guide on How to Paint Oak Cabinets
Download your Free Cabinet Painting Roadmap.
Label all cabinet doors and note on a piece of paper how they are labeled. Remove all kitchen cabinet doors, drawer fronts, and hardware including hinges, knobs, and pulls. Put all hardware in a plastic bag and put it in a safe place.
At this point, I like to drill any new holes for the new hardware so that if I make a mistake, it's easy to fill at this point in the process: The Easiest Way To Install Cabinet Handles
Degrease the cabinets with Krud Kutter and a green scotch bright scrubber. Let them dry.
Fill the old holes with wood filler and let them dry. You can see how I used a great wood grain filler here: The Secret to Removing Wood Grain on Cabinets
Set up your doors and drawer fronts on tables in your garage. Sand over your cabinet doors and boxes with a 150 grit sandpaper pad. I like to use my mouse sander whenever possible. Remember you are just roughing up the surface, not sanding to the bare wood – How to Sand Wood FInishes
Use a damp cloth or tack cloth for wiping off the sanding dust.
Apply your first coat of primer, let dry, and sand with 220
Repeat the last step of sanding and wiping.
Prime a second time and sand with 220 grit sandpaper.
Wipe off your cabinets again and this time vacuum the floor.
Paint on your first coat of paint with a brush on the trim and a roller on the flat areas. Let it dry.
Sand but this time very lightly with 400-600 grit sandpaper.
Apply any additional coats of paint, sanding in between. White paint takes a few coats and darker colors take fewer.
How to Get a Smooth Finish When Painting Kitchen Cabinets
If you are painting oak cabinets, you may have noticed that oak has a very open grain which means you can see grooves on the surface when looking at it from the side. If you want your finish to be perfectly smooth, you'll have to use a filler to fill in the grain.
Filling the grain will actually save you from some extra steps if you are trying to get a smooth finish with just paint and sanding. You can see my post here on the best product for filling oak wood grain and how to use it: How To Fill Wood Grain in Cabinets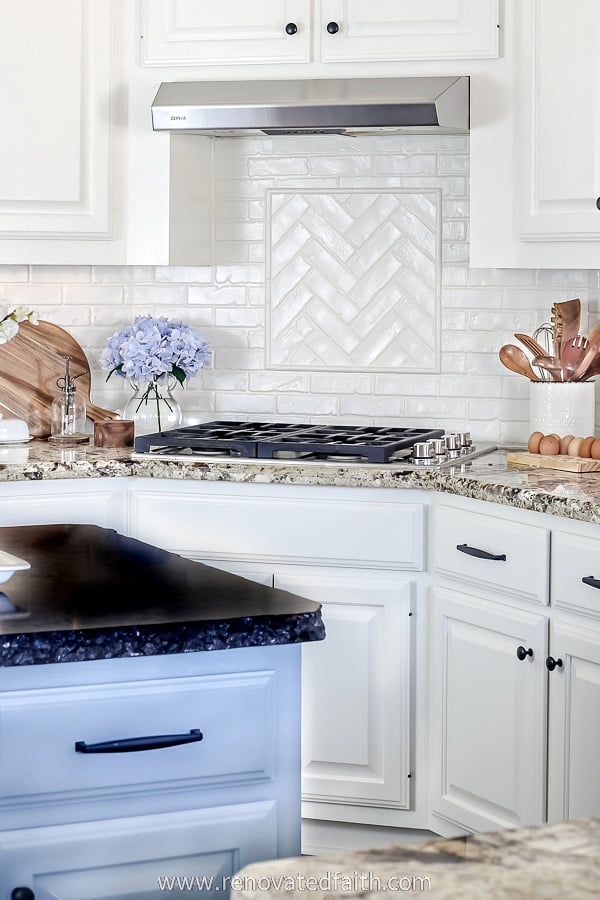 The Best Oil-Based Paint For Cabinets
So often readers ask me what the best oil-based paint for cabinets is and I understand what they are getting at. If you are going to go to all the trouble of painting your cabinets, you want to paint them with a tougher, more-durable oil-based enamel. But what I didn't know before starting this process is how far alkyd hybrids have come.
As I mentioned above, alkyd hybrids have all the positives of traditional oil paint without the negatives. In other words, they have the durability and hardening capacity but without the higher VOCs (volatile organic compounds), brittleness, and yellowing of the final coat. You can also clean up hybrid paints with soap and warm water unlike oil paints which require mineral spirits.
So if you are asking what is the best oil-based (hybrid) paint, then the answer is Benjamin Moore Advance. If you are wanting to know the best traditional oil-based paint, farther down the 'overall best paint list' you'll find Sherwin Williams Emerald Urethane Enamel.
The Best Paint and Primer for Kitchen Cabinets
No matter the type of material you are painting, you need a good primer! A good bonding primer makes all the difference in how well your paint adheres to the old finish. For that reason, I used Zinsser Cover Stain under all the samples I tested and I used it on my own kitchen cabinets with good results.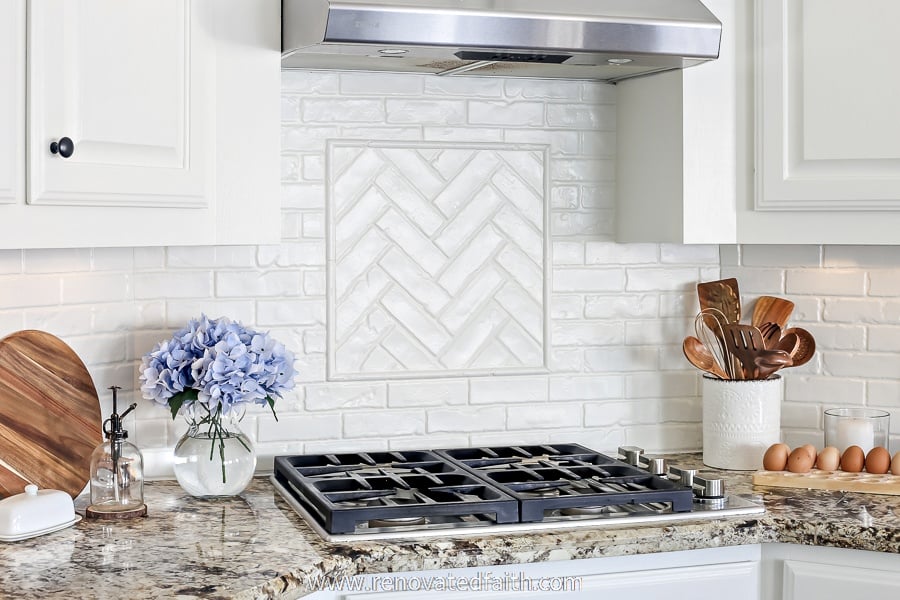 The Best White Paint Colors for Kitchen Cabinets
White is one of the most popular paint colors for kitchen or bathroom cabinets. But did you know there are literally hundreds of different shades of white? Fortunately, these are a few different colors that work well in just about every home and it's a good idea to go with tried-and-true options:
Also, if you see a paint color you like that is say a Sherwin Williams color but are buying Benjamin Moore Paint, no worries! Just tell them the Sherwin Williams color at the paint color. Benjamin Moore and all the big box stores have Sherwin Williams color codes in their computer.
Sherwin Williams Pure White – This is my go-to white because it is very clean and balanced without being too stark or too creamy. It is probably the whitest of all the whites with just enough softness to it. When in doubt, I always go with SW Pure White.
Sherwin Williams Snowbound – This is actually a white similar to Pure White, but it takes one step into the cooler undertones making it slightly off-white. If you are going with grays or a navy, SW Snowbound will pair nicely because of its gray undertones.
Sherwin Williams Alabaster is slightly warmer than Pure White without it being creamy. This warmer white coordinates beautifully with greiges and is very popular! It is really a great white that will work in just about any kitchen whether your wall color is greige or beige.
Sherwin Williams Creamy is a true creamy white if you are going for a more obvious farmhouse look or coordinating with beiges. Although it has warm undertones, it will not look too yellow making it a great white for any home. This color is similar to Benjamin Moore Chantilly Lace.
Some other great options worth looking into are Chantilly Lace and White Dove for a more modern look. You can see pictures of all these colors in actual homes here: The Best White Paint Colors for Cabinets
Do you Want Dark Gray Kitchen Cabinets?
Sherwin Williams Morning Fog is a great medium gray with subtle blue undertones without being a blue-gray. It is very upbeat and pairs nicely with a navy or blue-gray island. It's a great color for gray kitchen cabinets when you want the space to still feel light and airy.
Sherwin Williams Gauntlet Gray – This is a gorgeous shade of gray that is a great dark gray for cabinets without being black. Although it is a deep color, it is known for being sophisticated and elegant instead of heavy and boring.
Sherwin Williams Urbane Bronze – As the 2021 Sherwin Williams color of the year, this a great new color option that works beautifully when you want to go with dark, smoky cabinets that don't look black. This gray has lots of neutral undertones which gives it a lot of dimension for a darker color.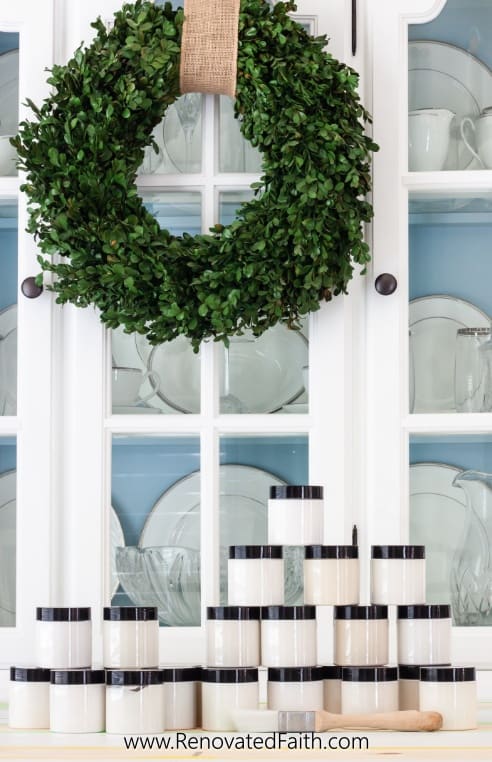 RENOVATE YOUR FAITH: When God Does His Best Work
If you are painting your cabinets, a furniture piece or any craft project you'd probably agree that there are few things that make you feel less effective or useful than sitting and watching the paint dry.
But when the paint is drying it's actually doing the most important work to do the function it needs to do – make a smooth durable finish for your project.
Sometimes I feel like there are boring monotonous seasons of my life when I feel useless. But in Philippians 1, Paul writes his epistle as he is stuck in a confined prison cell. While I might have found myself discouraged that I wasn't feeling more effective in the spread of the Gospel, Paul did the very opposite.
Instead of feeling that his ministry work was stagnant, He kept right on ministering to those around Him, no matter the fact that he was in prison.
In fact, Paul used the letter Philippians to encourage his people that the building of the church had not come to a standstill but was actually advancing at a fast rate.
Paul used his time in prison to share the truth of the Gospel with the soldiers referred to as the praetorian guard. These soldiers not only guarded prisoners but they also protected many high-ranking officials, and it was an honor to serve in such a role.
There were 10,000 of these special soldiers and even though Paul was in prison, the Gospel was still spreading. This was an advanced network of soldiers that Paul was in constant communication with and if not for Paul's imprisonment, they and their families would have never heard the Gospel.
Maybe you feel like you are in a stage of your life that is as exciting as watching paint dry. Or maybe you are going through a trial, and you don't see how any good can come from it.
Be encouraged to know that God is working behind the scenes even when you feel ineffective. Whether we see it or not, God never wastes our trials, and He can actively use them for the advancement of the Gospel if we let Him.
Do you feel like you are in a holding pattern? Don't use this time to take a low profile. Continue "showing up" knowing that God is working in the midst of life's pauses. In fact, this is when God does His best work.
Often our times of suffering are actually God setting the stage for blessings greater than you can imagine.
"No eye has seen, no ear has heard, and no eye has seen what God has prepared for those who love Him." 1 Cor. 2:9
For more spiritual encouragement, click here for the rest of my project posts that also include Renovate Your Faith devotionals.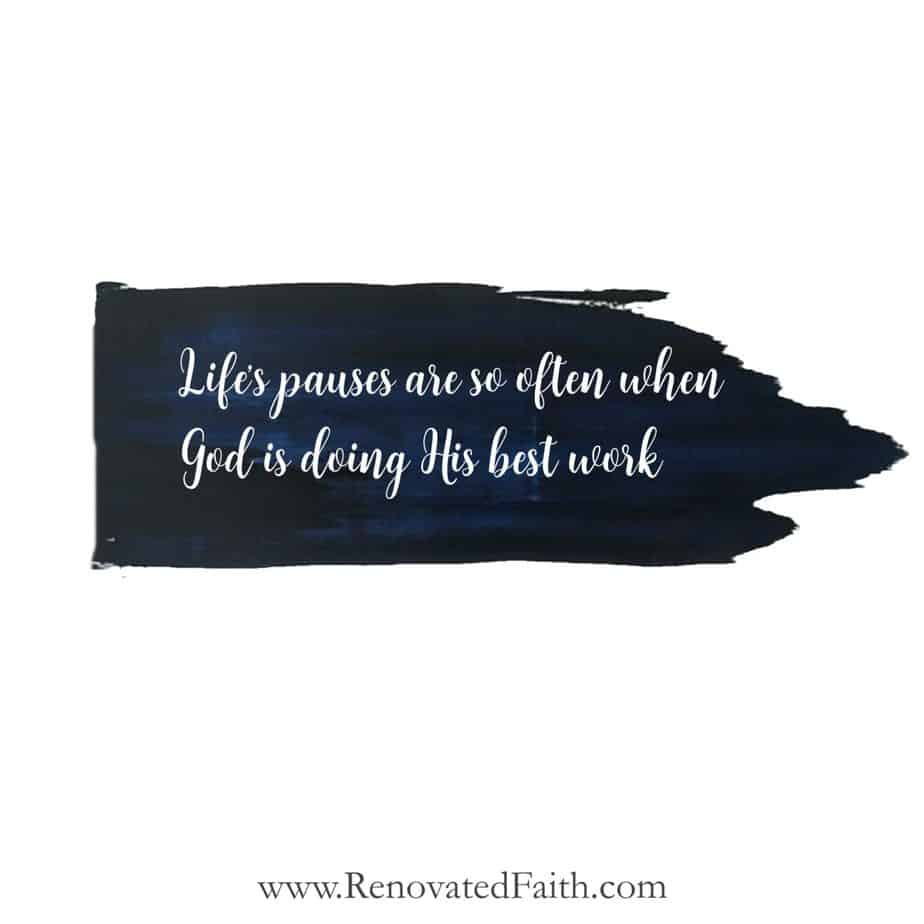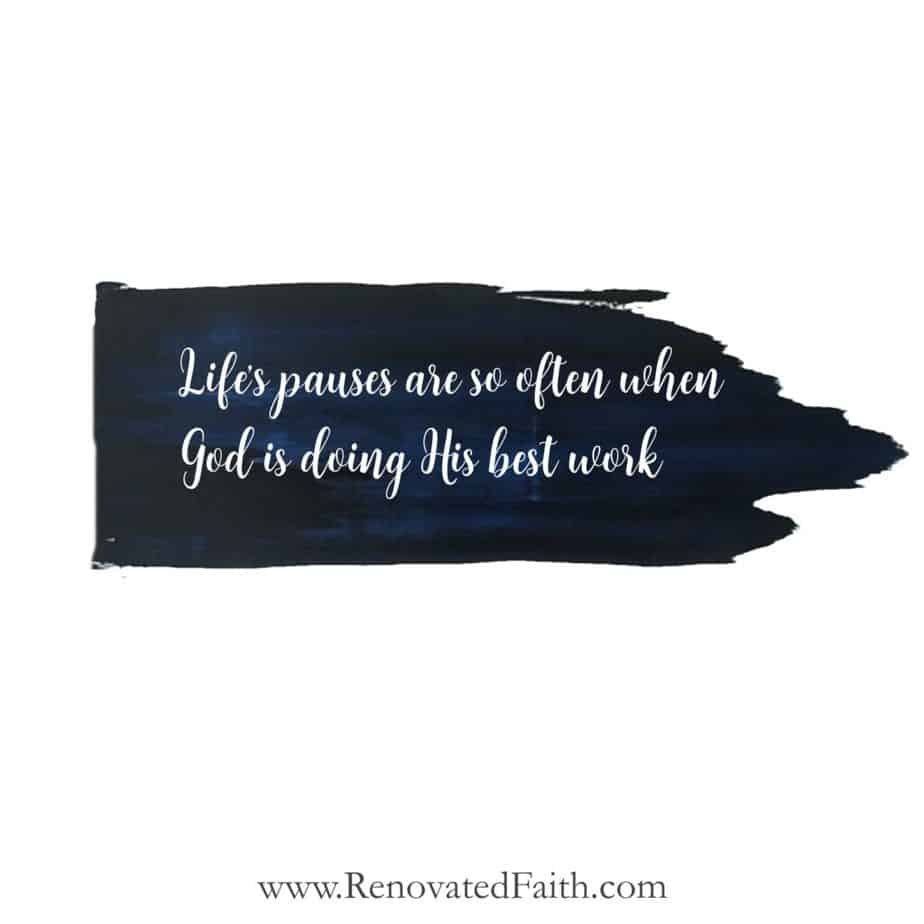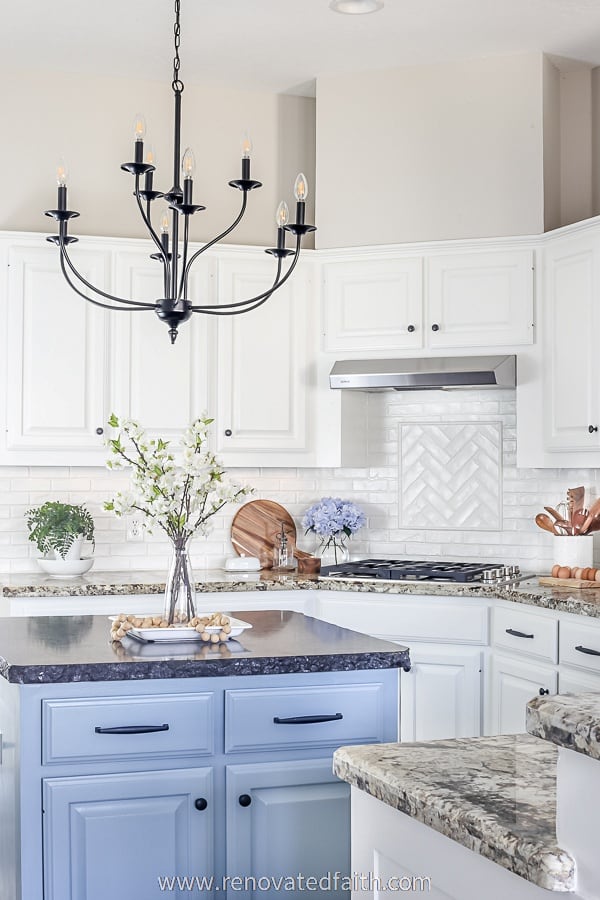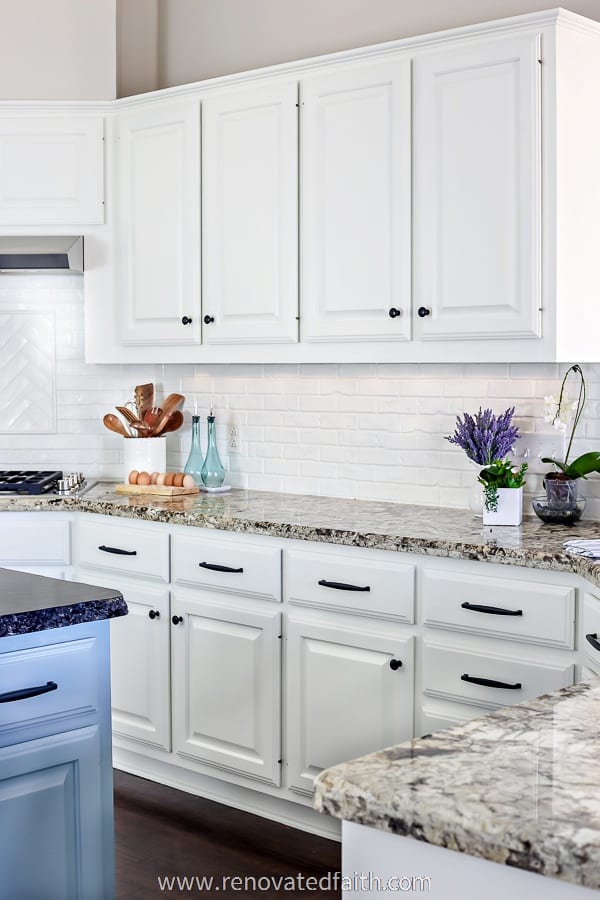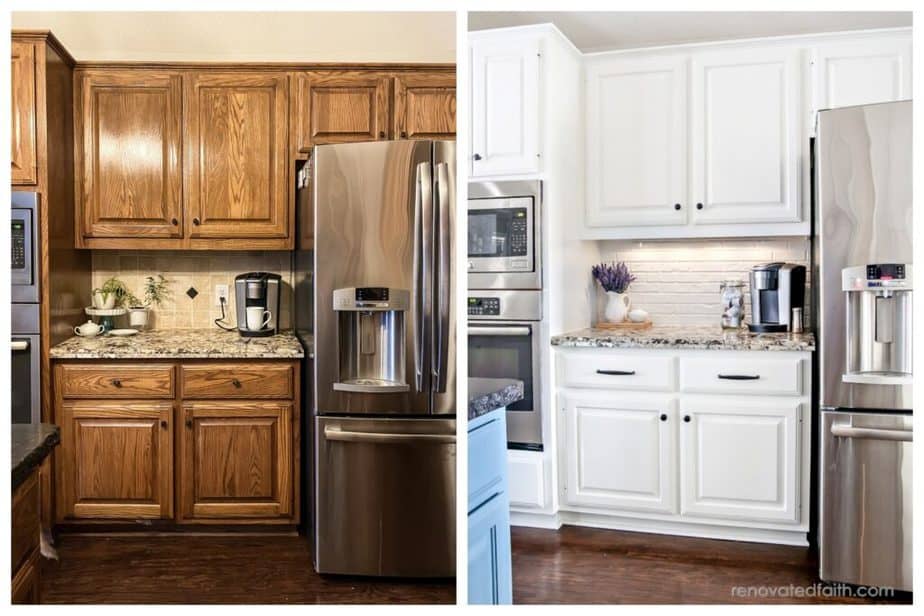 FAQ's: The Best Paint Brand for Kitchen Cabinets, 2024
What is the Best Paint for Kitchen Cabinets (For DIYers!)?
If you are a DIYer, you are in the right place! People have strong opinions when it comes to cabinet paint. For this post, my goal was to find the best paint for the average DIY homeowner. Some professional painters might have access to specialty brands of paint that you have to spray on or buy in bulk. But my goal with this post was to find the paint that makes the most sense for the average Joe (or Jolean). There are several amazing cabinet paints but if they are cost-prohibitive or they have to be sprayed on our bought in bulk, that's not the right paint for DIYers.
What is the Best Paint Sprayer for Cabinets?
For DIYers, I personally recommend brushing or rolling your cabinets. There is definitely a learning curve with a paint sprayer and while it can be easy to use at first, it can be hard to troubleshoot problems unless you have some experience. Not only does it take time to learn to use a paint sprayer, prepping the space to spray the cabinet boxes can be daunting. If you are going to use a paint sprayer, I recommend just spraying the cabinet doors and drawer fronts and rolling the boxes. Here is an easy-to-use spray for spray painting cabinet doors: HomeRight Max Paint Sprayer
What is the Best Paint for Bathroom Cabinets?
All of the above information about paints for kitchen cupboards also applies to bathroom cabinets. Since bathroom cabinets experience more moisture and condensation on a regular basis, I would always use a satin or even a semi-gloss sheen to better protect them. However, all of the cabinet paints I tested did really well when it came to holding up to moisture.
How Can I Improve Oak Cabinets In Addition To Paint?
An easy way to update your cabinets is by adding new hardware. I like to drill holes for new hardware before sanding and priming so if I make a mistake, I can easily stop and fill the hole at that point. New hardware can easily update the look of cabinets without a lot of extra work or cost.
How To Find the Best Paint for Trim and Cabinets?
Wondering which paint is best for trim? There is not a huge difference in the requirements for cabinet paint and trim paint. With trim paint, you will be painting fewer flat surfaces, which means more painting with a brush than with a roller. When finding the best paint for trim, you want a durable paint that can handle high-traffic areas without brush strokes and comes in a semi-gloss finish. Based on my testing, Benjamin Moore Advance is the best paint for trim and cabinets.
Is It Better To Buy New Cabinets?
Painting cabinets yourself is always cheaper than buying new cabinets or cabinet doors. As long as your cabinets are solid wood and in good condition, painting them yourself will save you a lot of money. For more ideas to save you a ton of money while increasing your home's ROI, click here: The Easiest Projects To Add Character and Value To Your Home
What's The Best Paint for Cabinets Without Sanding?
You never want to refinish cabinets without sanding. Remember, you are not sanding to remove the old paint or stain. You are simply scuff sanding which means that you are sanding the surface of the cabinets just enough, so they aren't slick. This helps the new primer and paint adhere well and it's a step you never want to skip! TO make it go faster, here is my favorite electric sander: Tack life Electric Sander (click here for the current price).
Is Cabinet Paint Different From Wall Paint? Is There A Special Paint For Kitchen Cabinets?
Some of the brands of cabinet paints such as Behr Marquee can also be used on walls. Not all wall paints perform well as cabinet paint though and that's one of the reasons I performed the above tests. Good cabinet paints are extremely durable, non-yellowing, and settle out well for a smooth surface.
Are Oak Cabinets Coming Back in Style?
I wish I could tell you that all you needed to do is add new hardware and you are good to go. But while some oak cabinets are coming back in style, take note they are stained in cooler wood tones. In other ways, they don't have that orange honey oak stain that so many outdated oak cabinets have today. And the easiest way to get rid of the orange tint and give your kitchen a whole new look is with paint! If you want to paint your cabinets to look like wood, take a look at this post: How To Apply Paint That Looks Like Stain
What is the Best Latex Paint for Cabinets?
The best traditional water-based latex paint for kitchen cabinets was Sherwin Williams Water-based Proclassic. Products like Benjamin Moore Advance are actually a hybrid that has all the benefits of oil-based enamels while being a water-borne formula.
What is the Best Benjamin Moore Paint for Cabinets?
This was my first time doing a large DIY project with a Benjamin Moore paint. After using Advance on my cabinets and island, it is clear why it was the perfect choice and I will never use another paint again! Not only is Benjamin Moore Advance the best Benjamin Moore Paint for Cabinets but the results from blind-testing show that it was clearly the Overall Best Paint for Cabinets.
What is the Best Sherwin Williams Paint for Cabinets?
Sherwin Williams paints have always been a popular line with professionals. I was a little surprised that their acrylic alkyd hybrid didn't perform better than their standard water-based latex which was the best Sherwin Williams paint for cabinets: Sherwin Williams ProClassic (water-based formula) You can see how I used it on my vintage vanity here: A Beginner's Guide to Furniture Painting
What is the Best Primer for Painting Cabinets?
Primer acts as a base coat between the first coat of new paint and the old finish. Some are better and bonding those layers, and others are better at preventing bleedthrough of the old stain. The good news is that there are several great primers on the market to help you find the right primer for your cabinets.
If you are concerned about a dark or red stain bleeding through the paint, go with Zinnswer BIN, but if your main concern is your paint adhering to a sleek surface or you have a deep wood grain go with Zinnser Cover Stain as I did. If you are unsure, buy a quart of one and paint a small amount in an inconspicuous area, let it dry, and try scraping it off with your nail. If it doesn't scrape off and there is no bleed-through, you are good to go. Zinnswer Cover Stain is also great for laminate cabinets or wood veneer, and I've heard Stix is a good choice also.
What is the Best Paint for Coverage?
Benjamin Moore Advance line was not only the best cabinet paint overall but it was also the best paint for coverage. I was really impressed with how well a single paint layer covered without using much paint. I was stunned that I had just used a little over a gallon on all of my cabinets.
What Kind of Paint is Most Durable for Kitchen Cabinets?
I had trouble testing the durability because I couldn't figure out the best way to test it equally on each sample BUT I will say without a doubt that Benjamin Moore Advance is extremely durable. We haven't had any issues after having this paint on our cabinets for over a year.
Did You Paint Your Cabinet Interiors?
Painting the inside of the cabinets is a lot of work! I painted the insides of the doors but not the interiors of the cabinets. Be sure to download the Free Cabinet Painting Roadmap HERE to know what order to paint your cabinet door fronts, door backs, and boxes.
Related Posts To The Best Paint for Kitchen Cabinets, 2024
How to Paint Oak Cabinets White Without The Grain Showing
The Best Faux Brick for A Backsplash (PVC Panels for Walls!)
The Best Top Coat for Cabinets and Furniture
How to Turn Acrylic Paint into Fabric Paint Easily
The Easy Way to Paint Furniture with Professional Results
Sherwin Williams Agreeable Gray – Why It's The Perfect Neutral Wall Color
Easy Farmhouse Light Fixture Makeovers with Spray Paint
How to Update Hardware with Spray Paint
33 Tried and True Paint Colors for Kitchen Cabinets
How We Sold Our House in Less Than 24 Hours
25 Popular Kitchen Paint Colors With White Cabinets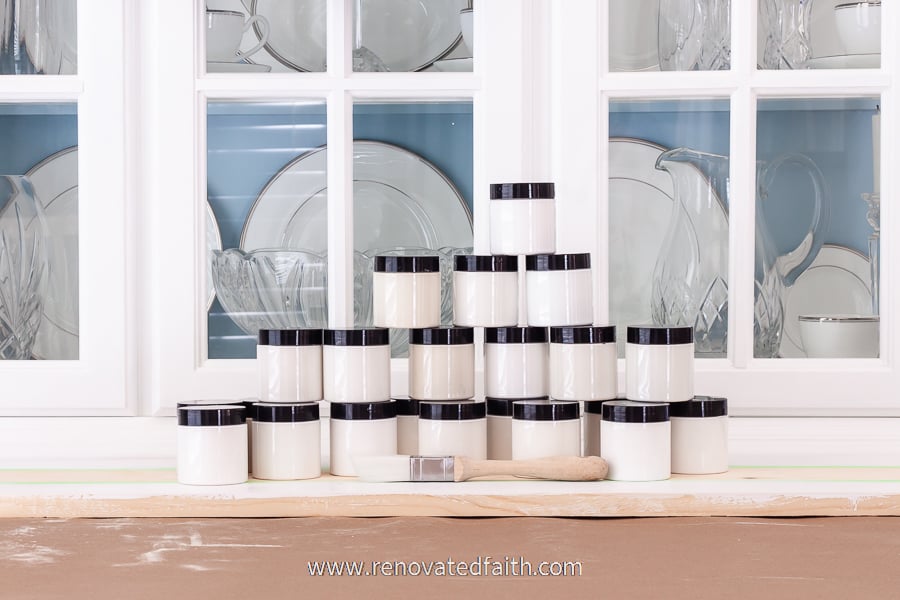 Final Thoughts on The Best Kitchen Cabinet Paint
It's amazing how a fresh coat of paint can change the look of your entire kitchen. Painting your cabinets yourself is worthwhile, and it's a cost-effective way to increase the ROI of your home. There are few projects that make such a huge difference on one room and the kitchen is one of the most important rooms of your home. While painting cabinets is a lot of work, picking the right paint makes all the difference in the results.
After several rounds of testing, you can be confident this post on the best paint for cabinets will give you all the information you need to ensure that you get the best results on your finished product. Good luck with giving your cabinets a fresh coat of paint that you can be confident will last a long time! Also, don't forget to see the full Guide to Painting Cabinets Like A Pro HERE and get your Free Cabinet Painting Roadmap!
WANT TO SAVE THIS FOR LATER ON WHAT IS THE BEST TYPE OF PAINT FOR KITCHEN CABINETS? CLICK BELOW TO SAVE THIS PIN TO YOUR FAVORITE PINTEREST BOARD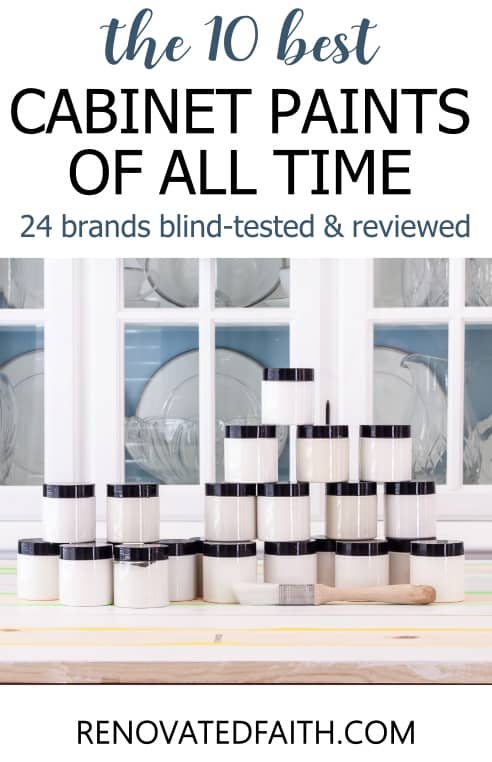 I love to hear your thoughts and questions! Scroll down to leave a comment and I WILL reply! ❤️
Blessings,

Be sure to follow the fun here!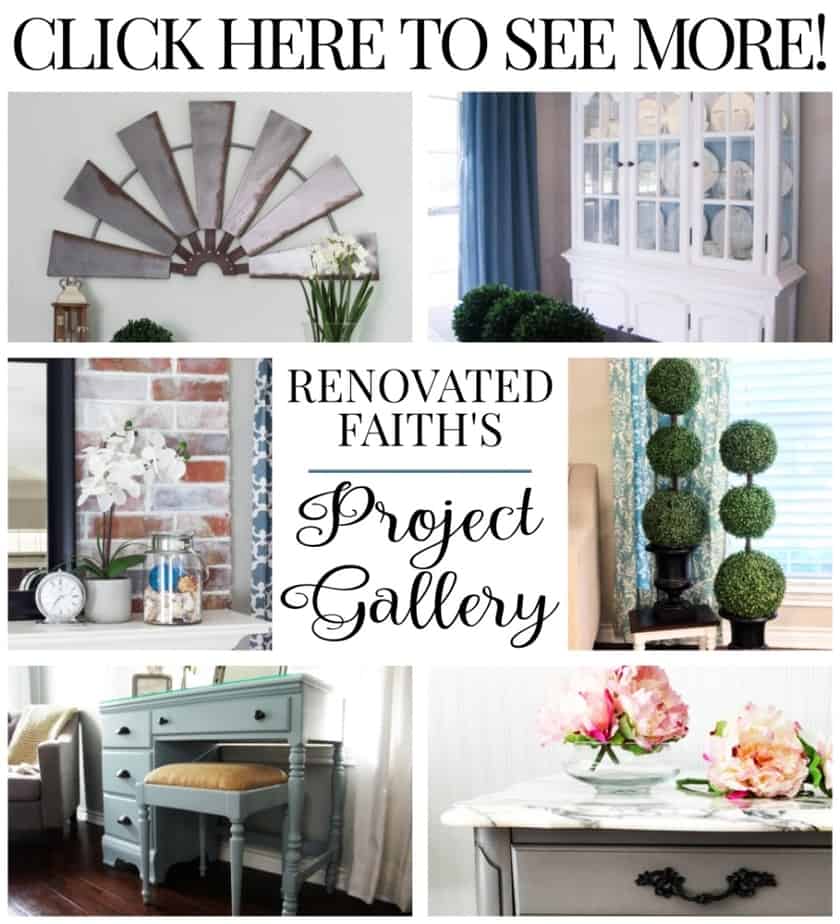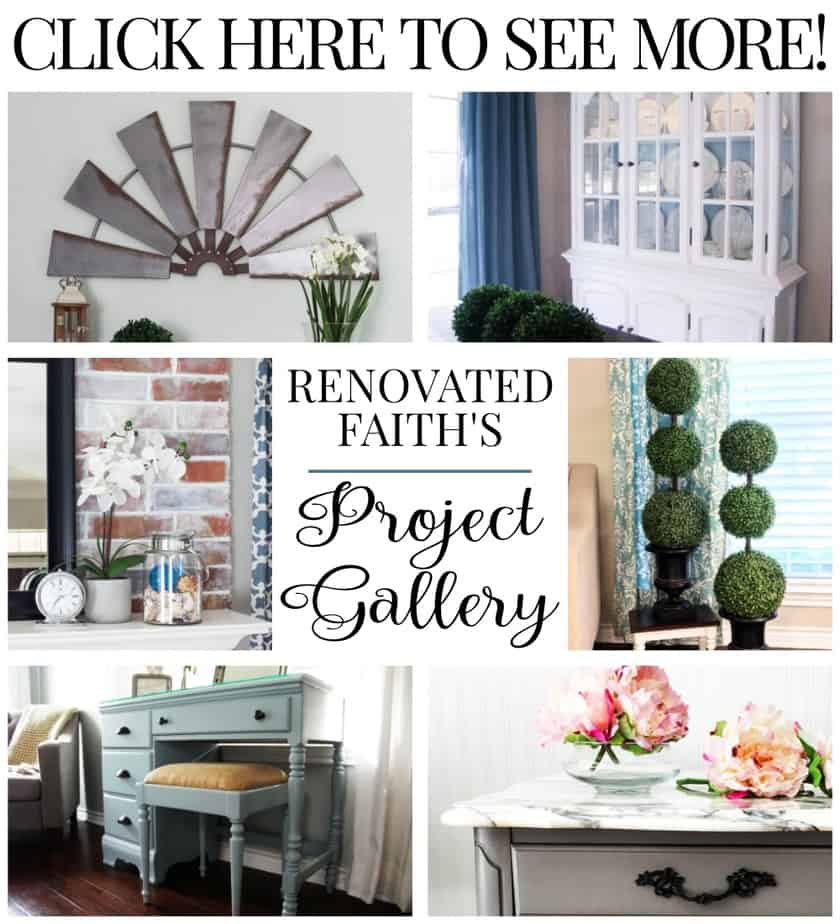 The Best Paint for Wood Cabinets, YouTube Video
Best Paint for Oak Kitchen Cabinets
Welcome to Renovated Faith, where I share about DIY projects, my faith and everything in between! When I'm not spending time with my family, you will find me redoing furniture in the garage or watering plants in my greenhouse. This blog is about transformation. Anyone can renovate a house but only God can transform our hearts!