25 Popular Kitchen Paint Colors with White Cabinets for 2024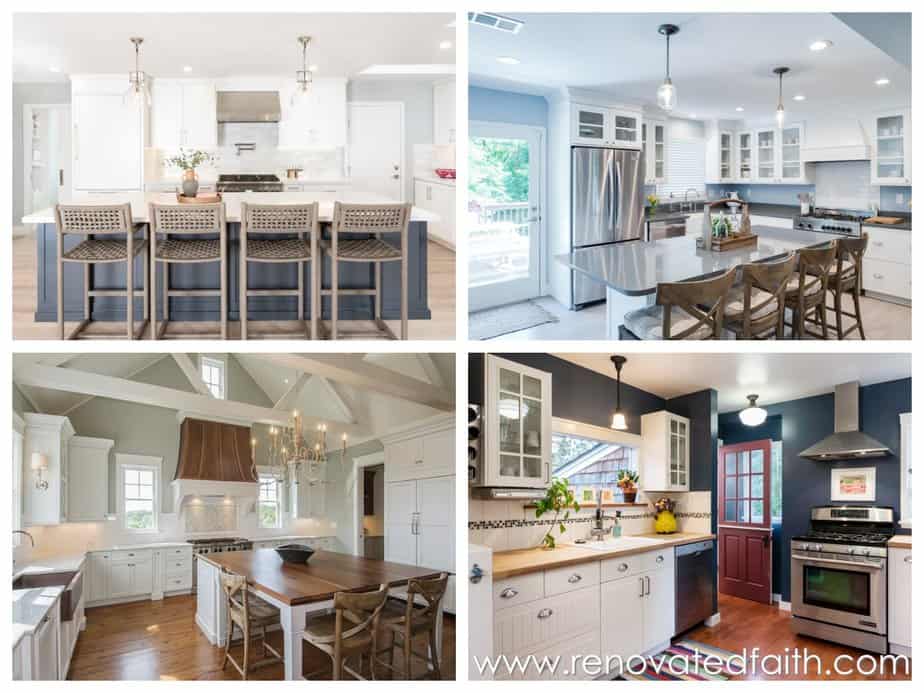 What Color Should I Paint My Kitchen With White Cabinets?
Learn how to pick the best option from this list of popular kitchen paint colors with white cabinets to make your kitchen look seamless and stunning!
---
When you paint your cabinets white, you probably think the rest of your kitchen update will go smoothly.  But the actual shade of white paint plays a big role in picking a wall color that will make or break your kitchen transformation.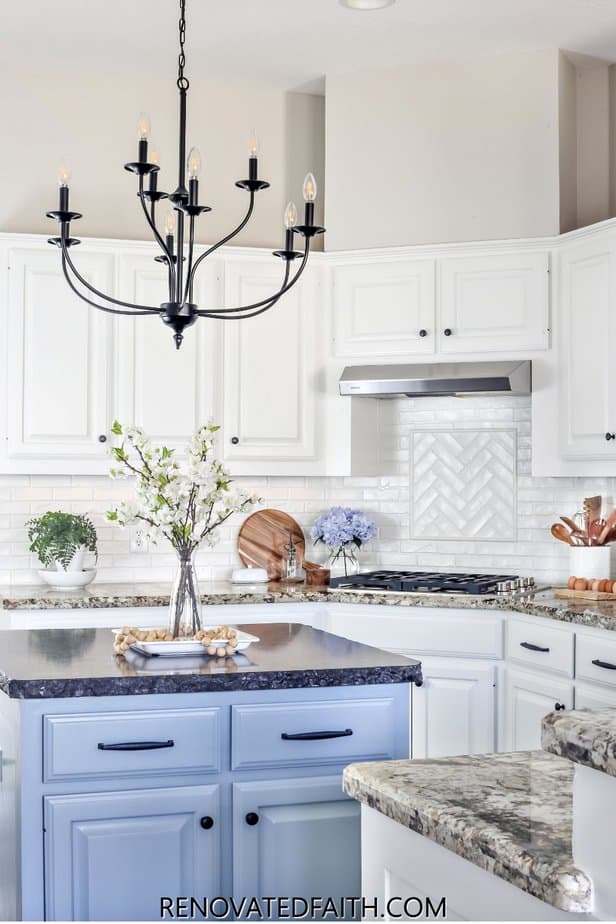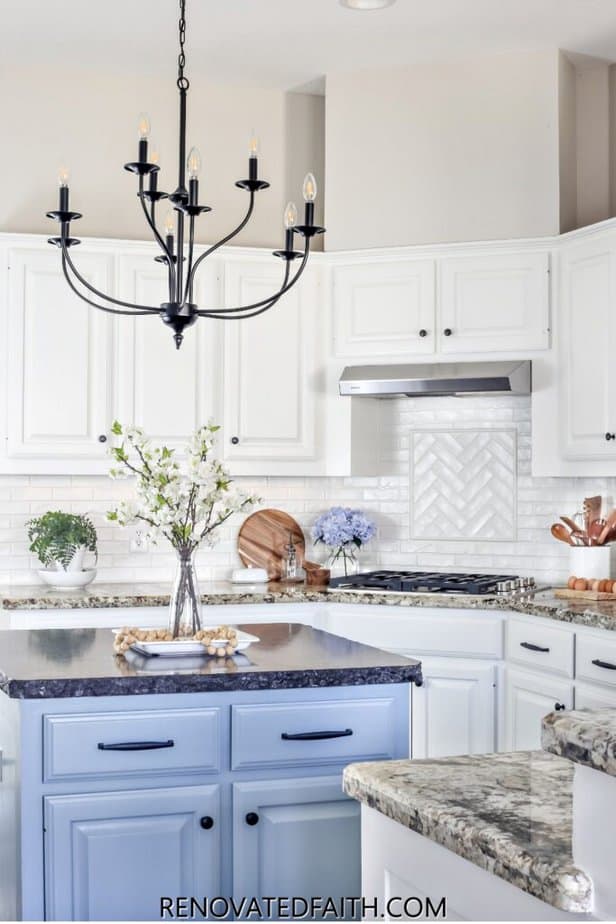 When you start to look at paint samples, the options can seem endless. But in this post, I'll show you some great tips to ensure you make the perfect choice that will accentuate your white kitchen cabinets and give your kitchen a fresh, clean look.
What color goes well with white cabinets?
Depending on the undertone of your cabinets, I've compiled several popular paint colors in each color category including beiges, warm grays(greiges), cool grays, light blues, whites, and even bold statement-making shades.
Keep reading to find out the best color groups for your kitchen walls!
LET ME SHOW YOU:
The easy way to determine the undertone of your white kitchen cabinets
The best shades of failproof kitchen wall colors for each color category
Ideas showing how different colors look in real-life homes with white cabinetry
Some encouragement on why we don't have to be perfect in this week's Renovate Your Faith devotional at the end of this post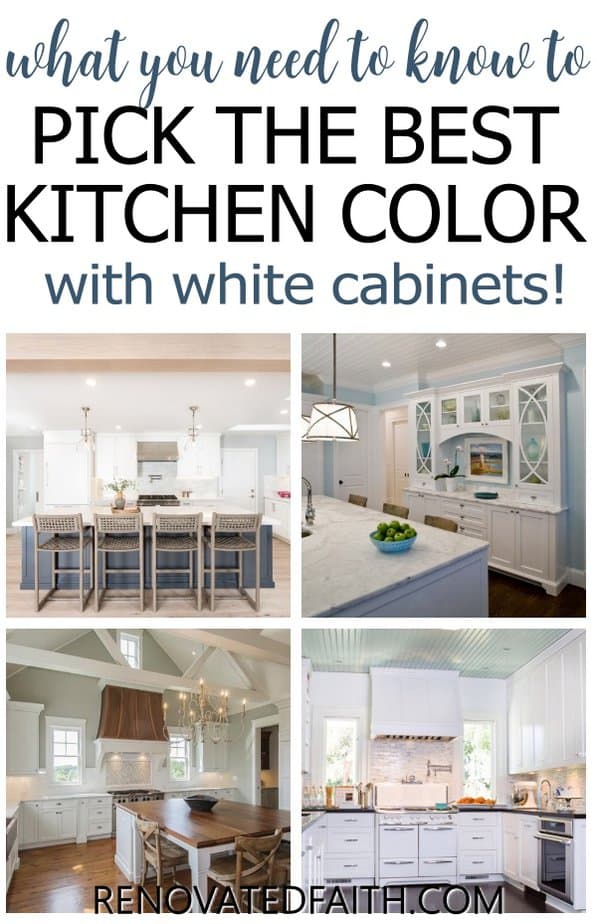 How To Determine The Undertones of White Cabinets
If you know your exact cabinet color, go to the paint brand's site:
Sherwin Williams | Benjamin Moore | Behr at Home Depot
Do a quick search for the name of your paint and under "Details" it will tell you if you have a cool white, warm white or neutral white on your hands. As I mentioned in my post on the best white colors for cabinets, Sherwin Williams Pure White is the most neutral white.
What if I don't know the exact color of my white cabinets?
Tape a piece of white paper to every wall of your kitchen cabinets. (Cardstock is best but printer paper is great too.) So, if your cabinets are L-shaped, stick a piece of paper on each wall of the cabinets. Now, if your cabinet paint looks more gray compared to the paper, you have a cool white. If your cabinets look more creamy or beige-y in comparison to the paper, you have a warm white.
Free Cabinet Painting Roadmap
☑️Are you wanting to save money by painting your cabinets yourself but don't know where to start? Download your free cabinet painting roadmap that will walk you through the entire process including whether to paint your upper cabinets or lower cabinets first. Painting your cabinets yourself will save you thousands of dollars and this post will show you exactly how to paint like a pro:
The Ultimate Guide to Painting Cabinets
Popular Colors for Cool White Cabinets
Cool white cabinets have blue or gray undertones. You can pick from cool tones of wall colors to compliment the cabinets or you can go a tad warm with your wall color if you want to keep a cool white from looking too cold or stark.
Therefore, if your cabinet color is a cool white, you can pick from any of these color groups: Cool Gray, Warm Gray (Greige), and Blues. You can go with a beige if it's not too warm. You can also go with dark moody colors and even a navy.
Popular Colors for Warm White Cabinets
Warm white cabinets have creamy or yellow undertones. With warm whites, you want to stick with warmer tones. The danger of using a blue-gray with warm white is that it will make your kitchen cabinets look yellow. No one wants yellow cabinets. interior designers
If your cabinet color is a warm white, stick to Beiges and Warm Grays (greiges). Darker colors are fine as long as they lean warm.
Popular Colors for Neutral White Cabinets
If you have a neutral white on your cabinets, congratulations! You get a free pass to pick from any color category below that you want!
IMPORTANT: The above tips for finding the right wall color are a guideline.  It's a good idea to test how a large sample of wall color looks up against your cabinet color and the rest of your kitchen's color palette.  Those tiny samples and stick paint samples are too small.  Instead, get a sample container of paint and paint a couple of pieces of cardstock or poster board with two coats of paint. 
Tape those samples on your cabinets and watch them for a few days to say how light throughout the day affects them.  North-facing kitchens can lean cool so pick a warmer option.  South-facing kitchens lean warm so be careful with beiges so they don't look too yellow.
QUICK TIP: If you can't decide how the samples look against your cabinets, take a few steps back and take a picture with your phone. Then, see what you think of the image on your phone. Seeing an image depersonalizes the decor in your home so you can make quicker decisions.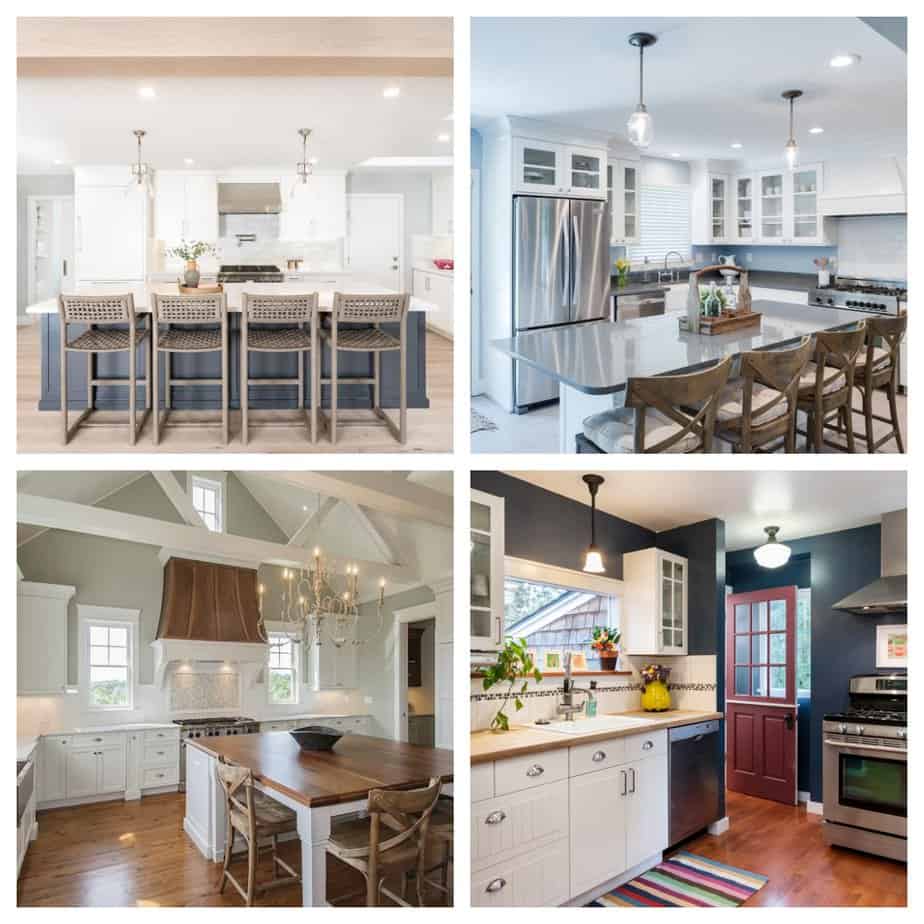 Neutral Kitchen Paint Colors With White Cabinets
Warm grays and greiges are warm tones with gray undertones. These earthly colors are the most flexible because they are so balanced that they go with a wide variety of gray and warm tones.
They are so versatile that you can even get away with a warm white without it showing yellow undertones as I did with my own kitchen. I recommend light shades of neutral colors to make sure your kitchen looks light and airy.
Sherwin Williams Agreeable Gray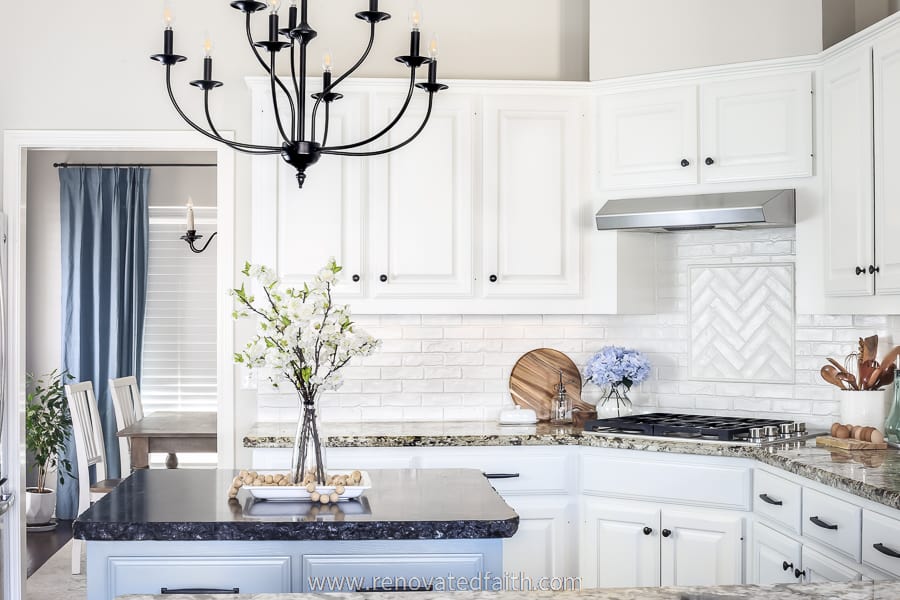 Agreeable Gray is my favorite light greige undertone! You can read more about it here: Sherwin Williams Agreeable Gray Review (Why It's The Perfect Greige)
It makes the look of your kitchen so light and airy and I was even able to get away with a slightly creamy white on my cabinets (Sherwin Williams Alabaster) while using Benjamin Moore Van Deusen Blue to make my kitchen island a focal point for the whole room.
RELATED: The Best White Shades of Paint for Kitchen Cabinets | The Easiest Way to Paint Your Cabinets White | How Much You Can Save By Painting Your Cabinets Yourself
Benjamin Moore Edgecomb Gray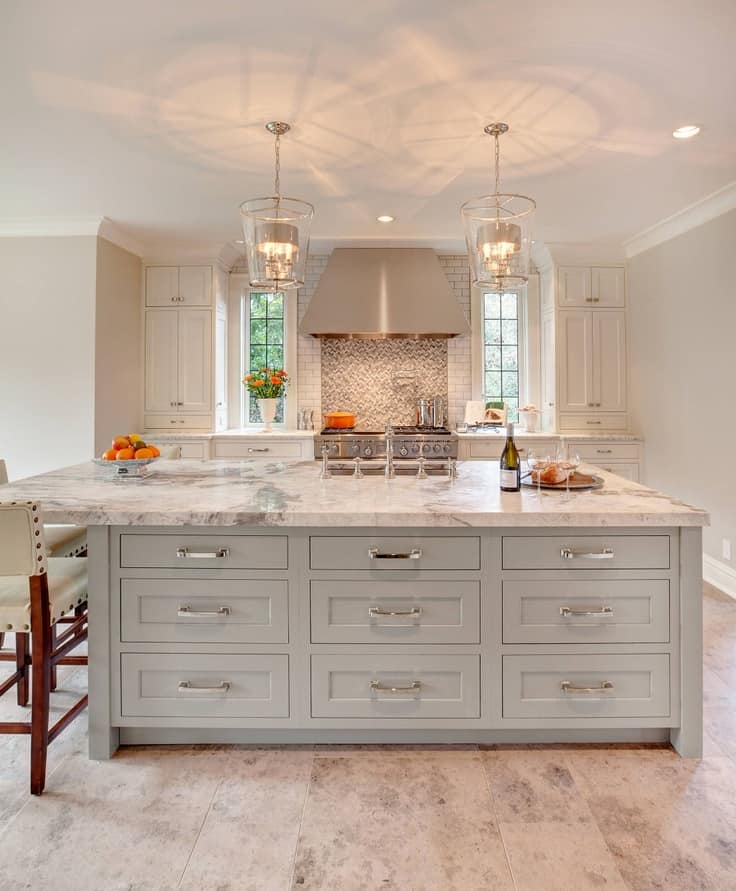 Benjamin Moore Edgecomb Gray is such a balanced neutral. You can see how well it plays with the gray island and gold accents in the room.
Benjamin Moore Horizon Gray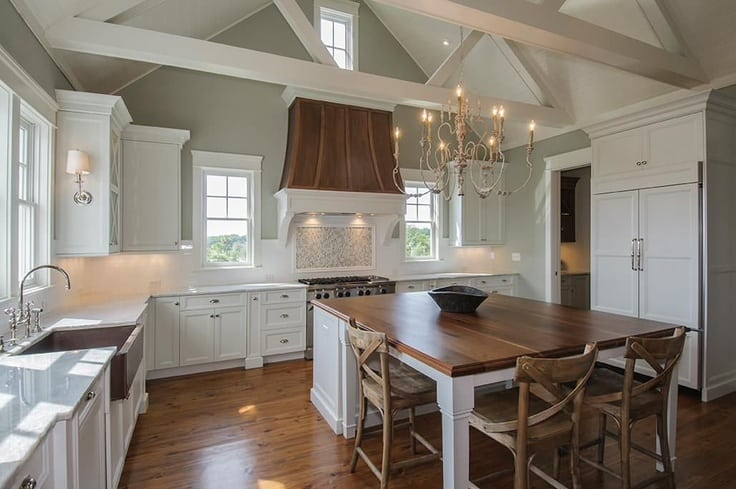 Benjamin Moore Horizon Gray is a deeper greige that goes well with warm accents in the kitchen by Jackson Built Homes. You can see how well it coordinates with deep wood tones in the gorgeous kitchen above.
Benjamin Moore Spanish Olive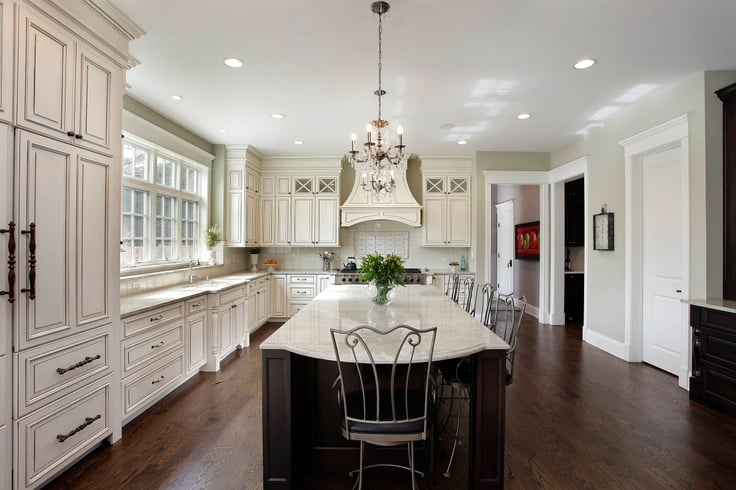 Another popular neutral is Benjamin Moore Spanish Olive which is a great option for incorporating green accents with houseplants.
Sherwin Williams Repose Gray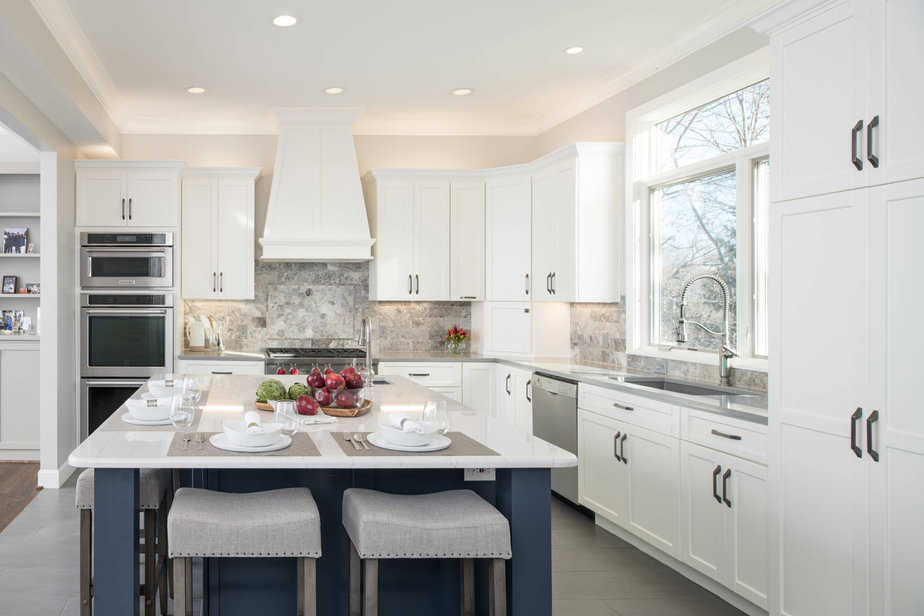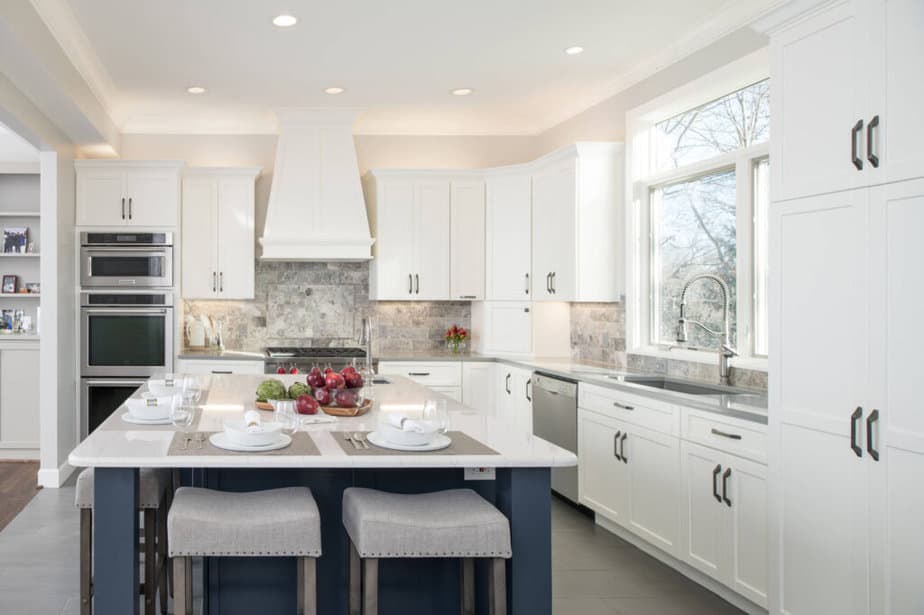 Sherwin Williams Repose Gray is another greige that gives your kitchen a balanced look. It also goes really well with this island in Benjamin Moore Hale Navy.
Renovated Faith: What's In A Name?
So many of my DIY projects remind me of God's power to transform even the most difficult life situations into something beautiful. For a short devotional on how He does this, see the end of this post and the rest of my DIY posts.
Warm Kitchen Colors with White Cabinets (Beiges)
Beige wall colors are making a big comeback and they are really versatile with warm white cabinetry. Here are some great choices for beige wall colors to make your kitchen design seamless. These warm colors will make any kitchen feel cozy and inviting.
Benjamin Moore Baby Fawn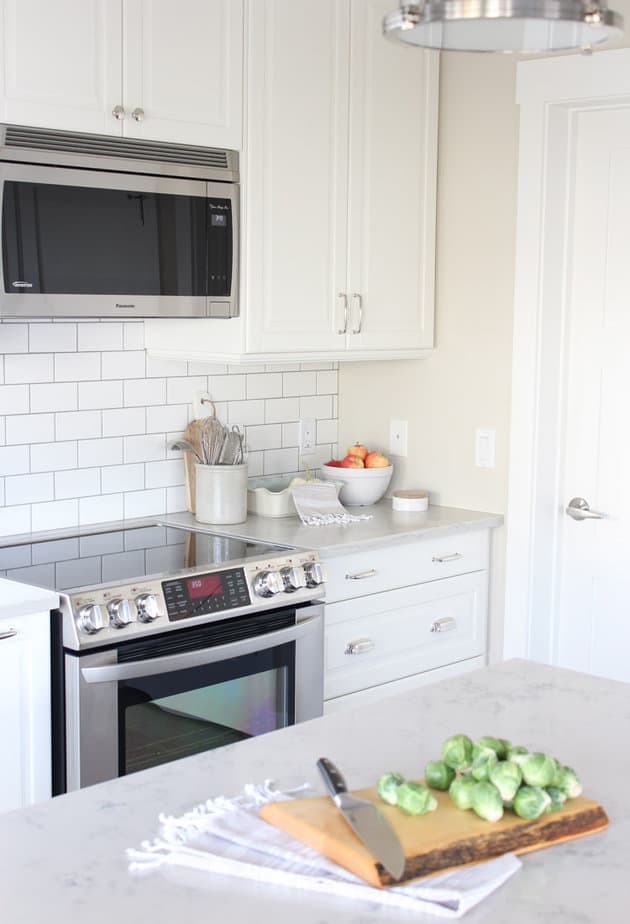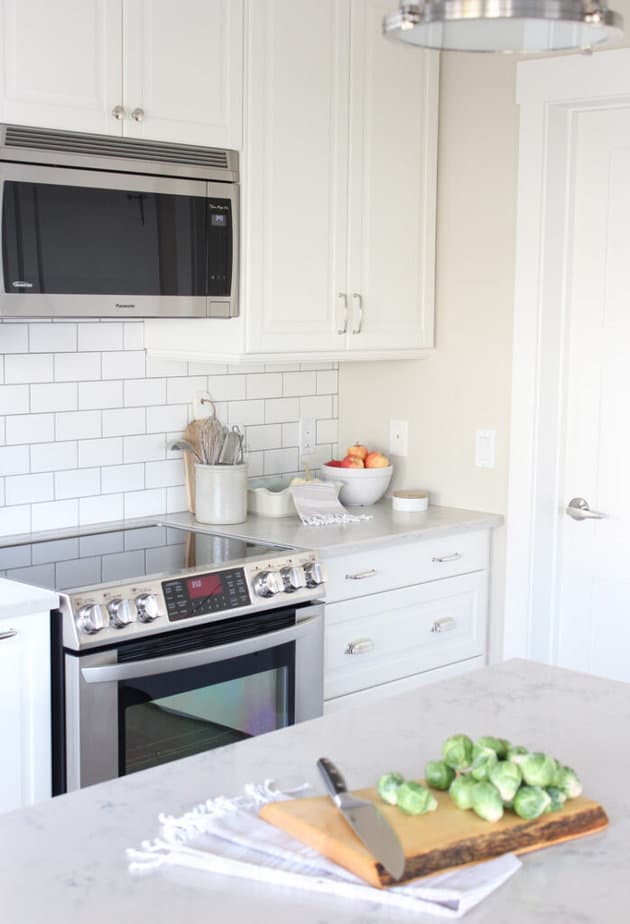 Baby Fawn is such a gorgeous color because it's definitely a beige while still staying neutral and it's light enough that the room still looks light and airy but without the walls looking washed out.
Sherwin Williams Camelback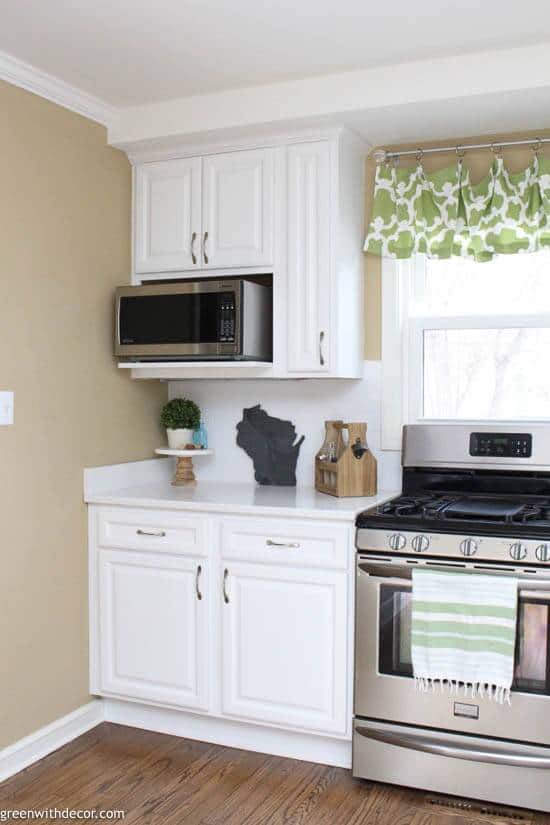 Sherwin Williams Camelback is a warmer shade of light brown color without being too yellow. It gives gorgeous definition to these white cabinets without making the room look too dark.
Sherwin Williams Latte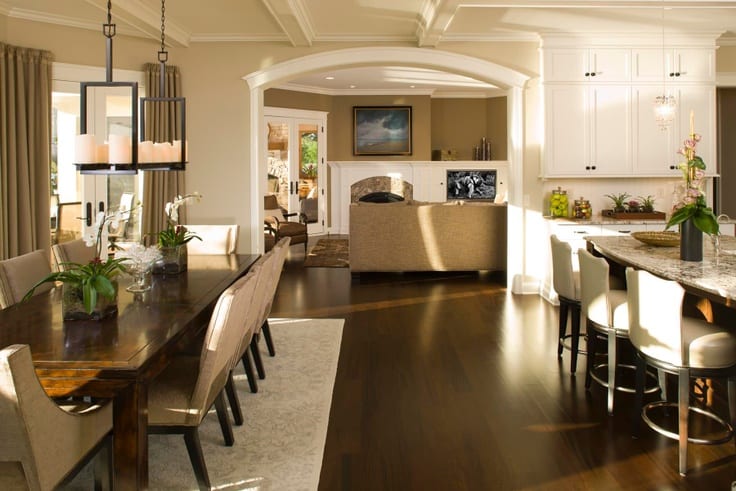 Sherwin Williams Latte is another beautiful beige wall color that coordinates well with dark wood floors and gold accents in this kitchen and dining area.
Benjamin Moore Bleeker Beige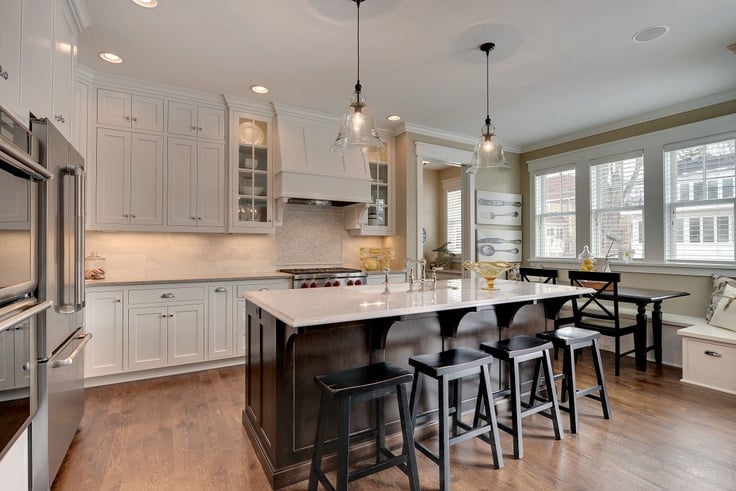 The Best White Cabinet Paint Brand
I tested over 48 different brands of paint to find the most durable cabinet paint with a smooth finish. All the winners can be found in local paint stores. To see the best paint for cupboard doors and boxes that will stand the test of time, click here
: The Best Paint For Cabinets (48 Brands Blind-Tested)
Cool Kitchen Colors With White Cabinets (Cool Grays)
If you have a cool white cabinet shade, you can go with a cool gray color on your kitchen walls. Remember that a cool gray wall color will make warm white cabinets look yellow, so steer clear!
These light gray shades will give any kitchen a modern look that's still comfortable.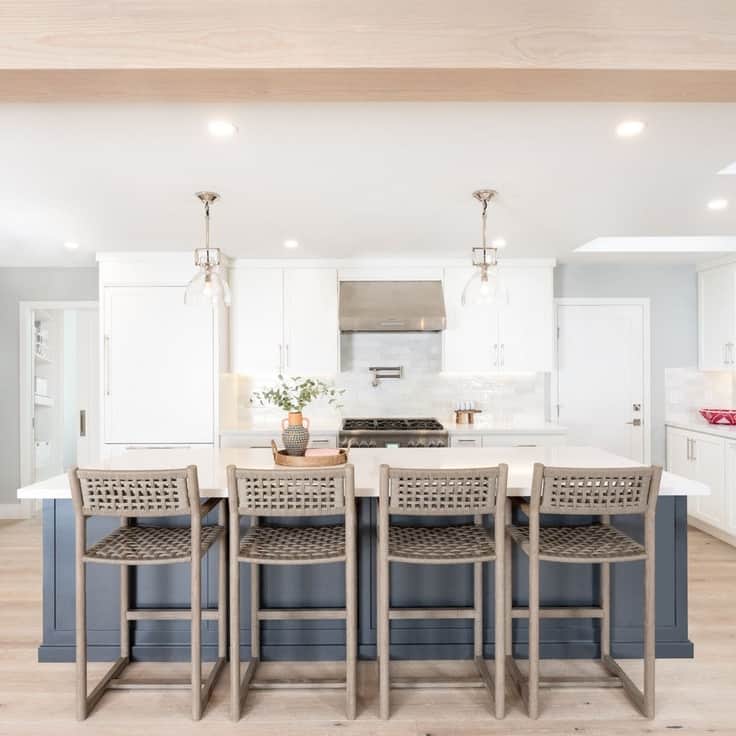 Behr Light Drizzle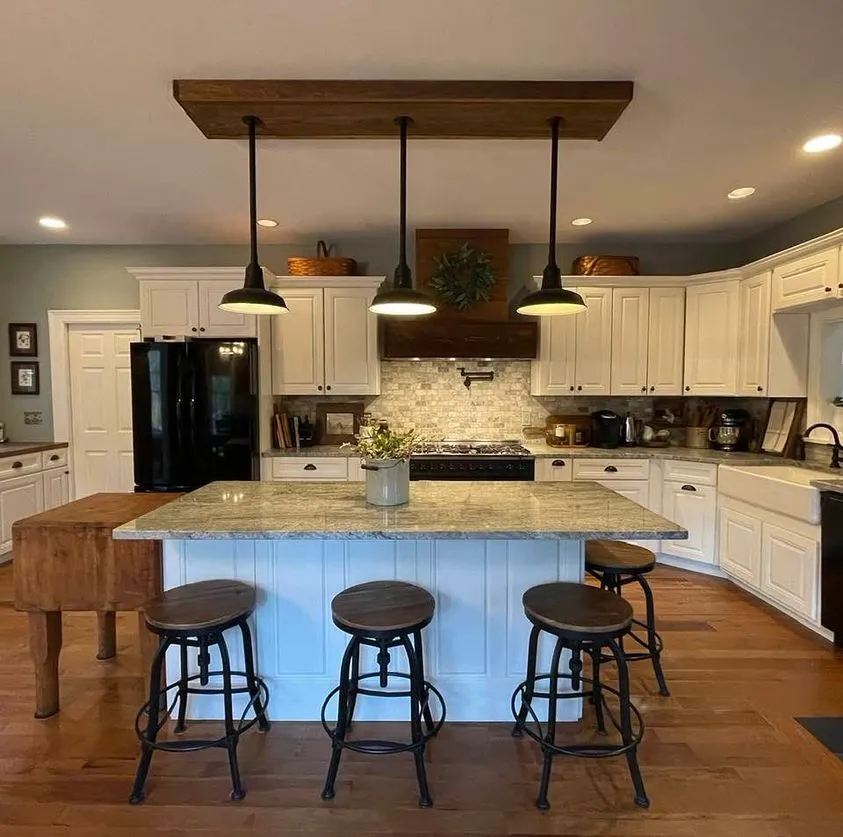 Behr Light Drizzle is such a great color for gray walls because it has some subtle green undertones to give your kitchen area a relaxed and peaceful feel.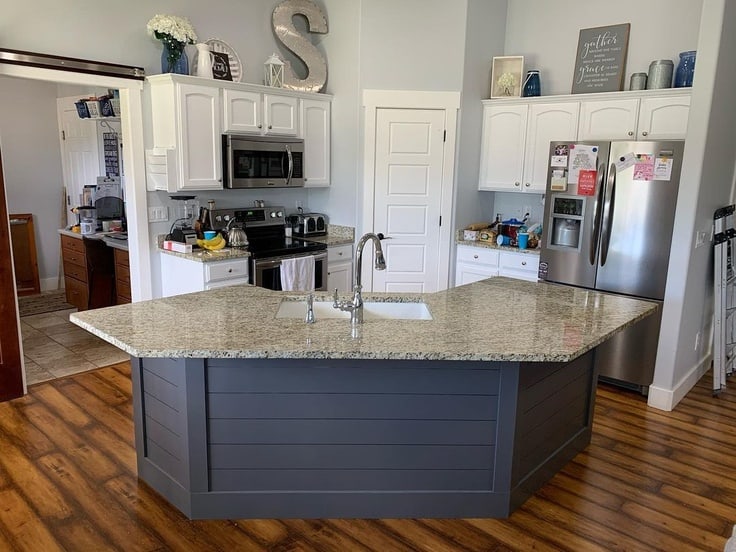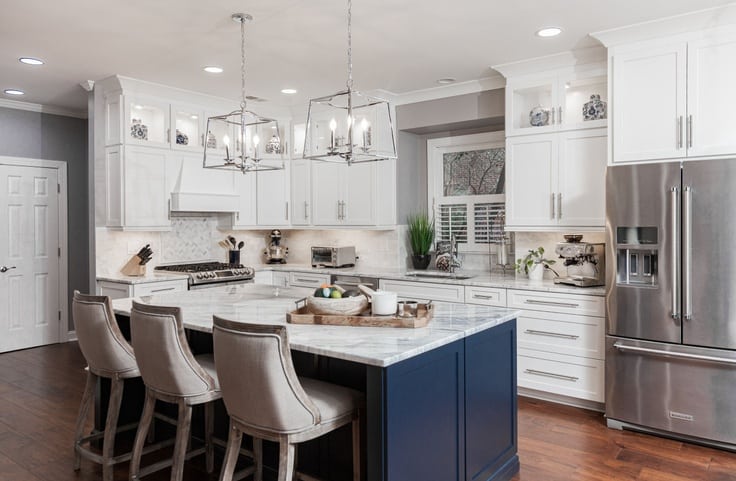 Dutch Boy Padlock Gray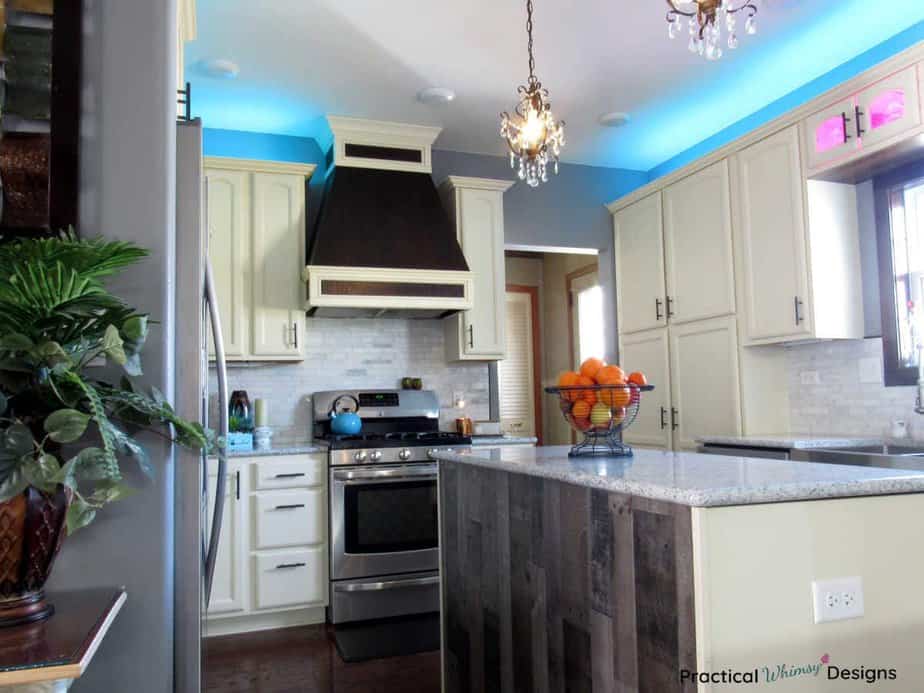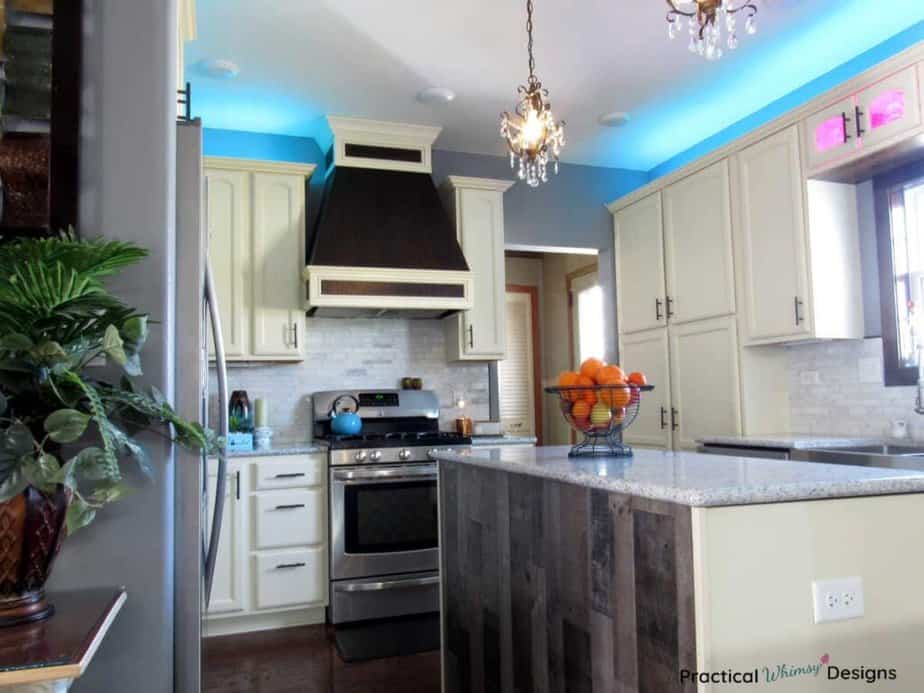 Artificial lighting is a great way to influence the tone of your kitchen cabinets. Practical Whimsy designs added daylight LED lights over the cabinets to help give the kitchen a cooler look without being too stark.
The Best White Paint Colors for Kitchen Walls (With White Cabinets)
What is the best white paint color for kitchen walls?
The are so many great paint colors for white walls but the biggest factor that determines your wall colors is the white shade already on your cabinets
Should White Cabinets Be The Same Colors As The Walls?
A big trend is doing white cabinets with white walls but there are a few simple tips to make sure you implement this look without your kitchen looking too stark or washed out. If done correctly, white-on-white kitchens can be breathtaking and can make any space look larger.
When it's possible, get the same shade of white on your walls that are already on your cabinets. It will give you lots of continuity in your kitchen and make the space look larger.
To break up the white, consider using a different sheen on your walls than you did on your cabinets. For example, if your cabinets are a semigloss finish of Sherwin Williams Alabaster, do the walls in the same color but in a satin finish.
Benjamin Moore Simply White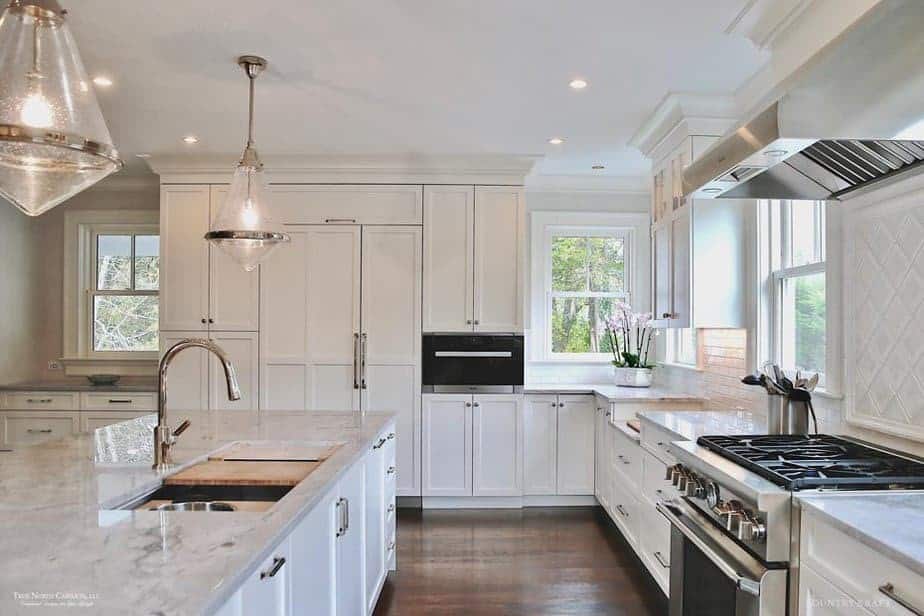 Benjamin Moore Simply White is one of the best neutral kitchen paint colors because is has very balanced undertones.
Benjamin Moore Simply White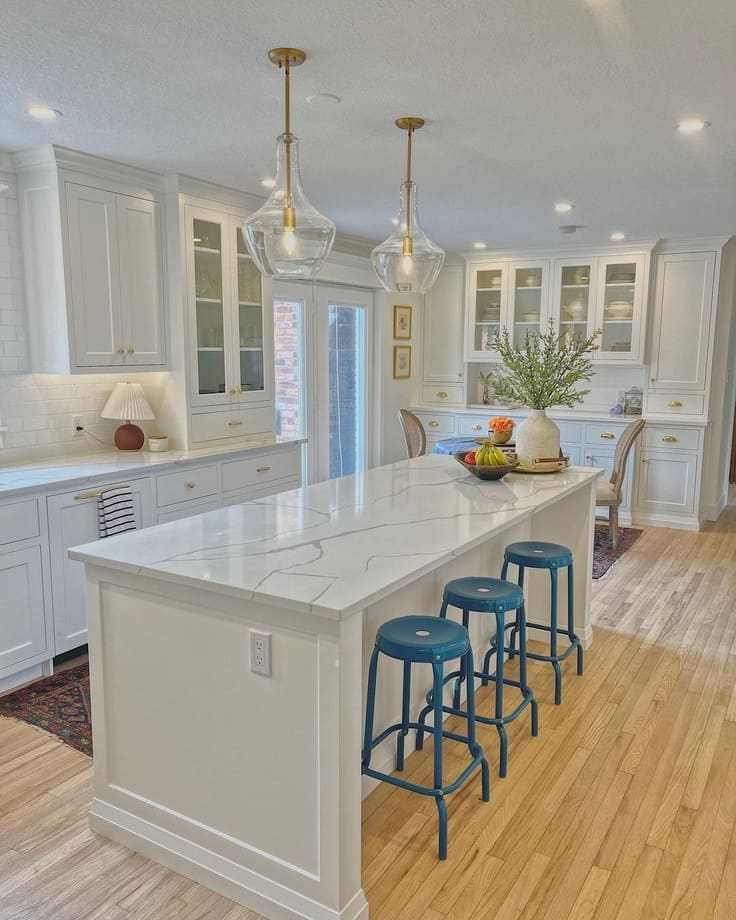 Since Benjamin More Simply White is my favorite white, I wanted to show a couple of examples of how great this classic color looks with different accent colors.
You can integrate warm kitchen colors with white cabinets and white walls by adding gold hardware and warm flooring.
Sherwin Williams Extra White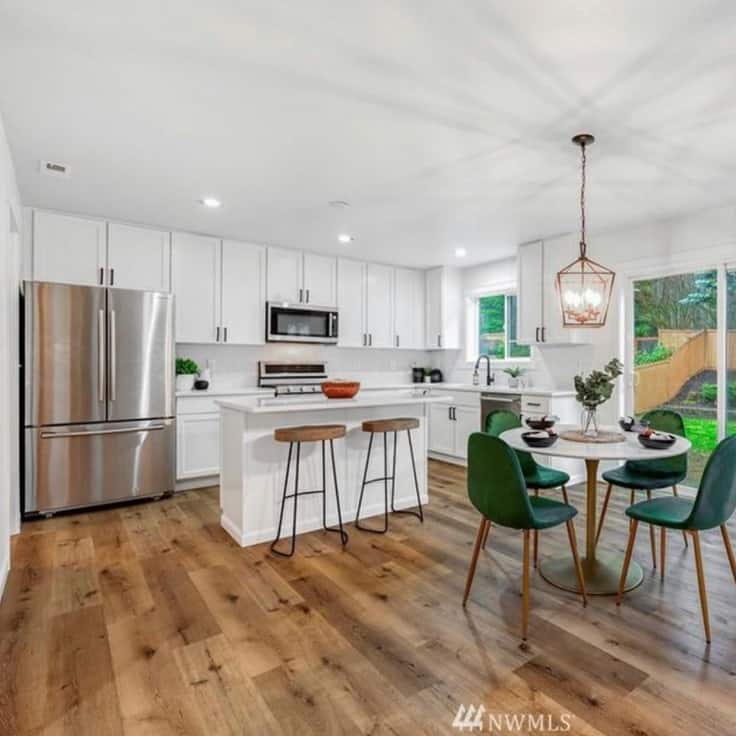 When it comes to bright white cabinets, Sherwin Williams Extra White gives this kitchen and dining room a fresh feel with lots of flexibility with your color scheme.
Benjamin Moore Chantilly Lace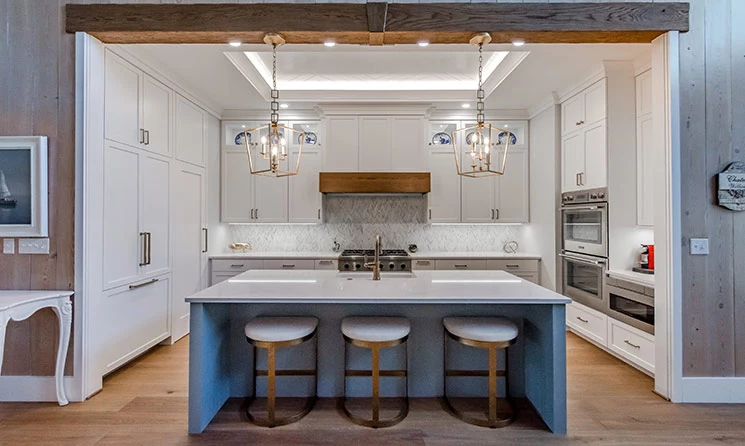 Benjamin Moore Chantilly Lace is a popular color because it is slightly warmer without being too yellow for white countertops.
Benjamin Moore White Dove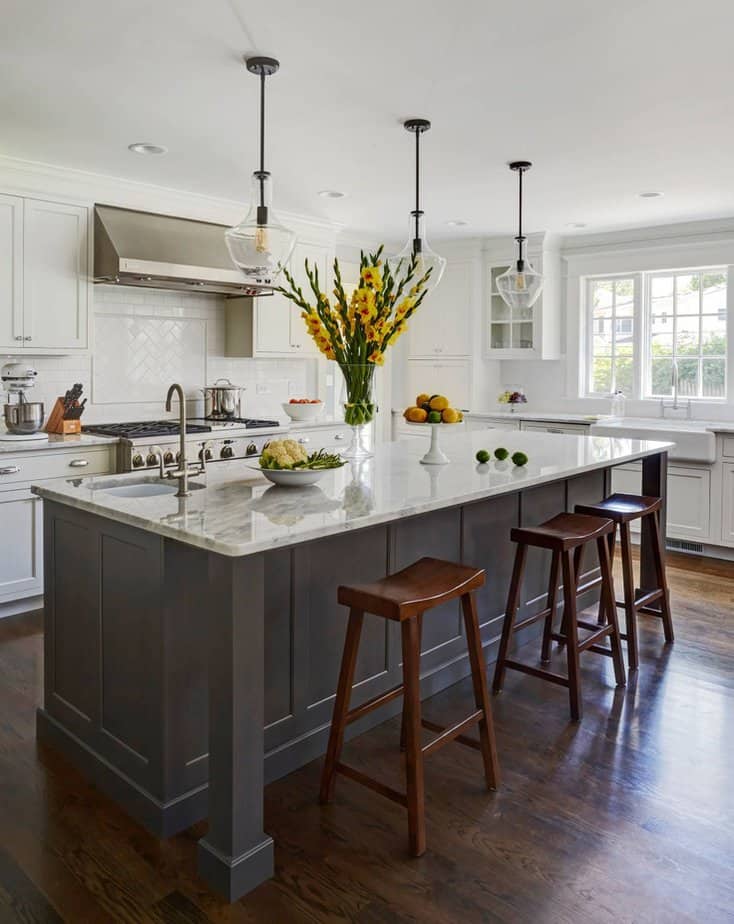 Benjamin Moore White Dove is a popular choice that looks great with marble countertops.
Is white the best paint color for small kitchens with white cabinets?
White is a good option for small spaces but the best color for small kitchens is any light shade with cool or neutral undertones. Warmer shades make the rest of the room look cozier but to focus on making a room feel spacious, go with cooler whites, cooler light grays and light greiges.
Blue and Green Paint Colors with White Cabinets
Light blue walls look so serene and tranquil with soft white cabinets whether you have a farmhouse kitchen or something more contemporary.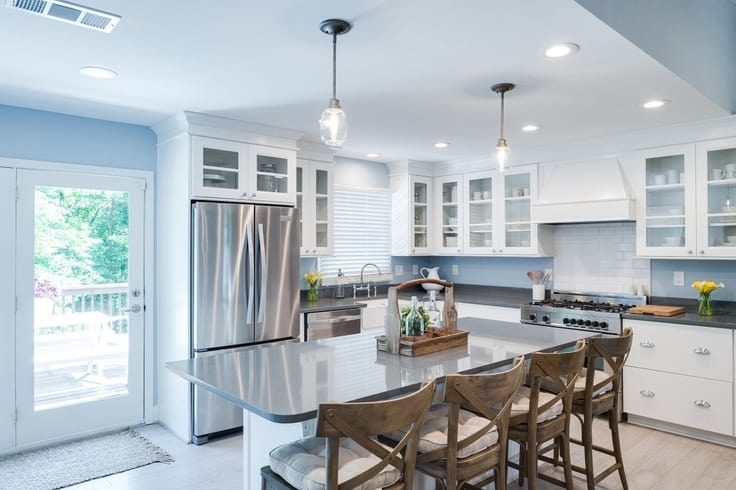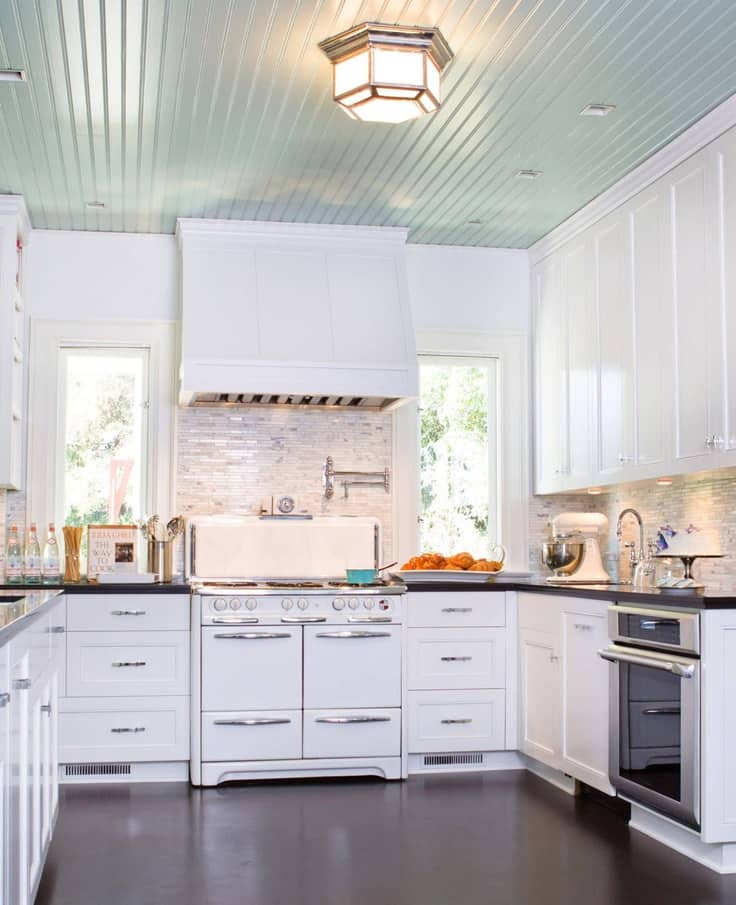 This sage green ceiling is such a beautiful way to incorporate color while still making your kitchen look spacious.
Sherwin Williams Breathtaking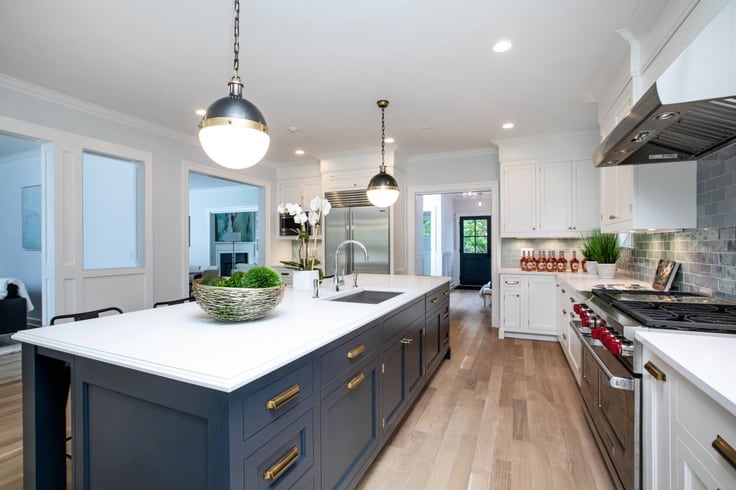 The above image is one of my favorite kitchens because of the navy island, light blue walls and white counters. It's subtle but still has plenty of personality.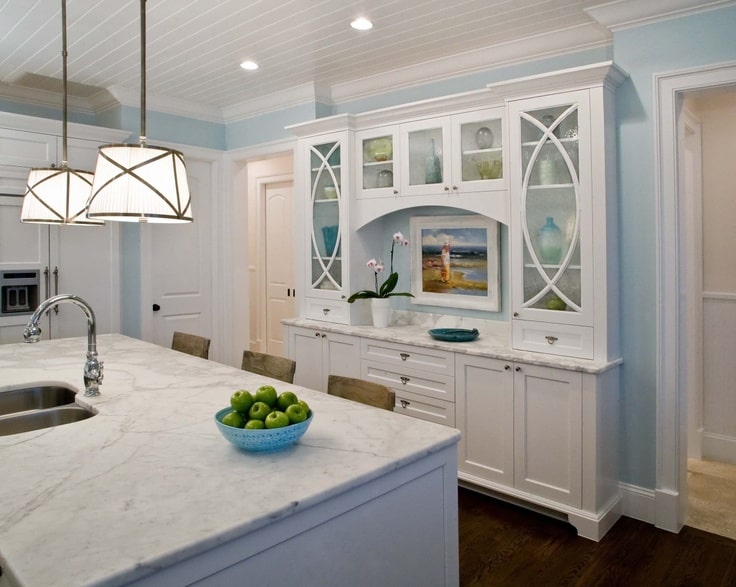 Bold and Bright Wall Colors for Kitchens With White Cabinets
Bold Colors are a great option for kitchen walls with white cabinets because it gives you a nice amount of contrast while still providing a classic look for modern kitchens.
There is one stipulation, however. My best advice when considering bright colors for your kitchen walls is to make sure you have a lot of natural light. Sometimes darker colors can make even a large kitchen look dark and depressing.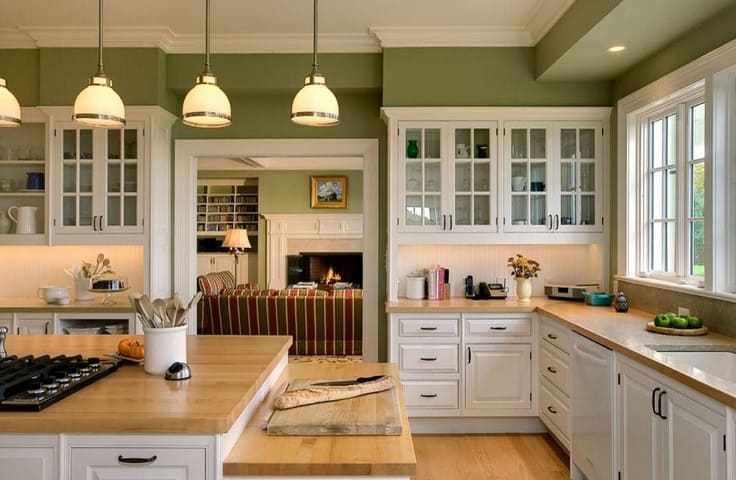 Benjamin Moore Hale Navy
My favorite dark blue is Benjamin Moore Hale Navy and you can see it in several applications here: Benjamin Moore Hale Navy Review
Light countertops are another way to ensure that dark colors look light and airy.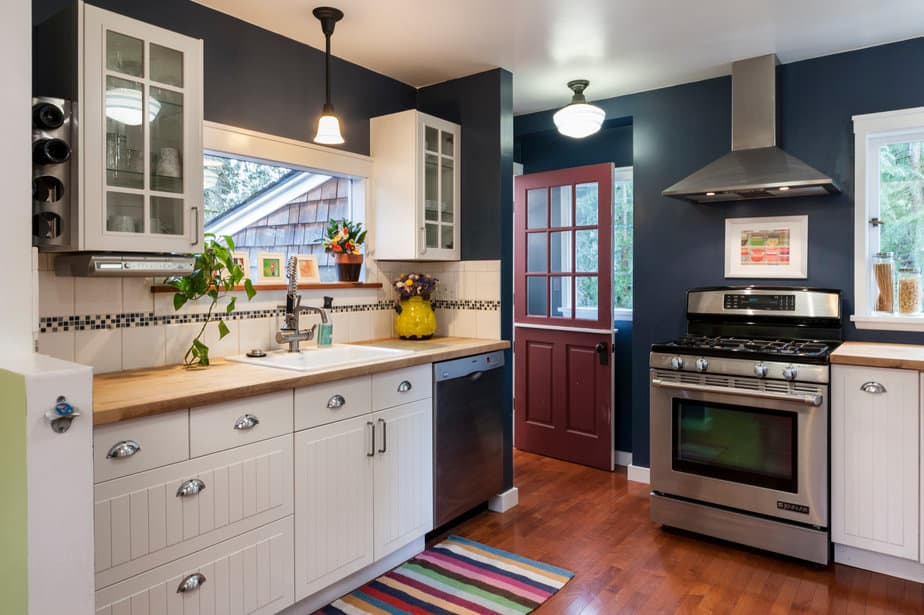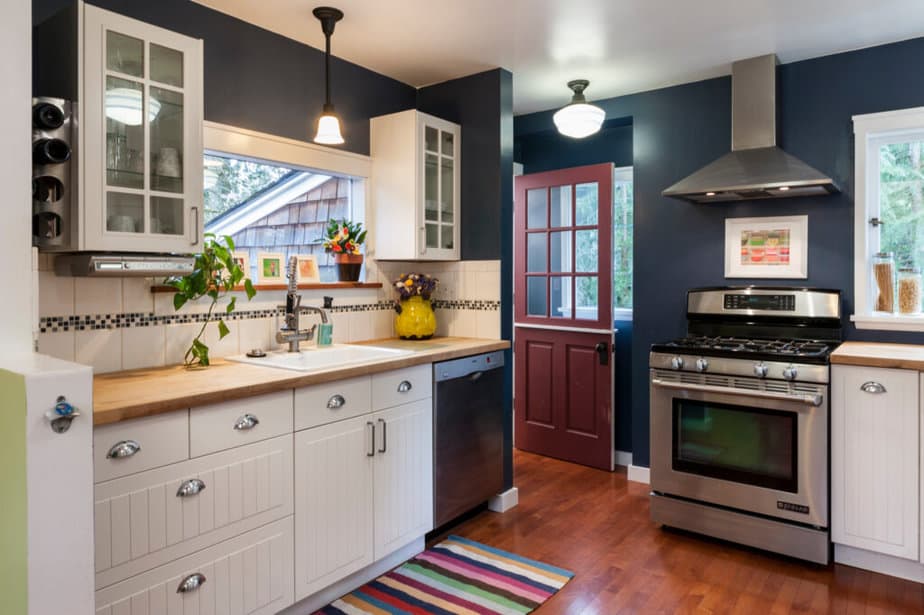 What is a good accent color for a white kitchen?
In my option, the best accent color for a white kitchen is a darker blue-gray like Benjamin Moore Van Deusen Blue. For more great blue-gray tones, click here: The Best Blue Gray Cabinet Colors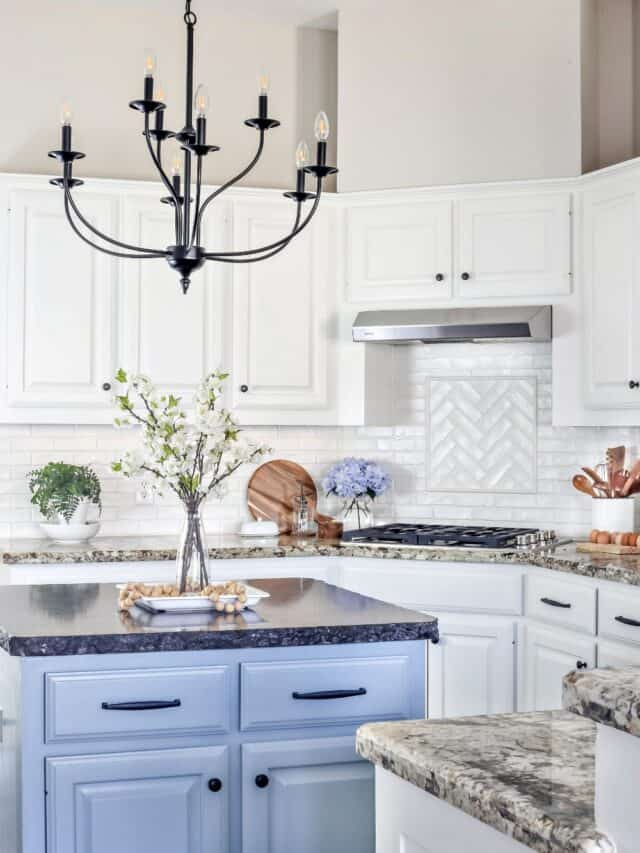 More Popular Kitchen Paint Colors with White Cabinets:
RENOVATE YOUR FAITH: How God Really Sees You
After writing this post, it made me think about how there are hundreds of shades of white. They have all different undertones of gray, green, and even pink.
It made me wonder if there is a true, perfect white but once again I'm reminded that true perfection doesn't exist apart from our Heavenly Father.
The only way to get anywhere close to perfection is through Him…
"Come now, and let us reason together, saith the Lord: though your sins be as scarlet, they shall be as white as snow; though they be red like crimson, they shall be as wool." Isaiah 1:18
God knew you could never be perfect. Only Jesus was, which is why God sent Him to save you in ways you could never save yourself. If you have a relationship with Christ, His spotless Son has redeemed you, washing away 100 percent of your sin so that you are perfect in His eyes.
When God looks at you, He doesn't see your flaws and shortcomings, He only sees His Son's righteousness.
He looks at you as freshly fallen snow – untouched, unblemished and untainted by any undertones of this chaotic world.
We can't do anything to make God love us more or love us less since our relationship status has been taken care of solely through Christ's finished work on our behalf.
He doesn't see the dirty dishes, the untouched to-do list, or even the fact that your home looks like a frat house. He sees YOU, your struggles, and what is heavy on your heart.
He looks at you as a proud Father who wants you to bring every one of your concerns to Him.
If you fill like you aren't quite measuring up in life, you're right. You can't. But by having a relationship with Him he is perfect on our behalf.
Let Him fill you up and show you that as a child of God, you are now and forever made perfect in Him! YOU ARE ENOUGH!
(If you are unsure if you have a relationship with Christ, or want to know what that means, please don't hesitate to email me at karin@renovatedfaith.com so I can answer any questions.)
For more spiritual encouragement, click here for the rest of my project posts that also include Renovate Your Faith devotionals.
FAQ's: WHAT COLOR SHOULD I PAINT MY KITCHEN WITH WHITE CABINETS?
What Color Should I Paint My Kitchen With White Cabinets and white countertops?
When you have white cabinets AND white countertops, you can go with a white color on your walls but I recommend breaking up the white with a light greige like Sherwin Williams Agreeable Gray. It will still be light and airy but break up some of the white.
What Color Should I Paint My Kitchen With White Cabinets and dark floors?
With white cabinets and dark floors, you can do any color on your walls because the dark floors provide enough contrast so that a light or white color won't make the overall room look too stark. Any of the colors mentioned in this post will do well but only go with a dark wall color if you have a lot of natural light coming in your kitchen windows.
What Color Paint Goes Well with Off White Cabinets?
For off-white cabinets, always go with a color on the warm side. If you go with a color that is too cool or gray, it might make your kitchen cabinets look yellow. And no one likes the look of yellow cabinets.
What color should walls be with white kitchen cabinets and natural wood tones?
For white cabinets and lots of natural wood accents, focus on what color will go best with your white cabinets. Determine if your white cabinet paint is a cool white or a warm white and follow the instructions in the most to determine the best color options for your kitchen walls.
More Posts Related To Popular Kitchen Paint Colors with White Cabinets
Best Tips to Hang Gallery Wall Art Easily
The Best Way to Paint Cabinets Like A Pro
A Great Way to Install Cabinet Hardware
The Most Popular Kitchen Cabinet Paint Colors
A Popular Paint Color for the Perfect Greige Living Room
How To Fill The Wood Grain in Oak Cabinets
Popular Paint Colors for Blue-Gray Cabinets
The Most Popular White Paint Colors for Cabinets
Final Thoughts on The Best Colors for Kitchen Walls with White Cabinets
The kitchen is the heart of the home and it's important to make a paint color choice that will give you a timeless look without looking outdated. This color guide will help you pick from different shades to pick the perfect color for your kitchen with white cabinets. The good news is that once you know the undertone of your white cabinet color, making a final decision is easy. No matter your style or personal preference, these wall colors will make you feel like you have a new kitchen designed by an interior designer.
CLICK BELOW TO PIN THE MOST POPULAR KITCHEN PAINT COLORS WITH WHITE CABINETS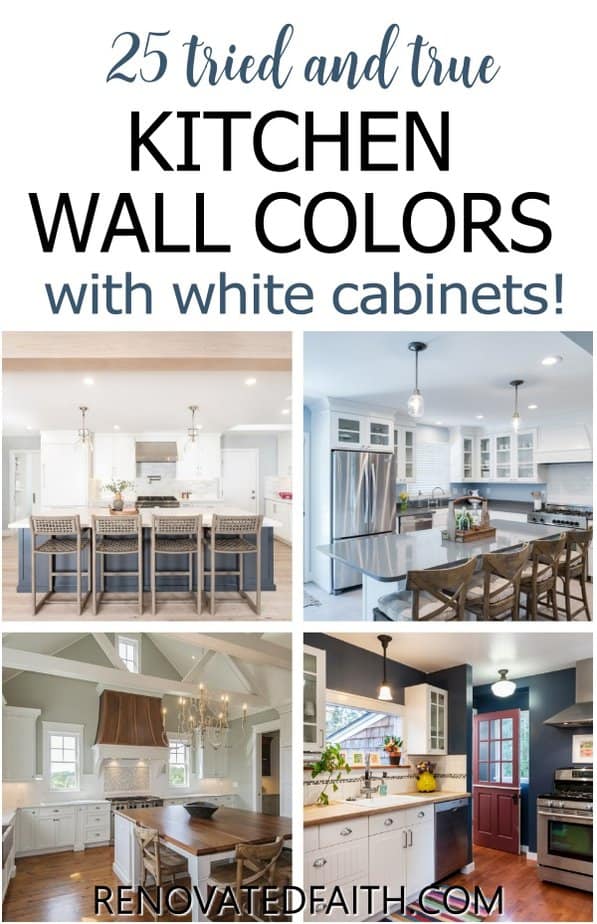 I love to hear your thoughts and questions! Scroll down to leave a comment and I WILL reply! ❤️
Blessings,

Be sure to follow the fun here!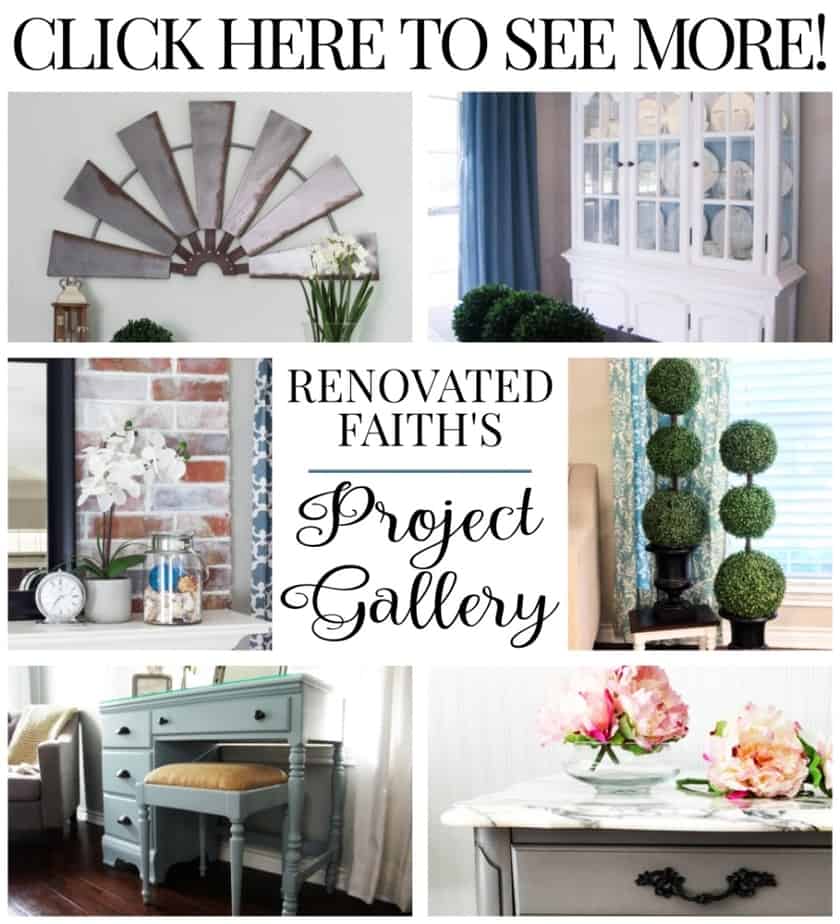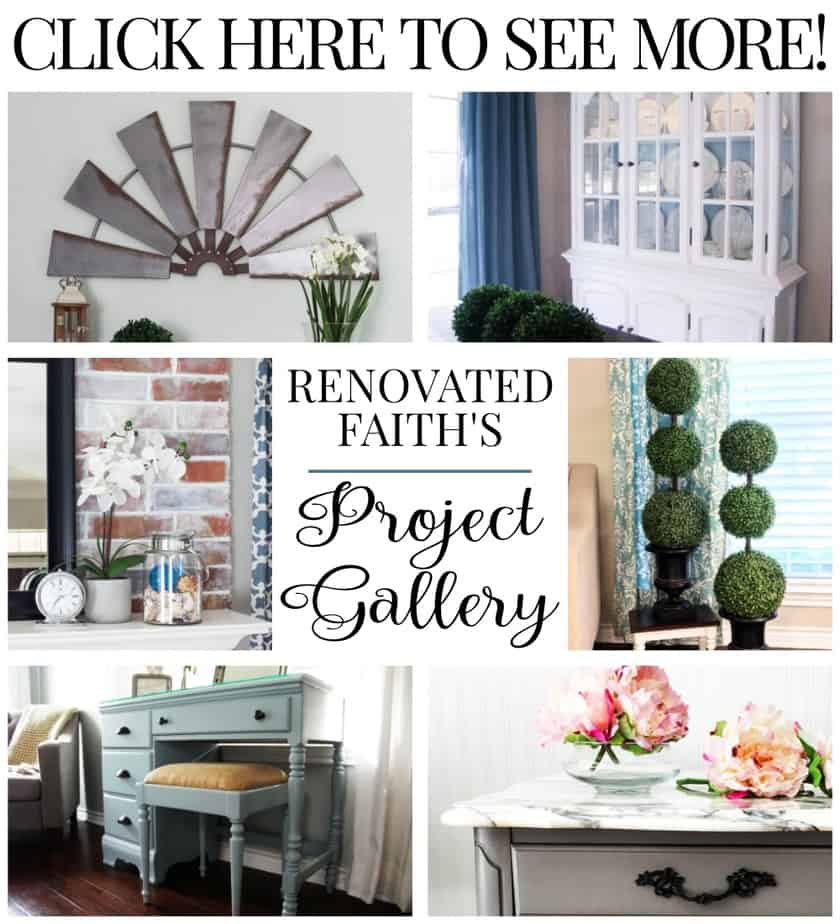 WHAT COLOR SHOULD I PAINT MY KITCHEN WITH WHITE CABINETS?
Welcome to Renovated Faith, where I share about DIY projects, my faith and everything in between! When I'm not spending time with my family, you will find me redoing furniture in the garage or watering plants in my greenhouse. This blog is about transformation. Anyone can renovate a house but only God can transform our hearts!