Sherwin Williams Silver Strand Review, 2024 (Ultimate Guide)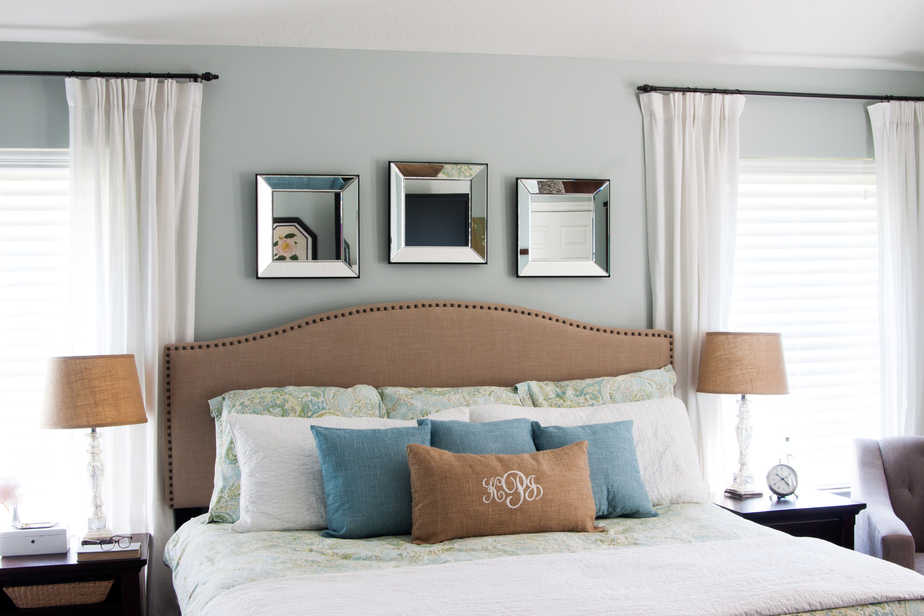 Master Bedroom Decorating Ideas with Silver Strand
Few paint colors have more personality than Sherwin Williams Silver Strand. But is that a good thing? In this post, I explain the positives and negatives of this dynamic paint color while sharing my Sherwin Williams Silver Strand bedroom reveal.
SW Silver Strand is a light gray paint color but it is not washed out like some grays tend to be. Some refer to it as a moody gray because depending on the lighting it can shift between a gray-green and silver-blue almost effortlessly. This can make a bedroom exciting and vibrant OR really frustrating if one of these shifts is not in your color scheme.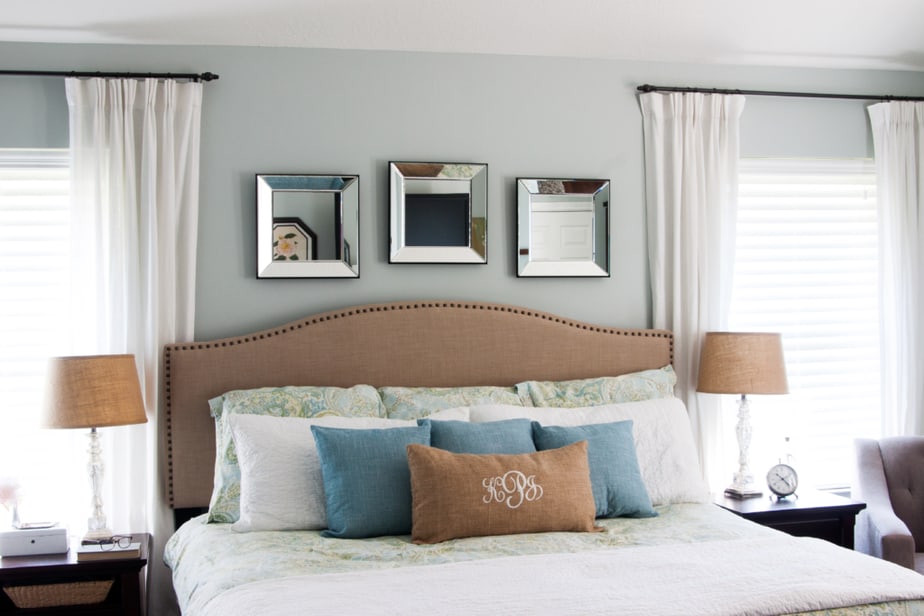 Fortunately, there are easy ways to decorate around these shifts in color so you can embrace these nuances instead of cringing every time you walk into the room.
This is a great post for you if you:
Want to get an idea of how SW Silver Strand would look in your room
Need tips on decorating a room painted in this color
Want to know how to decorate a master bedroom on a budget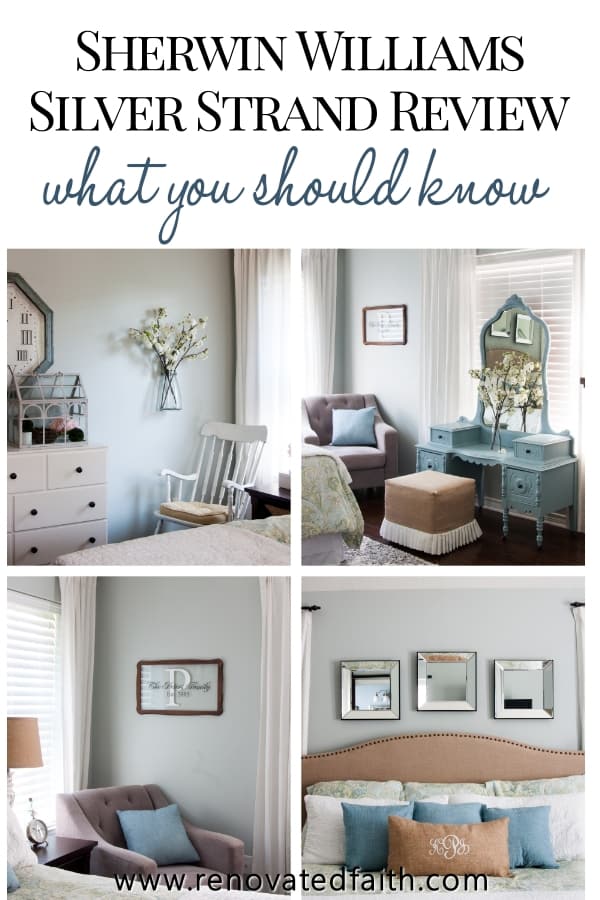 Sherwin Williams Silver Strand: Fixer Upper Debut
Silver strand is a color that has gained a lot of popularity from the show Fixxer Upper as it was first launched into stardom in season 1 of HGTV's Fixer Upper. Here Joanna Gaines shares a little about her favorite colors from that season: Season 1 Q&A.
But this color is not just a passing fad as it has remained one of the most popular paint colors because you can very easily achieve "light and airy" with this color.
The Best Light and Airy Gray Paint Color: SW Silver Strand
In fact, SW Silver Strand is a great color to use to achieve the airy look when you have very little or no natural light coming in. Its difficult to find colors that look light in dark or artificially lighted spaces but this color is a pro at brightening up dark and dreary rooms.
Our master bathroom has lots of windows on two adjacent walls with light coming in from the east and south throughout the day, but especially in the morning and early afternoon.
Here is what the bedroom looked like when we first bought the house. That taupe wall color also has a touch of mauve in it. Yikes! And those heavy curtains don't do anything to accentuate the light that streams in.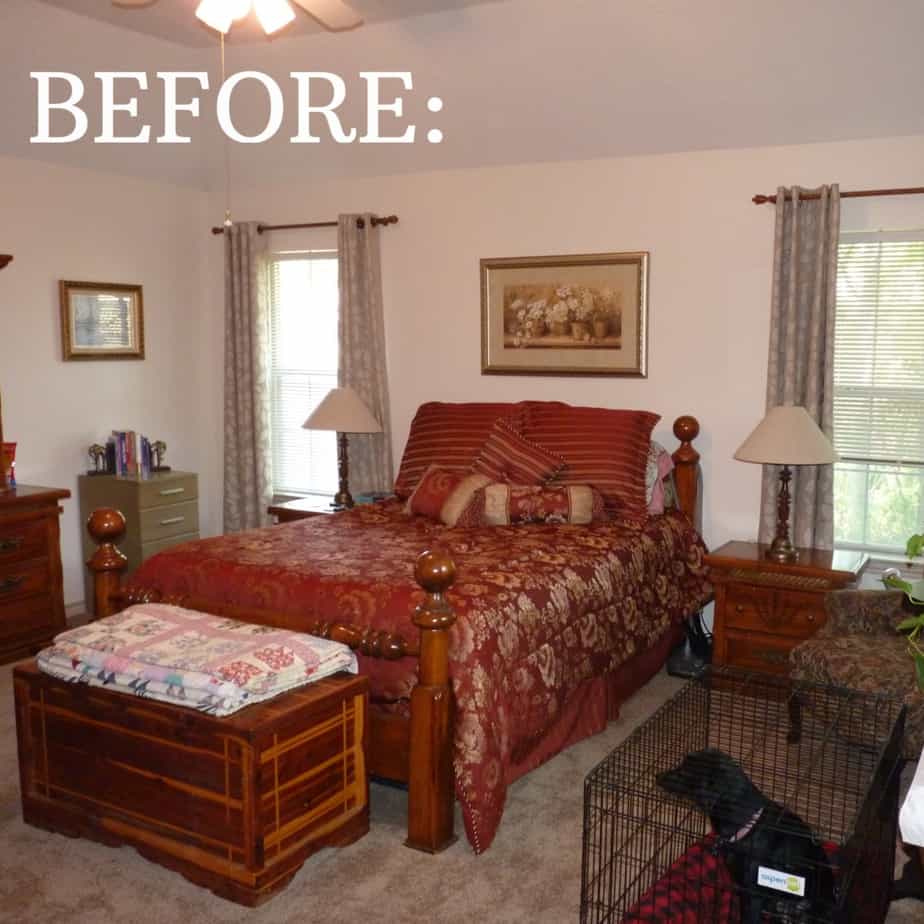 Here's how the color looks now in the room with Sherwin Williams Silver Strand and the trim painted in Behr's Pure White.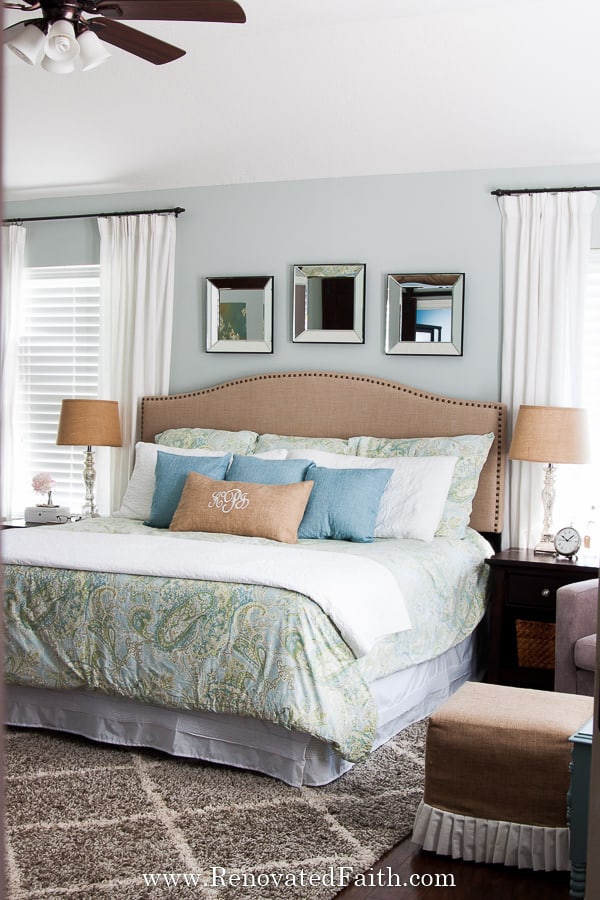 What a difference to the whole feel of the room! Bedrooms are such critical rooms when it comes to picking the right color. After all, this is where you sleep and relax so pick a paint color that lends to a tranquil, spa-like atmosphere – not one that makes you want to gauge your eyes out.
So What Color is Sherwin Williams Silver Strand Paint?
This color is so interesting because you often see what you want to see. I personally LOVE the blue undertones so my eye is drawn to that. However, someone who loves sage green will be more likely to notice those accents. The color shifts between those two extremes depending on the lighting, time of day, and the room's accents.
Basically, Sherwin Williams Silver Strand paint is a light gray with blue/green undertones that vary greatly depending on the natural light coming in as well as the interior lighting.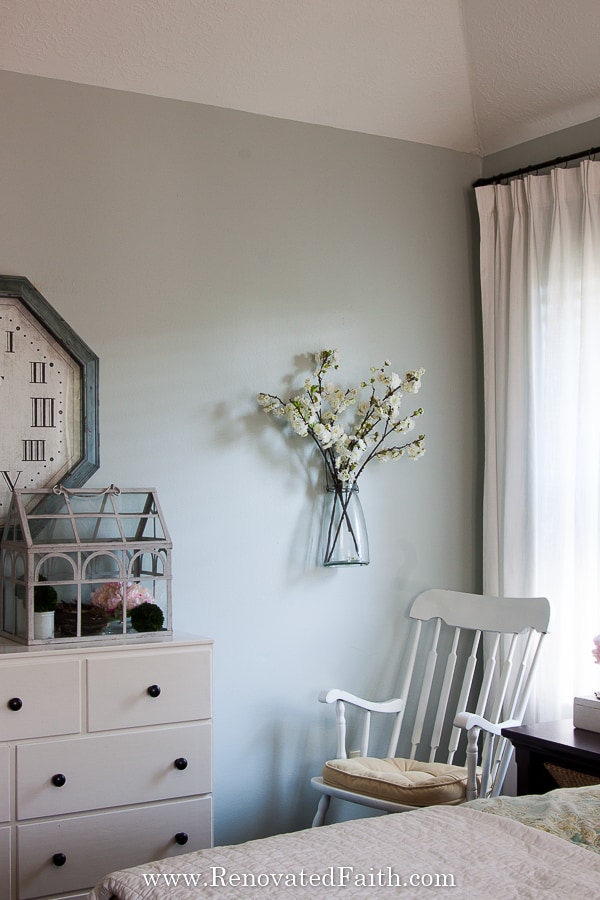 Sherwin Williams Silver Strand's Strong Undertones
So how did Sherwin Williams accomplish these chameleon-like tendencies in one gorgeous color? These changes have a lot to do with the type of black paint they use to mix Silver Strand paint.
If you look at the color mix of most cans of light blue paint, you will notice that one component is almost always black and then usually a little green and maybe some gold. That's because the black gives it the blue undertones. Then, add in a little green and you have interesting shifts between the two in Silver Strand.
If you are looking for a perfect gray or greige that blends well with any color scheme, SW Silver Strand is not your color. But if you want a cooler color that nods towards its green or blue undertones depending on the amount of light and its direction each day, this color is a treat! Those also make it the perfect color for neutral décor as the room's accessories really pop against such a great color option.
Because of these cool undertones, it does not play well with bright colors or color schemes. However, it is very versatile when it comes to the amount of light that comes through the room as it stays light and airy whether you have a little natural light coming as with north-facing rooms or a lot of natural light from an east-facing window.
Master bedrooms are perfect spaces for cooler colors with blue-green undertones for a soothing, spa-like feel. The bedroom is the one room in your home you relax after your long day and choosing to paint your room in a shade that can bring down your anxiety level is always a great choice. Silver Strand is the perfect color for just that!
The LRV of Silver Strand
To better understand the color depth of Silver Strand, let's take a closer look at its LRV or Light reflective Value. The LRV is higher the lighter a color is so white would be 100 and true black would be close to 0. Silver Strand has an LRV of 60 which allows the room to be light and airy even on rainy days.
Also, it's not so light that in a well-lit room it gets washed out to the point it looks like you have white walls. Silver Strand also makes for a nice contrast against dark hardwood floors but gives you enough color without it being too bright.
Even though this color has been in my own home a few years now, it still takes my breath away and is gorgeous in the backdrop of neutral farmhouse decor. As typical of chameleon colors that seem to make subtle transitions throughout the day, Silver Stand can lean a little bit towards green or blue while still being mostly gray.
This is the perfect color for laying in bed after your Sunday nap and enjoying how the light streams through your windows. That's what makes Silver Strand one of my favorite paint colors!
Colors that Compliment Silver Strand
So what DOES Silver Strand coordinate with? When it comes to an accent color for furniture or décor, I love how well Benjamin Moore Hale Navy coordinates with Silver Strand. It's one of my favorite Benjamin Moore Colors and works with Silver Strand because it has cooler gray undertones. While I don't know if I would use it on an accent wall, it looks amazing on painted furniture or a duvet. You can see my full review on Benjamin Moore Hale Navy here.
If you need a dark neutral paint color for doors, trim, or built-in's I love how Sherwin Williams Urbane Bronze coordinates with Silver Strand on interior walls.
How To Decorate a Room in Silver Strand
Personally, I think that this color is very flexible based on how you decorate your room. In looking at other rooms in this color, it seems to have less to do with where the natural light is coming in from but more to do with what accessories are used in the room.
If you want your paint color to pull more blue undertones, add soft blue accents to the room as I do here with my throw pillows. That way your eye will naturally pull more of the blue undertones to your attention. In the same way, if you like green, add some sage green accessories or house plants.
This color is also a perfect backdrop for rich wood furnishings, crisp artwork, and gold accents.
You'll notice my bedroom has blue and green accents because I like how the walls shift in color throughout the day and the blue and green decor accentuates those shifts.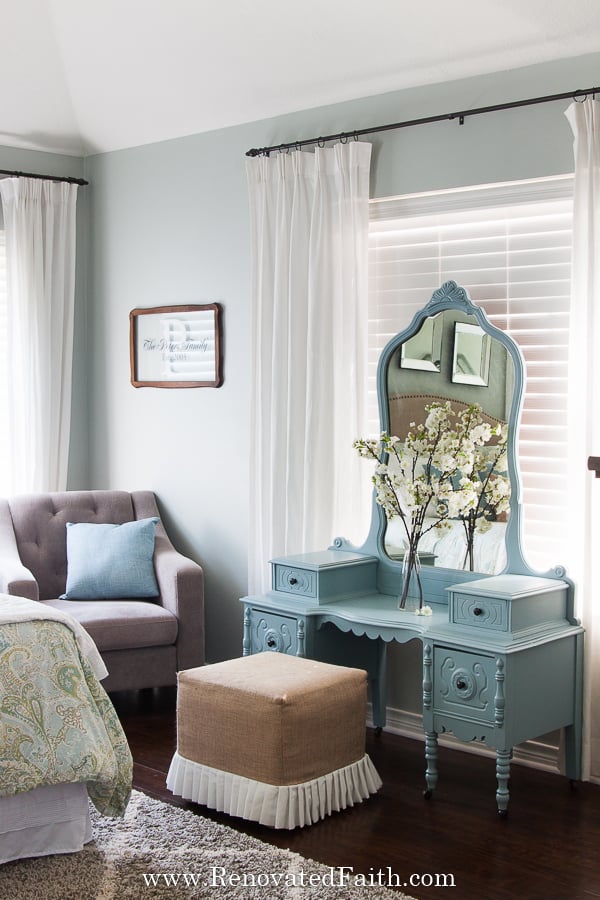 What to Know Before Painting Your Room with Sherwin Williams Silver Strand Paint
If you want a true gray for your room that won't surprise you, this is not the color for you! But if you love blue or green undertones that are subtle, this will be a great choice for your room while still keeping it light and airy!
But you want to have a plan of attack before painting your walls in this color. By that I mean, you need to know how you are going to decorate as you are a little more limited in your decor's color pallette than you would if your room was a true neutral gray.
Below is a step-by-step process that will help you decorate your room on a budget while keeping your paint color in mind.
Sherwin Williams Silver Strand Bedroom Makeover: How to Create a Dream Bedroom on a Budget
Being on an episode of Fixer Upper or having décor from Pottery Barn does not a dream bedroom make. What creates a dream home is the personal touches that make you feel like you never want to leave. Your home's decor should remind you of the joy that life brings without breaking your pocketbook.
"Your décor need not be expensive or trendy, but should be personal, unfolding the truth about where you have been and where you are headed."
Picking the Right Paint Color
If you are struggling to find the right paint color for your room, I have a trick that takes into account how the light changes from room to room without letting the existing wall color affect our choice.
The peel and stick paint samples are a good idea but a lot of times when you put them straight on the old wall, your color choice can be influenced by the existing wall color. For example, a Silver Stand paint chip might look really green against a Repose Gray wall.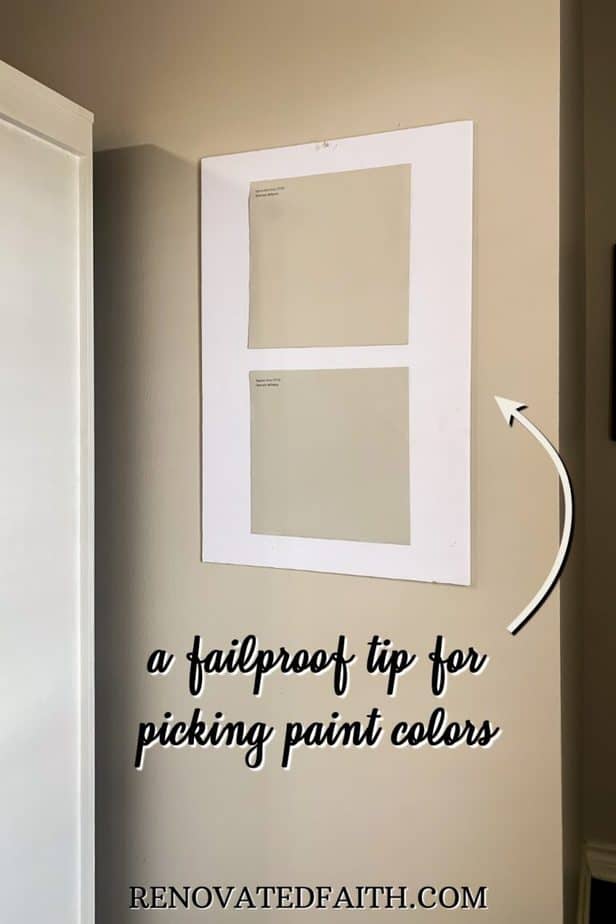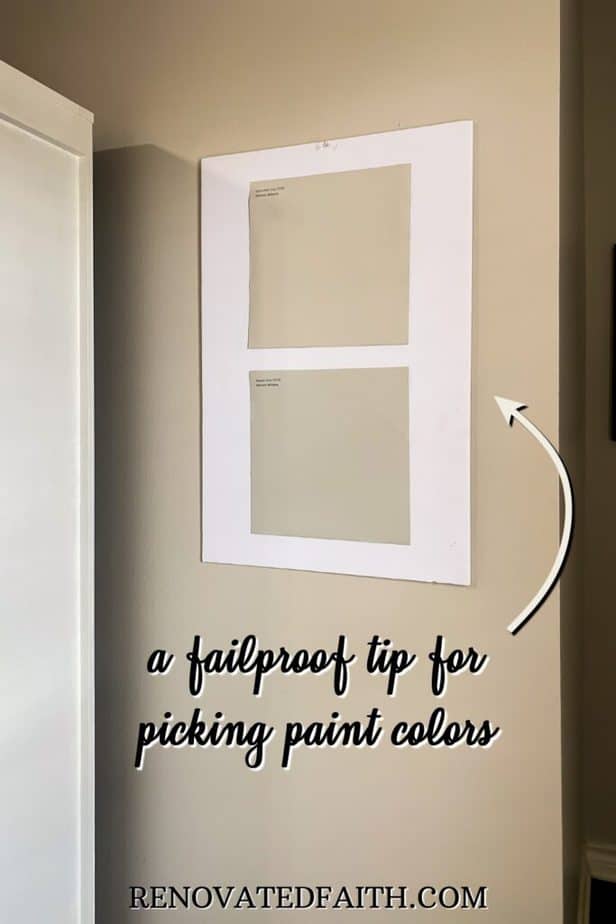 I like to put the peel and stick samples on top of a white piece of poster board and hang it on the wall to get a better sense of how the color will look in your own space.
You can put similar color samples on the same piece of posterboard as long as there is space between each. The white border helps to create a boundary so your brain is not influenced by the color already on the wall.
You can do this by placing the peel and stick paint sample on a piece of posterboard or form board. If you can get access to the samples, most paint stores will have small sample containers. If this is the case, just paint a square straight on the white poster board.
Even though it's a little more trouble, it makes picking the right paint color so much easier than using just paint swatches or stick paint samples.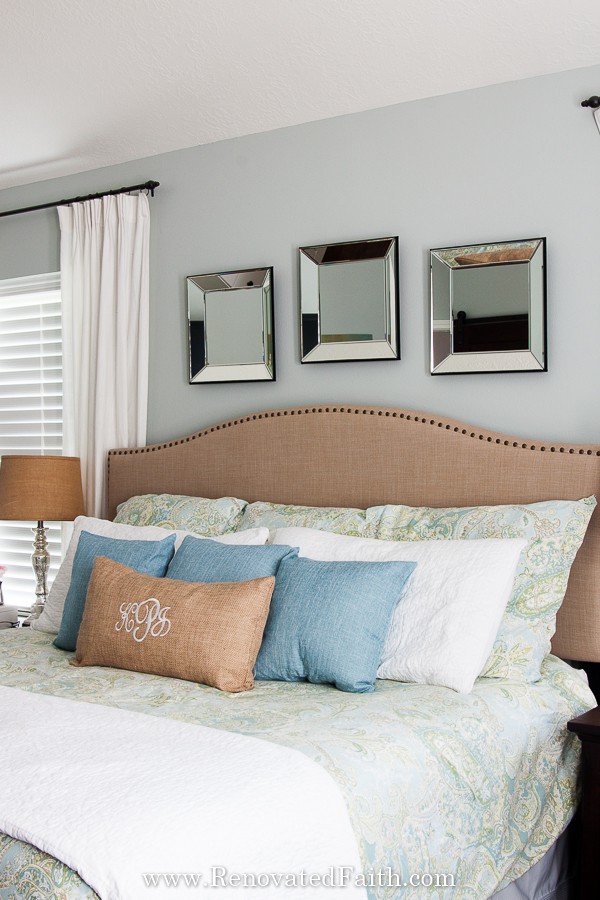 Step 1: Create a Color Scheme that Works with Your Paint Color
Don't be hesitant to get samples and paint large blocks of paint on your wall (at least 4'x4'). This will ensure that you not only like the color but also see how the light affects it throughout the day. Be sure to compare those colors at different times of the day as your light shifts.
Like I said above, pick colors that coordinate with your paint's undertones. If you want certain undertones to be more prominent, use those colors to accent with. For example, if I want to accentuate the blue undertones of Sherwin Williams Silver Strand paint, I will accent with a light blue throw pillow or artwork.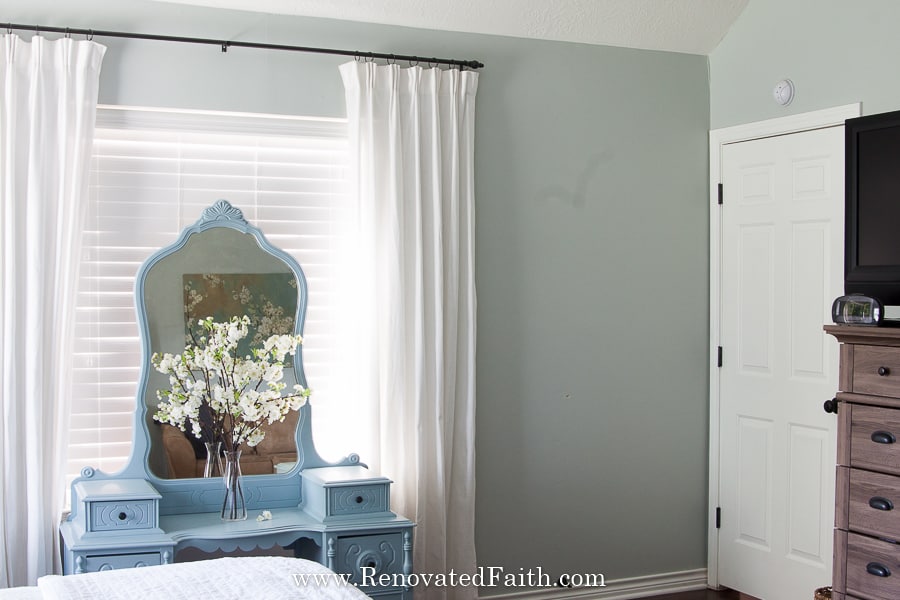 Step 2: Pick Your Bedding
The focal point of any bedroom is the bed and headboard because they set the tone for the "rest" of the space (see what I did there). Therefore, be sure to get a duvet or comforter you absolutely love. (Jake loves it too!)
I saw this duvet on Pinterest and then realized it was discontinued at Pottery Barn. I tried to talk myself into something else but, honestly, I couldn't get my mind off of it – discontinued or not! So, I found it new on eBay for only $60.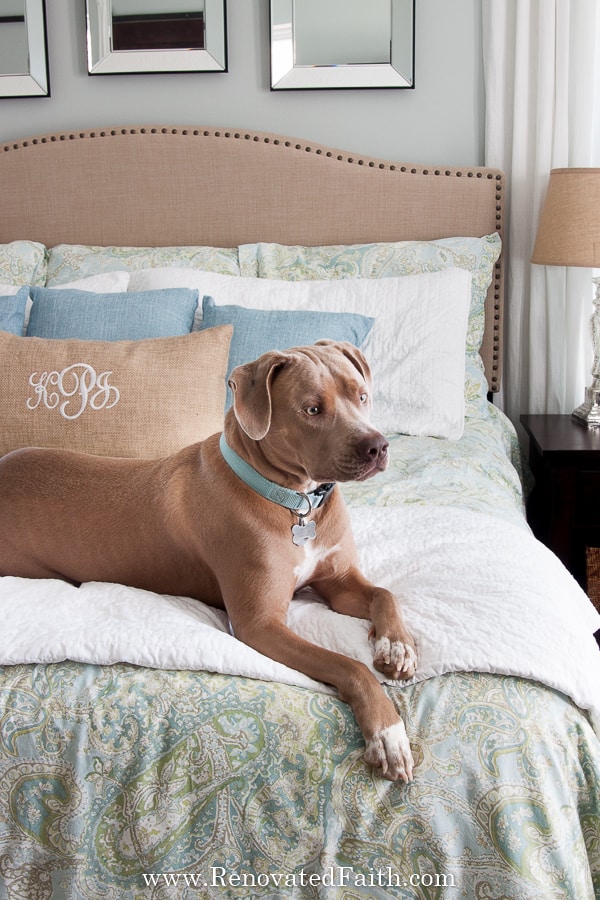 I recommend that your headboard is in a neutral color to give you more flexibility later on when you change your room's paint color and decor. The low price of the headboard made me a little hesitant to buy it.
Because let's be honest, I can't make a headboard for less than $150. But I took a risk and this upholstered headboard with nailhead trim looks absolutely stunning. You can get your own here: Grayson Linen Headboard (see the current price here)
Step 3: Curtain Hardware
In my post on how to make professional-looking DIY Custom Curtain Rods, I explain how I used electrical conduit to make my own curtain hardware. The curtain rods for all three windows in our master bedroom cost less than $10! I promise no one can tell the difference between mine and something you'd buy at Restoration Hardware.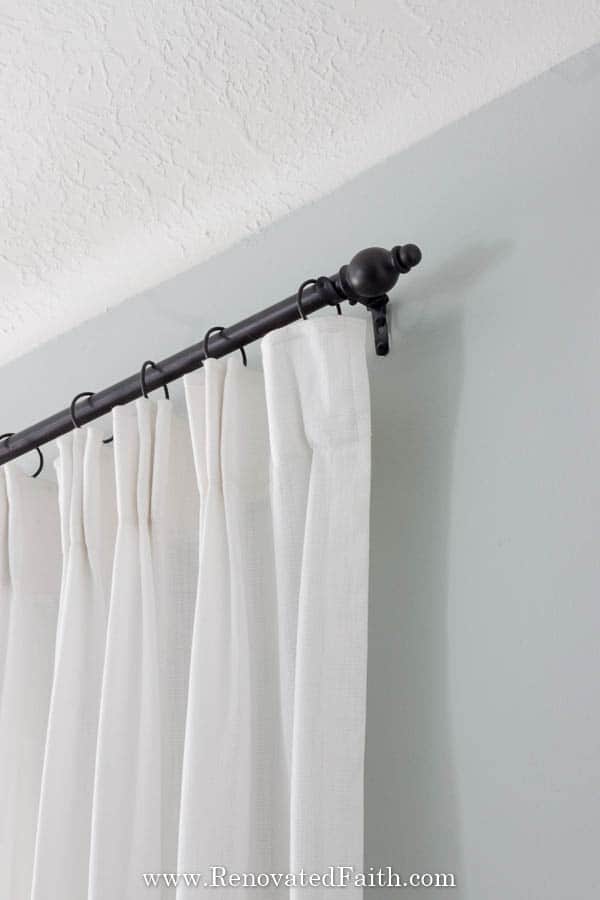 Another cost-saving secret involves those curtain rings you see there… Those may or may not be binder rings that have been spray-painted!
They actually attach to paperclips which attach to pleat hooks that give the look of pinch-pleated curtains without the permanency or hassle of sewing! You can see how to make your own here: How to Cheat at Pinch Pleat Curtains
Step 4: Hang Your Hardware and Curtains.
I picked these white curtains(see the current price here) because I wanted the room to feel light and airy since I already have a lot of blues and grays in the room. White acts like a pallet cleanser for any room, giving contrast and a fresh, clean look.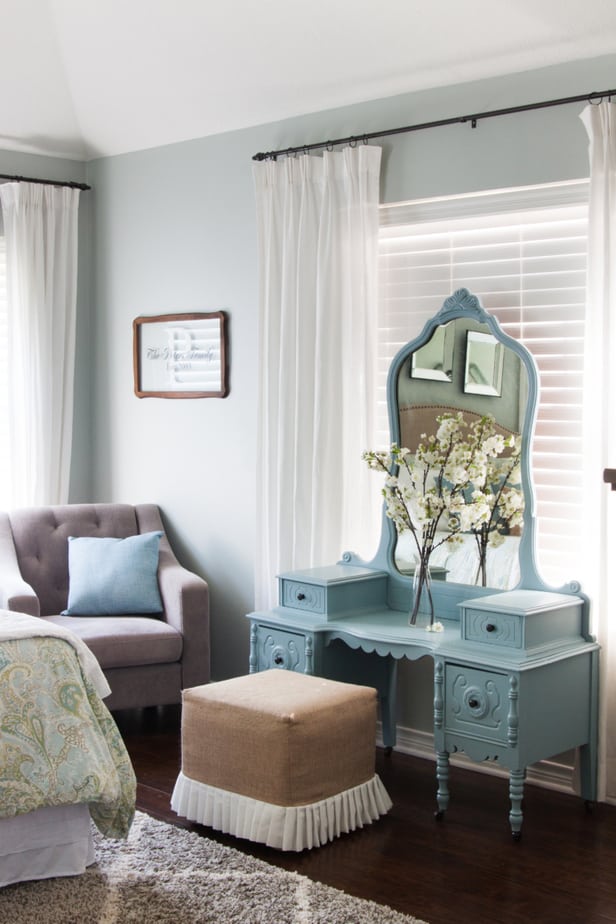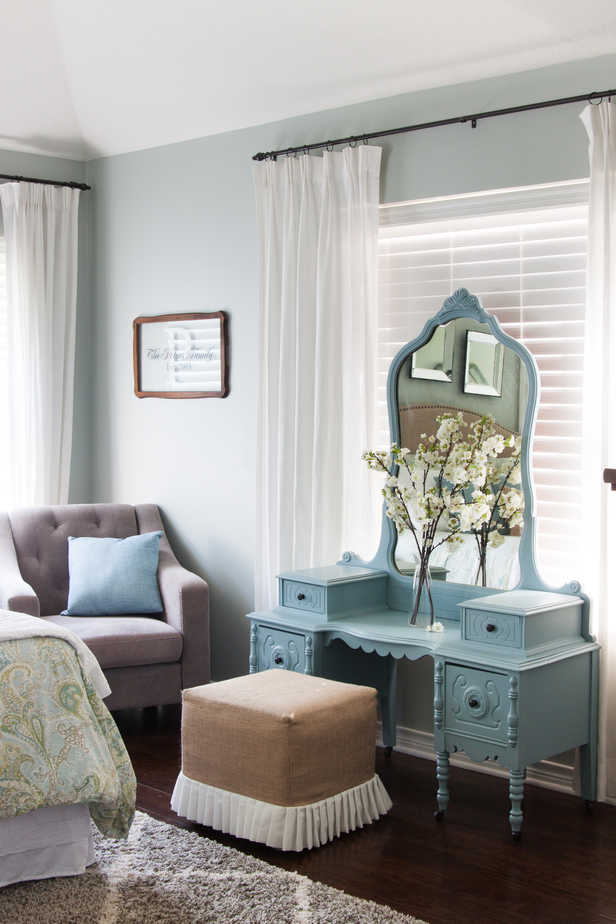 After you paint, you want to hang your rods and curtains. Be sure to hang them the correct way as showing in my post DIY Curtain Rods on a Budget which shows exactly what height and width from your windows to hang your curtains.
This method allows you to maximize your window size and allow as much light in as possible. You can't see this in the picture but my curtains just barely cover the edge of the window making them appear so much bigger. If you go this route, you might want to pick thicker curtains, so it's not obvious when the sun shines through.
Hanging your rod a few inches higher gives the illusion of taller ceilings. I actually got the longer length that the curtains came in and then hemmed them to the correct size.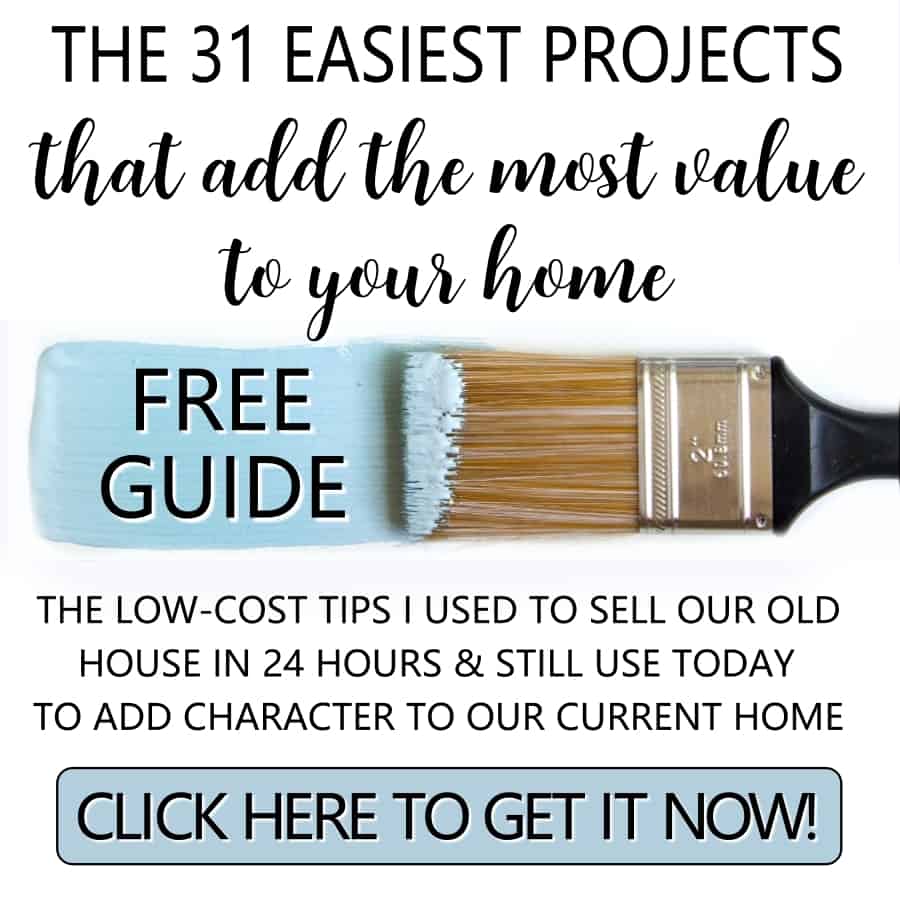 Step 5: Add Accessories That Play Nicely With Your SW Silver Strand Paint Color
Don't hang your artwork until after you hang your curtains. If you hang your art first and then your curtains with the above method, your wall space could look cramped. Hanging your curtains first allows you to plan for the right placement of artwork or mirrors.
Choose a rug large enough that the entire bed can fit on it and at least the two side legs of your end tables (Ballard Designs has a great Rug Design Guide to help you with this).
I'm so crazy about this Hudson Shag Rug! It's durable but also the softest rug I've ever walked on – perfect for a bedroom where you need every incentive possible to get out of bed.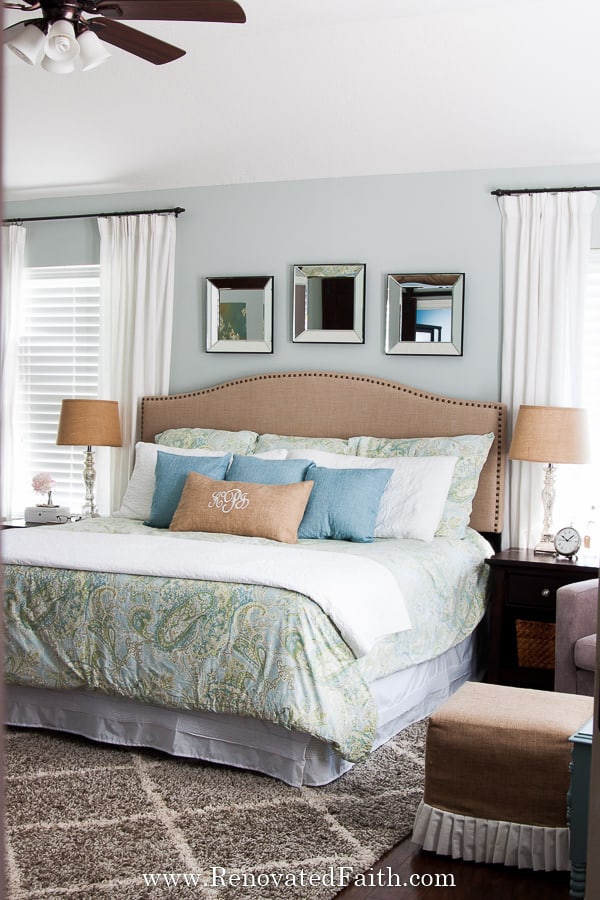 I made this throw pillow with some old fabric I had and my friend Jennifer at And Sew On monogrammed it for me. A southern girl can't have too many monograms!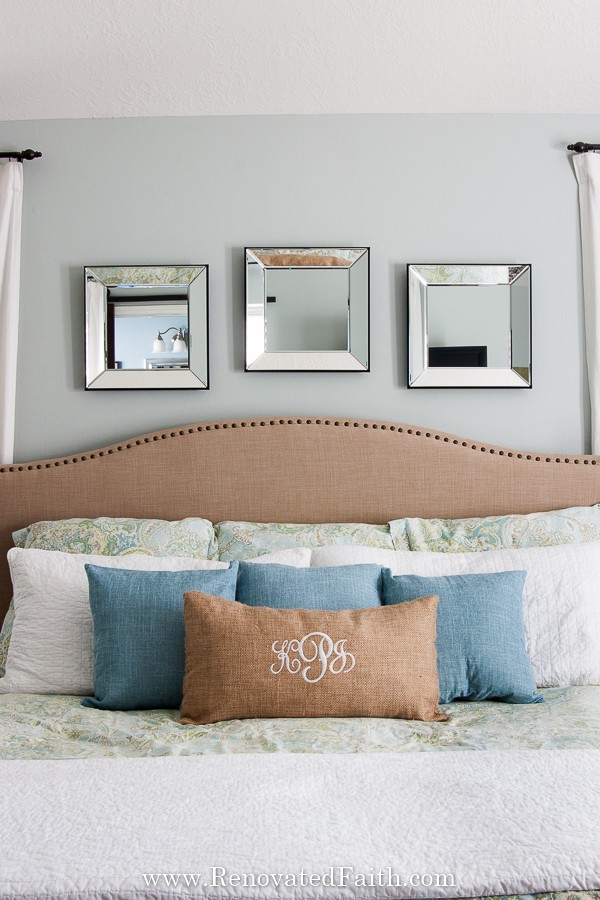 Choose some neutral accessories, making sure that any color in the room has at least one 'color friend'. Notice how the headboard and lampshades are the same color. Also, the chair and rug coordinate. The lamp bases and picture frames match. You get the idea…
Some designers say that every room should have a black piece of furniture. What they are emphasizing is the need for contrast to create interest. A room with all light colors or all dark colors is boring. Here my end tables serve as my "something black" although they are technically espresso (Avington Side Table in Dark Tobacco).
We built a barn door going into the Master Bath that I posted about in my Light and Airy Master Bathroom Makeover. Here is the hardware we used for the barn door. This process was a lot easier than we thought we realized we didn't have to figure out our own sliding mechanism: Barn Door Hardware (see the current price here)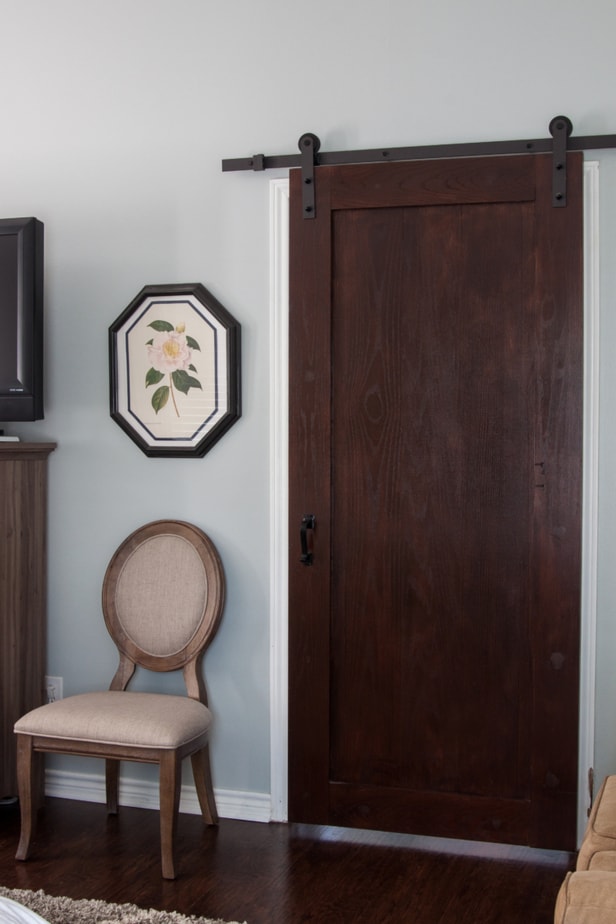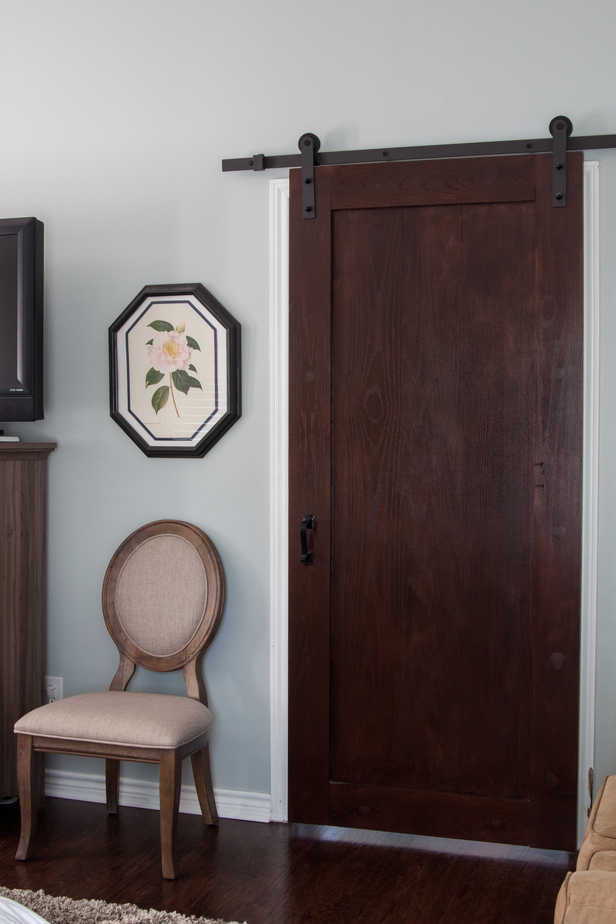 Of course, my favorite piece of furniture in the room is the vanity that has tremendous sentimental value to me as it was once my grandparents'. See the full process in my post A Beginner's Guide to Painting Furniture.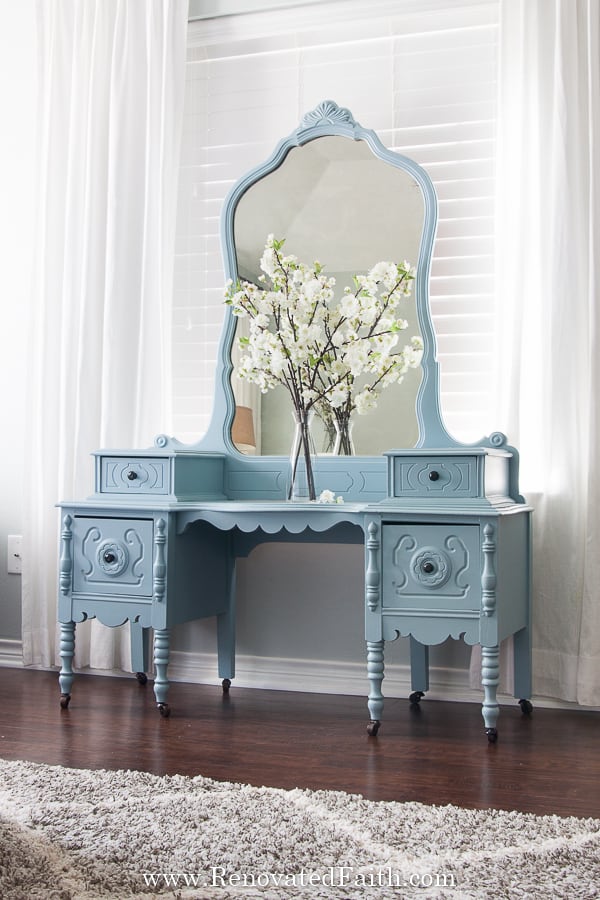 This is Jeremy's late grandmother's side tabletop. I used some vinyl to make it into wall art. I love the way the light reflects onto the glass!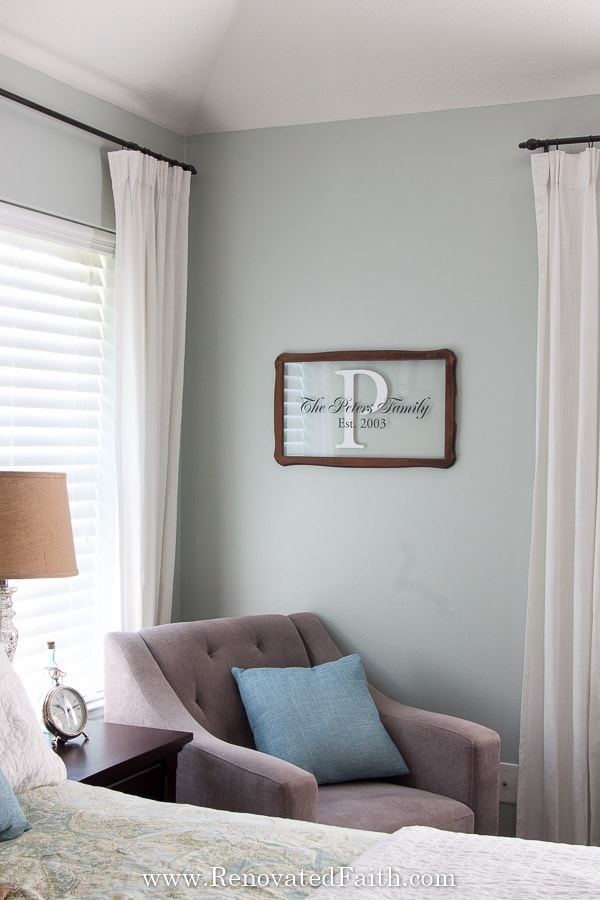 My mom had a whole set of these parfait glasses and this is her last one. I have fun memories of jello parfaits she would make in them!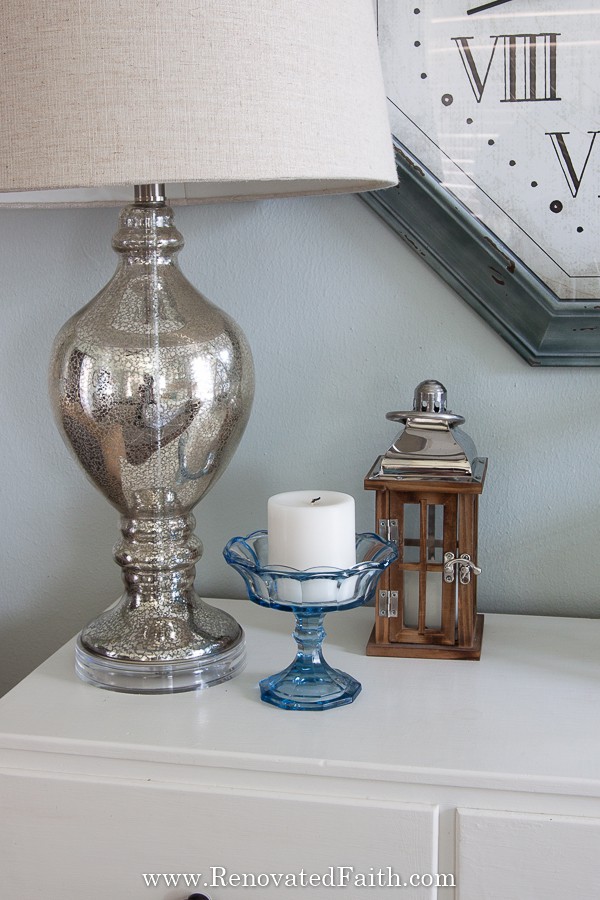 I love that our room has some of these personal touches – my husband's late grandmother's old side table top that doubles as a picture frame, some framed botanical prints that remind me of my grandmother's garden, a parfait glass of my mother's that doubles as a candle holder and the list goes on and on.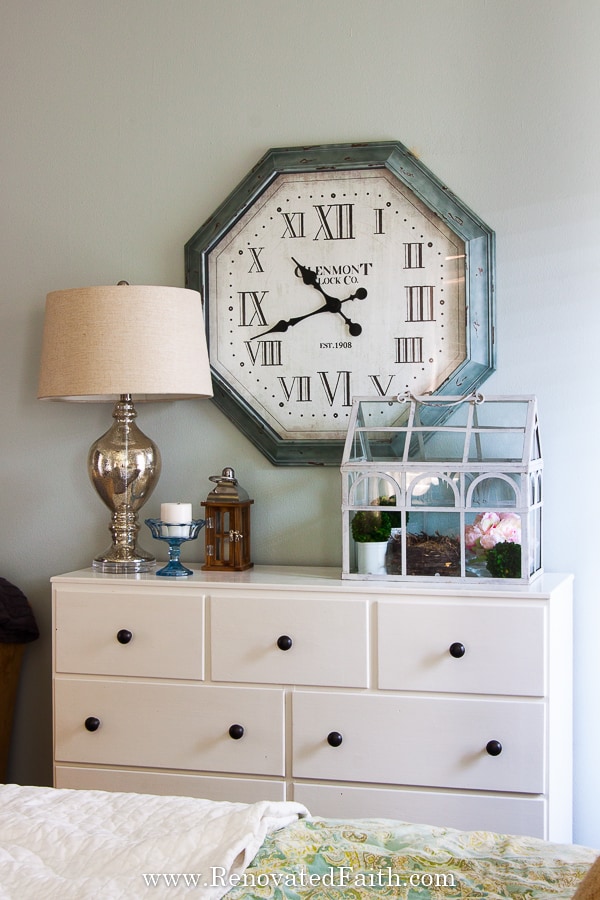 RENOVATE YOUR FAITH: Beauty from Ashes
"What are your dreams?"
My answer to that question from 10 years ago is completely different from my answer today.
Ironically, I'm so thankful that some of those dreams didn't come true.
Life gives twists and turns that we never see coming. But fortunately, God can take the most broken of circumstances and makes them into something lovely. That especially through life's difficulties and our own shortcomings, God shows up. Then, He graces us with what we never could have imagined.
At 17 months our only child Morgan was diagnosed with an extremely rare autoimmune disease called Autoimmune Neutropenia. For over two years, she couldn't be out in public much, had daily shots and weekly blood work. To say that our lives were affected by this rare blood disorder was an understatement.
However, after all we have been through…after all the doctor visits, sickness, injections, and lab visits, I wouldn't change a thing. I realized that out of the most horrible of circumstances, God instilled a beauty and kindness into Morgan's personality I never knew was possible. She has an empathy and concern for others that she would not have had if not for her illness.
I've yet to do a DIY project where there wasn't at least a small bump in the road. As much as those hiccups can intimidate me, I'm thankful for them. As I look back, those are the moments I learned the most.
So often art imitates life and it's the same with DIY and home décor. There are several sentimental accents in this room that not only served to keep us on budget after years of medical bills. But they are reminders of what matters most, where God has brought me, and how He has given me the strength to overcome.
Just like with any home project, life gives you challenges but in the midst of those hardships, you learn something – you gain a greater appreciation for the depths of his blessings and the heights from which you have fallen.
Life is not always pretty but God's intervention in the midst of our brokenness is. Maybe things don't always happen as planned but when our misconstrued dreams collide with God's best, His greatest blessings ultimately result.
For more spiritual encouragement, click here for the rest of my Renovate Your Faith Posts.
Sherwin Williams Silver Strand Bedroom Reveal: FAQ's
What About Other Rooms with Sherwin Williams Silver Strand?
Silver strand is gorgeous in other rooms than just master bedrooms. Its versatility adds a cool and calming tranquility to other rooms like bathrooms, kitchens, and even areas that tend to be dark like stairwells. Here are some ideas to help you decide if Sherwin Williams Silver Strand is right for your room:
Sherwin Williams Silver Strand Kitchen Ideas
Sherwin Williams Silver Strand Bathroom Ideas
Using Silver Strand to Lighten Dark Rooms
More Sherwin Williams Silver Strand Bedroom Ideas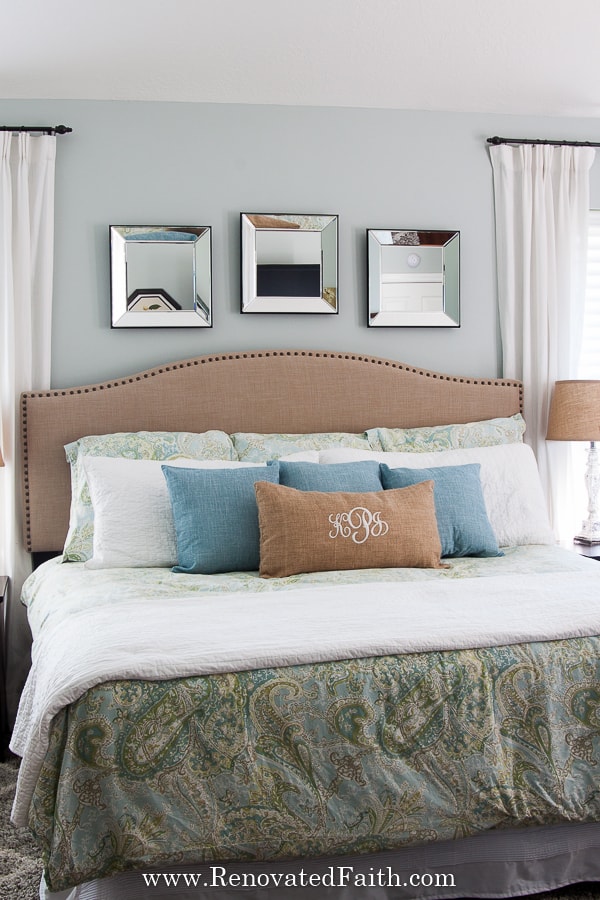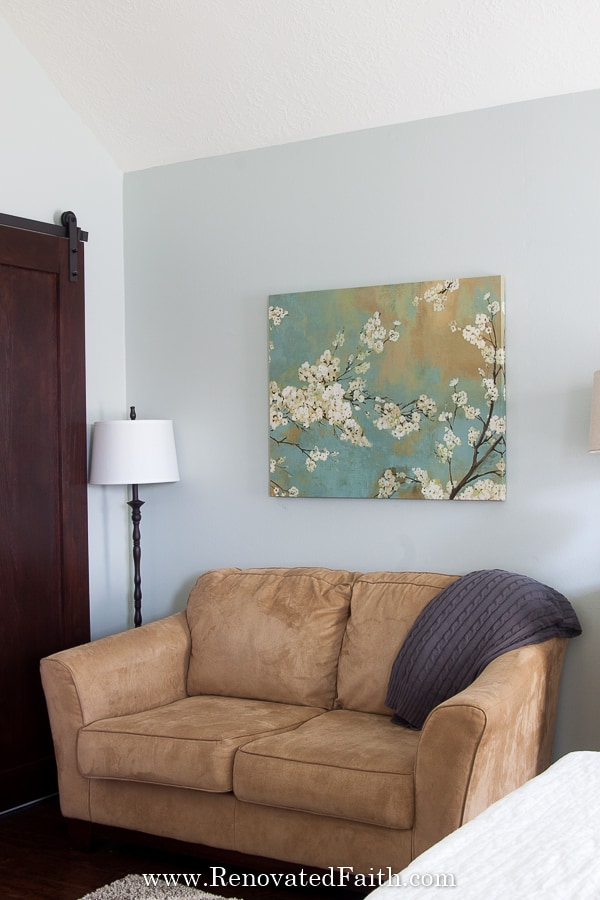 Equivalents to Sherwin Williams Silver Strand
What is the Behr Equivalent to Silver Strand Paint?
No Behr color is an identical match but Home Depot has the same formula for SWSS that they match exactly. Just ask them to look up Sherwin Williams Silver Strand. Always, check the paint color they mix against your sample to ensure you are getting the right color. Also, they have sample sizes if you are still deciding!
What is the Benjamin Moore Equivalent to Silver Strand?
Benjamin Moore doesn't have a color that is an exact match but again, but they do have SWSS in their system. If you go with Benjamin Moore, they have a waterborne enamel alkyd that works well called Benjamin Moore Advance. (I actually blind-tested 24 top furniture paints and you can see the full results here! You can see the results of the cabinet testing here: The Absolute Best Paint for Cabinets.)
What Are the Best Whites To Coordinate with Silver Strand?
Whether you are looking to paint your kitchen cabinets or update your trim color, several whites work well with Silver Strand. I love how White Dove or Pure White looks against the cool undertones of Silver Strand. As far as a creamy white, SW Alabaster is the creamiest white paint color I would go with.
If you are going with white cabinets and Silver Strand on the walls make sure to go for neutral countertops.
RELATED: The Best White Paint Colors
Silver Strand vs Repose Gray
If you want a safer option that doesn't nod towards green and gray, Sherwin Williams Repose Gray is a lovely cool gray that is neutral enough for most color palettes. This is a gorgeous, muted gray as reads nowhere close to a dark gray even in low-light conditions where it still makes the room feel light and airy.
Finding the right gray can be tough. But, if you want darker shades to pick from, Sherwin Williams Comfort Gray and Dorian Gray are good options for a medium gray or even a slightly dark gray paint color. Other popular grays are Gray Owl, Mindful Gray and Oyster Bay.
Sherwin Williams Silver Strand vs Sea Salt
Choosing between SW Silver Strand vs Sea Salt depends a lot on how much you like green undertones. Seal Salt has more prominent green tones while Silver Strand is a green-gray blend that can also read blue.
If you like just a pop of color, Sea Salt is a great color because it's a subtle gray-green that blends well with neutral color palettes because of its taupe/greige undertones. It is definitely a safe sage as you don't have to worry about it being too bright.
SW Sea Salt is a popular paint color choice for those who like sage paint colors but it is a safe and subtle option. I personally wouldn't put it in a living room, kitchen or your entire house, because I like more neutral colors to in those spaces to give me more flexibility with décor. But it is a great option for a guest room, guest bathroom, laundry room or powder room.
Silver Strand vs. Agreeable Gray
Silver strand and Agreeable Gray have greige undertones and they are similar in color depth but they are two very different colors. Agreeable Gray is a good whole-house color because whether you are using it in your dining room, kitchen or your daughter's room, it can coordinate with any home décor accents.
SW Agreeable Gray is a neutral greige (warm gray) with a nice balance of gray and beige undertones making it not only a lovely neutral but a very versatile color. Sherwin Williams Silver Strand is really a cool color with green and blue undertones with chameleon tendencies in artificial light.
For that reason, I have SW Agreeable Gray throughout most of my home and SW Silver Strand in our bedroom as I want to play up the relaxing effect that naturally comes with the cool undertones of Silver Strand. (You can see my full review of Agreeable Gray Here). Edgecomb Gray is a slightly lighter version of Accessible Gray if you have a darker room.
If you want a color with more brown undertones, SW Accessible Beige is a similar LVR to Agreeable gray but it has more warm undertones as a warmer shade of light greige. If you want a warmer color that is also slightly darker, you can't go wrong with Benjamin Moore Revere Pewter. BM Revere Pewter also has some very subtle green undertones like sea salt but is still a warmer gray.
SW Sherwin Williams Silver Strand Review: YouTube Video
More Posts Related to my Silver Strand Bedroom Makeover
The Best Light Greige Paint Color – Sherwin Williams Agreeable Gray
DIY Curtain Rods for Less Than $10
How to Cheat at Pinch Pleat Curtains
Vanity Makeover: How to Paint Furniture for Beginners
Easy Light Fixture Makeovers with Spray Paint
The Best Faux Brick for A Backsplash (PVC Panels for Walls!)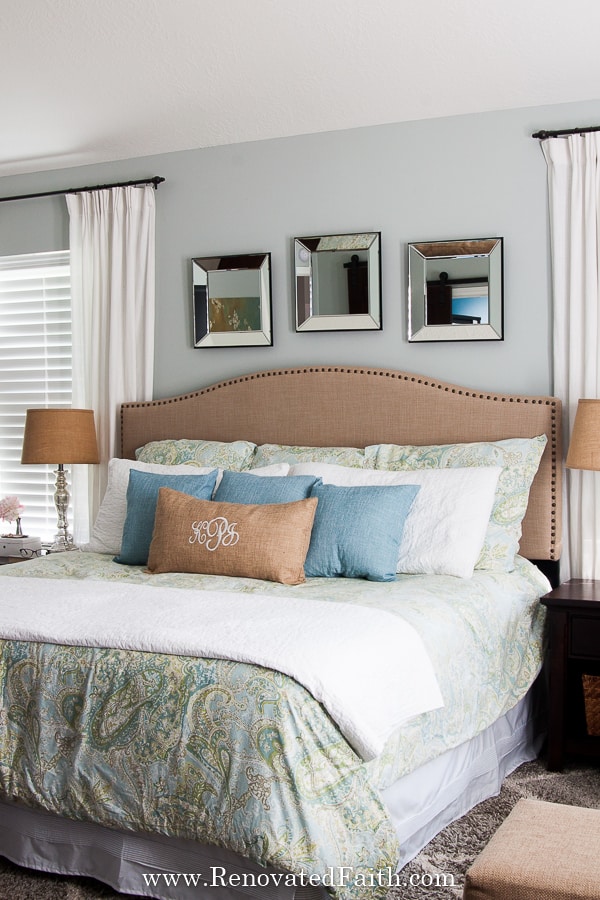 Final Thoughts: Sherwin Williams Silver Strand Review
Sherwin Williams Silver Strand paint is one of the most popular colors today but there are some things to be aware of before you go out and buy paint cans! Be sure to have a gameplan in mind in how you want to decorate with this color as the undertones won't give you quite the flexibility as a typical neutral gray. However, if you keep some of these tips in mind, you can enjoy this light and airy paint color and embrace the vibrant undertones of this beautiful color.
Hopefully, you can also use the checklist above to help you decorate your master bedroom retreat whether you are moving into a new home or just need an update. And remember that a home is not special because of how much you spend decorating it. The personal touches you add are what remind you that the most beautiful things in life are not just things.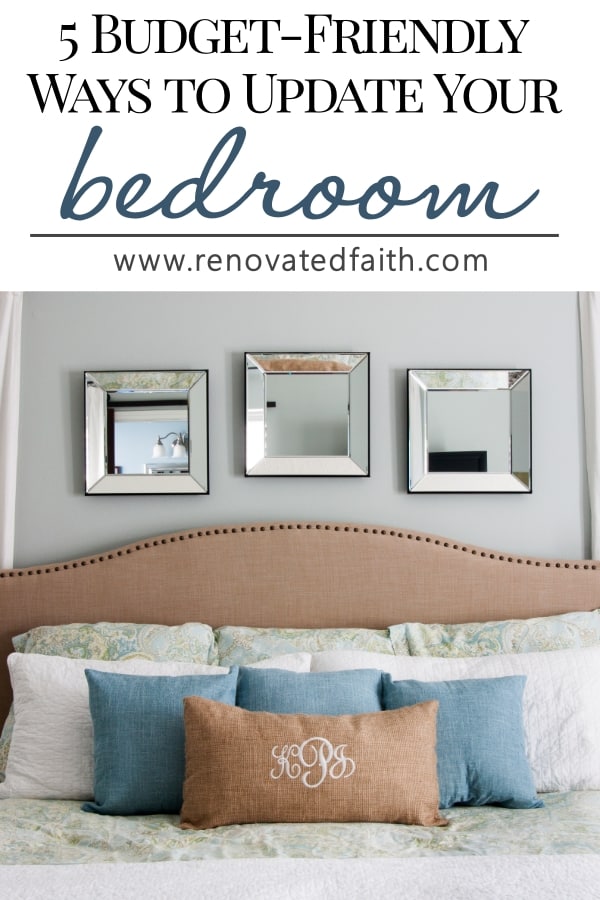 I love to hear your thoughts and questions! Scroll down to leave a comment and I WILL reply! ❤️
Blessings,

Be sure to follow the fun here!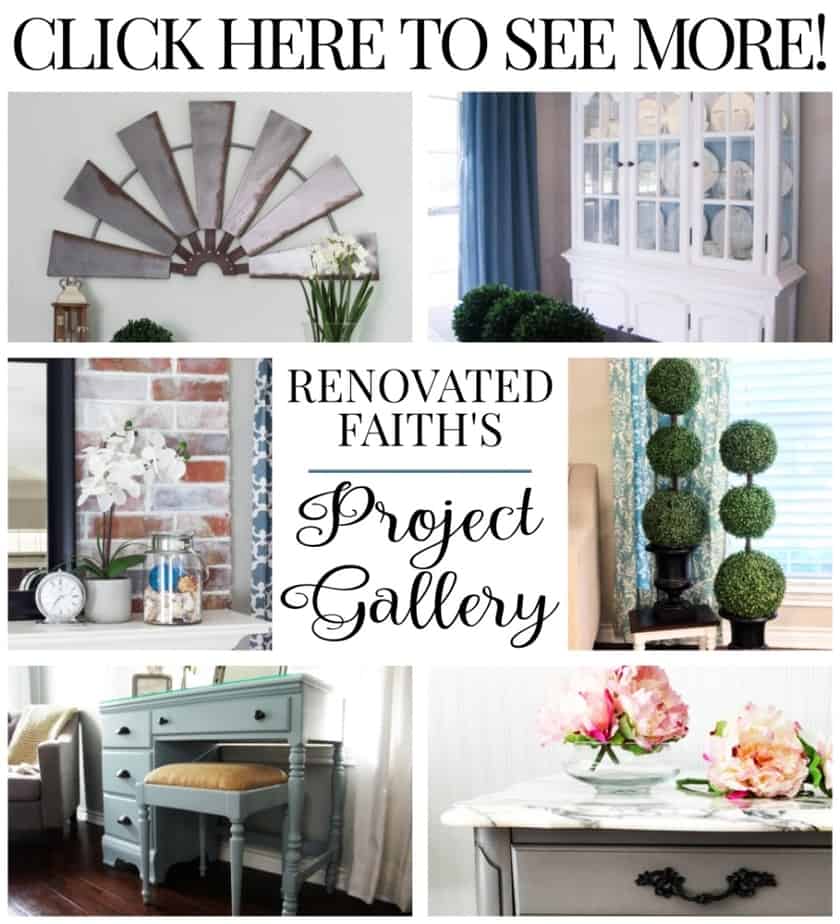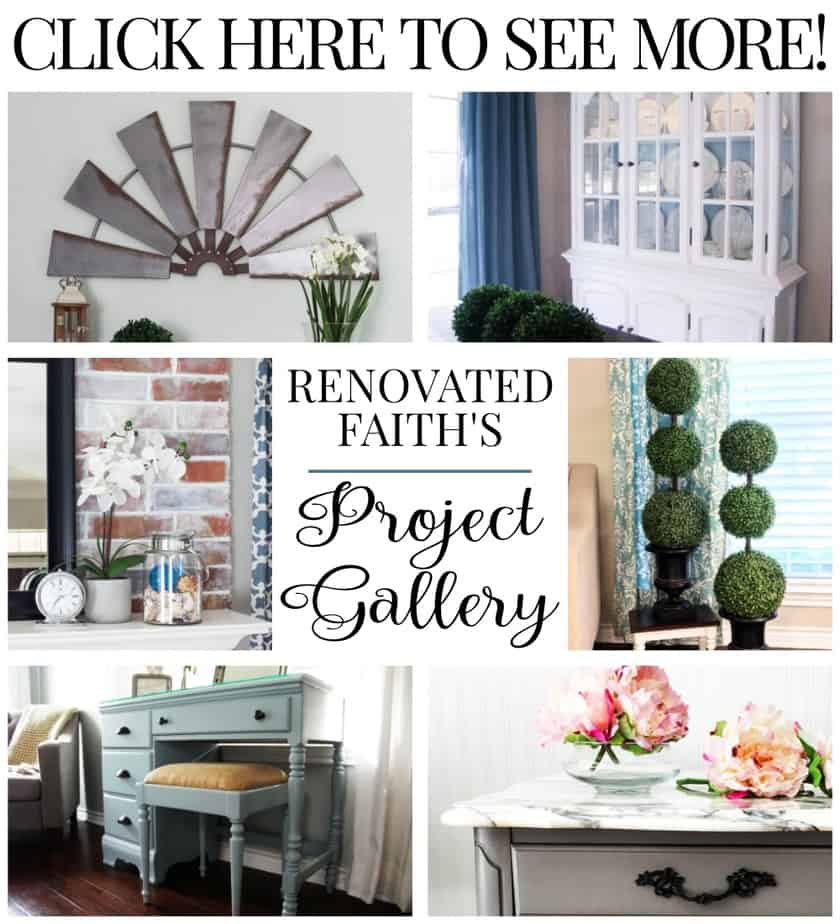 Sherwin Williams Silver Strand Review
Welcome to Renovated Faith, where I share about DIY projects, my faith and everything in between! When I'm not spending time with my family, you will find me redoing furniture in the garage or watering plants in my greenhouse. This blog is about transformation. Anyone can renovate a house but only God can transform our hearts!