The Ultimate Guide on How to Fix Damaged Furniture: Caulk, Wood Filler or Epoxy?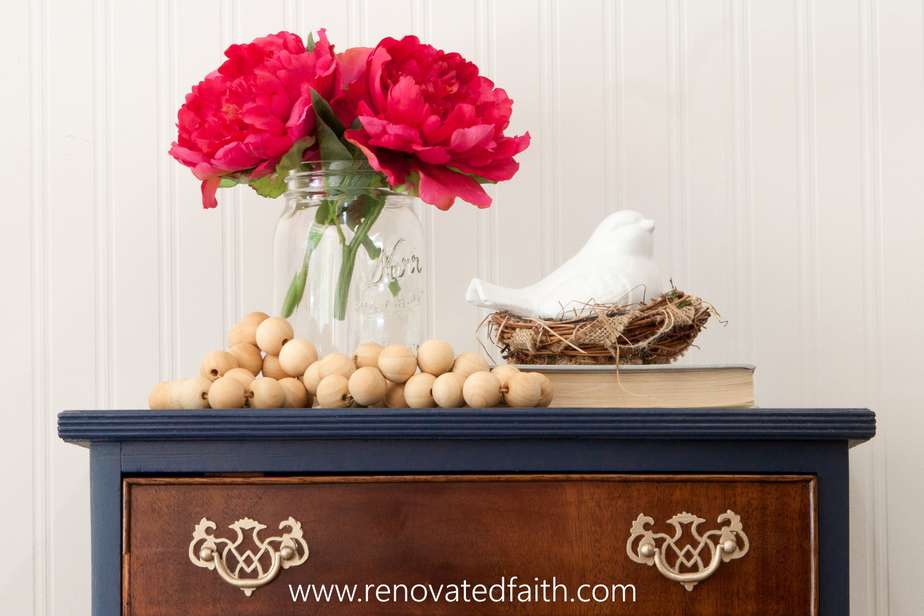 The Best Products to Repair Wood Furniture
This easy step-by-step guide shows you exactly how to fix damaged wood furniture and which products to use: epoxy for wood, caulk or wood filler.
---
You see a stunning vintage antique dresser and find yourself daydreaming about working on it one beautiful Saturday afternoon. The weather is gorgeous, you are wearing your comfiest clothes and watching The Office reruns as you slather paint on your masterpiece. Before Jim tells Pam her mixed berry yogurt is expired, you are done with your creation and relieved at how easily it was to refinish.
A hiccup-free makeover is always our goal when refinishing furniture, or any DIY project for that matter. But often, old pieces of furniture have little surprises that must be dealt with before you get started painting.
Whether it's a deep scratch, gouge or a gap, repairing furniture is easy if you know the right product and technique. Otherwise, you could make it look worse than it did when you started.
Fortunately, this post and video will explain how easy it is to fix any damage to wood furniture in no time. I also show you my favorite tried-and-true products that will give you a smooth and durable finish so you can enjoy your peace for years to come.
LET ME SHOW YOU: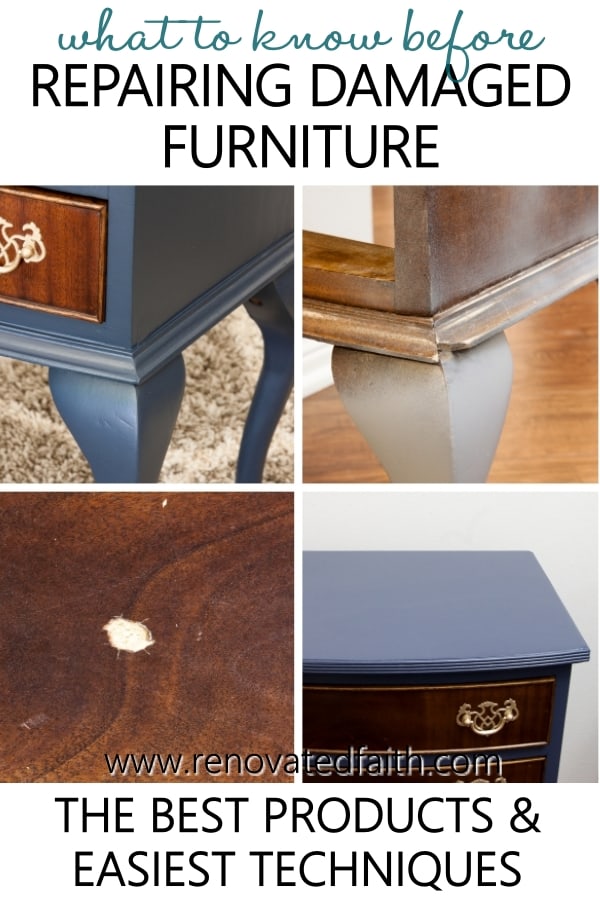 (As an Amazon affiliate I earn from qualifying purchases. Please see my full disclosure HERE).
☑️ If you are curious or in a hurry, here is a quick link to the furniture repair products I recommend: Best Products for Repairing Wood Furniture For easy instructions on how to make the repairs, keep reading!
How to Fix Wood Furniture: DIY Tutorial
Most of these repairs are done on these two side tables I am refinishing for my mother in law. Here you can see the before pics: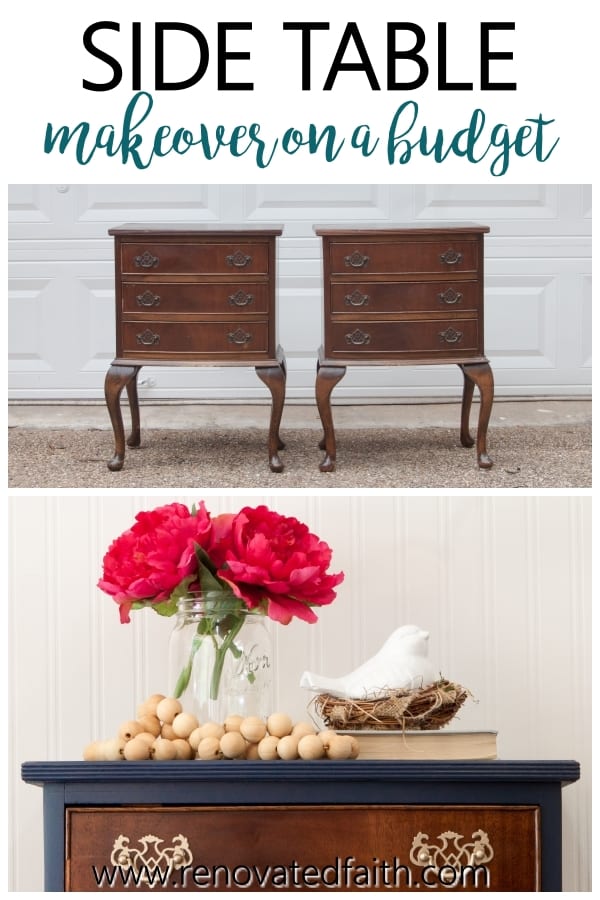 TYPES OF WOOD FURNITURE DAMAGE:
There are several different products to use to repair wood or laminate furniture. Some of my favorite products for fixing wood furniture are caulk, wood filler and wood repair epoxy. However, I also want to share with you how to fix basic finish damage without refinishing.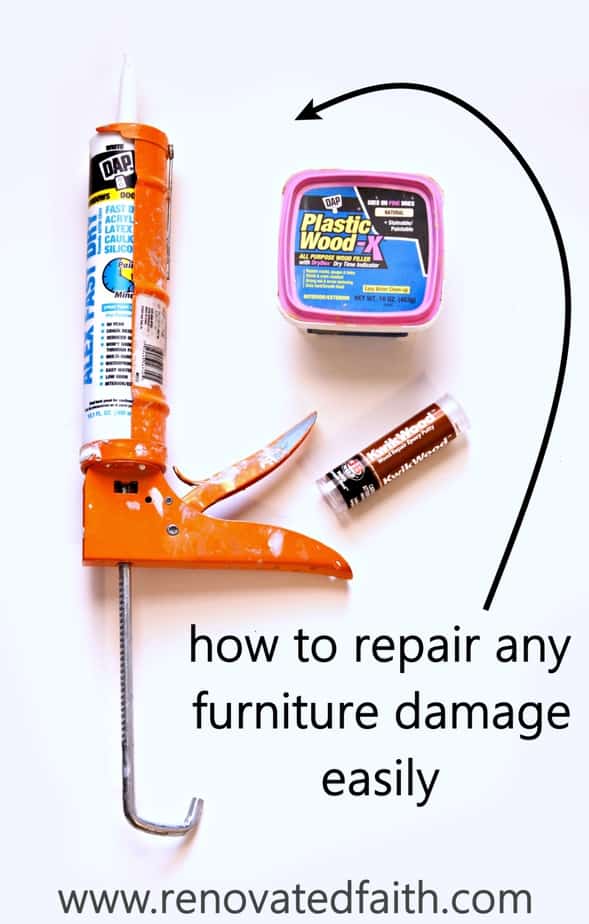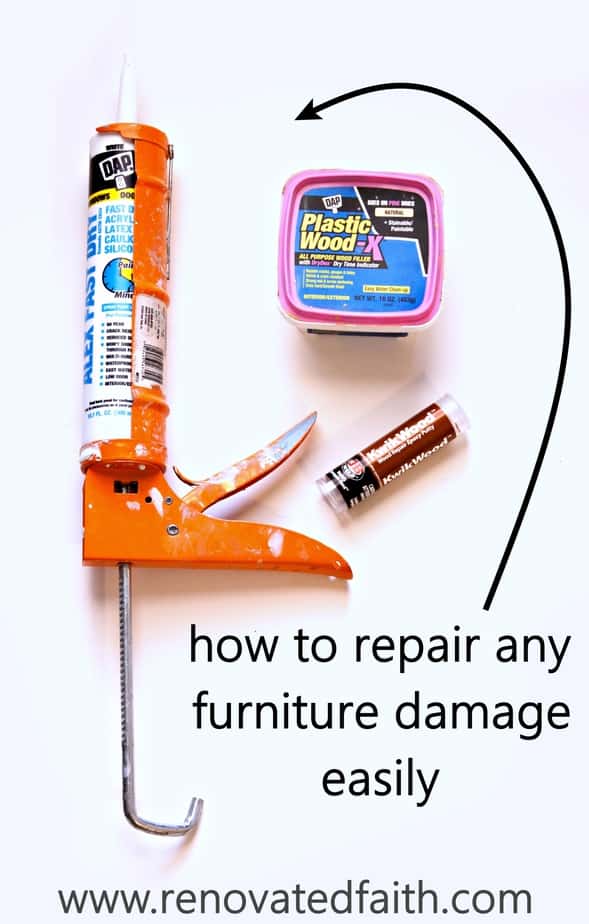 How to Fix Water-Damaged Wood and Heat Rings
Sometimes the condensation or heat from a glass can leave a ring on the surface of stained wood. The heat and moisture seep into the surface of the wood and make a faded circle in the finish.
Fortunately, this can often be remedied if you are using the right product – one that just doesn't make the whole surface darker like a polish but one that fills in the damage from the water or heat.
Best Product for Removing Water Stains from Wood and Restoring Faded Furniture: Restore-A-Finish
Restore-A-Finish is a wipe-on product that penetrates the surface of the wood to cover water damage and heat rings. I used it recently to restore faded drawers of two end tables I recently refinished for my mother-in-law. You can see how dull the drawers look initially.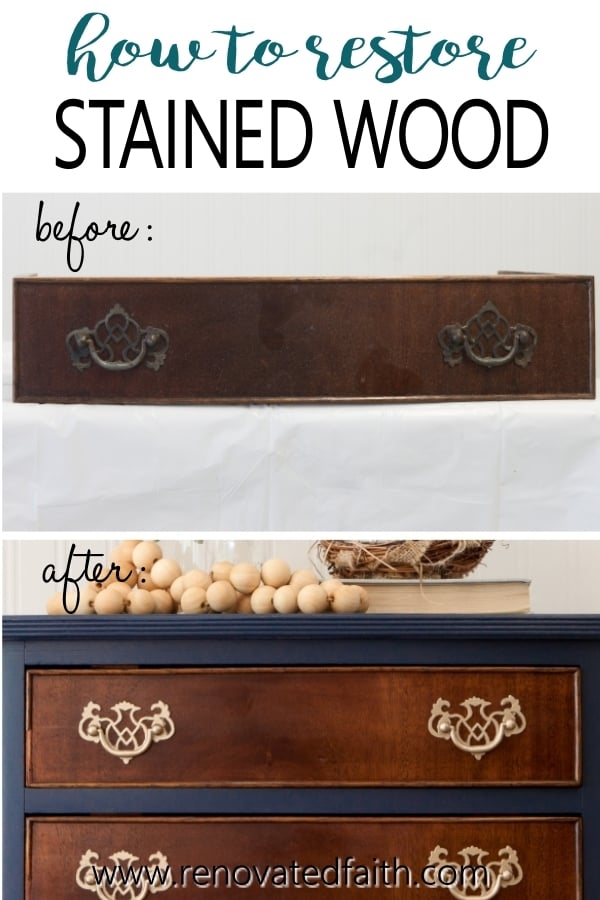 However, the Restore-A-Finish did a great job brightening up the finish so they looked as good as new! Not only does it bring back the wood's original color and luster, it even blended out some minor scratches and abrasions. It comes in eight different shades so you can customize the finish to your stain's shade.
How to Restore Weathered Wood Furniture with Restore-A Finish
If you are wondering how to remove water rings, scuff marks or minor scratches, the process is the same. Simply add Restore-A-Finish to a rag and liberally wipe it all over the furniture surface. I like to let it sit for about 15 minutes before wiping off the excess.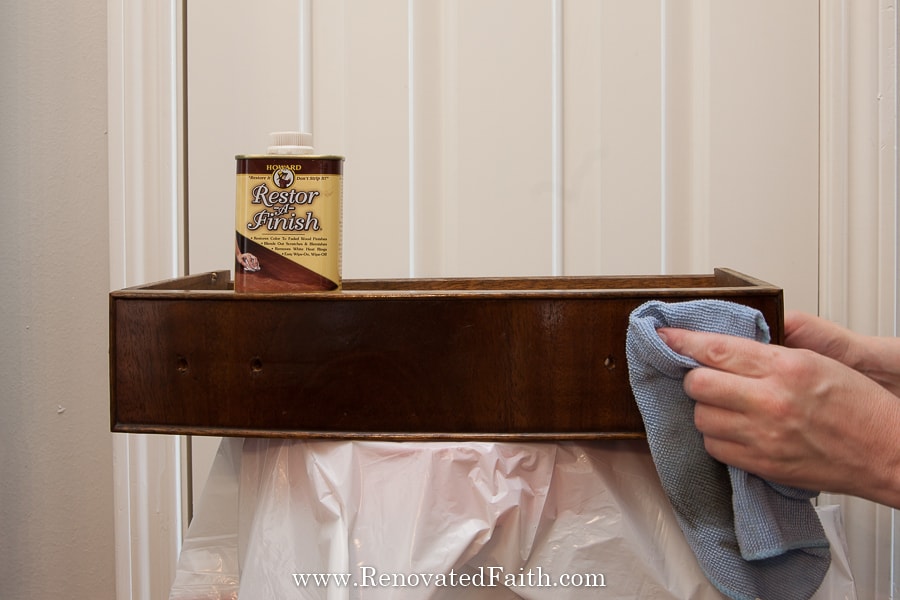 How to Remove Scuff Marks from Wood Furniture
Part of understanding how to fix damaged wood furniture is knowing when to refinish or just polish the surface. Fortunately, Restore-A-Finish is effective in removing scuff marks from wood furniture pieces as well. You will have to use a little more elbow grease to polish the wood back to its original finish.
Click here to pick your shade and see the current price: Restore-A Finish
Renovated Faith: What's in a Name?
God never leaves a project half-done…He continually works on each one of us, as a lavish expression of His amazing love and grace. So many of my DIY projects remind me of how God renovates our hearts. If you are a work-in-progress, just like I am, check out the Renovate Your Faith Devotional at the bottom of this post. Click here to get a weekly reminder of new posts by email.
---
How to Touch Up Scratched Wood Furniture
On furniture that is used heavily like your coffee table or dining table, the edges and corners are usually the first part to get scratched up although the rest still looks great. Furniture repair markers are best for these scratches. There are several on the market, but I've recently found some I'm really happy with.
After experimenting with a lot of products, I like the Exact Match Wood Furniture Repair Markers the most. Unlike some furniture repair markers, the stain in each pin does absorb into the scratch instead of just fading into the wood. These markers come in a pack of 6 different shades so you can use them for multiple furniture pieces in your home and even wood floors. Here are scratches on our coffee table before using the Exact Match Markers (click here for the current price).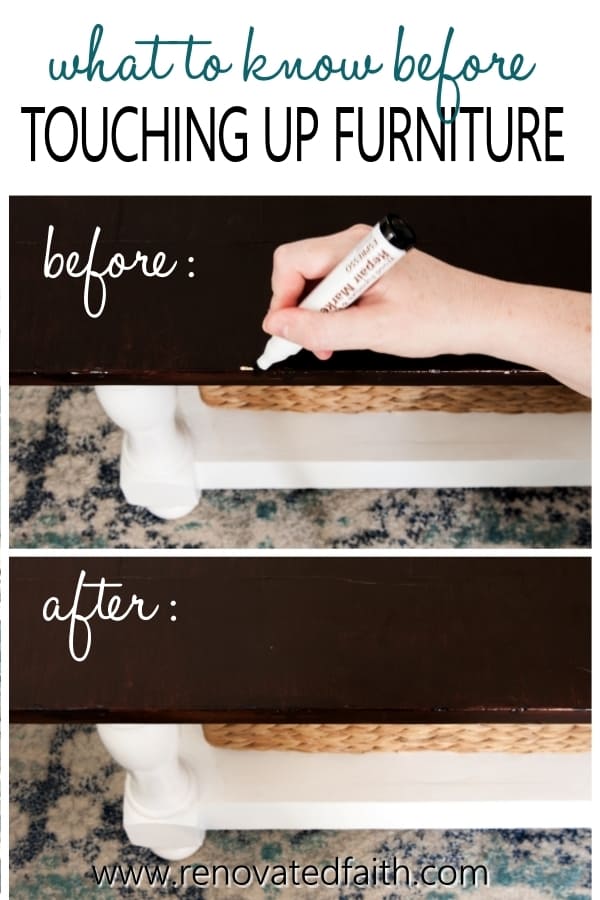 Exact Match Furniture Repair Markers are a set of markers filled with stain instead of ink. Pick the stain color that is slightly darker than the stain on your furniture piece. Mark over the scratches and use a paper towel to remove any excess on either side of the scratch. Let the stain from the marker dry for at least 20 minutes. If you have a deep scratch or gouge, use the wood filler I mention below.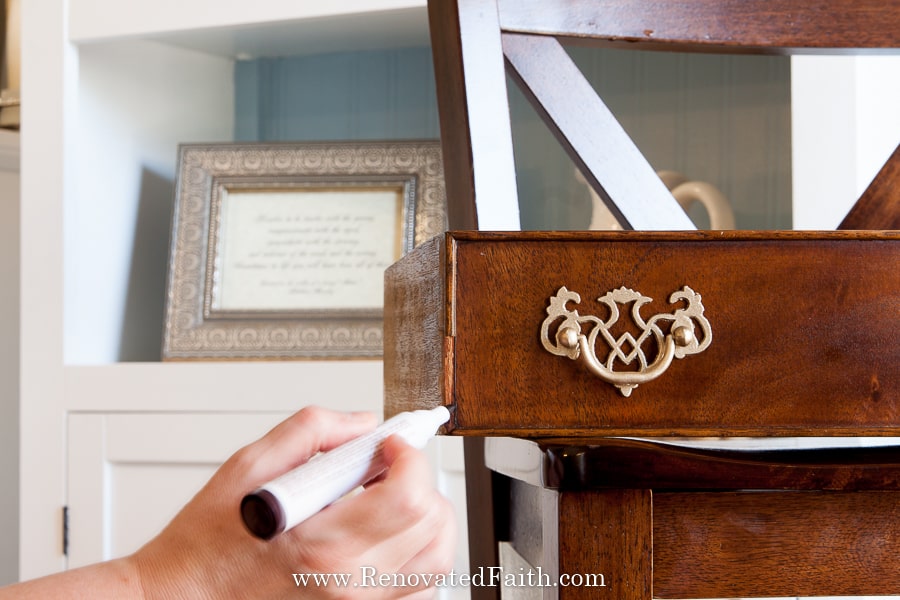 ---
☑️ MY ALL-TIME BEST FURNITURE PAINTING TIPS (FREE PRINTABLE)
–
Want to transform a furniture piece but don't know where to begin?  Download your FREE step-by-step printable checklist that shows you the exact process I've used on dozens of furniture pieces while saving you time and money! And it costs you nothing. #confetti toss  Click here to access your checklist now : FREE Must-Have Painting Checklist
How to Fix Damaged Wood: Caulk, Wood Filler or Epoxy?
How to Fill Large Holes in Wood Furniture
If you have a deep scratch, gouge or large hole in a wood tabletop, you will have to refinish the top of the table. But fortunately, you have easy options for doing this. First, we have to fill and level the hole in your wood furniture and wood filler is the best product for this.
One important aspect of knowing how to fix damaged wood furniture is knowing which product to use. Wood filler is made of a binding agent and a filling substance. It can be used for any deep scratch, hole or gauge where the height of the wood in that area is no longer level with the rest of the surface.
The filling substance is usually a type of wood shavings or even tiny particles of plastic. After experimenting with LOTS of wood fillers, I like the one with smallest particles of filling substance – DAP Plastic Latex-Based Wood Filler (click here for the current price). I've used it time and time again to get a flawless surface on furniture surfaces where a huge hole used to exist.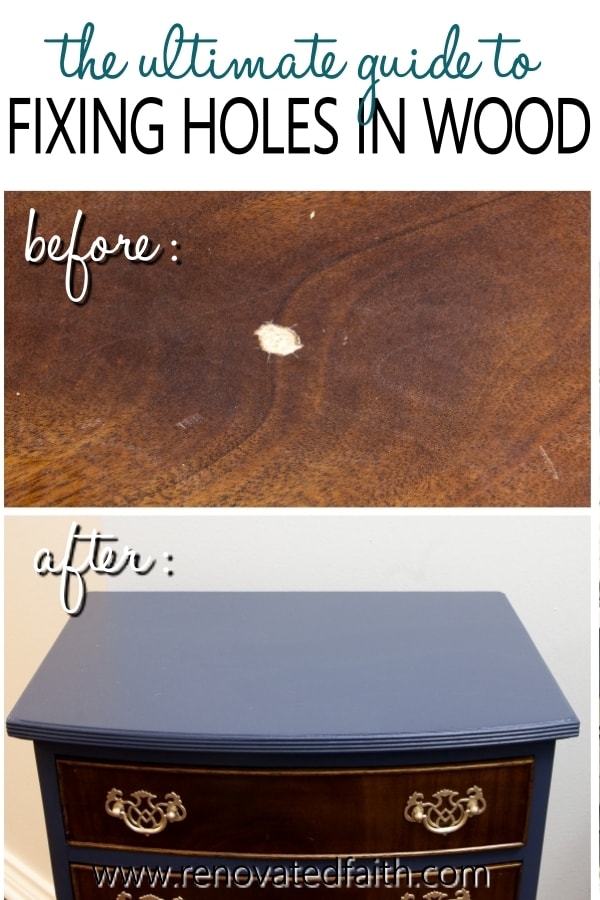 How to Use Wood Filler to Fix Large Holes in Furniture
Below you can see a hole in the surface of one of the end tables I am refinishing for my mother-in-law. Ok, ok…full disclosure! I actually made a hole in the top to show you how to fill it. Check out the video to see this process in more detail.
SUPPLIES:
STEP 1: Sand the Hole or Deep Gouge in Furniture
Sometimes a hole will have raised edges and you want those to be level with the rest of the furniture piece, so be sure to sand the hole before you get started. I like to use my sander with a rougher (60 grit) sanding pad. (Related Post: How to Install Hardware Handles and Knobs on Cabinets and Furniture)
If you aren't sure how to use a sander, they are super inexpensive and you can find out how to use one here: How to Sand Furniture in Less Than 5 Minutes If you can iron clothes, you can sand furniture but sanding is a lot more fun!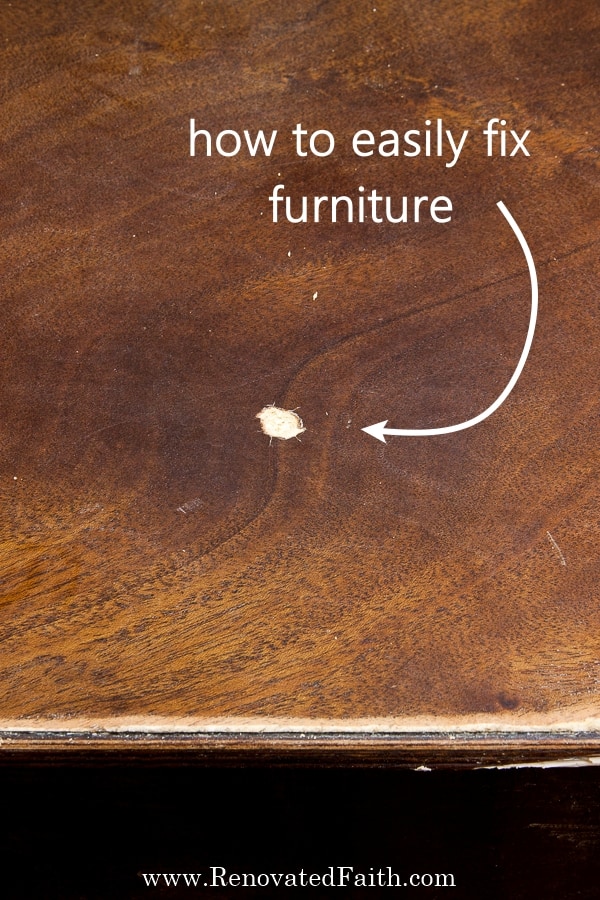 STEP 2: How to Fix Damaged Wood Furniture with Wood Filler
After wiping the surface with a damp rag to remove sanding dust, use a putty knife* to scoop out a little wood filler. Smear it on the hole you are filling. Keep scraping the putty knife in a horizontal direction over the top of the hole. The important thing is that you don't want to leave a ton of excess BUT you have to leave enough excess that it is higher than the surface of the rest of the table. You don't want to scrape it exactly even in case the wood filler shrinks a little when drying.
This brand usually doesn't shrink but just make sure your wood filler is higher than the level of the rest of the table when you look at it from the side. You can see how I do this in the video.
*This plastic putty knife set is super cheap and helpful: 3 Piece Putty Knife Set (see the current price here) I keep one of them in a drawer in my kitchen to scrape dried food off my counters (I know, kind of gross) and then I just throw it in the dishwasher to clean it.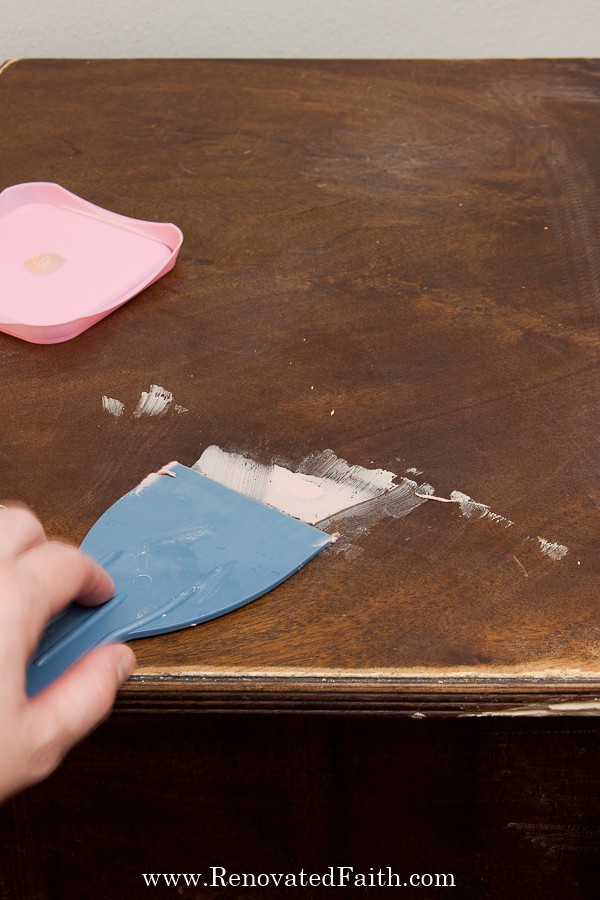 STEP 3: Let Your Wood Filler Dry and Sand
Read the directions on the back of the wood filler as far as dry time. I like to let it dry overnight in most cases. (If you have a huge hole larger than an inch wide and half an inch deep, you might want to add a little wood filler, let that dry and then add the rest so it takes less time to dry overall.)
Once your wood filler is dry, it is time to sand. Now, you can get your sander out again (CLICK HERE for my FAVORITE sanders for furniture), but with a finer sanding pad (180 grit or higher).
As you can see in the video, sand a little with one hand and feel the top of the hole with the other hand. Keep checking the surface as you sand.
Sand enough that the new surface is level with the rest of the table but don't sand so much that the level of the dried wood filler is slightly lower than the rest of the surface. That will be a tale-tale sign in your final painted finish that there was a hole there.
What happens if you sand too much? This is no big deal! Just add a little more wood filler to the top, let it dry a few hours and sand again. Easy Peasy!
Now that you are done, you have two options as far as refinishing your surface:
You can paint the surface. Don't forget to download my FREE Furniture Painting Cheat Sheet at the bottom of this post!
You can do a faux stain over the surface with any of these tutorials: Barnwood Faux Stain with Latex, How to Do an Easy Driftwood Finish on Furniture, How to Re-Stain Furniture with Gel Stain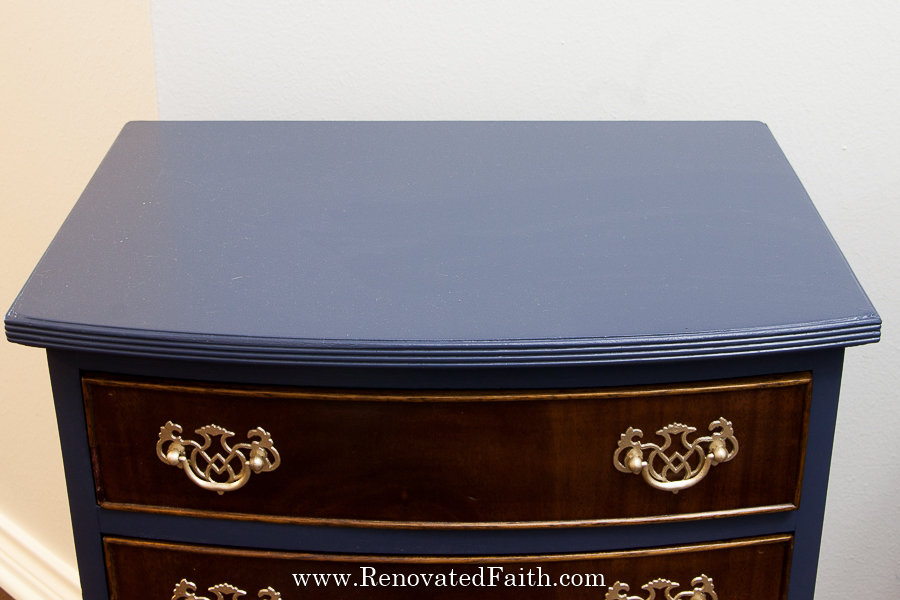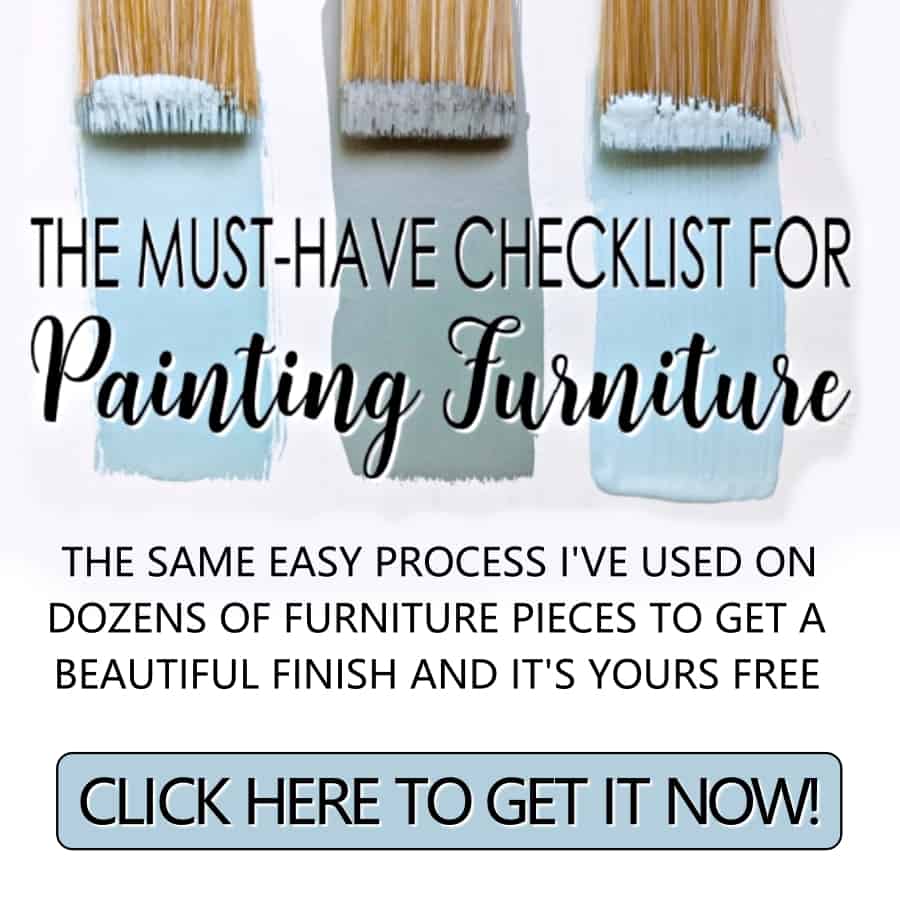 Filling Knotholes in Wood Furniture
I used the same process above to fill the knotholes in our farmhouse table. You can see how to build your own farmhouse table here and how to do a Restoration Hardware finish with paint here.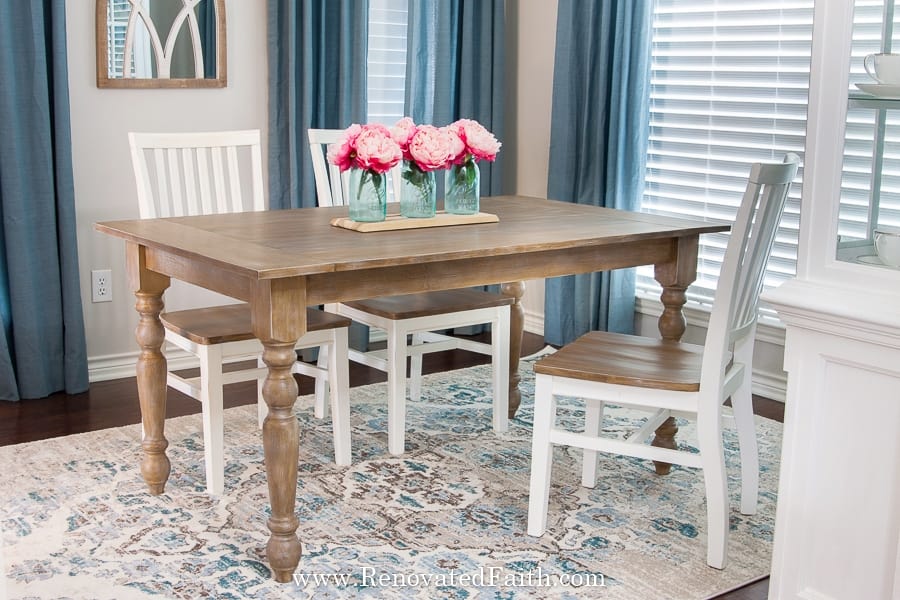 How to Repair Damaged Veneer on a Table Top
DAP Plastic Latex-Based Wood Filler is also the best way to fix damaged veneer on furniture. Before you start adding wood filler, be sure to use your putty knife to check to see if any of the veneer is loose. If it is, break this piece off. Now, fill the remaining "hole" with wood filler as I show you above. If most of the veneer on the tabletop is coming up, then, loosen it with your putty knife and pull up all of the veneer. Be sure to wear safety glasses. Once all the veneer is removed, sand the top and you have a whole new tabletop to refinish.
How to Fix Deep Scratches in a Wood Table
Fixing a deep scratch can easily be accomplished with wood filler as well, with one small change to the process. When you are filling the deep scratch, add the wood filler with your putty knife in a perpendicular direction to the scratch. This will ensure that you can get enough filler into the scratch so that it is higher than the surface of the furniture piece. Follow the rest of the instructions above as normal.
How to Remove Scratches From A Laminate Table Top
For laminate furniture, you would use the same process as you do above with wood filler. The only difference is that you will want to sand the hole or scratch more this time. Laminate is smoother so you want to sand around the hole or scratch to make sure the wood filler adheres. For a full tutorial on painting laminate furniture, click here: How to Paint IKEA Furniture Easily
How to Keep Wood Filler From Drying Out
Wood filler is a product you always want to have on-hand to easily fix furniture pieces. Unfortunately, it can dry out easily if you don't use this simple hack. When you are done with your wood filler for the time being, take a small plastic baggie or piece of saran wrap and lay it flush against the surface of the wood filler. This will ensure there is no air in between the plastic and wood filler which would dry it out. Add the lid and store as usual.
Do You Need A Wood Grain FIller?
A wood grain filler is a little different than a traditional wood filler. Sometimes different types of hardwood like oak have a very deep grain. To smooth out the finish, apply a wood grain filler to get a professional finish. Here is everything you need to get a smooth finish on furniture with a deep wood grain: How To Remove Wood Grain on Furniture (Aquacoat Review)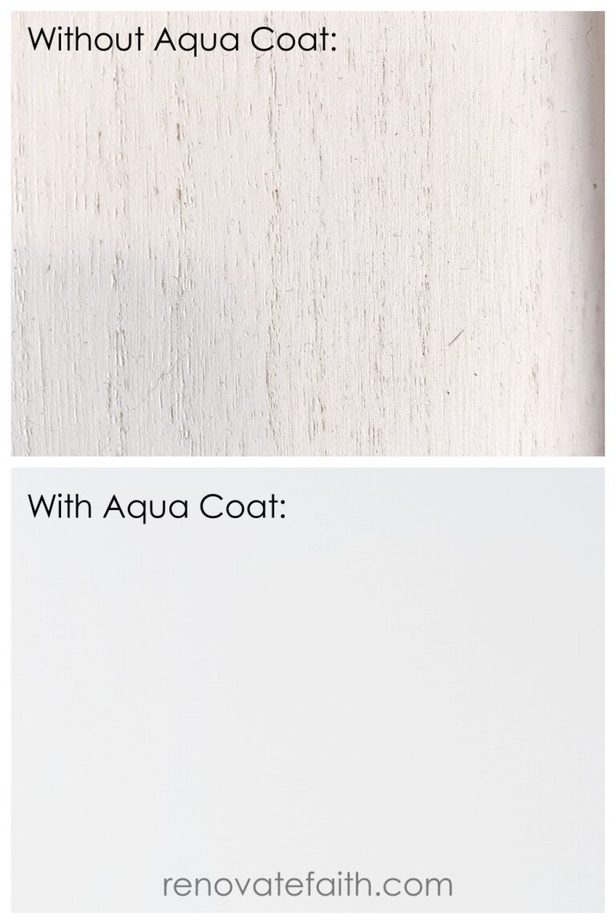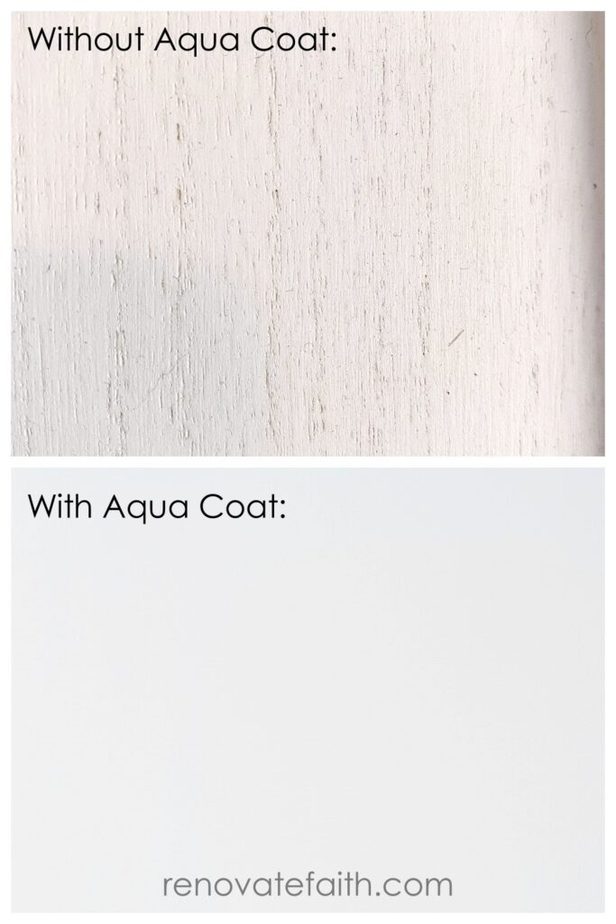 ---
When to Fix Damaged Wood with Caulk (Not Wood Filler)
Both wood filler and caulk are useful in repairing damaged wood furniture but both have specific uses. While wood filler is best for any deep scratch, gouge or hole, caulk is very useful for internal gaps or cracks. By this, I mean a gap on an inside corner.
Often, antique furniture pieces will warp over time and gaps will before between joints. You want to fill these gaps with caulk as it will make the appearance of the final product look seamless! It's hard to believe the difference that caulked gaps can make to the final look of your furniture piece. Trust me, it's well worth it!
If there is a very tiny scratch of crack on the surface of wood, I'd still use wood filler. Also, for any gaps on an outside corner, I'd use wood filler. Caulk is perfect for inside corners because it can be wiped smooth with your finger to make a smooth, filled-in gap.
There are several different kinds of caulk on the market and some are better for furniture than others. For wood furniture, I like to use Dap Alex Plus Acrylic Latex Caulk because it is waterproof but also dries pretty fast. You can clean it up with baby wipes easily and it is also paintable. I have used it time and time again on furniture products and have always been pleased with my results.
The process below shows images of how I caulked the edges of my mother-in-law's side tables but the video shows caulking gaps in furniture in better detail so be sure to check it out!
Step-by-Step Guide to Caulking Wood Furniture
SUPPLIES:
STEP 1: Have Your Supplies Ready
Have baby wipes and a trash can with a liner nearby. You don't want to drop a baby wipe and get caulk on the floor. If it dries, it's really hard to get off. Ask me how I know!
STEP 2: How to Fix Damaged Wood Furniture with Caulk
Add a thin bead of caulk over the crack or gap you are filling. You want to air on the side of adding less than you think you might need rather than way too much. Your line of caulk will be messy and that is absolutely fine!!! We are going to wipe most of it off anyway. (Be sure to check out the video to see how this process in detail!)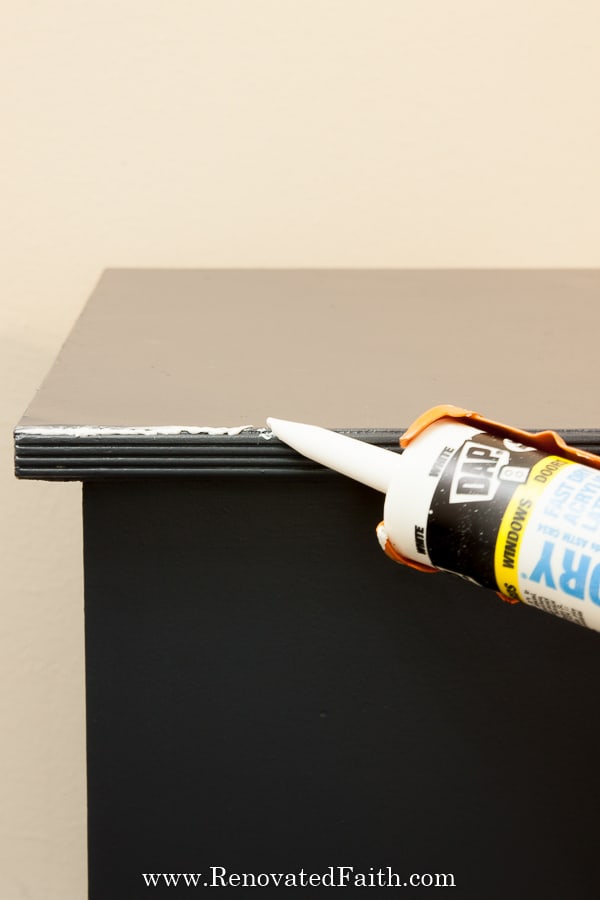 STEP 3: Wipe Off the Excess Caulk
As you can see in the video, wet your index finger with a baby wipe and smooth out the caulk. Then, wipe the excess caulk off your finger before wiping it smooth again. Keep wetting, smoothing and wiping until the caulk is smoothed out. You won't believe how great your furniture piece will look after completing this step!
STEP 4: Let it Dry Overnight
The caulk says on the tube that you can paint over it in 20 minutes but if you have a large gap, there might be a lot of caulk in there that needs more time to dry. Then, you go to paint and the brush messes up your beautiful caulk line. For this reason, always let your caulk dry overnight just to be sure it has set up.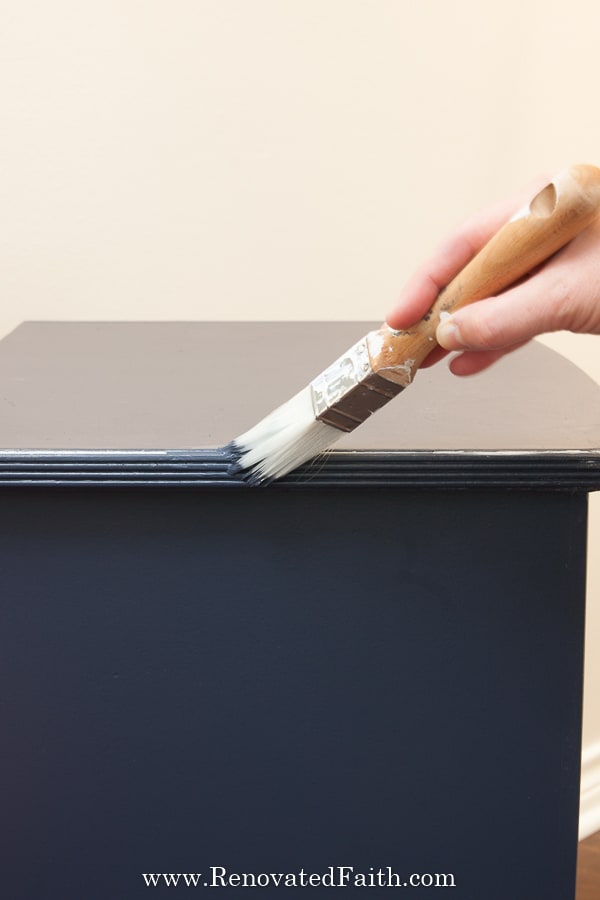 Part of knowing how to fix damaged wood furniture is not just about using the right product but when to use it. You want to caulk as one of your last steps because you can't sand caulk. As I mentioned in my post A Beginner's Guide to Furniture Painting, be sure to touch up the paint over your caulk. Because of the silicon in the caulk, it does attract and grab dust, but the paint prevents this.
The Difference Between Caulk and Wood Filler
As I mentioned before, caulk and wood filler have important uses when it comes to repairing damaged wood furniture. But if you don't use the right product for the specific job you have, your damage could end up looking even worse than it did in the first place.
Wood filler is made of a resin and a substrate to fill holes and dry to a hardness that is sandable. Caulk is extruded out of a tube and has a toothpaste consistency. Caulk is not sandable so that's why you want to use it for gaps that are on inside corners. It is quick and easy for making gaps disappear but would make a mess out of a large hole.
How to Fix a Missing Chunk of Wood in Furniture
If you are wanting to fix a chipped wood corner or replace a large amount of wood, you will need something stronger than caulk or wood filler. This is when you need to bring out the big guns: wood epoxy and tiny nails!
I learned this technique by accident with a large dresser I refinished. I had been eyeing the picture on FB Marketplace and finally decided to meet the owner at her storage facility to take a closer look. As my then 7-year-old daughter Morgan and I left for the storage facility, I sat down in the garage and quickly put on my tennis shoes.
We jumped in the car and were ready to meet my husband there since He was bringing a work truck to transport it. On the way there, I felt something move in the tip of my shoe! I thought it was my imagination…I was so hoping it was my imagination…
I felt it again and kicked off my right shoe while driving to find that a frog had jumped out of my shoe and was now jumping all over the floorboard. Naturally, I started freaking out and pulled over. Then, Morgan started shrieking in the back seat. We got out of the car and tried to find the frog but never could. With much apprehension, we got back in the car to head to the storage facility.
By that time, we were late to the storage facility and Jeremy already had the dresser in the back of the work truck. Although I hadn't gotten a chance to look at it up-close, the dresser was paid for and it was now ours…
When we got the dresser home to take a look at it, I was overwhelmed by a smell I can only imagine was a combination of stale rose-scented air freshener and whole lot of cigarette smoke. It REEKED!!! I smelled so bad I wrote a post about it: How to Get the Smell Out of Old Furniture
The smell…that's something I knew I could work with. But what I wasn't sure how to fix was a massive chip in one the drawers. See exhibit A: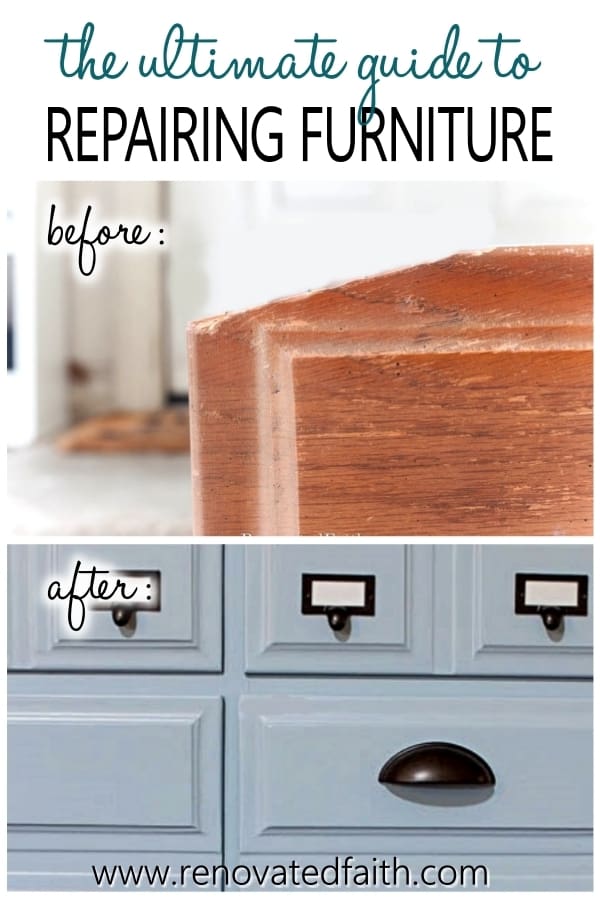 You can see exactly how I fixed the drawer here along with the full coastal dresser transformation.
But after lots of experimenting, I found a fail-proof way to fix large chips in furniture, so that they look as good as new. Who knew so much good would come out of a frog jumping in my shoe?!? Here is that very same process:
Epoxy is a magical substance that is made by two chemicals being mixed together and when they dry the final substance has incredible strength. Epoxy wood putty comes in a cylinder of putty and you'll notice that the inside is gray and the outside is light brown. It looks kind of like a cannoli.
Once you combine these two different putties they dry into an incredibly-hard wood-like substance that is even sandable. To make sure that it adhered well to the furniture piece and has structural integrity, I also use some tiny wire nails. The nails work as a structure for the epoxy wood putty kind of like rebar is for cement.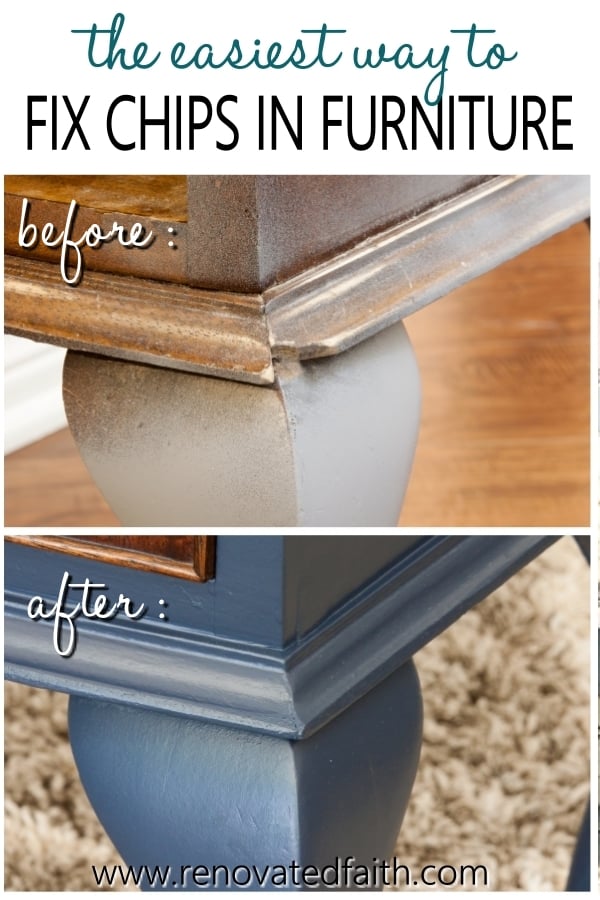 How to Fix a Chipped Wood Corner with Epoxy Wood Putty
SUPPLIES: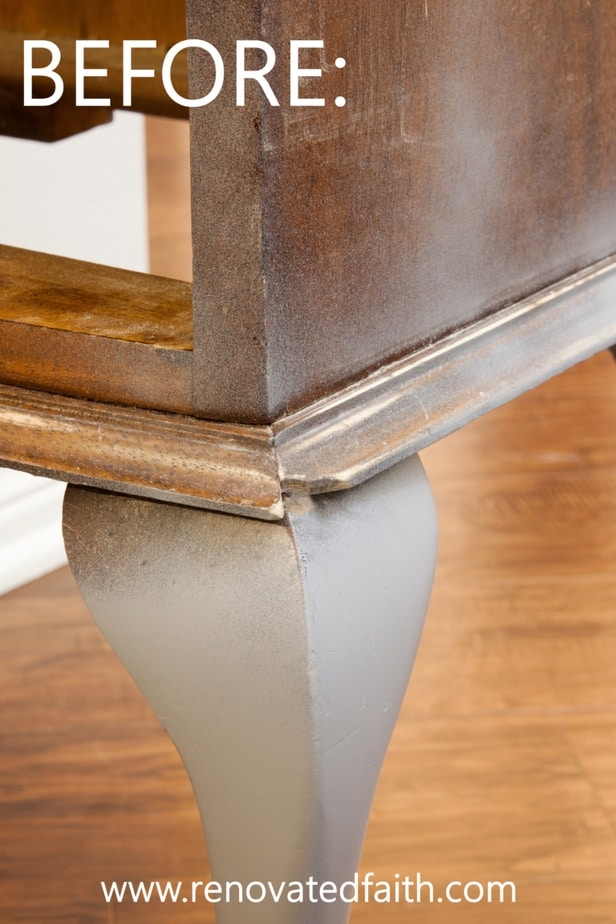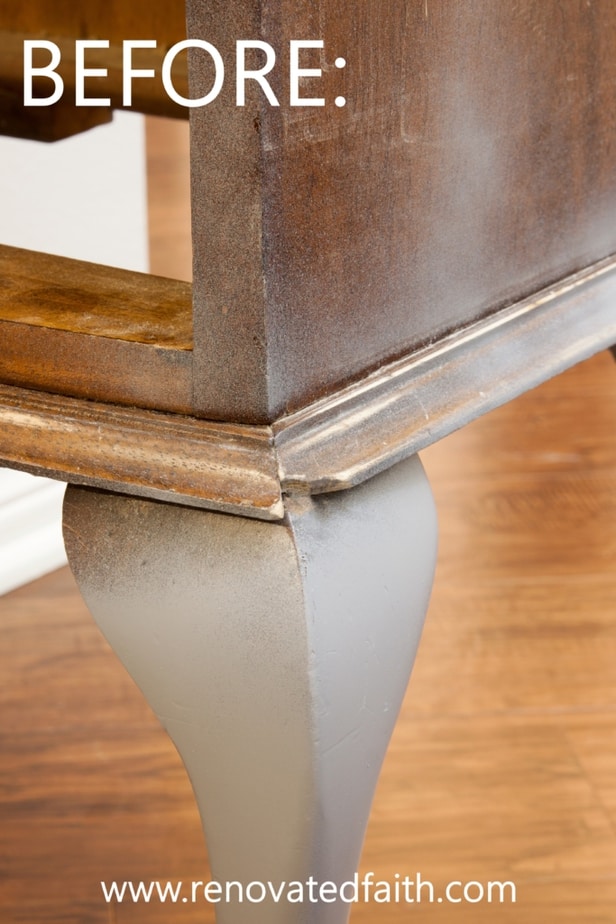 STEP 1: Add Wire Nails
When it comes to learning how to fix damaged wood furniture, this technique is my favorite! Hammer in wire nails or trim nails to provide a structure for the putty to adhere to. Hammer them in a line making their length a little shorter than the final corner of the furniture piece.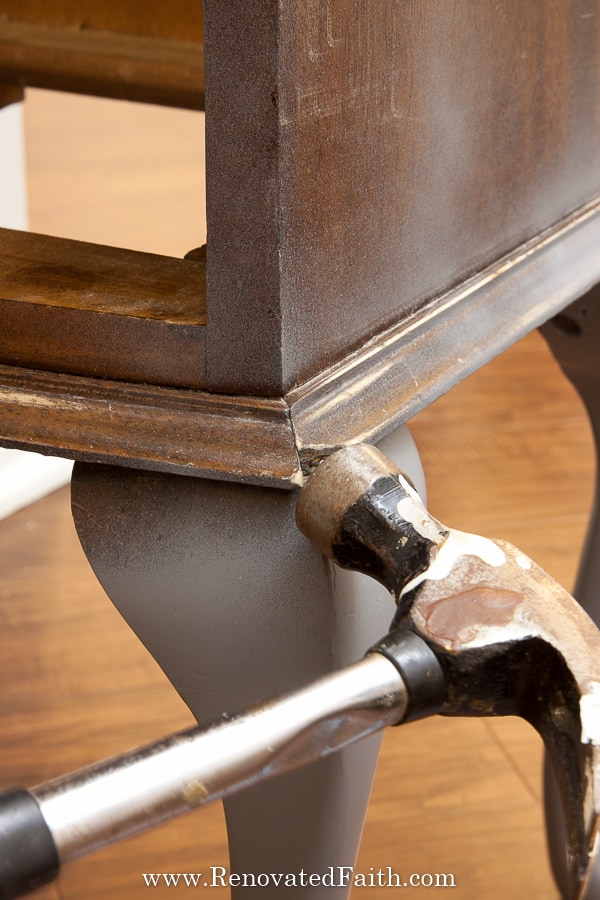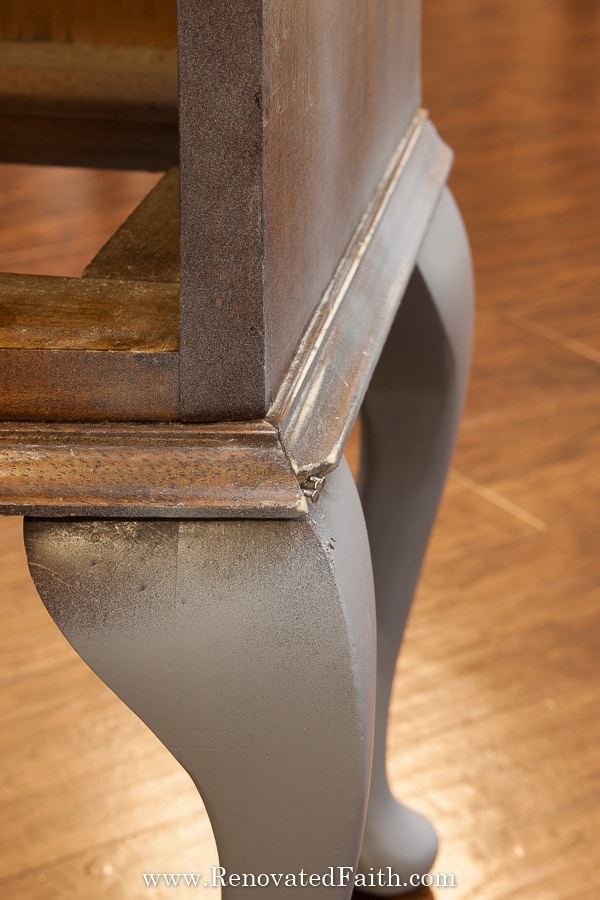 STEP 2: Prep the Epoxy Wood Putty
Take the Kwikwood Epoxy Wood Putty(see the current price here) out of the package and pull off what amount you will need. Massage the putty together in your hands so that the gray and light brown colors combine until they are consistent. Be sure to see the video for this step as well as the next step.
STEP 3: How to Repair Broken Wood Furniture with Epoxy Wood Putty
As you see in the video, form the epoxy putty around the nails and in the general size of the corner or chunk of wood you are replacing. Make it a little bigger than the corner because you will sand it down when it dries.
STEP 4: Sand the Epoxy Wood Putty
Let the wood putty dry for 24 hours so it reaches its full hardness. Now, you are going to sand down the corner with a fine sanding pad or paper (180+) to refine the details of the corner. Sand a little and then look at the corner and repeat this process until it looks how it should. Just sand off a little at a time!
When you are done, wipe off the dust and paint. Also, you can use my Free Furniture Painting Cheat Sheet at the bottom of this post!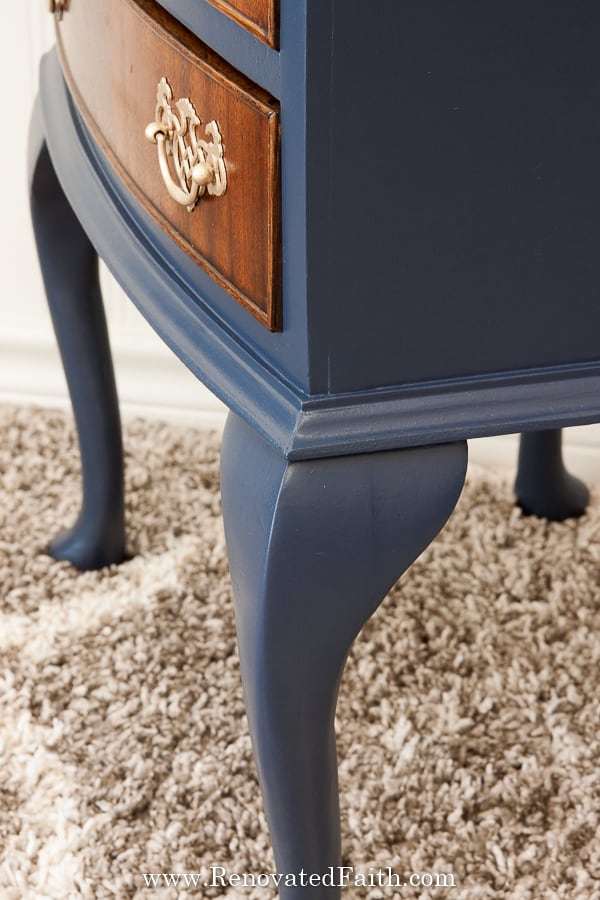 RENOVATE YOUR FAITH: God Wants to Do More Than Just Fix Your Brokenness
The word "life" is used multiple times in the Bible but there are two main words for "life" in the Greek New Testament. One is
bios
which denotes a concern for physical life and the other is
zoe
which is spiritual life.
In the New Testament, bios is used 10 times but zoe is used 35 time
s.
As Lysa Terkeurst says in her Bible study
Finding I Am
,
"Jesus doesn't want us to just live with breath in our lungs walking around as a shell of existence. He wants us to have a rare vitality experiencing the fullness of soul someone should experience when Jesus Himself does everyday life with us."
As I fixed the broken gouges and holes in the side tables, I was reminded that God doesn't want to just fix our brokenness. We all have hurts, worries, and concerns. While He hurts along with us, Jesus doesn't just offer us a bandaid. God wants us to have a prosperous life, but He knows that too often we are tempted to settle for just bios, not zoe.
In
John 16:33
, Jesus says "I have told you these things, so that in me you may have peace. In this world, you will have trouble. But take heart! I have overcome the world."
Our world is a very crazy place to live in now and none of us are sure of what's ahead. But honestly, once our current set of problems have dissipated, we will have more problems on the horizon.
This world is broken and unfortunately, that will always be the case. But God has a better solution.
In Him is the fullness of life that only He can give – the only thing that will truly satisfy the longing of our hearts. No matter what hurts you are struggling with, know that He offers a solution.
But He doesn't want to just bandaid our problems and leave us to our own devices. He knows that He will never fully be satisfied until we realize that He is our true source of life.
In Him, we can have fullness of joy (Psalm 16:11), not just an answer to today's problems. I have found that I inadvertently think that once this virus has passed, then all my problems will be solved. And then, my focus is "when will the virus go away". But honestly, God wants better for us than that. He wants me to focus on His face and not on His hand.
This world will always have its problems but in the midst of trials, we can find relief and satisfaction in Him – that no wonder what we are struggling with, our very Maker holds us close and is our eternal refuge and strength. We don't have to wait for the current crisis to subside, we can have relief right now by leaning into Him. He hears our cries and weeps alongside us today while at the same time providing us with strength for tomorrow.
What are you struggling with today? No matter what comes your way, you can trust your problems to Him and know that He will carry them for you.
"Come to me, all you who are weary and burdened, and I will give you rest.
Take my yoke upon you and learn from me, for I am gentle and humble in heart, and you will find rest for your souls.
For my yoke is easy and my burden is light." Matthew 11:28-30
For more spiritual encouragement, click here for the rest of my project posts that also include Renovate Your Faith devotionals.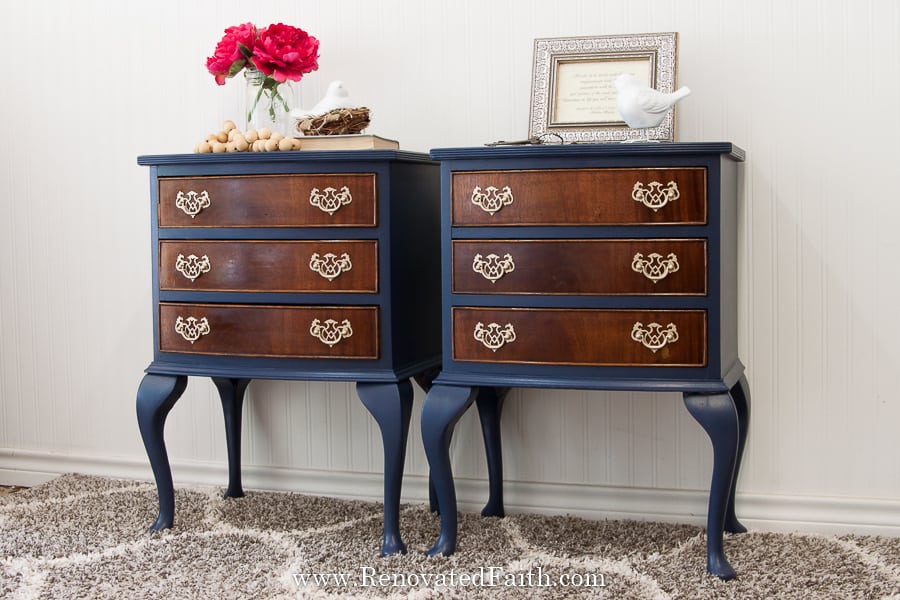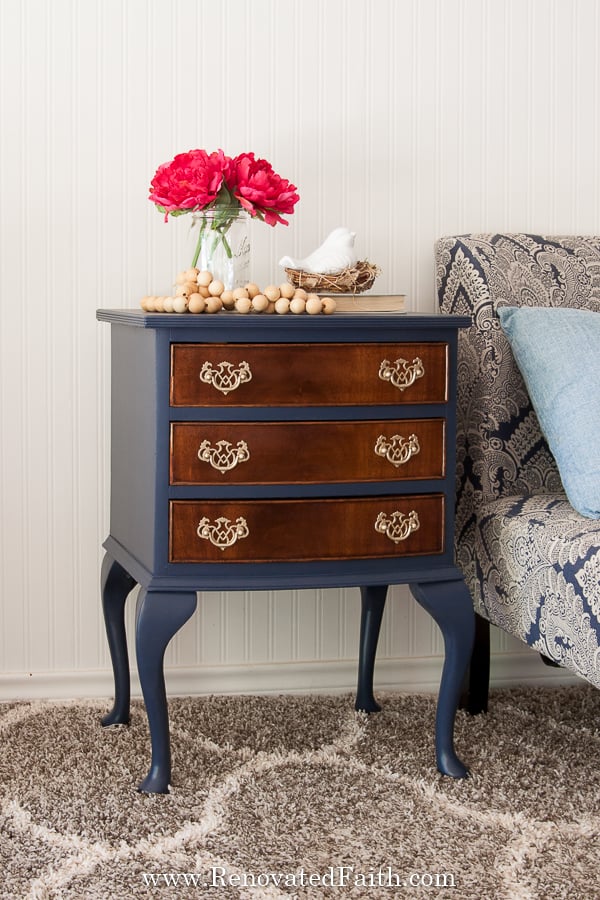 ☑️ My All-Time Best Furniture Painting Tips & Tricks (FREE PRINTABLE)
Don't forget to download the FREE step-by-step printable checklist that shows you the exact process I've used on dozens of furniture pieces while saving you time and money!
Wood Furniture Repair FAQ's: Epoxy for Wood, Caulk and Wood Filler
How to Fix Furniture Legs
To repair furniture legs, it's best to use wood filler or epoxy wood putty as mentioned above but if the legs have considerable scratches or damage, sometimes it's just easier to replace them altogether. I show you how to do this easily here: How to Replace Furniture Legs
How to Repair Painted Wood Furniture
If you have a repair to a previously painted furniture piece, there's a good chance you don't have the original can of paint to paint over your repairs. If that's the case you will need to either match it or repaint the whole piece. To match the piece, take some of the peeled paint to your local big box for them to color match. You probably won't get a perfect match but it will be close enough. Then, paint just that surface of the table with the paint. For example, if your nightstand's top was damaged, paint only the top surface with the new paint and use a baby wipe to wipe any that gets on the sides. Any discrepancies in paint color will only look like they are due to the light reflecting off the different surfaces in different directions.
How to Fix a Crushed Corner of a Table Top: Epoxy for Wood, Caulk or Wood Filler?
Sometimes knowing how to fix damaged wood furniture involves a combination of products. For example, for repairing a crushed corner of a table, you would need to use wood filler, sand and refinish it. But then, for any rough edges, you might need to use some caulk to smooth out the look of those seams.
How to Repair Broken Wood Furniture with Loose Joints
One important aspect of knowing how to fix damaged wood furniture is tightening loose joints. If legs or joints of furniture are loose, you want to make repairs before you get started refinishing. Be sure to get add wood glue (I like this brand) to the loose joints. Wipe the joints and then clamp them together overnight. After they are clamped, wipe off any excess glue.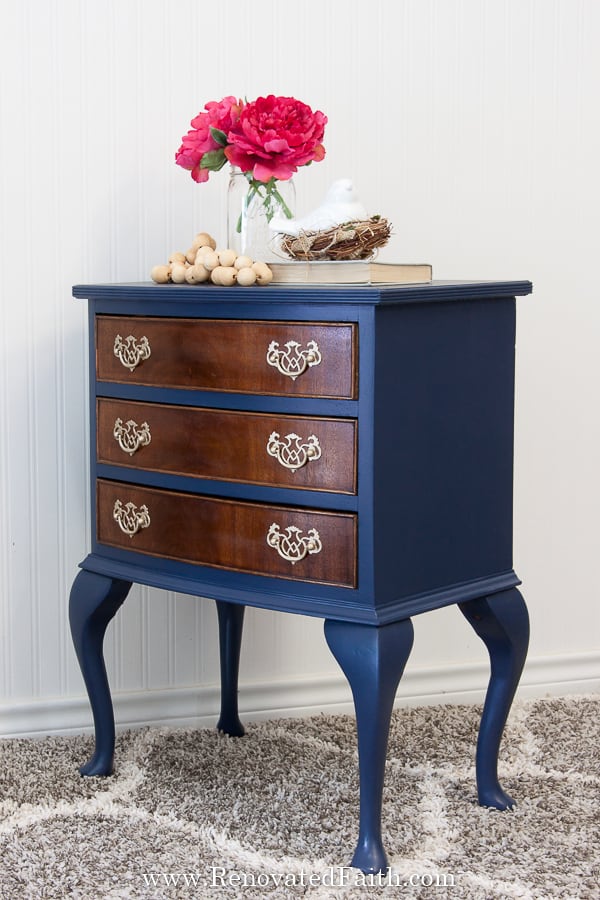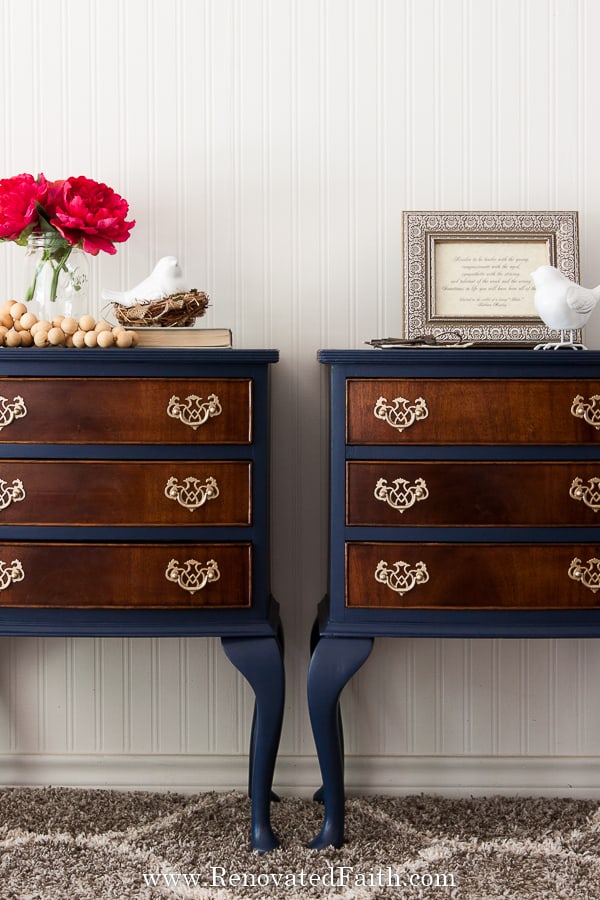 More Posts Related to DIY Furniture Repair
A Beginner's Guide to Refinishing Furniture (Vintage Vanity Makeover)
The Absolute Best Furniture Paint (24 Brands Blind-Tested & Reviewed)
How to Paint Furniture White (The Right Way)
Tips for Painting Furniture in Dark Colors
Must-Have Cheat Sheet for Furniture Painting
How to Get Smells Out of Old Furniture
Blue Dresser Makeover with a Faux Driftwood Finish Top
How to Apply Paint That Looks Like Stain (6 Shades to Choose From!)
Final Thoughts on How to Fix Damaged Wood Furniture
Don't forget to download my Free Furniture Painting Cheat Sheet. To get your printable, sign up for my weekly newsletter which also grants you free access to my resource library full of wall art printables, checklists, and project plans!
Before this post, you might not have realized how easy it is to repair furniture. This post on how to fix damaged wood furniture shows you the exact product and process to use so you get a flawless finish on your furniture piece. Now, your next furniture project can be the therapeutic, Netflix binging activity you dreamed it would be!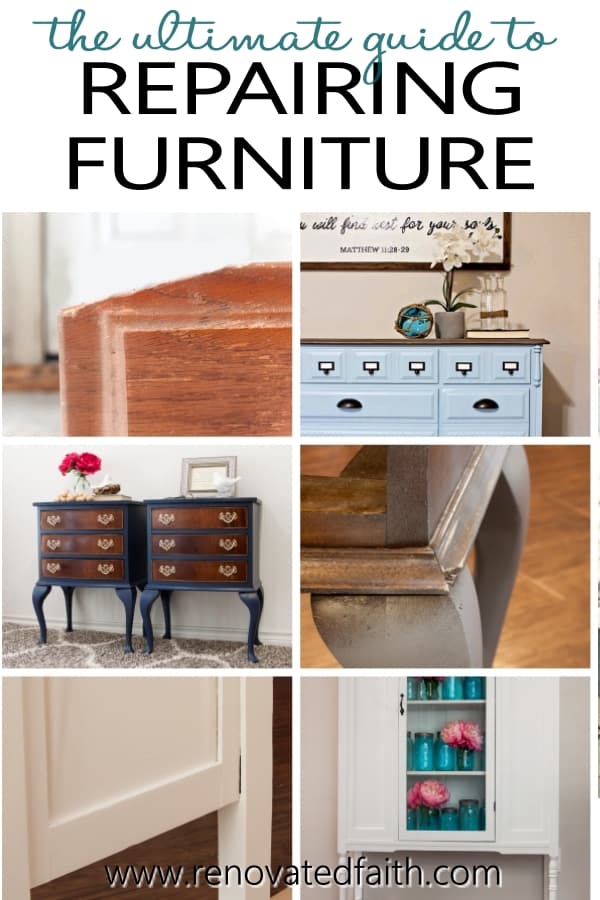 I love to hear your thoughts and questions! Scroll down to leave a comment and I WILL reply! ❤️
Blessings,

Be sure to follow the fun here!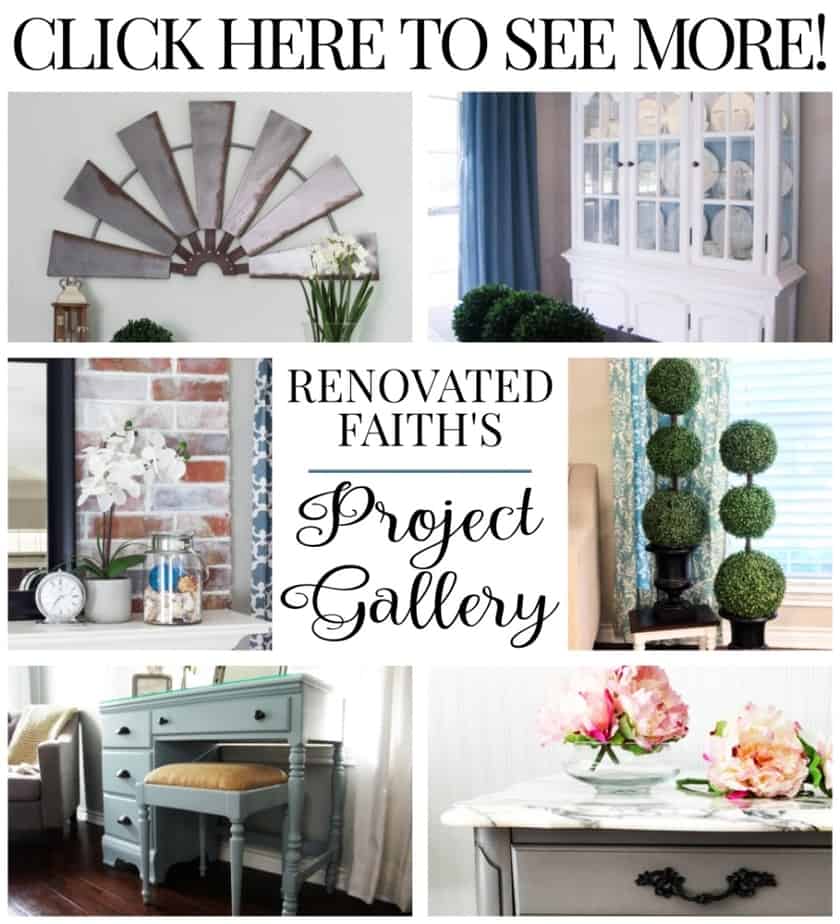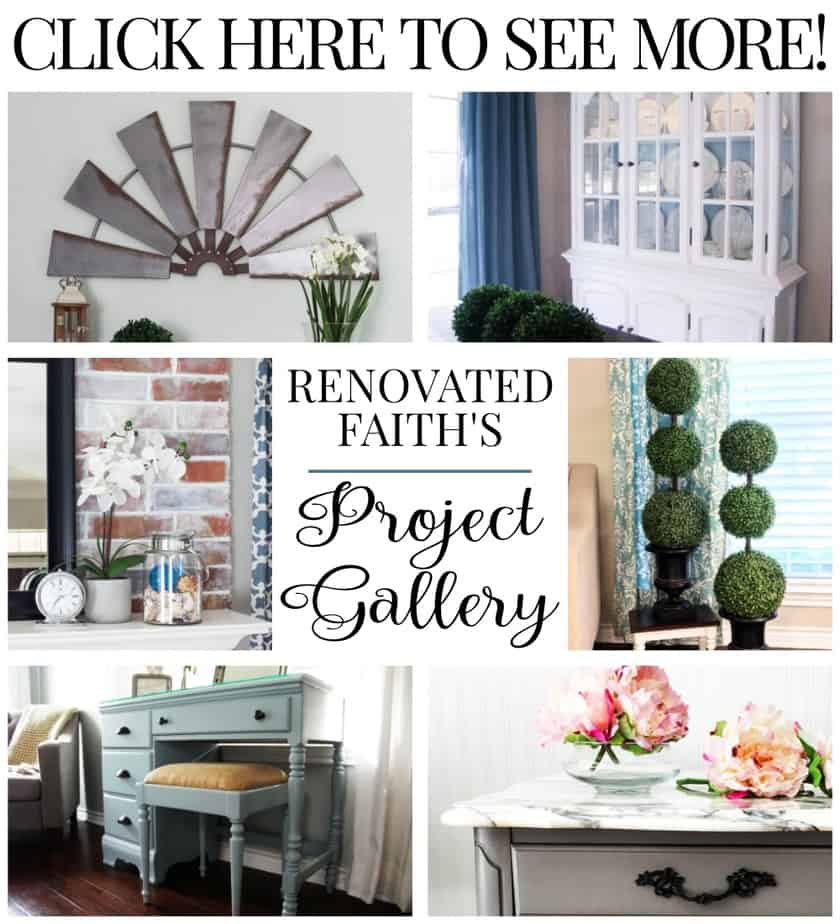 How to Fix Damaged Wood: Caulk, Wood Filler or Epoxy – YouTube Video
How to Fix Furniture Before Refinishing
Welcome to Renovated Faith, where I share about DIY projects, my faith and everything in between! When I'm not spending time with my family, you will find me redoing furniture in the garage or watering plants in my greenhouse. This blog is about transformation. Anyone can renovate a house but only God can transform our hearts!