The Essential Guide to Painting Furniture Black (With Free Checklist!)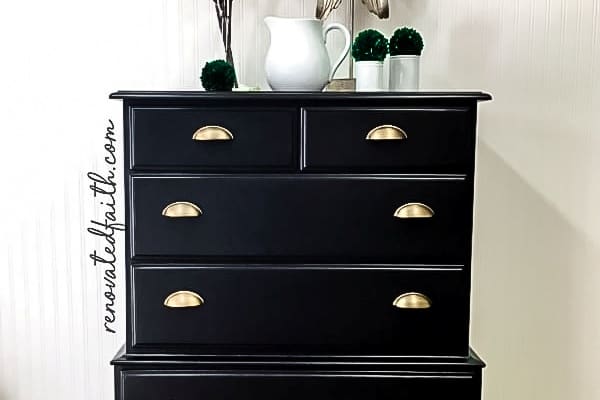 Easy Step-By-Step Guide & Video on How to Paint A Dresser Black
Don't start your next furniture project without my best tips for painting furniture black to make the whole process faster and easier!
---
Do you feel like painting furniture darker colors is a hassle? All those extra coats to get full coverage can mean more time painting, more drips, and too many brush marks.
I used to feel the same but now even painting wood furniture black is so relaxing to me. Plus, it's cheaper than therapy!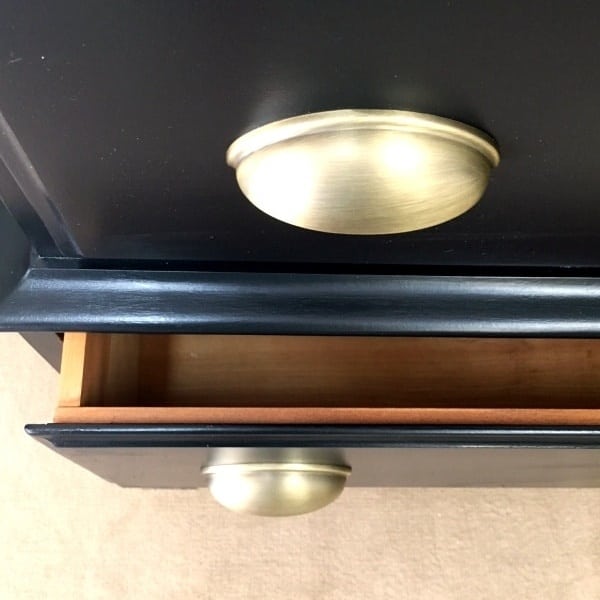 Fortunately, after several paint jobs with dark paint, I've found what works and have made enough mistakes to know what doesn't! Even if this is your first time painting furniture, this blog post will show you easy hacks to get great coverage without sacrificing a stunning finish.
LET ME SHOW YOU:
Why having a piece of black-painted furniture in a room will completely ground the decor and bring the whole color scheme together.
A step-by-step guide on how to paint a dresser black without sacrificing a strong, smooth surface.
The best black paint for furniture and other supplies
Some encouragement if you are going through a hard time and wonder if things will ever get better in this week's Renovate Your Faith devotional at the end of this post.
CLICK BELOW TO SAVE THIS PIN ON HOW TO PAINT A DRESSER BLACK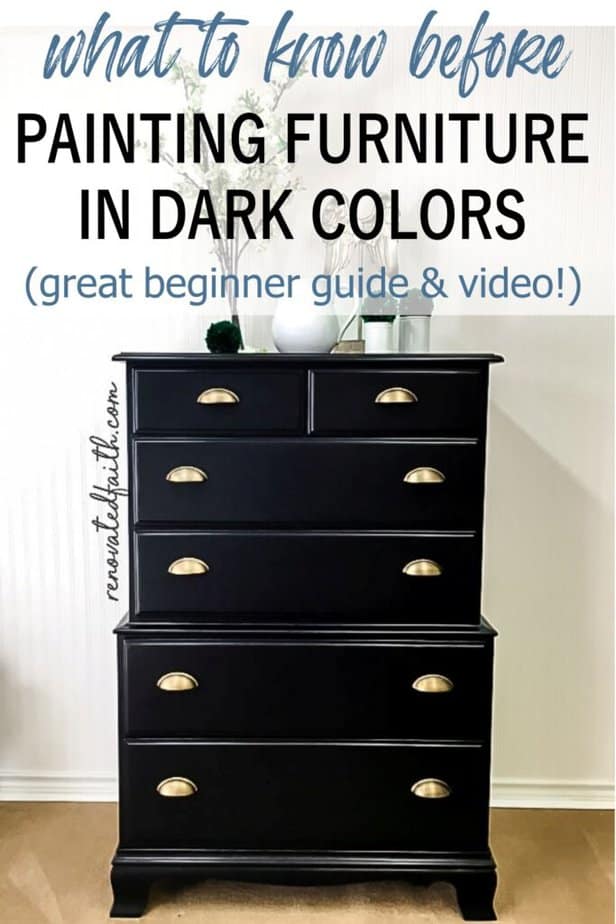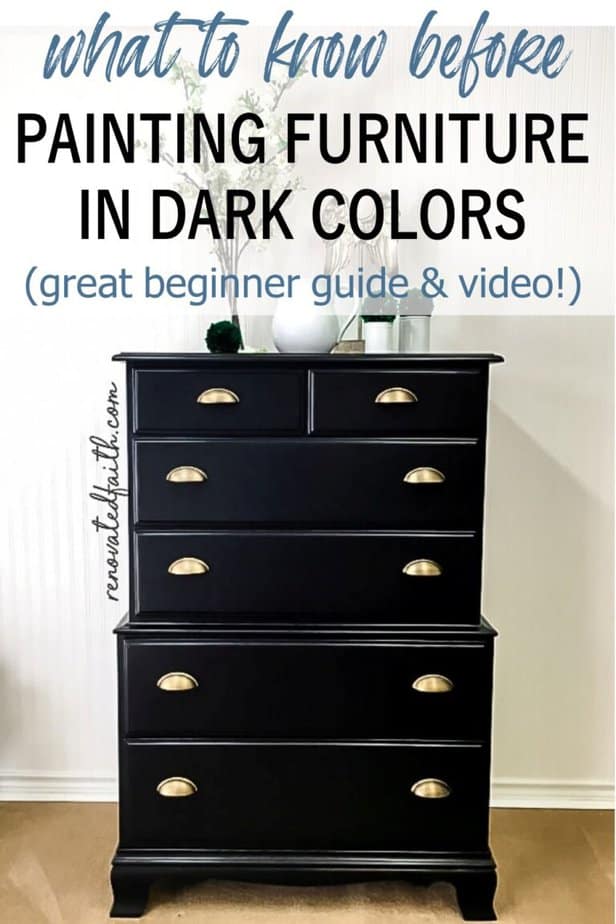 (As an Amazon affiliate I earn from qualifying purchases. Please see my full disclosure HERE).
Can You Paint Wooden Furniture BLack?
Fortunately, when painting dark wood furniture, there are a few tricks to minimize the number of coats, give you full coverage with a smooth finish and not cost you a fortune. Extreme shades of paint don't cover very well as I mentioned in my post on How to Paint Furniture White.
That's especially the case with black shades because it takes more coats to get full saturation of the solid color. Also, furniture pieces in both black and white shades seem to show surface imperfections more easily.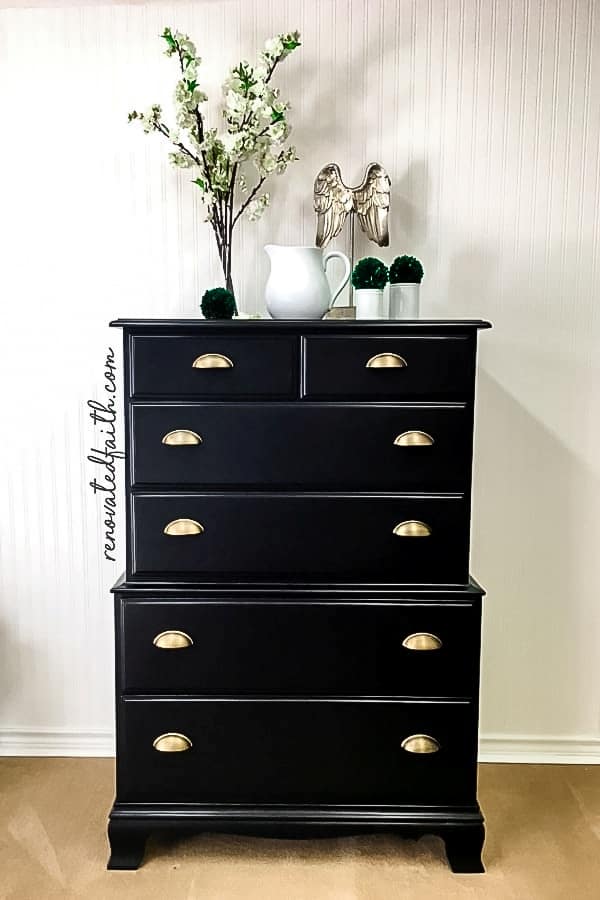 Why Consider Painting Furniture Black?
My mother-in-law Kathy is quite the natural at decorating and she once told me that "Every room needs a touch of something black." I thought it was a little odd until I tried it and it's SO true!
Adding a touch of black to a room is a staple among designers' essential principles. Black is like a palette cleanser that grounds the space and makes the rest of the colors come to life.
When the space has both extremes of contrast, it makes the colors more prolific. For example, adding a black piece of furniture to a light and airy room keeps it from being too bland and gives the room so much interest and flavor. A single piece of black furniture in a room adds the right amount of life without anyone noticing.
The Best Black Paint for Furniture
Your furniture finish will only turn out as good as the products you use.  Because there are so many furniture paints on the market, I decided to test brands from every category myself to give you more information when picking the right type of paint for your project.  Here is how brands like Annie Sloan Chalk Paint, Dixie Belle, Fusion Mineral Paint, Sherwin Williams paints and several other brands performed: The Best Paint for Furniture (24 Brands Blind Tested and Reviewed)
The brand that consistently performed best was Benjamin Moore Advance (I'm not paid in any way shape or form to say that).  Not only does it have the most durable finish and great coverage but it had the smoothest finish that didn't show brush strokes or roller marks.  You can get it at your local Benjamin Moore store.  For more great paint options, see the link above to get the right paint for your project.
Related Posts:  Why I Don't Use Chalk Paint on Furniture | The Difference Between Milk Paint, Chalk Paint, and Latex Paint |  A Better Alternative to Chalk Paint for Furniture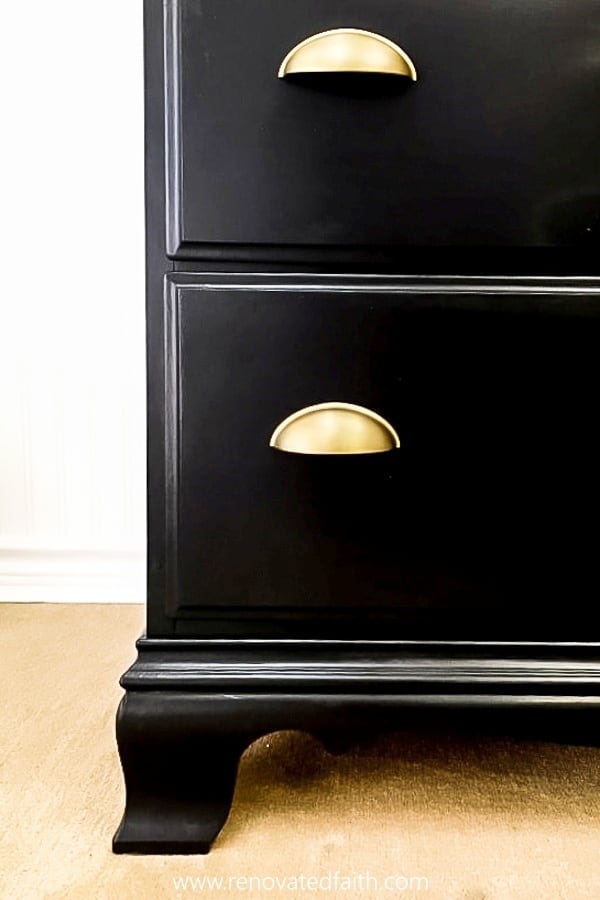 Best Black Furniture Paint Colors
When it comes to looking for the best black dresser paint, there are several shades of black to choose from and it can get pretty confusing if you don't already know some reliable colors to pick from. 
Some of my favorite black paint colors are Sherwin Williams Tricorn Black, Benjamin Moore Jet Black, Sherwin Williams Black Box, and Benjamin Moore Black Beauty.
Did you know that most paint stores have the color codes of other paint brands in their computers?  That means you can get any Sherwin Williams color option in Benjamin Moore Advance paint.  Just tell them the Sherwin Williams color at the Benjamin Moore paint color.
☑️ Must-Have Painting Tips For FUrniture – FREE Checklist!
As a free gift for subscribing to the weekly newsletter, I will send you my best tricks for furniture painting.  These are the tips that consistently save me the most time and effort while getting a beautiful finish every single time.  Many of them are included in this post but not all of them!   JUST CLICK HERE to download my Must-Have Painting Tips in a Printable Checklist.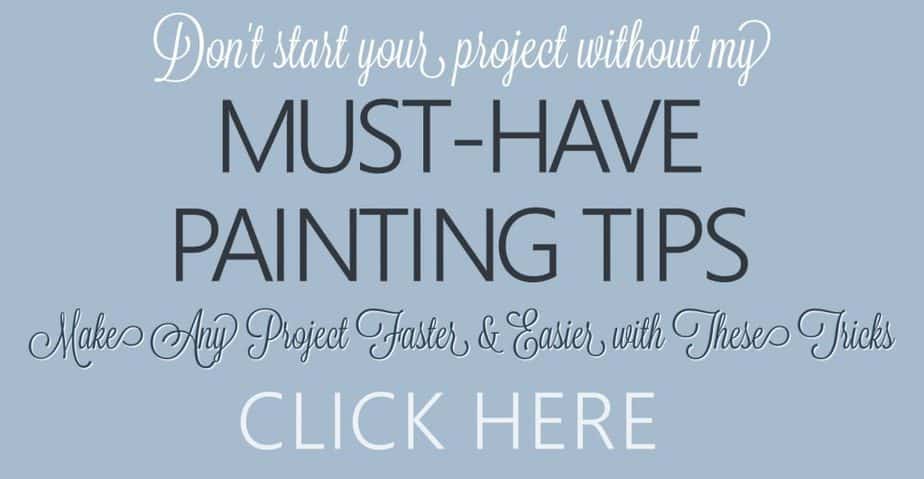 Supplies for THe Best Way to Paint Furniture Black
Spray Paint for Hardware –
If you decide to spray paint your old hardware, I used
Rustoleum Universal Metallics Pure Gold
which I would call more of a champagne gold
. 
You can see several options here: 
Rustoleum Universal Metallics   
If you want a truer gold, go with this: 
Rustoleum Gold Rush
Fabric for Drawer Liners (Optional)
– If you want to learn how to make paper-like fabric drawer liners from any kind of fabric, check out this post here:  
How to Make Drawer Liners From Fabric
My Free Must-Have Painting Tips for a super smooth finish are available in my resource library – get the password using the form at the bottom of this post!
,
How To Paint Furniture Black (and Navy)
It's so much fun to take a furniture piece from one extreme to another.  This is an old dresser I got off Facebook Marketplace.  This dresser was actually in really great shape and needed no repairs at all before sanding.  It just needed a change of color!
If you do have an old furniture piece that has holes or deep scratches, be sure to check out this post on how to use a wood filler before painting:  A Beginner's Guide to Fixing Damaged Furniture
There is a video tutorial in this blog post that features the exact same process but with a different furniture piece, my grandmother's vintage dresser I painted last year.  The video should pop up but if it doesn't, you can find it here:  How to Paint Furniture Darker Colors, YouTube Video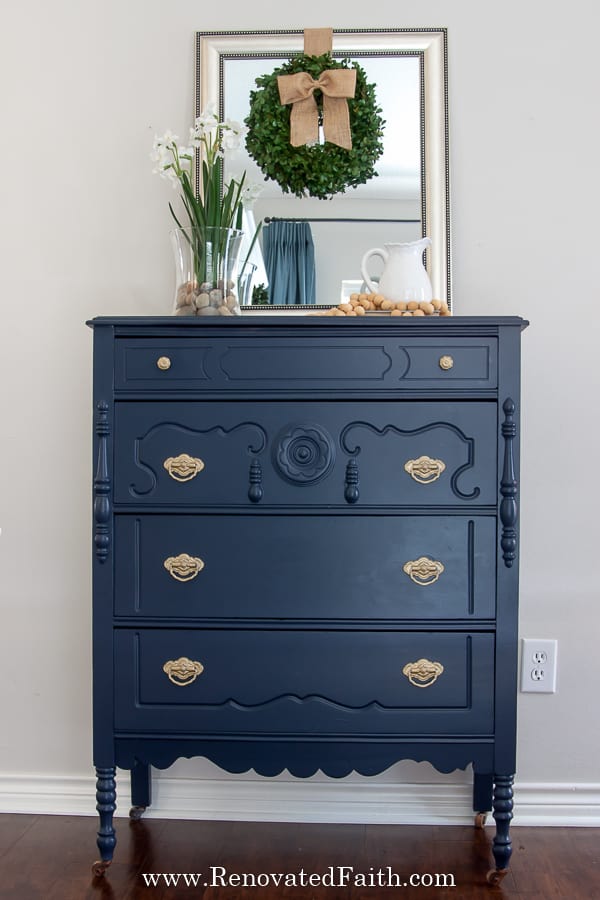 Step 1: Prep Work for Painting Wood Furniture Black
Stop! Before you do anything…take a before pic.  When you are done, post the before and after pics on Instagram or FB and tag me @renovatedfaith, so I can see the amazing work you've done! ❤️
After you remove your hardware, be sure to put it in a baggie for safekeeping.  Those screws have a tendency to roll away at the worst possible time!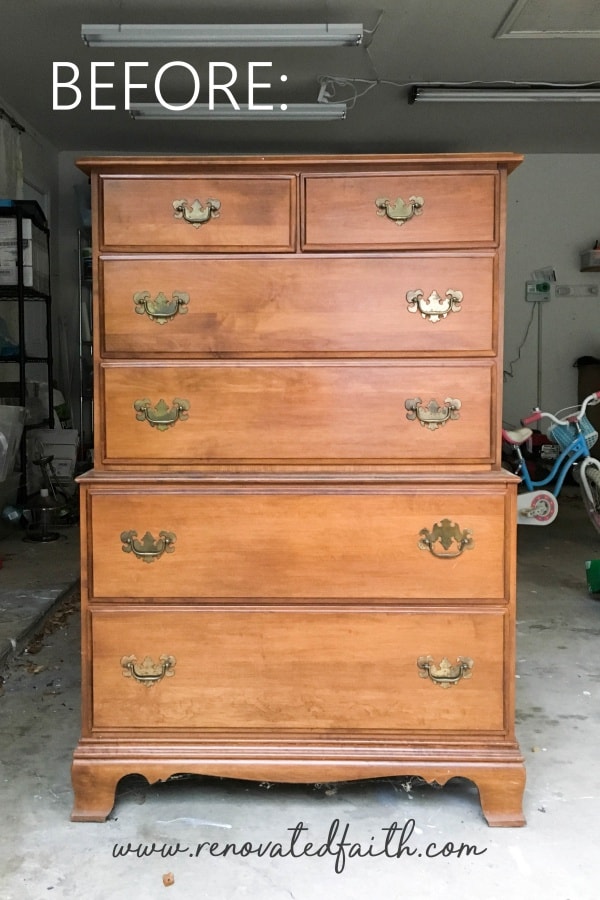 After you cover your work area, run an electric sander over your piece just enough to rough up the surface with a low grit sanding pad or a foam sanding block. (Low grit sandpaper is anything from around 60-120). 
Remember, you are not sanding off the old stain or paint.  We are just giving the surface of the dresser a light sanding by making it more porous and less slick so the new primer and paint cling to the surface.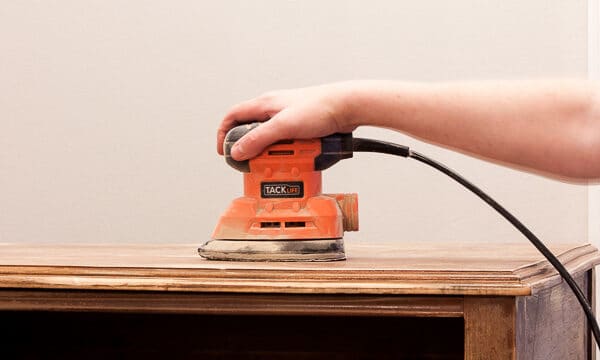 As I mentioned in my post How to Sand Furniture, you shouldn't spend more than about 5 minutes sanding a furniture piece.  I say that because I don't want you to waste a lot of time and elbow grease because the primer will do most of the work for us.  However, it's still worthwhile to sand.
(If your furniture piece is too large to move to the garage or outdoors to sand, check the FAQ section.)
WHAT SANDER SHOULD YOU BUY?  If you are unsure of the best sander for furniture projects, I prefer using a palm or mouse sander over an orbital sander because you have more control.  You can find an easy-to-use sander here:  Best Mouse Sander for Furniture Projects
There won't be much sanding dust with the electric sander I mention above, but you want to use a damp cloth or tack cloth to remove any sanding dust.
This will ensure that the dust does not end up in the final finish of our beautifully painted dresser!  I forgot to mention this in the video above, but wipe from the top down to minimize dust in the finish
RENOVATE YOUR FAITH: What's In A Name?
God never leaves a project half-done…He continually works on each one of us, as a lavish expression of His amazing love and grace.  So many of my DIY projects remind me of how God renovates our hearts.  If you are a work-in-progress, just like I am, check out the Renovate Your Faith Devotional at the bottom of this post on how to paint a dresser black.  Click here to get a weekly reminder of new posts by email.
Step 2: How To Prime Furniture Before Painting With Black or Dark Paint
The next step when painting furniture black is to prime the whole piece.  Priming is important because it helps the paint stick to the old finish so it never peels. 
As I've heard it said, "Primer sticks to things, and paint sticks to primer."  Priming doesn't add any extra work because a coat of primer replaces one coat of paint. 
One of my best time-savers for painting black furniture pieces is using a tinted primer.  You can do this by buying Zinnser Bullseye 123 in gray or by having your local hardware store tint the primer for you.
Primer usually comes in white but the advantage of using a darker primer is that going from a gray primer to black paint is not a big jump in color.  But going from a white primer to a dark paint color would take more coats of paint, which means more effort, cost, and time on your part.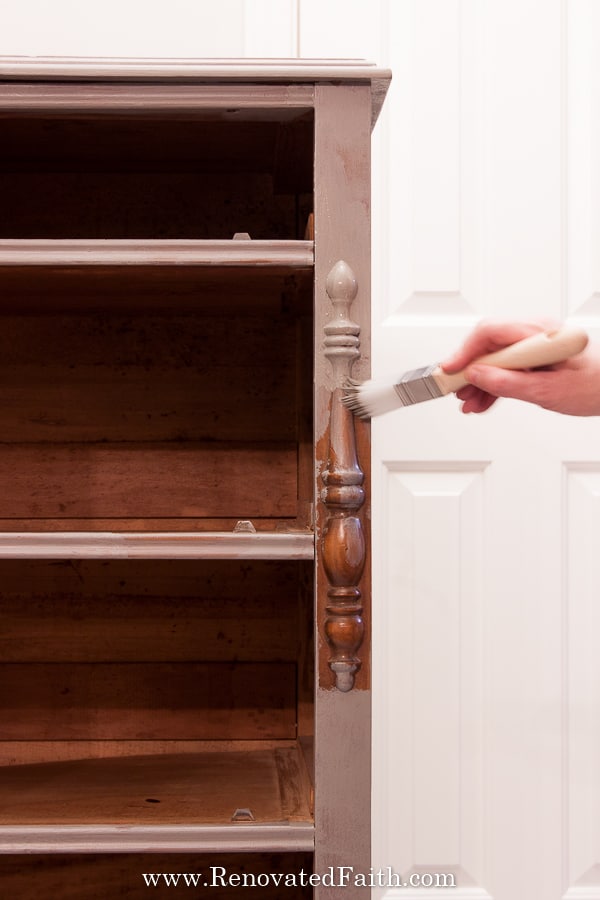 Because of this, I keep Zinnser Bullseye 123 in white and in dark gray on hand as painting with a darker primer is a great way to save on paint coats!
Simply ask them at the paint counter to tint it to a dark gray by picking out any dark gray paint swatch. I know Lowe's will do this but I haven't tried at Home Depot yet.
I like to apply most of my primer and paint with a roller.  I highly recommend this roller(see the current price here) because it gives you an incredibly smooth finish every time!
Roll on a thick coat of primer but not so thick that the surface of the paint isn't smooth.  Also, use a brush to prime any detailed areas.  Your primer should only take a couple of hours to dry before it is time to paint. (If you are in a humid area, wait until the next day to paint).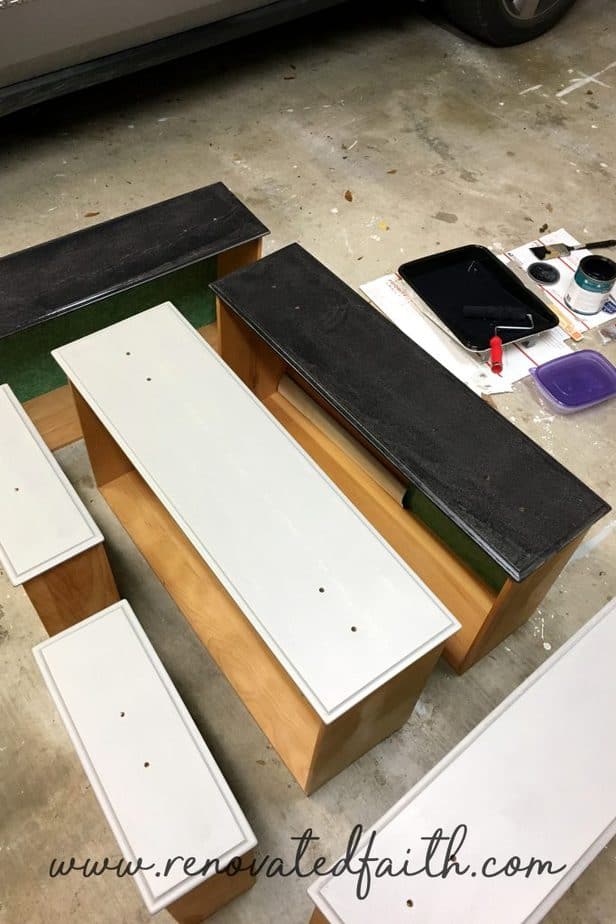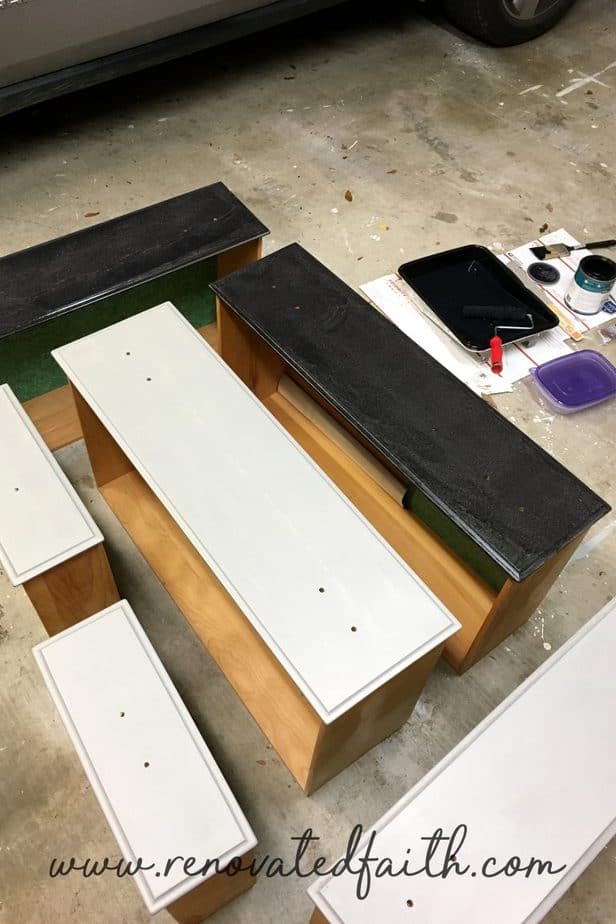 A TIP FOR PAINTING DRESSERS WITH SPINDLE LEGS:  This is adding an extra step but this step will save you so much time if your dresser has milled legs with lots of details.  They can take forever to paint and prime so I use a shortcut you can find here:  How to Paint Table Legs – The Easy Way
Step 3: How Do You Paint a PIece of Furniture Black?
Now that your primer is dry, it's time for your first coat of black paint.  I like to use my roller and the Zibra brush for any corners or details. 
It can be tempting to put on a really thick coat of paint to get good coverage but it's important to work in thin coats.  Lighter coats will give you the smoothest finish possible.
Notice below and in the video tutorial that your first coat will be very transparent.  That's ok – it will even out with the second coat!  Just get the paint on and smooth it out with the roller.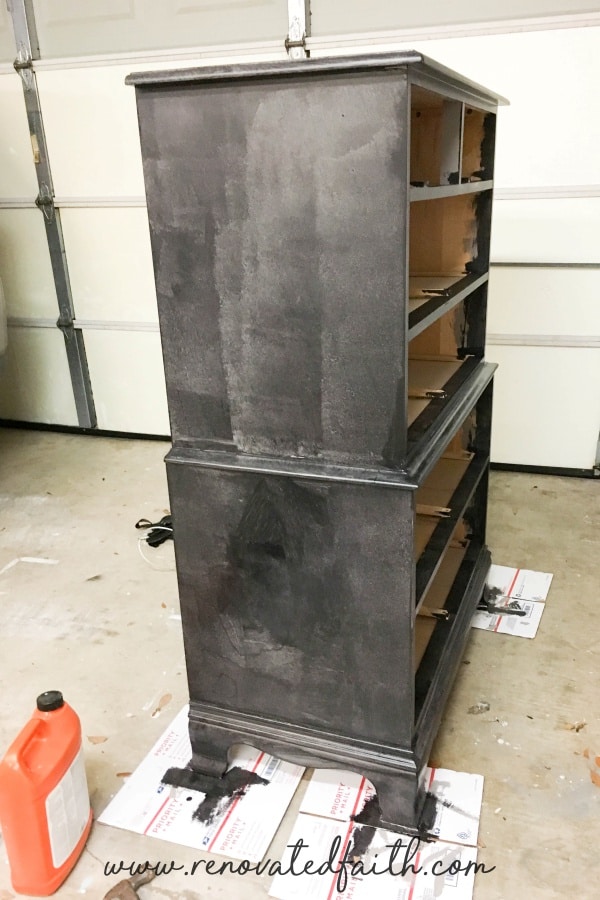 Give the first enough time to dry. (See the back of the can for a rough estimate on dry times for your paint brand.)  The dry time on Benjamin Moore Advance is 16 hours.  That's the only negative about the paint but it works out well to just do a coat a day.  Trust me; it's worth the wait!
Apply an additional coat or coats until you get to full coverage of black paint. Extra coats are just par for the course when painting furniture black but we have saved at least two coats of paint by using our gray primer.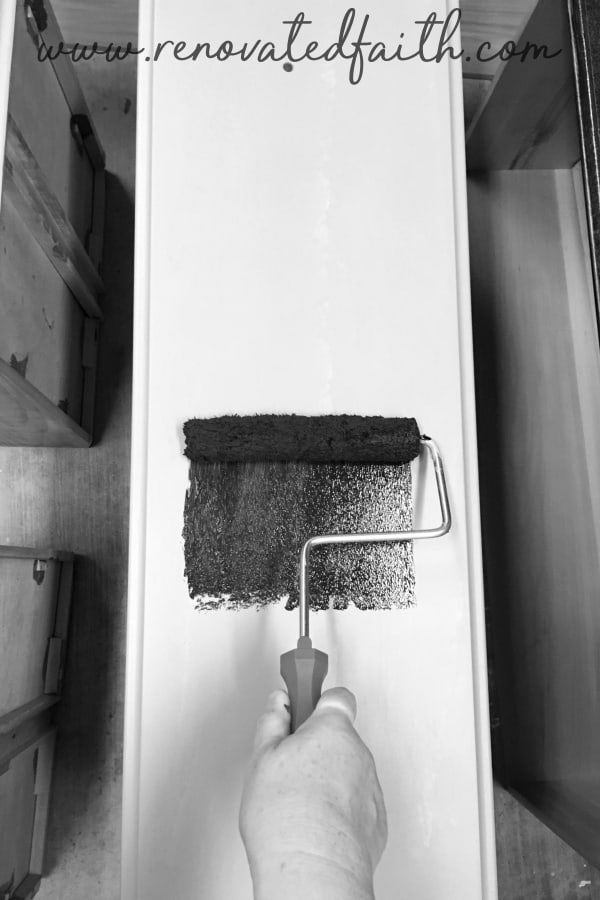 Should You Use a Clear Coat After Painting Furniture Black?
You can add a clear coat but I only recommend it on high-use furniture pieces like coffee tables or dining tables because Benjamin Moore Advance is so durable. 
You could also add a clear coat just to the top of the dresser, where it is most likely to get watermarks. Simply use a foam brush and brush in the direction of the wood grain in long strokes.
The most important thing to remember is to not pick up your brush in the middle of a stroke.  Go from one side to another without lifting the brush for each stroke of the clear coat
I like to use a satin finish of clear coat but it also comes in a matte finish.  Here is my favorite clear coat for furniture, which is so much easier to apply and more durable than clear wax:  Varathane Water-Based Polyurethane
Related:  The Best Clear Coat for Furniture 
Painted Black Furniture, Before and After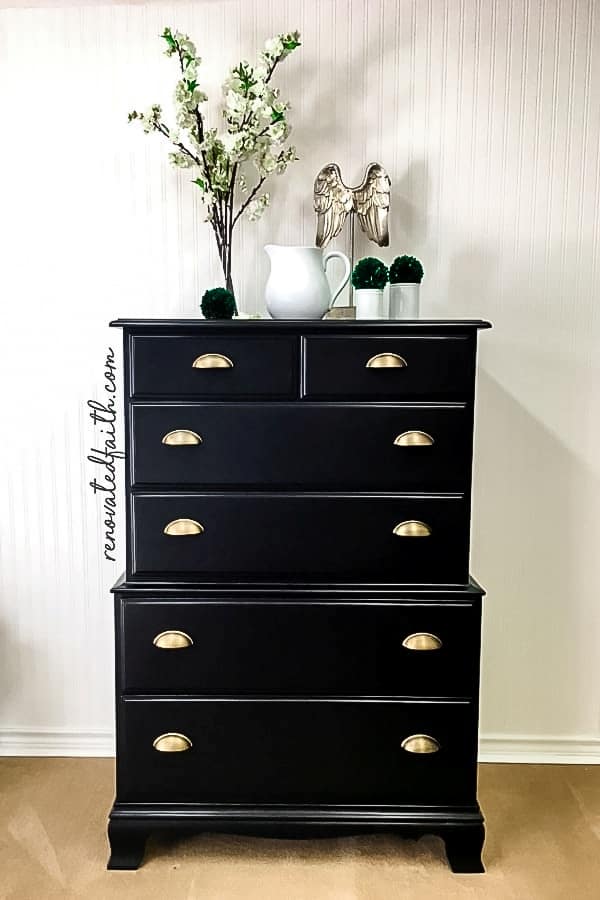 RENOVATE YOUR FAITH: God Hasn't Finished With You Yet
As I was working on this tallboy dresser, I thought once again about how life is like one big furniture flip…or lots of little ones depending on how you look at it or what you're going through.
God so graciously transforms life's messes into something full of beauty and purpose if we let Him.
Giving over bad habits and addictions to God is never easy but without God, it's impossible.  Sometimes we come to a place of transformation out of pure necessity. We learn that our old coping mechanisms and vices are no longer working and even make matters worse.
As we begin to allow God to transform us, we go through the painful process of handing over our old habits to trade for healthier ones.  I learned during a time of anxiety that sometimes things get worse before they get better.
So often, the deep-set tendencies that are destroying us are the ones that we struggle to cling to the most.
But God never asks us to give up something that He will not replace with something far better.
Just like this dresser, sometimes things look the worst mid-transformation but we can rest in knowing that this too shall pass.  God isn't going to leave this project half done but will finish what He has started in you.
Being confident of this, that he who began a good work in you will carry it on to completion until the day of Christ Jesus. Philippians 1:6
If you found yourself in the middle of an overhaul, hold on tight, the best is yet to come – just like the final transformation of this dresser. You can rest in knowing that God never asks us to give up something He will not replace with something far better.
For more spiritual encouragement, click here for the rest of my project posts that also include Renovate Your Faith devotionals.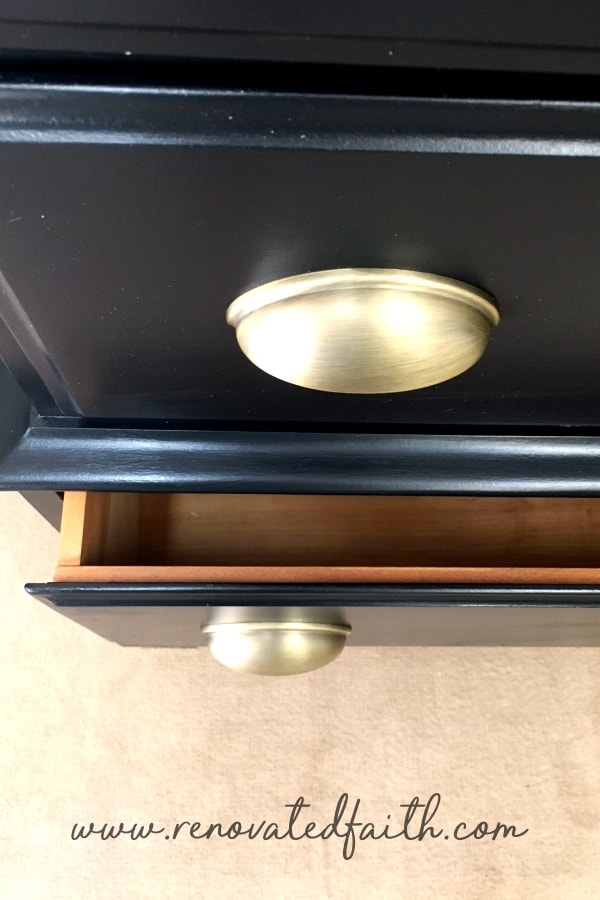 If you are looking for something to listen to while working on furniture, check out my post on the Best Christian Podcasts for Women.  Sometimes I joke that furniture painting is cheaper than therapy but in all honestly it's not only cheaper but probably more effective since I listen to these podcasts which encourage me in my faith.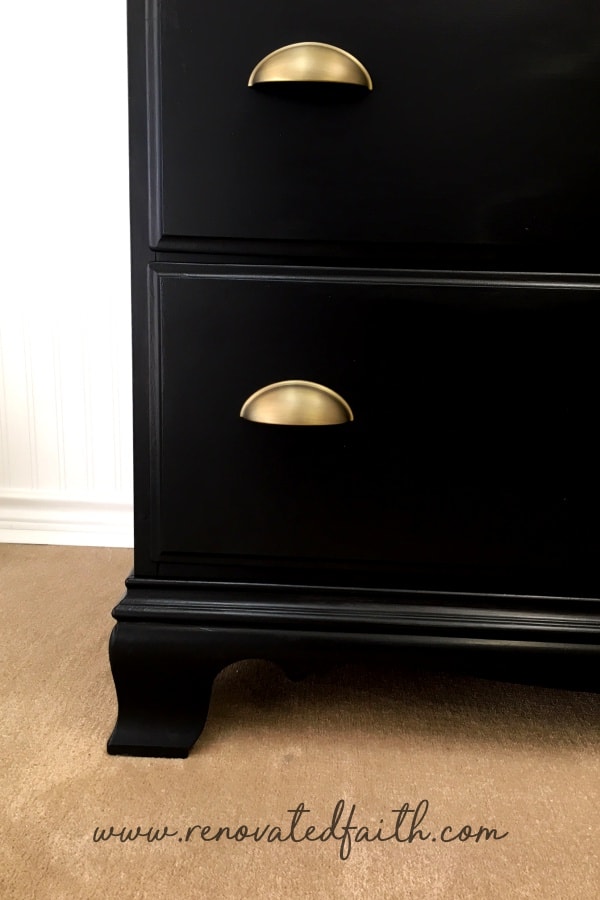 FaQ's: How Do you Paint a Piece of Furniture Black?
How to Paint Furniture Black Like Pottery Barn Furniture
To get the rustic modern look of black Pottery Barn furniture, be sure to pick a matte finish.  The matte sheen will give the paint finish a flat look which is the biggest trend in furniture now.
What is the Difference Between Black Paint and Black Wood Stain for Furniture?
Paint sits on the top surface of the wood and covers it.  But stain penetrates the surface so you can see the details of the wood grain.  To get the look of black paint with the brown grain showing through, I recommend scuff sanding and using a black wood stain from General Finishes.
What Kind of Paint Do You Use On A Dresser?
There are several types of paint you can use on furniture but not all of them will give you a finish that is gorgeous and super durable!   I didn't opt for black chalk paint on this piece because chalk paint ended up testing the worst of all the paint I tested.  To see why I used Benjamin Moore Advance and how the other paints performed, click here:  The Best Paints for Furniture (24 Brands Blind-Tested and Reviewed)
Can I Paint A Wood Dresser Black with Spray Paint?
Spray painting furniture black can be cost-prohibitive, especially for larger pieces of furniture.  Also, you are going to have trouble getting a consistent sheen on large flat surfaces that are spray painted.  However, it is an excellent option for a small piece of furniture like a stool or a chair with lots of spindles:  The Best Black Spray Paint for Wood Furniture
My Best Tips for Spray Painting Furniture Hardware
For my favorite tips and tricks on getting  a flawless finish every time with spray paint, click here for your free checklist:  Best Tips & Tricks for Spray Paint Anything
How Can I Paint Furniture Black Without Sanding?
I'm kind of a stickler for sanding furniture because if you don't sand a furniture piece and it peels, you will have to remove all the peeling paint and repeat the entire process.  That's over twice the work for the cost of not scuff sanding for 5 minutes.  Ok, I'm getting off my soap box now.
Even I will admit that there are times that you can't sand furniture.  If you have a very large piece of furniture you might want to refinish it in place.  Or maybe your weather isn't conducive to painting the piece in your garage this time of year.  Either way, you have a couple of options.
How to Paint a Dresser Black Without Sanding
'No Sand' Option 1:  Sand using a foam sanding block but wet it first. This will cut down on any dust and the dust it does produce will not be airborne.
No Sand Option 2:  You can use a furniture deglosser like this one:  Furniture Deglosser  If you go the deglosser route, still prime as normal to make sure you have the best adhesion possible.  
Wondering How to Paint Black Furniture a Lighter Color?
If you are wanting to go from black paint to white paint, I have just the post for you: How To Paint Black Furniture White
How To Paint A Dresser Black That Has Already Been Painted
The process for painting wood furniture is the exact same for painting furniture that is already painted.  Follow the tutorial here and your furniture project will look amazing.
Related Posts to Painting Furniture Black
Final Thoughts on How to Paint Wood Furniture Black The Right Way
In this step-by-step tutorial, I show you the best way to get amazing results painting furniture in darker colors. Unfortunately, it can be difficult to get good coverage when painting wood furniture black which usually uses several coats of new paint. But with this tried and true process, you can finish your project quickly while still getting the best results. It's so exciting to see an old piece of furniture take on a new life and a new look.
If you have a DIY project coming up or are wondering how to paint furniture, be sure to download my FREE printable before you start: The Best Tips for Painting Furniture You can also see a step-by-guide for painting furniture here: A Beginner's Guide to Furniture Painting
Painting furniture black and other dark moody hues can completely transform a room for the better. Don't hesitate to ask any questions in the comment section or send me the before and after pics of your black furniture makeover to karin@renovatedfaith.com. I'd love to see how it turned out!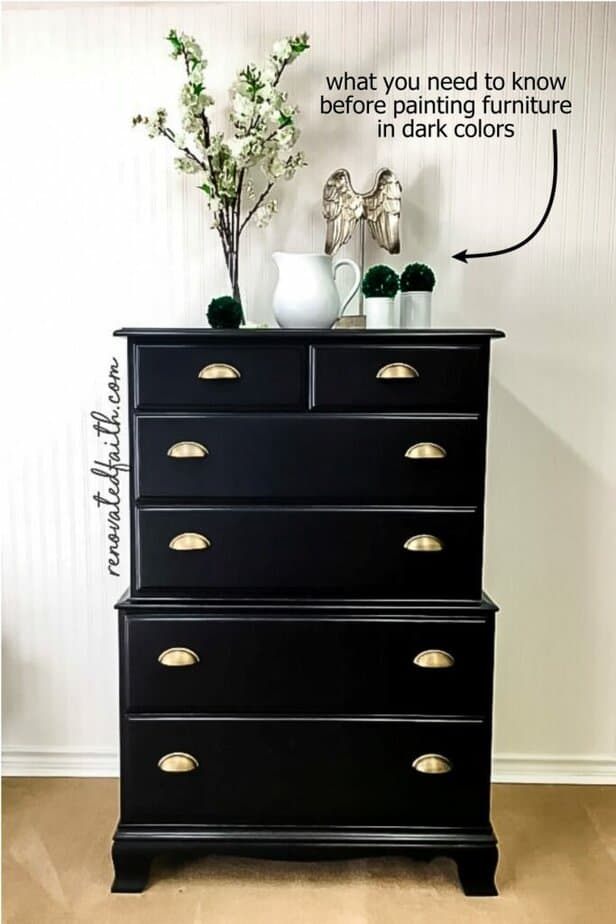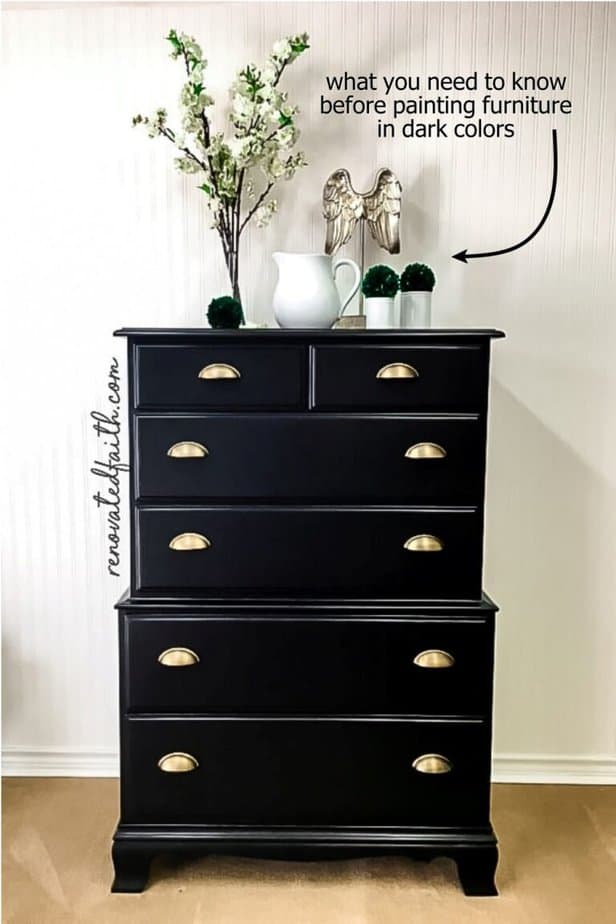 I love to hear your thoughts and questions!  Scroll down to leave a comment and I WILL reply! ❤️
Blessings,
Karin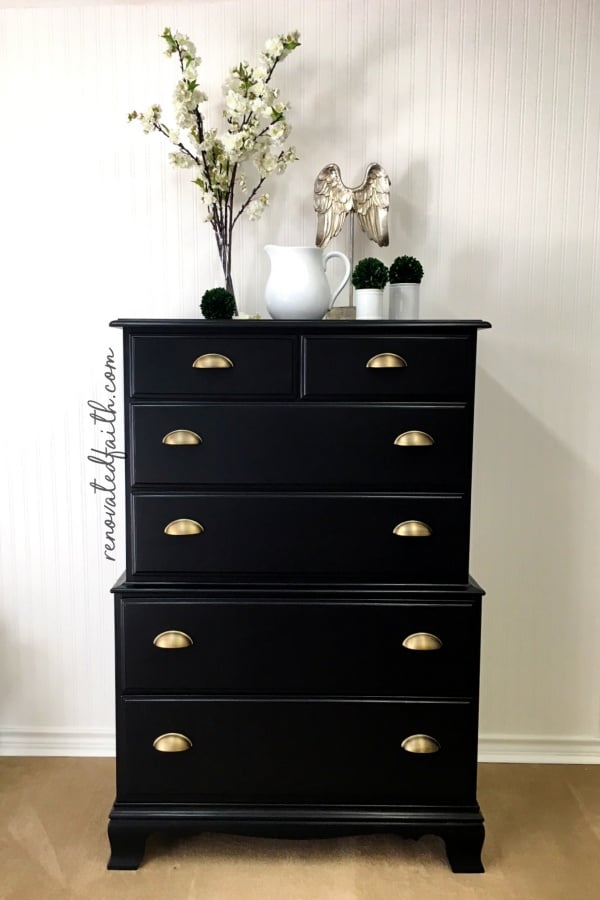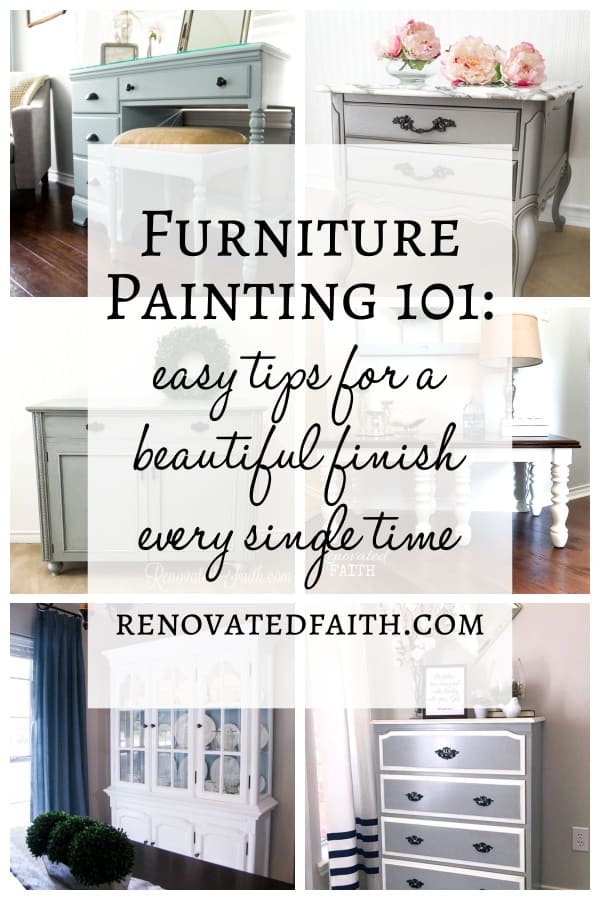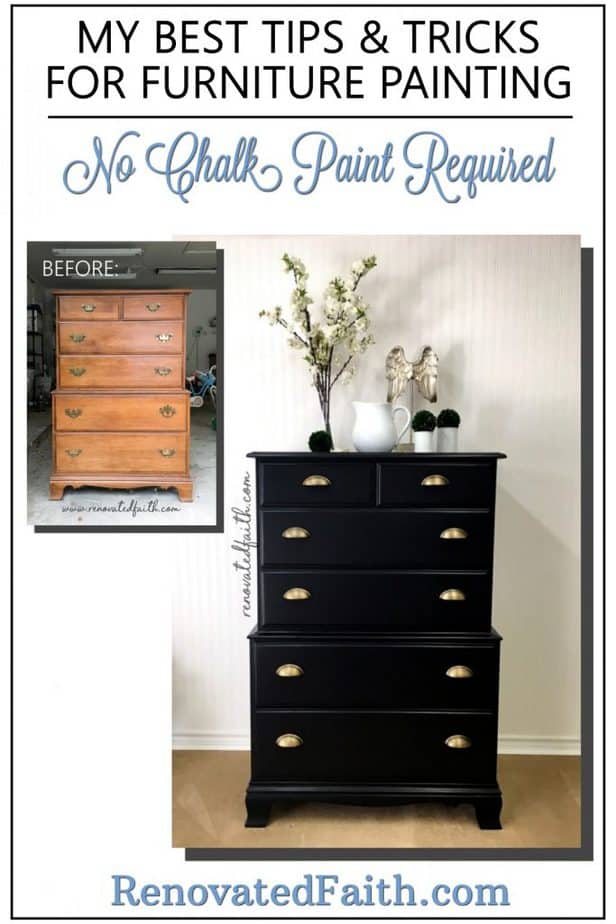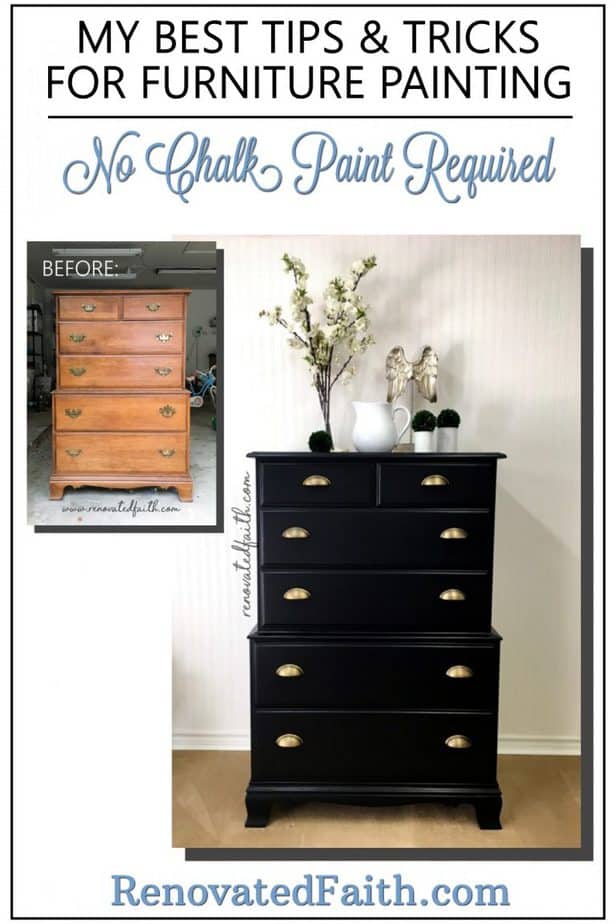 How To Paint A Dresser Black, YouTube Video
How To Paint A Dresser Black
Welcome to Renovated Faith, where I share about DIY projects, my faith and everything in between! When I'm not spending time with my family, you will find me redoing furniture in the garage or watering plants in my greenhouse. This blog is about transformation. Anyone can renovate a house but only God can transform our hearts!