How to Paint and Stain Laminate Furniture (The Ultimate Guide!)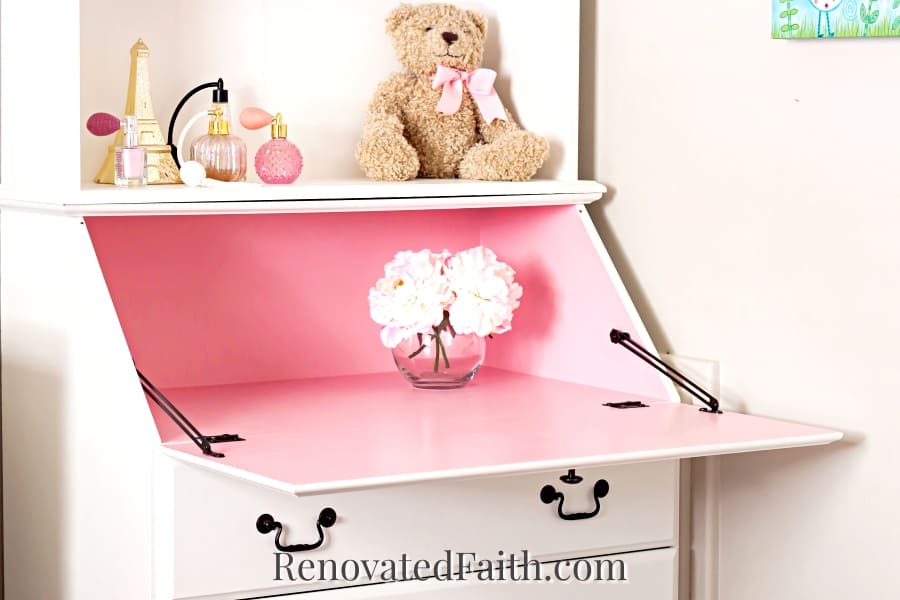 The Ultimate Guide to Painting and Staining Laminate
Whether you want to paint or 'stain' your furniture piece, this tutorial and video will show you how to paint laminate furniture easily.
---
Not only is there a right way to paint laminate, but there are some easy tricks to make your project look like a painted solid-wood piece instead of low-cost laminate. Also, I'll show you how to use paint to get the look of any wood stain on laminate furniture.
Imagine yourself walking into a used furniture store on the hunt for the perfect desk. Then you see it… that furniture piece that is just the right size and style to transform into your ideal workspace. As you walk up to it, you are SO disappointed. You realize its laminate and you aren't sure exactly how to refinish it so your paint doesn't peel off…
Knowing how to refinish laminate furniture gives you so many more options when you're on the hunt for a new project piece! No longer are you limited to solid wood but now you can redo just about any surface by knowing a few important but simple tips. Be sure to check out the video tutorial that goes with this post and don't forget to download my FREE Must-Have Painting Tips & Tricks HERE to save you time and money on refinishing furniture.
LET ME SHOW YOU:
My tried and true process after painting dozens of laminate furniture pieces
Tricks for painting cheap laminate furniture so no one can tell it's laminate
How to use paint to faux stain any kind of laminate and IKEA furniture
The blessings of following God's direction in this week's Renovate Your Faith devotional at the bottom of this post.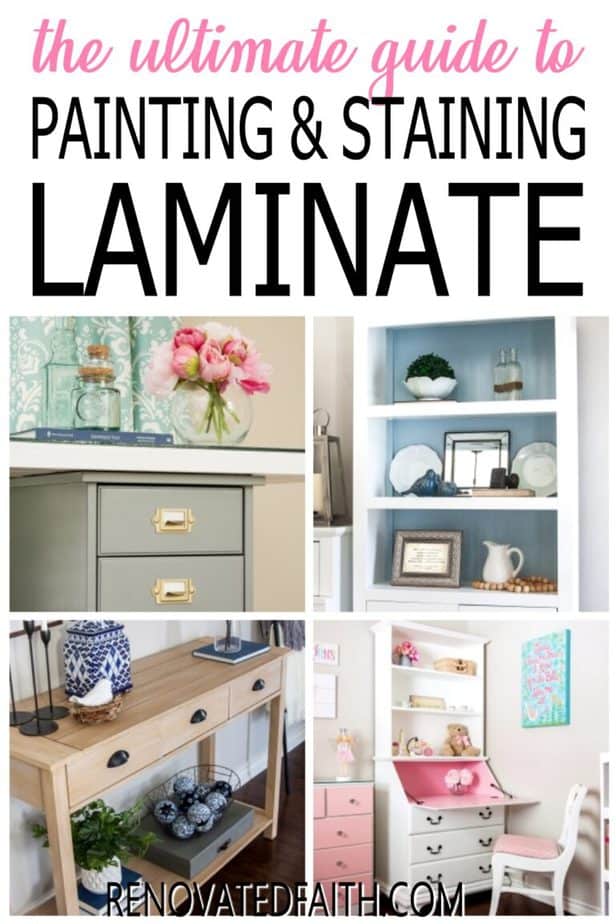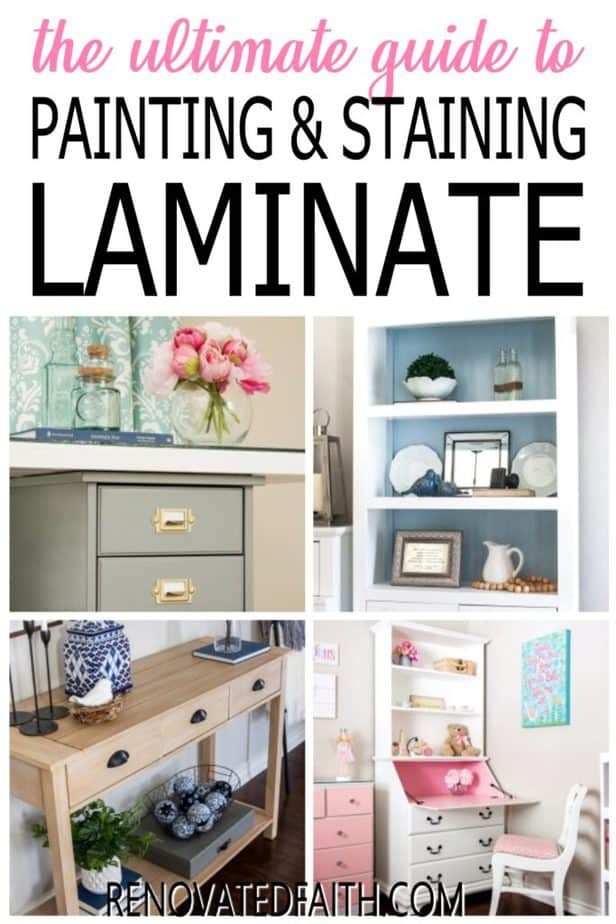 [socialwarfare]
(As an Amazon affiliate I earn from qualifying purchases. Please see my full disclosure HERE).
---
Can You Paint Laminate Furniture Without Primer?
Painting laminate furniture is not difficult as long as you do one important step – priming before painting! But priming furniture is so easy when you have the right tools and what primer to use. Also, it is not really adding any time to the process because the primer layer provides the same coverage as one of your coats of paint. In other words, you are not adding any extra work to painting over laminate because priming just replaces a paint coat.
What Happens If You Don't Prime Laminate Furniture?
Laminate or furniture with any kind of plastic or epoxy coating is very slick which means the paint cannot grab onto it. Because the paint can't adhere well to the surface you will more than likely run into one of these problems:
Bubbles Appear As You Paint
You will notice that as you paint over the surface that bubbles appear with each stroke. As you try to brush over them again, they keep appearing because the paint can't even , bubbles appear, not matter how many times you roll over them they still break up the surface of the paint because they can't adhere.
The Surfaces Peels When Touched
If you paint over laminate without primer, your dried paint job can look great but you find that it peels with very little pressure on the surface. This is the surface of my daughter's secretary which I intentionally sanded but did not prime. As expected, the paint job looked great at first, but rubbing my finger across the dried surface caused the paint to peel off in large pieces.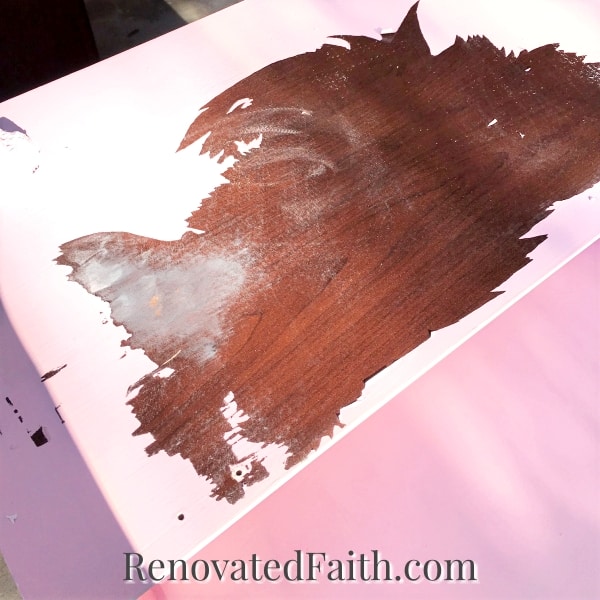 You can see how the paint did not adhere and just slid off the surface. Fortunately, it was only the top surface I didn't prime in order to show what happens when you don't prime furniture. At that point, your only alternative is to re-sand and start the whole process over again.
Surface Bubbles and Peels When Comes In Contact With Water
Because I've made lots of mistakes in painting furniture, there was one laminate piece I didn't prime. It seemed well until I put a wet glass on it. I only put it on the surface for a few seconds but the moisture was just enough to make the paint peel in a big sheet.
What is Laminate Wood Exactly?
Laminate furniture is made mostly of medium density fiberboard (MDF), which is composed of small shavings of a of lower quality wood pressed and glued together. Therefore, it's strong but highly susceptible to water damage (this process will help to protect the surface though). A very thin printed sheet of wood or paper covers the MDF to mimic the look of solid wood. (This paint process also works for other plastic or epoxy coated surfaces like a formica dresser top.)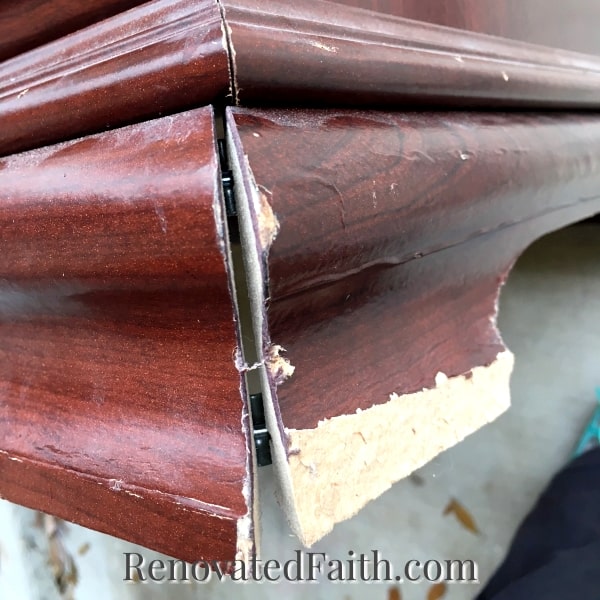 ☑️ MY ALL-TIME BEST FURNITURE PAINTING TIPS (FREE PRINTABLE)
Want to transform a furniture piece but don't know where to begin?  Download the FREE step-by-step printable checklist that shows you the exact process I've used on dozens of furniture pieces while saving you time and money! And it costs you nothing. #confetti toss  Click here to access your checklist now: FREE Must-Have Painting Checklist
How To Paint Laminate Furniture To Look Like Wood That's Painted
Ever want to paint laminate so no one can tell it's laminate? Sometimes I have painted laminate furniture with primer but the piece still looked like cheap IKEA furniture. In this post, I'll show you some easy tricks so that your furniture piece looks like a painted piece of solid wood furniture that came straight from Pottery Barn.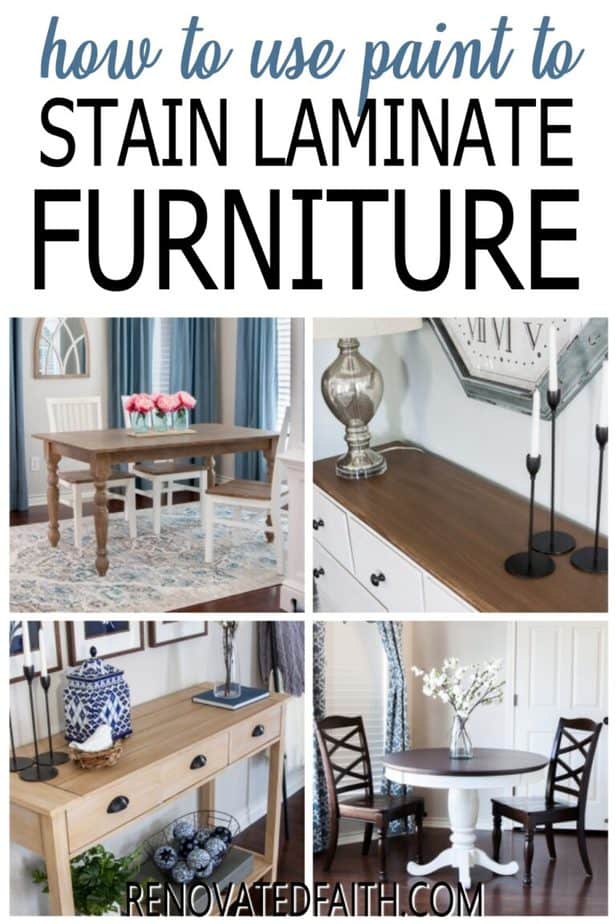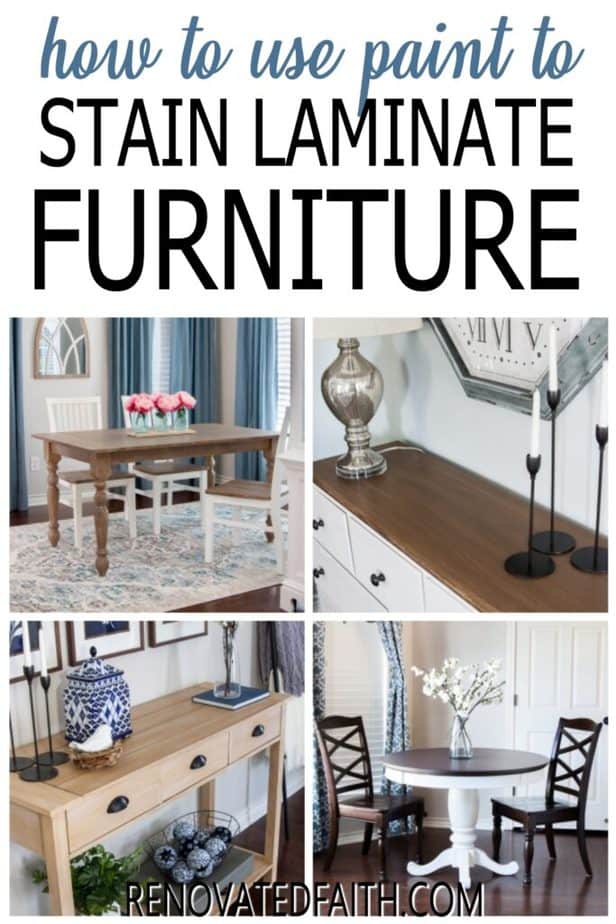 How To Stain Laminate Furniture
You can't technically stain laminate furniture because there's no wood grain for a traditional stain to absorb into BUT you can paint over it with a faux stain. In this post, you will follow the first few steps that are critical for any laminate piece and then I'll direct you to another tutorial to finish the stain. Here are your options for a stained laminate furniture finish:
I'll show you my easy tips on how to paint laminate furniture to look like stained wood and trust me, it does look like the real thing with these awesome techniques. (If you are wondering how to stain veneer so it matches the rest of the piece, I recommend using a faux stain over the entire surface.)
Two-Tone Secretary Desk Transformation
I saw this secretary desk on Facebook Marketplace and knew it had serious potential, and thought it would be perfect to re-finish as a desk for my daughter Morgan. I did not realize it was laminate until I saw it in person but that didn't stop me!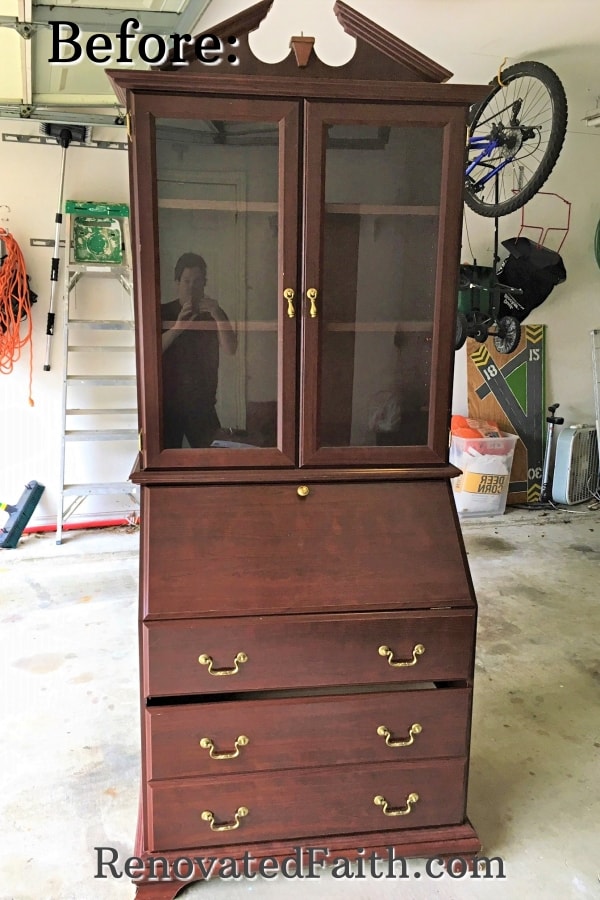 FURNITURE BUYING TIP – The good thing about mistakes is that you learn from them. I had committed to buy this piece before I saw it, not realizing it was laminate. I still probably would have purchased it but I probably paid more than I would have because I could have haggled some based on the fact that it wasn't solid wood. It also had some water damage that I didn't notice. Now I know to never commit to anything until I see it in person. Lesson learned!
How to Paint Laminate Furniture: Supplies Needed
Electric Mouse Sander – Who wants to sand by hand when you could use an electric sander?!? They are SO easy to use.  If you know how to iron, you already know how to use a sander and it's so much more fun!  It will make any project go so much faster with very little effort on your part.  Here is the one I use now, the Tacklife Sander, and also a cheaper option that I've also had great results with, the Genesis Sander.  Also, you can check out my beginner tutorial on How to Sand Furniture in Less Than 5 minutes.
Sanding Pads – If you use the Tacklife Sander above, it already comes with sanding pads.
Zinsser Cover Stain – This is an oil-based primer that works best on shiny surfaces like laminate.
6″ Paint Roller– This roller is my secret weapon in painting without brush strokes.  It is amazing!
Paint – I used Behr Ultra in Satin but since I blind-tested and reviewed 24 furniture paints, I now prefer Benjamin Moore Advance. You can see the full results for each paint brand here:  The Absolute Best Paint for Furniture
Floetrol (Optional)
FREE Must-Have Painting Tips for Furniture – Don't forget to download my free printable full of furniture painting tips & tricks to save you time and money.  You can download your FREE checklist here.
How To Paint IKEA Laminate Furniture (Video Tutorial)
You can reference my video on how to paint laminate furniture from IKEA. It's the same exact process but just on the desk made out of a door for my craft room. The video should come up as a pop-up but if you have trouble seeing it, you can find it on my YouTube channel here: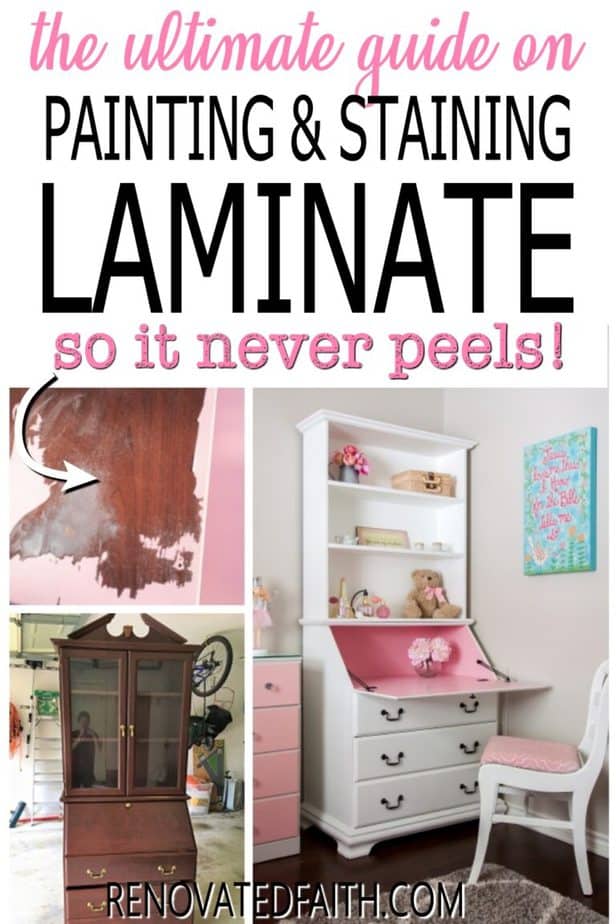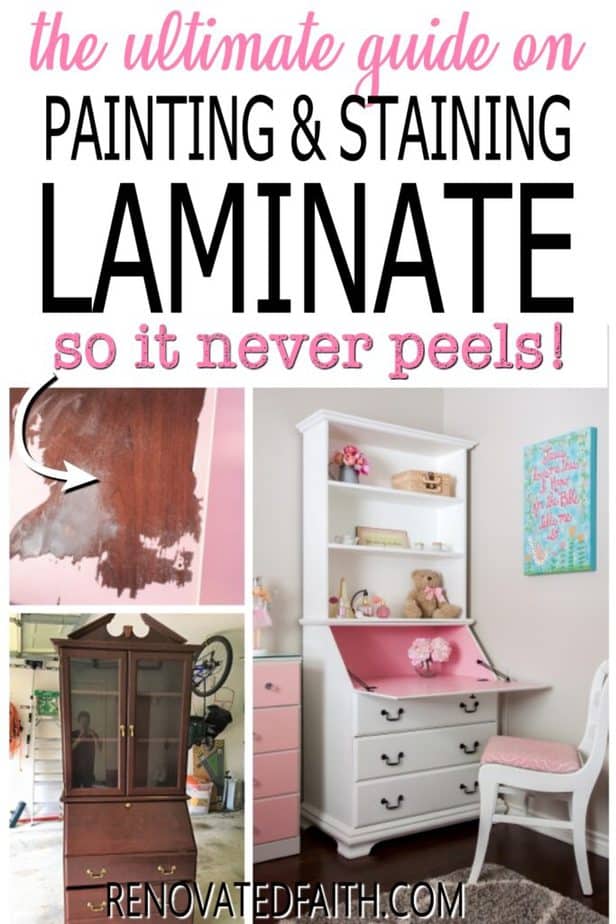 STEP 1: Remove Cabinet Doors, Drawers & All Hardware
Stop! Don't forget to take a pic. When you are done, post the pic on Instagram and tag me @renovatedfaith! ❤️
Unscrew all the hardware and put it aside in a plastic baggie for safekeeping. I also removed the trim from the top to give it a more streamlined, modern look. (Fortunately, it just unscrewed.) I decided to take off the cabinet doors permanently to have open shelves.
You can see how I upcycled the doors here: Home Office Calendar
Should You Assemble Laminate Furniture Before Painting?
If you are painting a brand-new piece of laminate furniture or IKEA furniture, go ahead and assemble it before painting. That's because if you paint the individual pieces ahead of time, at every joint, you'll be able to tell it was assembled. Painting afterwards fills any tiny gaps between parts with so you won't be able to tell it's cheap laminate. Also, parts might not fit together as well if there is a thicker area of paint.
STEP 2: Tricks for Painting Laminated Furniture So It Looks Like Wood
Laminate furniture is easy to spot. The sharp corners and peg holes area a dead giveaway. If we are going to go to the trouble of painting our laminate furniture, we might as well make a couple of adjustments so our final makeover looks like a high-end piece of painted furniture.
Laminate furniture pieces often have several rows of peg holes so the shelves can be adjusted easily. It is a nice option to readjust shelves but it makes the furniture look cheap. So, we are going to decide where we want our shelves to stay, and fill all the peg holes except those.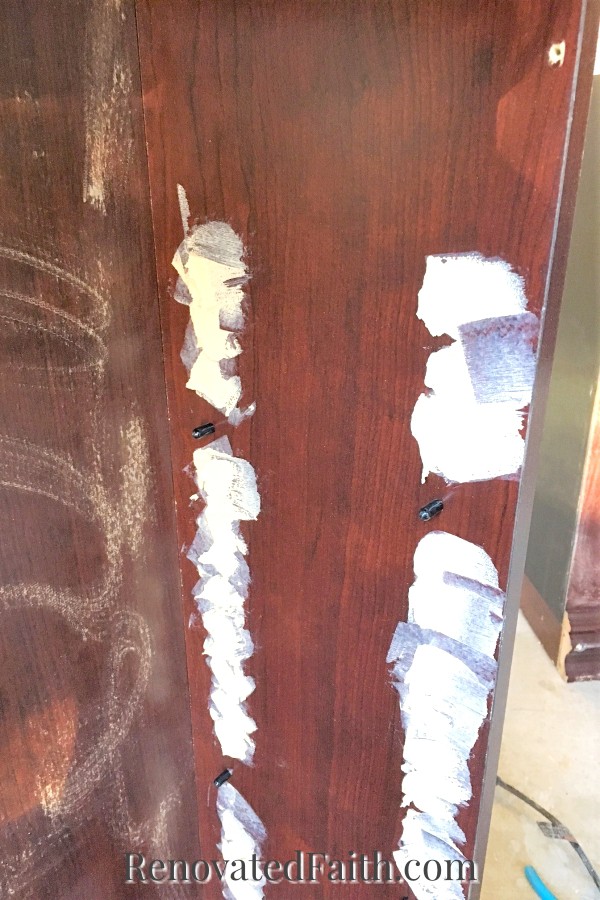 To fill them, I used my putty knife to glop on the wood filler. You want to put it on thick because when it is time to sand, you will sand down to the level of the top of the hole. Wait a day for the wood filler to dry before sanding. Here is a pic before sanding and after sanding. Notice the pegs in the holes that I want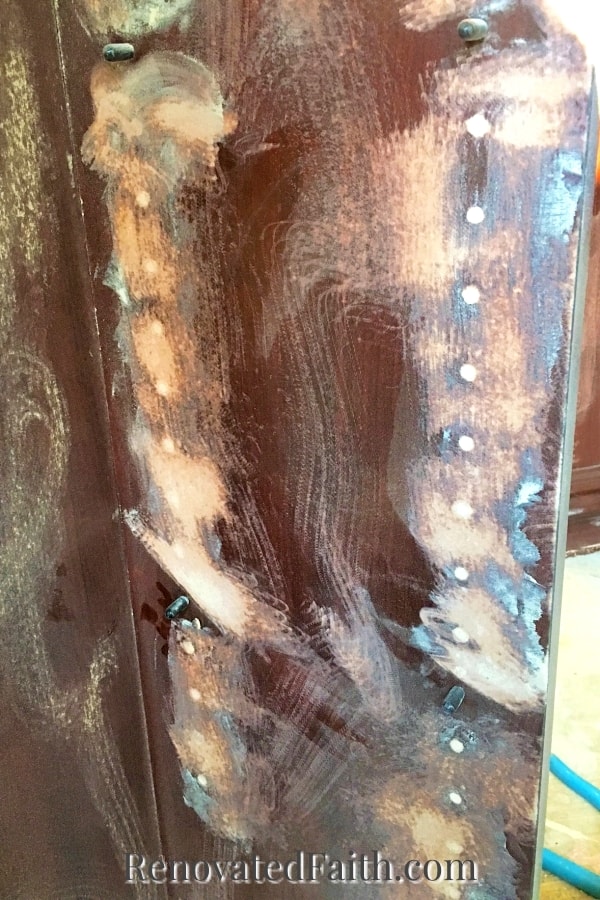 While I had the wood filler out, I also filled some gaps in the legs that were caused by water damage. Priming this piece will make it less susceptible to water damage like this in the future.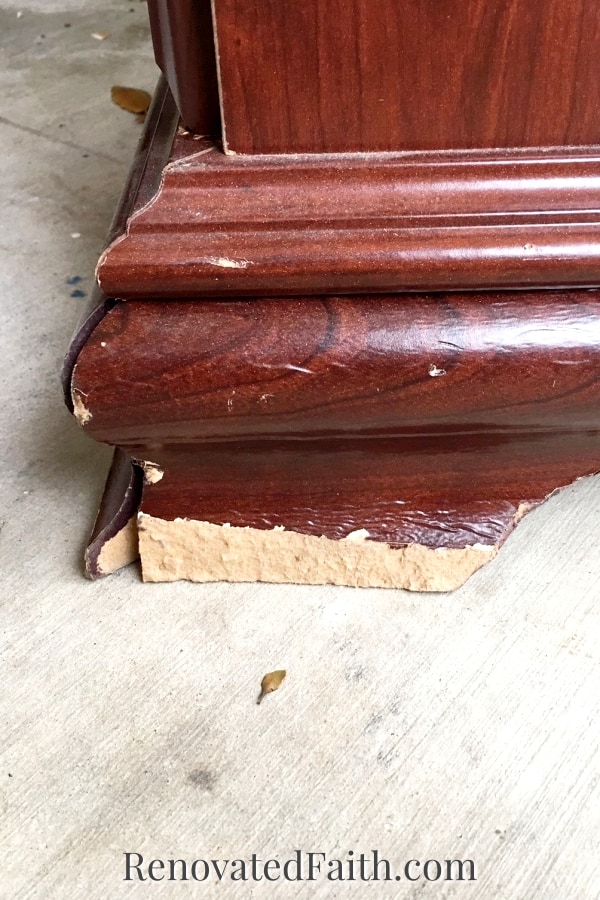 To repair damage just like this, refer to this post: The Ultimate Guide to Fix Furniture Damage
STEP 3: Sand Laminate Furniture Before Priming
Sanding laminate furniture is a good idea when painting slick surfaces. You are not sanding off the laminate, you are just sanding so the surface is not longer as thick. Find out how to sand furniture in less than 5 minutes here: A Beginner's Guide to Furniture Sanding. Sand enough that the surface looks like this: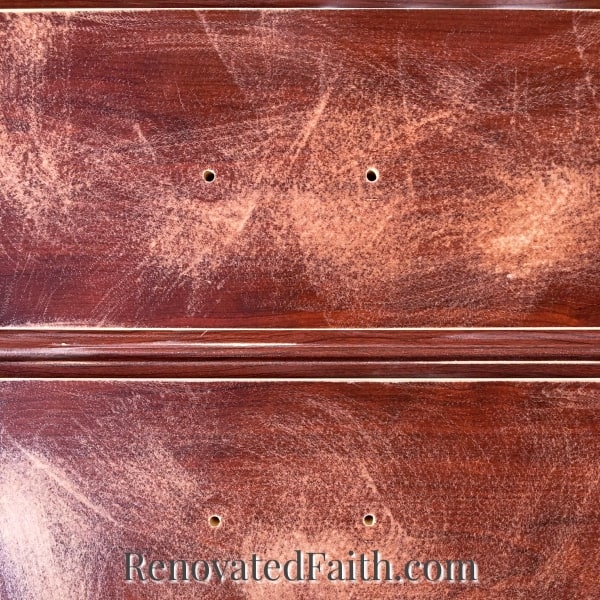 Can you Paint Laminate Furniture Without Sanding It?
We know from our experiment before that you cannot paint laminate furniture without priming it. Sanding is a really good idea because it is one more step toward having a layer of paint that will adhere well to the surface.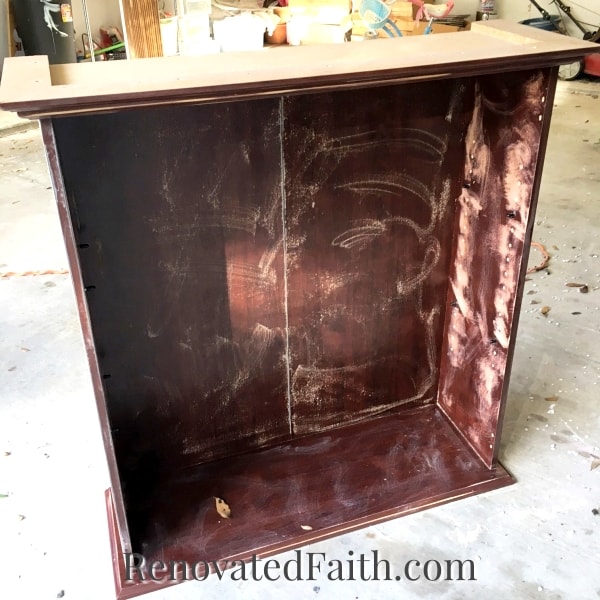 Sometimes furniture transformations start to look worse before they get better, but you won't believe the beautiful finish you'll get on your furniture piece when you're done!
STEP 4: Sand Edges So Your Laminate Furniture Looks Like Solid Wood
While your sander is still out, sand down the edges just slightly. One difference between laminate furniture and solid wood is the edges of laminate furniture are much sharper and straighter, almost plastic-looking. Solid wood edges are slightly rounded so you want to simulate this look by running your sander along the edges like so. See how I'm barely sanding that edge in the video.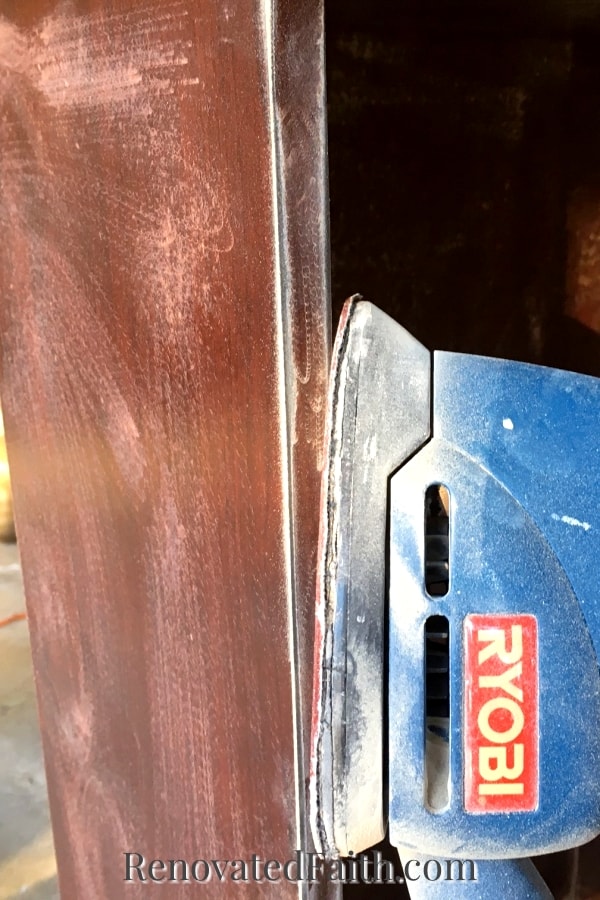 STEP 5: Always Prime Before Painting Laminate Furniture
After sanding, wipe down your furniture piece with a damp cloth to remove any sanding dust. Because I'm using an oil-based primer, I would have to clean my roller with mineral spirits which I don't always love doing. So oftentimes, I will just brush on the primer with a cheap brush and throw away the brush when I'm done.
What is the best bonding primer for laminate furniture?
I love to use Zinnser Cover Stain because it is an oil-based primer that adheres well and the fumes are not very strong. Another option is Zinnser BIN, a shellac based primer, but the fumes are really strong and it doesn't cover as well. The only time I use BIN instead of Cover Stain is when I have problem with knotholes that bleed through coats of paint. BIN is great for that.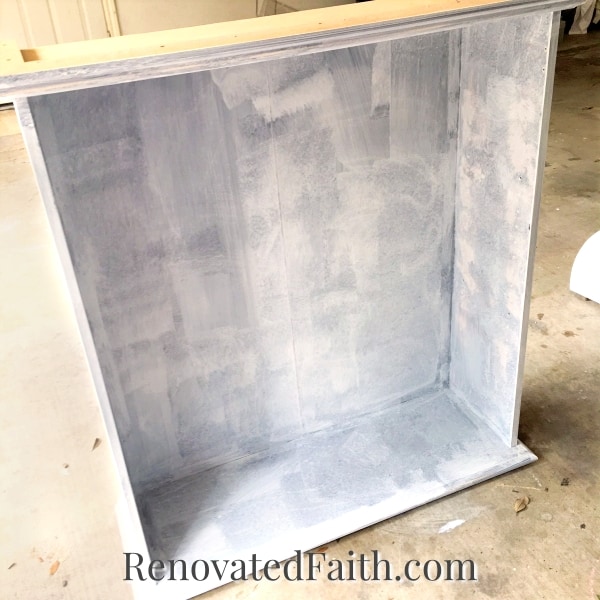 TIME-SAVING TIP: You'll notice in the video that the Cover Stain primer for my office desk is gray. Thats because I had it tinted to a gray slightly lighter than the gray paint. This is so help with coverage so I need to do fewer paint coats. If you are painting your laminate furniture a dark color, consider having your home improvement store prime it a color that's close to your paint color to cut down on coats.
Paint on your primer with your roller or with a paint brush in places the roller won't reach. Be sure to put on a thick coat of primer. Let the primer dry about 4 hours before you start painting. If you have a lot of brush or roller marks, you can sand at this point too but it's optional.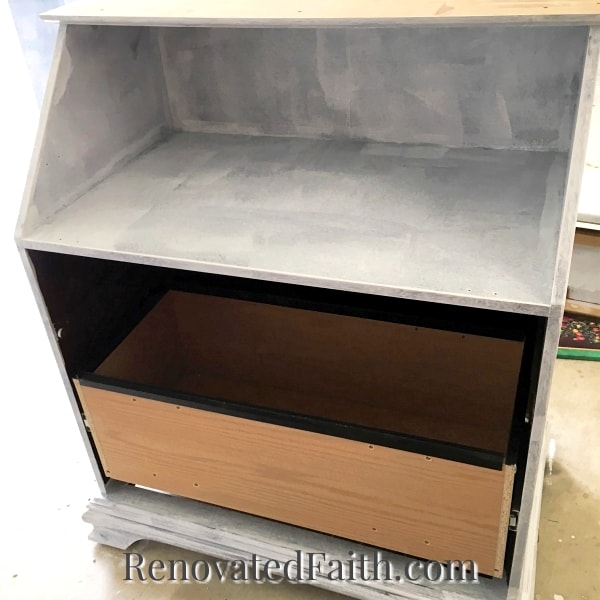 STEP 6: Fill Seams On LaminateWith Caulk
Often the back panel of laminate furniture is just a thin piece of wood with long vertical seams. This is another sign that your furniture piece is laminate but it can be easily filled with caulk so it looks like the back is solid wood.
I like to fill seams with caulk after I've primed because it makes the seams so much easier to see. You want to use caulk instead of wood filler on these seams because the panel is flexible and so is caulk. If you don't have a caulk gun, you can get a tube like this.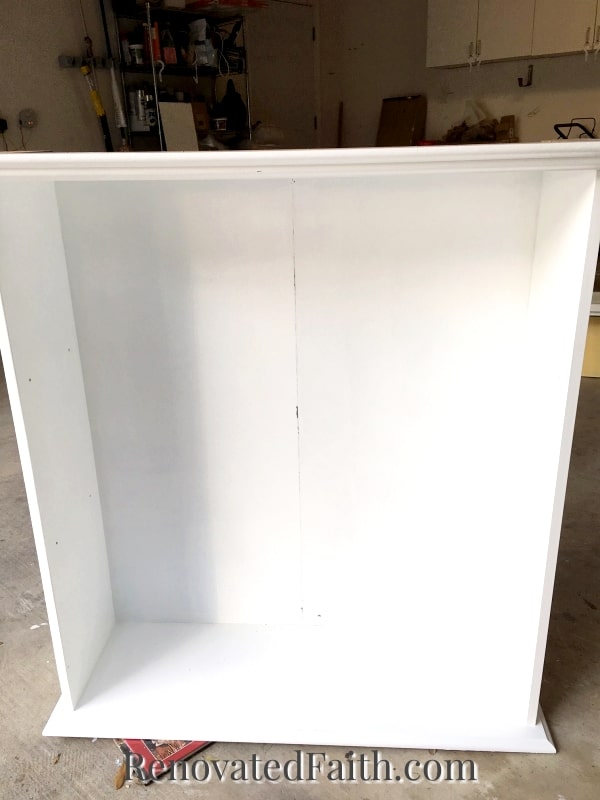 Squirt the caulk on the seam like toothpaste. It's okay if your line is really messy! Then wet your index finger and smooth out the seam. Wipe off any extra on the edges with your finger or a baby wipe. Let it dry for a couple of hours before painting. To see exactly how to fill gaps in furniture with caulk, see my Beginner's Guide to Furniture Painting.
Sometimes it's addressing the small details that make ALL the difference in the look of your final furniture piece. You will be so amazed how your furniture no longer looks like cheap laminate after finishing this process!
To cover a seam in laminate furniture, you can also cover it with beadboard wallpaper like I did here: Easy NO-BUILD DIY Media Center Hack
Step 7: How To Paint & Stain Laminate Wood
To paint a faux stain on your laminate furniture, you can now continue onto one of those tutorials, starting first with the step where you paint on a base coat. You can find all of those options for faux stains here:
Options for Staining Laminate Furniture With a Faux Stain
If you want your laminate furniture to be a solid color, start painting on your first coat of paint with your roller. I like to use a microfiber roller to paint and this roller (click here) is the best I've found by far!
***You can also add some Floetrol to your paint according to the directions on the back (optional). Floetrol makes your paint dry much smoother so you can't see brush or roller marks but keep in mind it takes long for that coat to dry.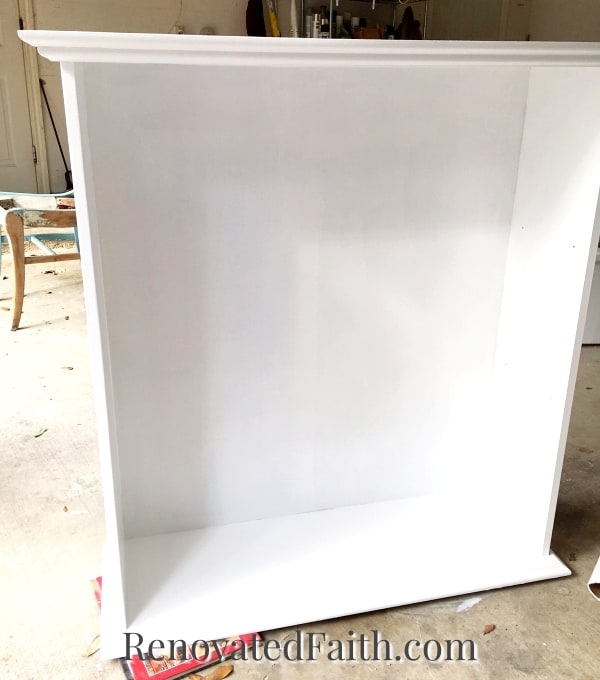 What is the Best Paint for Laminate Furniture?
I like to use Sherwin Williams Pro-Classic Waterbased Acrylic Alkyd. I love this paint because it has the benefits of water-based and oil-based paint as seen in my post Milk Paint vs. Chalk Paint vs. Latex Paint.
This is not necessary but before the second coat of paint, I like to sand over the piece very lightly to get the paint strokes or roller marks out. Like I said, this is not required but I'm a little OCD about brush strokes.
After your first coat has dried, paint on a second coat so you have full coverage!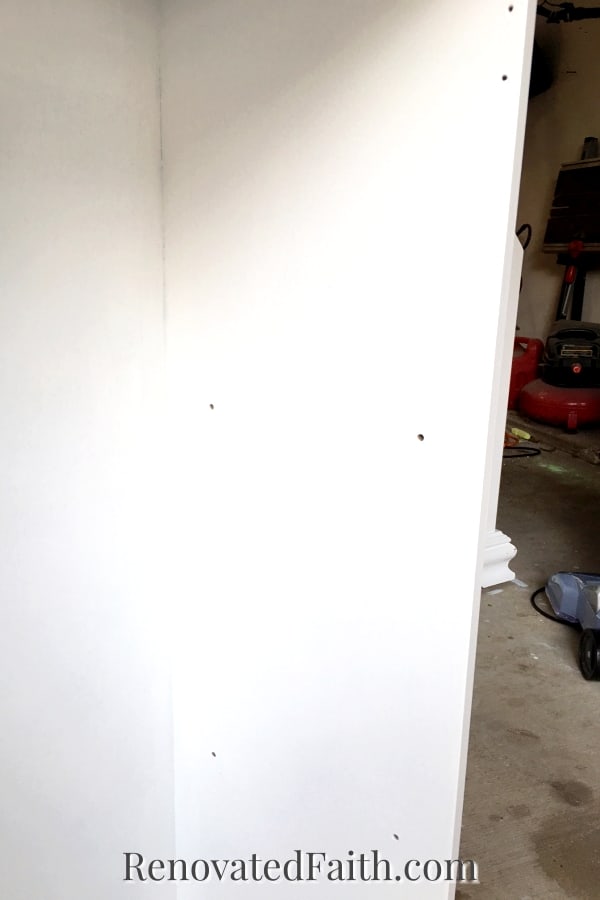 Does Painted Laminate Furniture Need A Top Coat?
You have the option of adding a clear coat at this point but I would only do this on pieces that would get lots of use like dining tables and coffee tables. If you are looking for a great clear coat, you can find the best one for your project here: The Best Clear Coats For Painted Furniture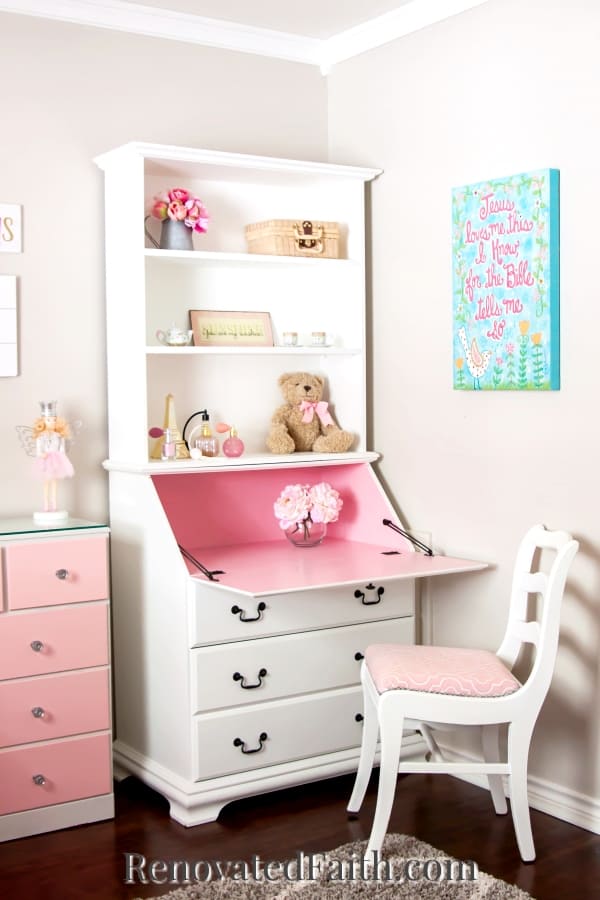 I bought some new hinges but spray pained the bottom drawer handles in my favorite spray paint for furniture hardware. After the paint dries 24 hours, you can add the hardware. Didn't it turn out cute???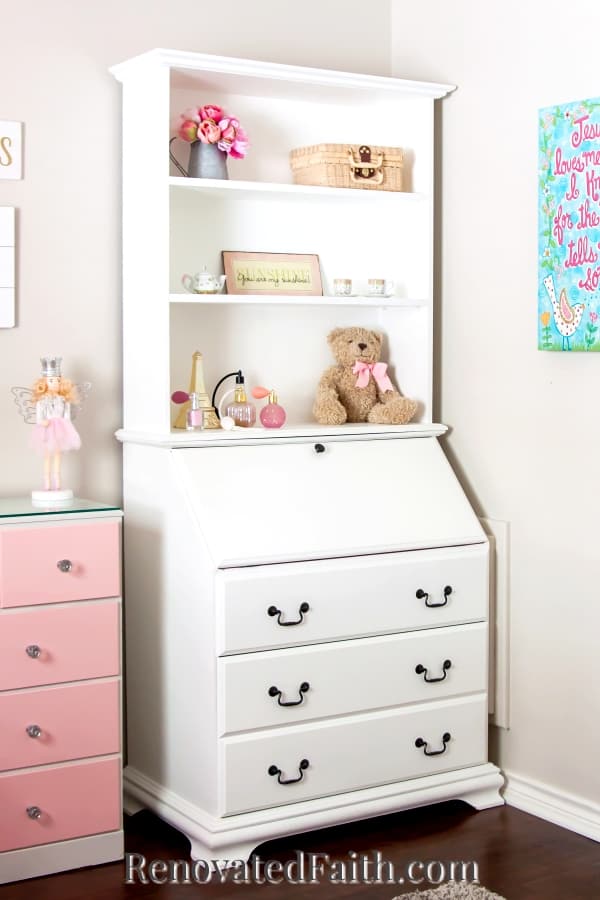 Most importantly, Morgan adores it and it looks so cute in the corner of her room. Now if I can just get her to finish her homework at her desk instead of pretending it's a makeup table!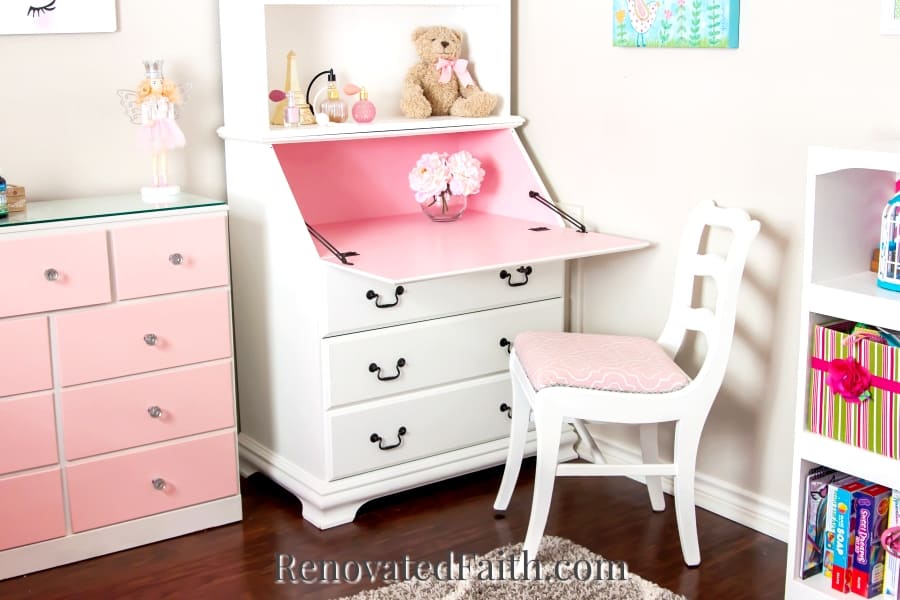 I made over a chair to match and added some sequin trim to give my girl some bling.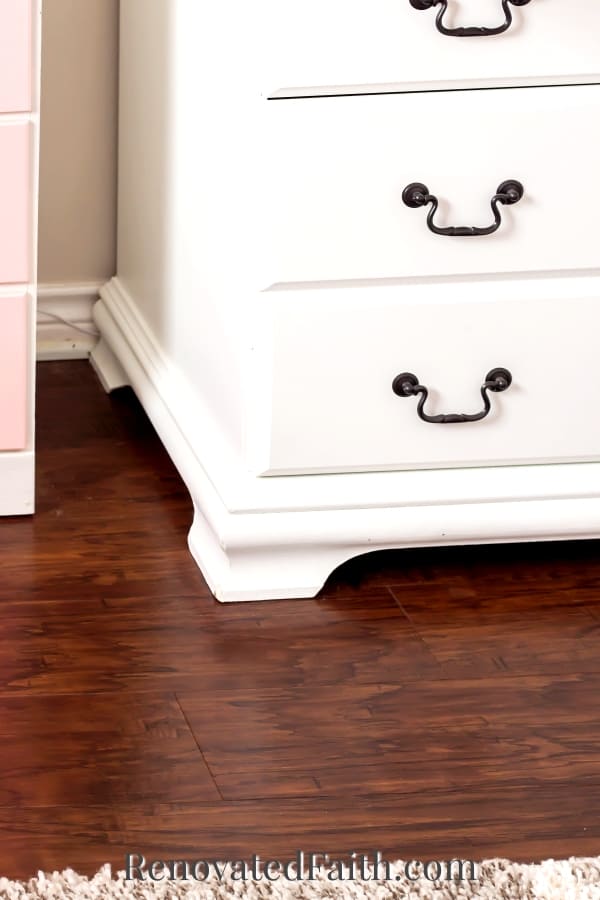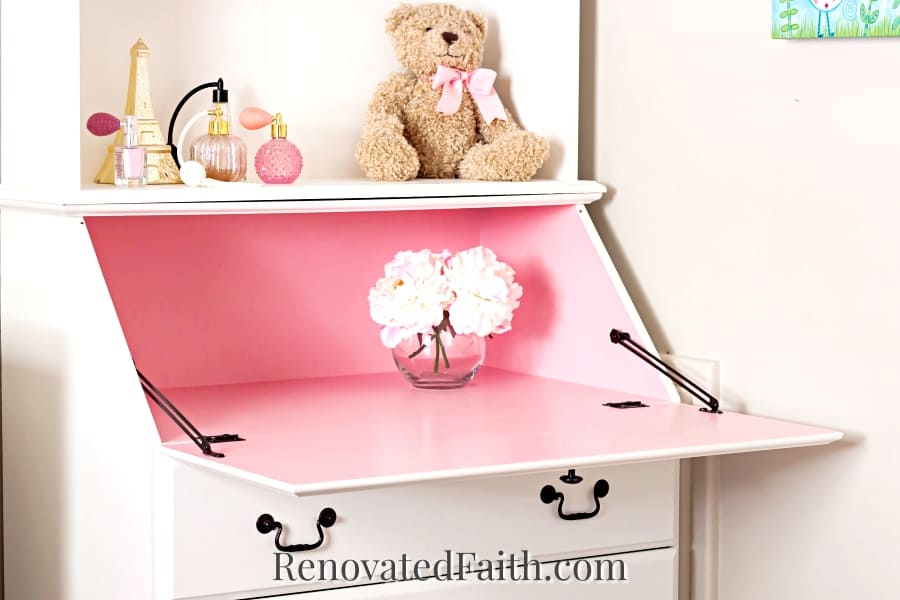 More Painted Laminate Furniture Makeovers From Renovated Faith
This white laminate console table was so much fun to refinish in my faux raw wood finish. It's hard to believe that the finish is only glaze and latex paint. I'm so happy with how it turned out and it's one of my favorite transformations to date!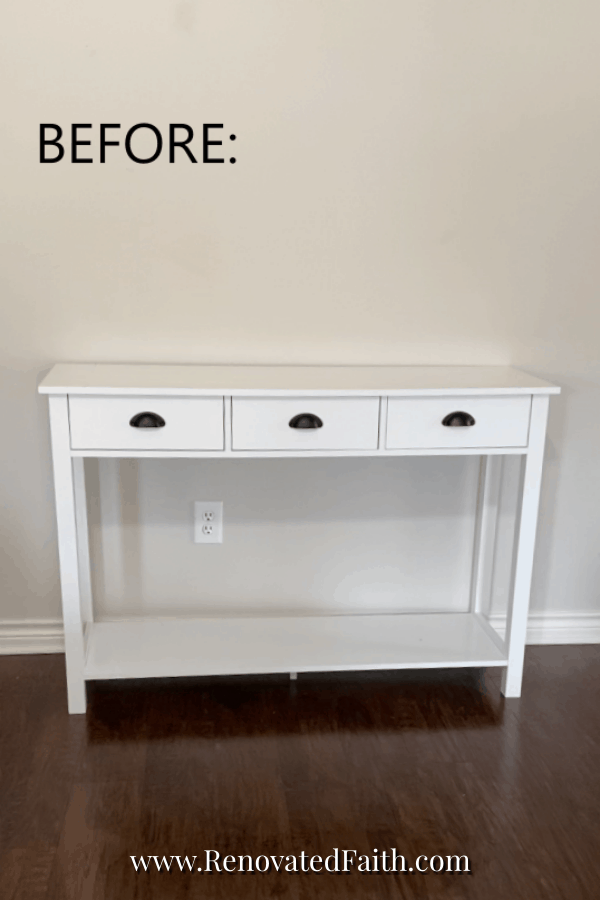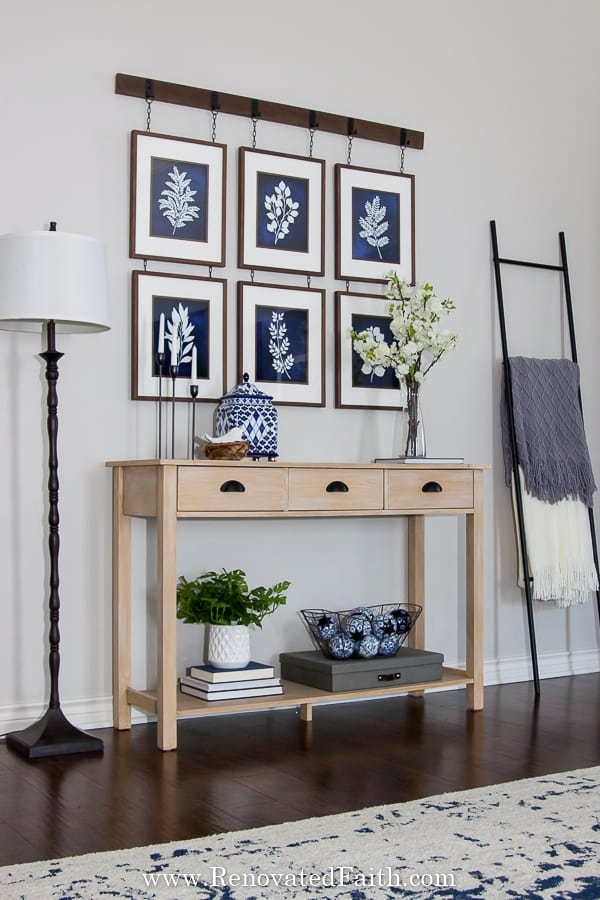 I also refinished this IKEA desk to be the vertical towers of my desk made out of a door. You can see the full process here: DIY Desk Made From A Door (IKEA Klimpen Hack)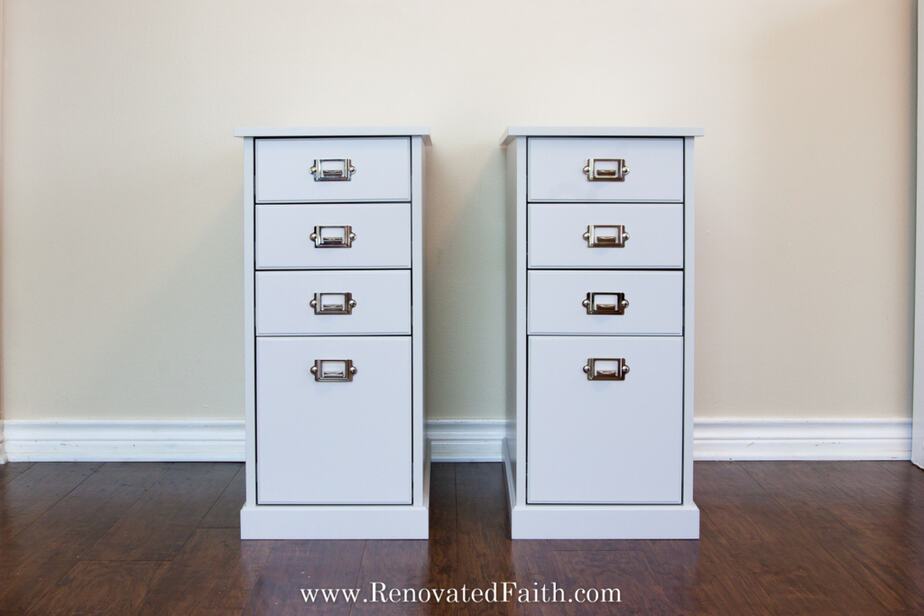 My media center is actually two laminate bookcases combined with a dresser I found on clearance. I painted the espresso-colored bookcases the same white as the dresser. Then, I added beadboard wallpaper to the back panel to make them look higher end. I wanted them to have a little color so I painted the back panels in Sonata Blue by Behr. You can see the media center transformation here and how to add beadboard wallpaper to furniture here.
RENOVATE YOUR FAITH: The Blessings of Trusting God's Direction
As I write this post, there's a teal sticky note on the side of my monitor that says "Pray First." That's because I'm a DIYer in every facet of my life, even in my relationship with God. But that's not necessarily a good thing…
In Jan Johnson's book "When The Soul Listens", she says that so often we look at the Christian life as a car ride where we are in the driver's seat and the Lord is in the passenger seat giving us directions. Except, we want a full-blown map and detailed instructions before the car starts. We want to know exactly where our lives are headed and when we will get there.
But instead, Jan says that Jesus takes the map and tears it up saying, "Don't worry. I will show you exactly where to go one turn at a time."
I don't know about you but I like to have all of my travel details in hand so I know where I'm headed, but God has a better plan. He wants us to rely on Him each step of the way as He gives us one step at a time right when we need it.'
The same thing happened in Genesis 12 where God told Abraham, "to go to the place where He shows Him." God doesn't give Him the final destination but promises that He will lead Abraham along the way.
Proverbs 16:9 says, "The heart of man plans his way, but the Lord establishes his steps."
As hard as it is, we have to trust that God is MORE than capable of directing our path and giving us the right direction at the perfect time. He has total control and we need to let Him lead instead of wasting our time and energy on lesser pursuits. He loves us too much to give us less than His best.
Imagine the Creator of the universe who is simultaneously omnipotent, omnipresent, and omniscient kneeling down to you to say "(Your name here), I'm never too busy for you and even your most fleeting thoughts are precious to me. Trust that I know the plans I have for you, not plans to harm you but to give you hope and a future."
Doesn't that sound amazing?!?
I so often want to call the shots and do things on my own but I would be silly to trade the direction of an all-knowing, all-powerful God in exchange for my short-sighted efforts in the wrong direction.
God is more than capable of giving us the help and direction we need in every facet of our lives. We just have to trust Him knowing we are created to abide in Him. Inventing our own plans will only delay the amazing blessings He has in store for us.
For more spiritual encouragement, click here for the rest of my project posts that also include Renovate Your Faith devotionals.
Here is the side by side comparison of the desk:
Now I have a beautiful piece of furniture that no one would ever guess is laminate!
It works so well in Morgan's room. Secretary desks are such a perfect addition to any kid's room because they don't take up much space but are essentially a bookshelf, desk and small dresser in one!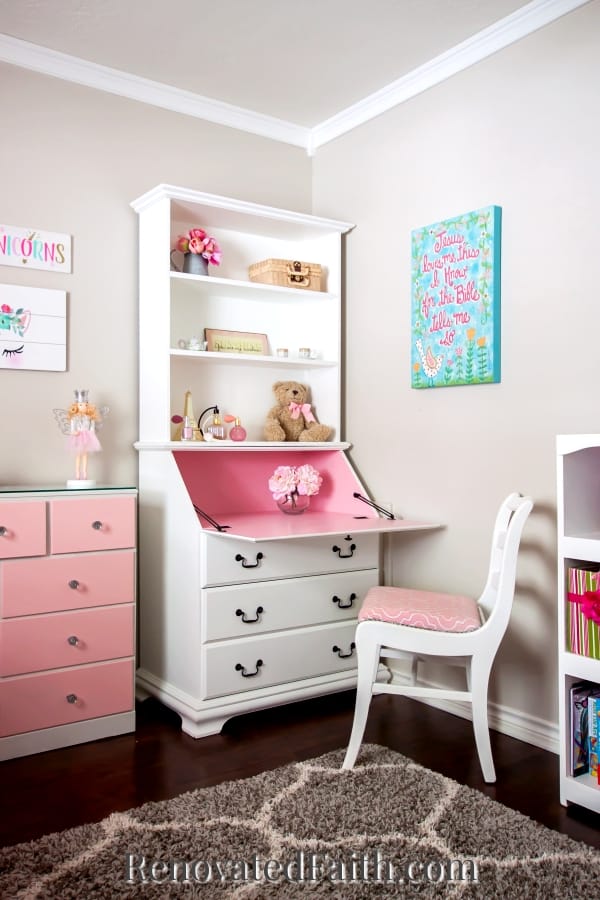 You can also check out my post How to Paint IKEA furniture for more tips and tricks!
FREE Must-Have Painting Tips For Furniture
Here's where you can get my best tips for painting furniture that will save you time, money and ensure a beautiful finish every time.   Get the password for the library with all of my free printables including wall art, checklists, and templates by filling out this form:
FAQ's on Painting Laminate Wood
How to Paint Laminate Cabinets
You can use the same process aove to paint laminate cabinets. Just make sure you put a thick coat of the Cover Stain on before painting because the last thing you want is peeling laminate cabinets.
How To Paint Laminate Furniture White
Painting furniture white can be more time-consuming because it takes more coats of paint to get coverage because white has the least amount of pigment. If you want some tips and tricks on making the process go faster, see this post: How To Paint Furniture White
How to Distress Laminate Furniture
Normally you would distress furniture by sanding edges down to the original wood but since there is no solid wood under laminate, I recommend using paint to get the look of distressed edges. Here is a great tutorial: How To Distress Furniture With Paint
How to Paint Laminate Furniture with Chalk Paint
I'm not a fan of chalk paint because on too many problems I've seen a much smoother and durable finish with latex paint. Here's why: Why I don't Use Chalk Paint on Furniture If you really want to chalk paint laminate furniture, just follow this tutorial until the step where you start to paint and use chalk paint for that portion. You will have to of course use wax or you can use one of these clear coats: Easier Clear Coat Options For Chalk Paint.
Did you know you can also use milk paint on laminate? Again, just follow this tutorial up until the point you paint. Unfortunately, one of the pros of milk paint is that it creates a really cool vintage effect when it soaks into the grains of solid wood. So, you won't get that with laminate but you can still get a beautiful look with milk paint.
How to Paint Laminate Furniture with Spray Paint
You can use a spray gun and even spray paint on laminate furniture. If you go with spray paint, I would only reserve that for smaller pieces like a small chair or stool because the cost of spray paint can get pretty high. Be sure to check out my free printable spray painting tips here to get a gorgeous finish. If you go with spray paint, you can also youse a spray-on primer. Zinsser Cover Stain also comes in a spray which you can find here: Cover Stain Spray Primer
How Do I Paint An Intricate Design On Top of Laminated Wood
If you want to paint a detailed design on laminate, you have two options. One is to follow the directions above and go over your painted surface with a brush or stencil. The other is paint on the laminate with a tinted primer. Most home improvement stores including Lowe's and Home Depot will tint Cover Stain for you if you buy it there. Pick out a paint sample and they can usually get pretty close. So you don't mess up your design, here's how to stencil on wood flawlessly: How To Stencil On Wood Without Paint Bleed
Related Posts to How To Paint Laminate Furniture
Why I Don't Use Chalk Paint On Furniture Projects
The Easy Way to Paint IKEA Furniture
How to Paint Furniture (A Beginner's Guide)
The Easiest Way to Paint Furniture White
How to Paint Laminate Furniture, YouTube Video
Final Thoughts on How to Paint Laminate Furniture
With this tutorial, I show you exactly how to paint laminate furniture so it looks like solid wood. If you don't want a solid color, I also included several options for faux stains. Each one will mimic the look of a true wood grain so you can't tell it's not the real thing. Now you have plenty of options when painting laminate furniture. Not only will your furniture piece be stunning, but you can be confident it will last for years to come!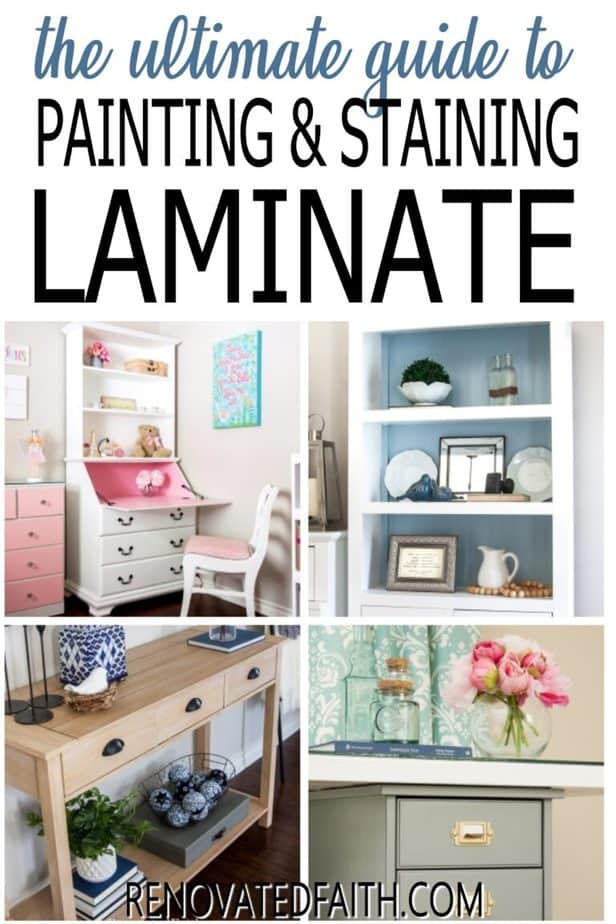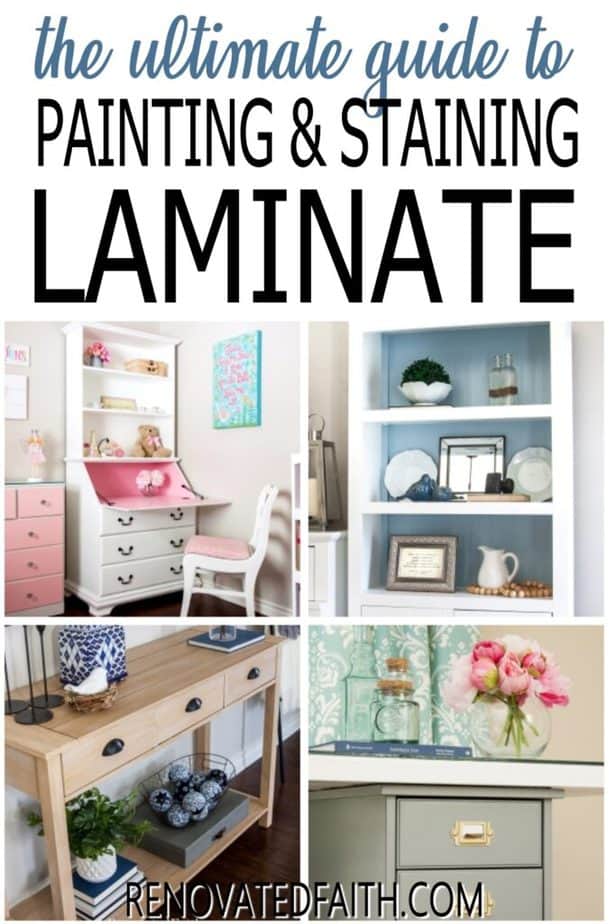 Blessings,

Be sure to follow the fun here!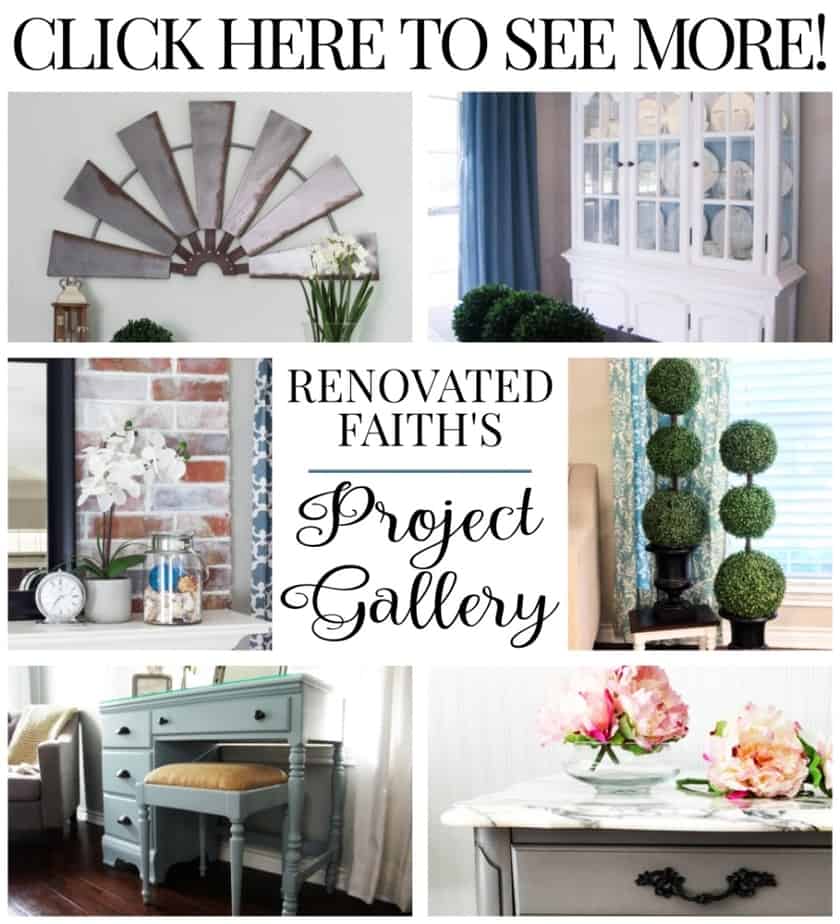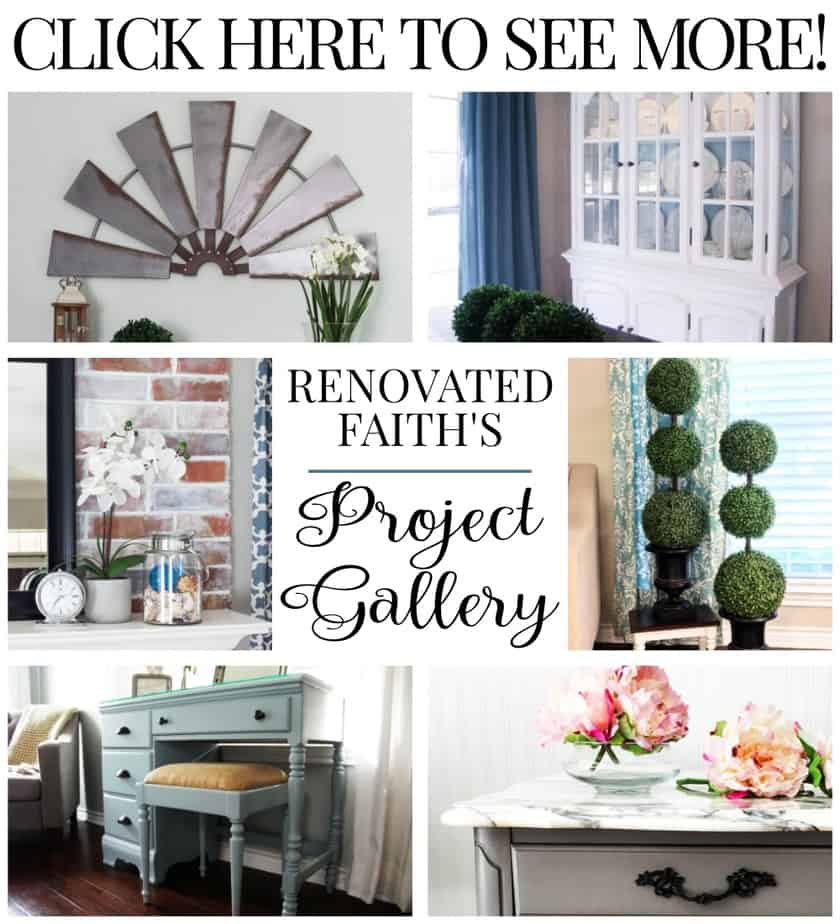 Best Tips for Painting Laminate Furniture
Welcome to Renovated Faith, where I share about DIY projects, my faith and everything in between! When I'm not spending time with my family, you will find me redoing furniture in the garage or watering plants in my greenhouse. This blog is about transformation. Anyone can renovate a house but only God can transform our hearts!