How to Paint IKEA Laminate Furniture So It NEVER Peels! (2023)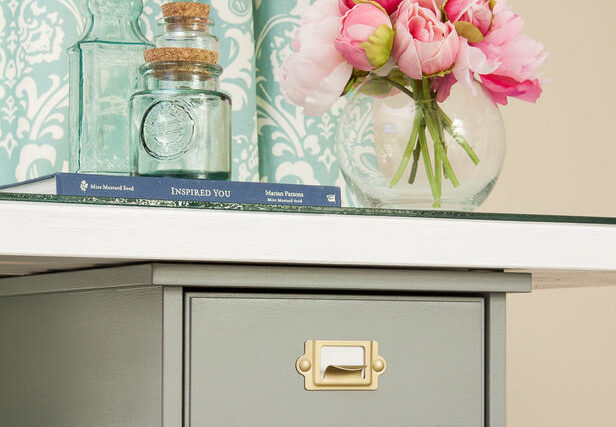 A Beginner's Guide to Painting IKEA Furniture
Even the best IKEA hack can be ruined by a peeling paint job! I'll show you how to paint IKEA laminate furniture so it lasts & looks amazing!
---
Peeling paint, dried-on drips, and roller marks are not the hallmarks of a high-end furniture piece. Unfortunately, most professionally-finished furniture pieces also come with a very professional price tag.
IKEA hacks allow you to have your own unique furniture creation at a fraction of the price.
HOWEVER, if you don't paint your IKEA furniture the right way, you could be left with a peeling mess that will be on your front curb by morning.
If this is your first time painting IKEA furniture, this blog post, and video tutorial will show you how to get a finish that looks sprayed on as well as the right products to use you ensure your finish is durable for years to come! Follow this step-by-step tutorial where I paint my IKEA Klimpen towers to make a DIY Desk From A Door.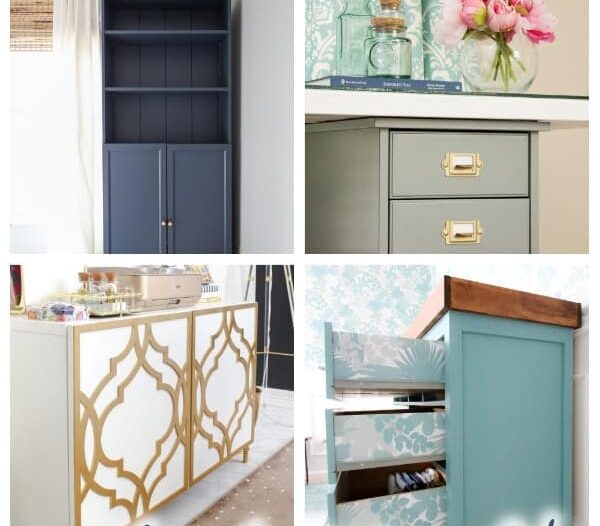 2 YEAR UPDATE ON HOW THE PAINT FINISH HAS HELD UP:
We got a new puppy a few months ago. As I was sitting at my desk, she jumped and put her front paws down the side of my desk. I heard her sharp little puppy nails slide down the front of the drawers and I cringed.
I was sure I'd see scratch marks all down the front but, to my surprise, there was not one scratch or mark on the surface. If a furniture piece can stand up to puppy nails, it can handle anything and my desk looks as good as the day I first painted it.
This post is great for you if you:
Want to ensure your IKEA hack looks like high-end furniture with a professional finish
Don't want your furniture damaged by everyday wear and tear
Don't want your IKEA furniture to look like it came from IKEA
Want amazing examples of IKEA makeovers that show how a fresh coat of paint can make a huge difference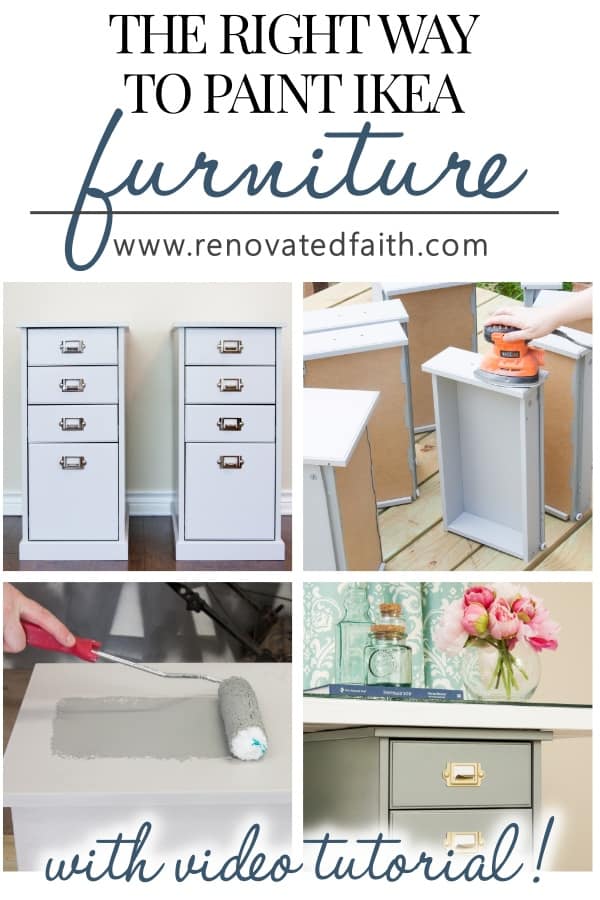 (As an Amazon affiliate I earn from qualifying purchases. I only use affiliate links for products I use and love. Please see my full disclosure HERE).
Can IKEA Laminate Furniture Be Painted?
Any piece of IKEA or laminate furniture can be painted easily! You just have to prep the surface properly and I'm going to show you how easy it is to do that so you have a durable finish that lasts for years to come.
Can IKEA Furniture Be Stained?
IKEA furniture can't be stained in the traditional sense because it isn't a porous surface. HOWEVER, this post will show you a way to use paint to create a faux stain and several shades to choose from: How to Paint Laminate Furniture to Look Like Wood
Do I Need to Prime IKEA Furniture Before Painting?
Yes, you do need to prime IKEA furniture before painting but you really need to prime all furniture before painting to ensure it doesn't peel and you have to repeat the process all over again!
Priming does not add any extra work to your project because it will replace one coat of paint. Also, primer is cheaper than paint so by priming you are actually saving money!
What Happens If You Don't Prime IKEA Furniture?
Because laminate is so slick, paint doesn't adhere to it nearly as well as wood. If you don't take some extra precautions, your paint will just peel away like the picture below.
Below is a laminated desk painted in latex paint without primer. As soon as it dried, the surface started peeling away!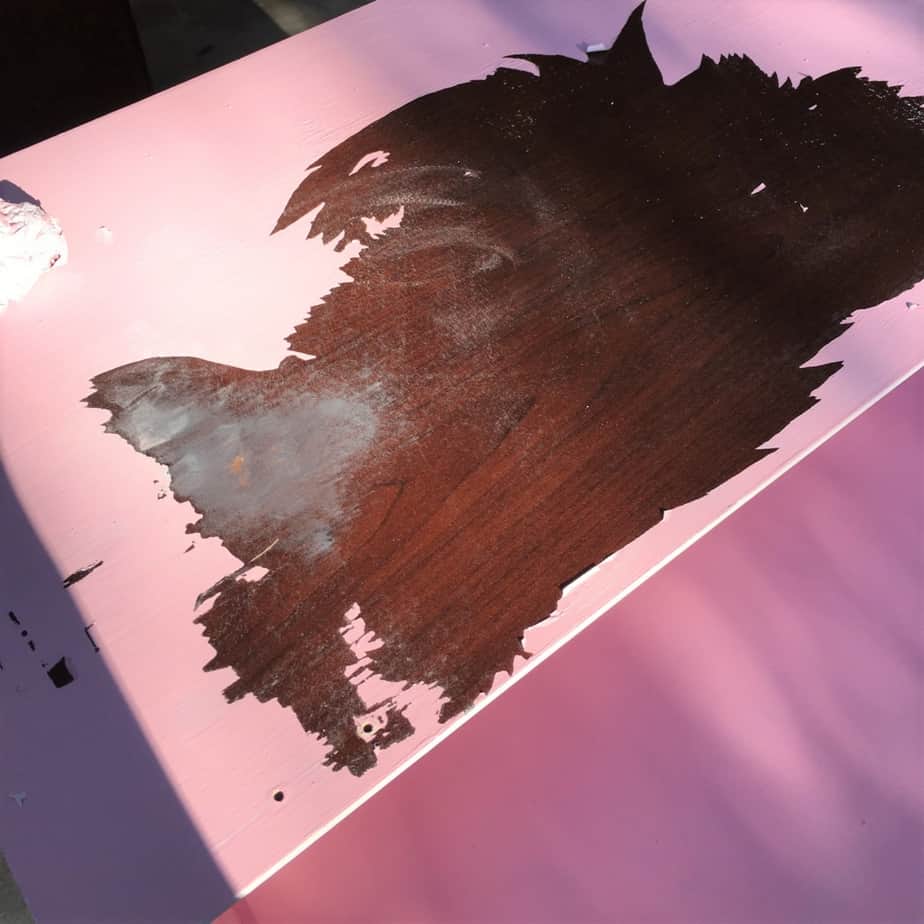 How to Refinish IKEA Furniture with Paint
Painting laminate furniture is no harder than painting wood furniture! But first, let's talk about what laminate furniture really is.
What is IKEA furniture made of?
IKEA furniture is mostly pine chipboard or particle board with a plastic veneer glued to the surface. The plastic veneer is actually paper that is textured and painted by the manufacturer. Then a clear plastic coating is sprayed on top to make it hard. The laminate surface helps to keep water or moisture away from the wood because particleboard furniture swells easily when it gets wet.
How to Paint IKEA Laminate Furniture – Supplies:
The Best Paint for IKEA Furniture
The absolute best paint for IKEA furniture is Benjamin Moore Advance. You will get the best results long-term and a gorgeous finish without brush marks. You can see how I tested it and 23 other paints here: The Best Paint for Furniture (24 Brands Blind-Tested and Reviewed)
Can You Paint Straight onto IKEA Furniture?
Again, even with the best paint, don't forget to use a primer. Primer and paint have two different functions. Primer sticks to things and paint sticks to primer. In my opinion, the best primer for IKEA furniture is Zinnser Cover Stain.
The Easiest Way to Paint IKEA Furniture
WANT TO SAVE THIS FOR LATER? CLICK HERE TO SAVE THIS PIN TO YOUR FAVORITE PINTEREST BOARD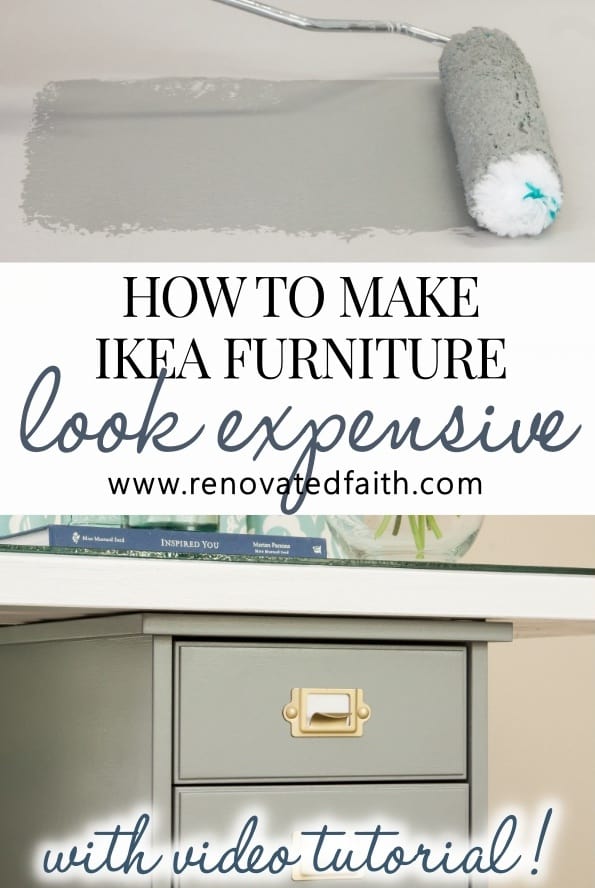 Should I Paint IKEA Furniture Before or After Assembly?
People have different opinions on this but I'm a proponent of refinishing (sanding, priming, painting) your furniture piece AFTER you assemble this for several reasons.
Some say it's better to paint beforehand as you don't have to worry about painting in corners but by doing this, several other issues come up:
For one thing, the primer/paint takes several days to cure or come to its full hardness. What if while assembling your IKEA Billy bookcases you accidentally scratch one piece with a corner of another.
Also, if you paint before assembly, you need a space to lay out every piece so it dries. That would take a good-sized room even for these Klimpen drawer units.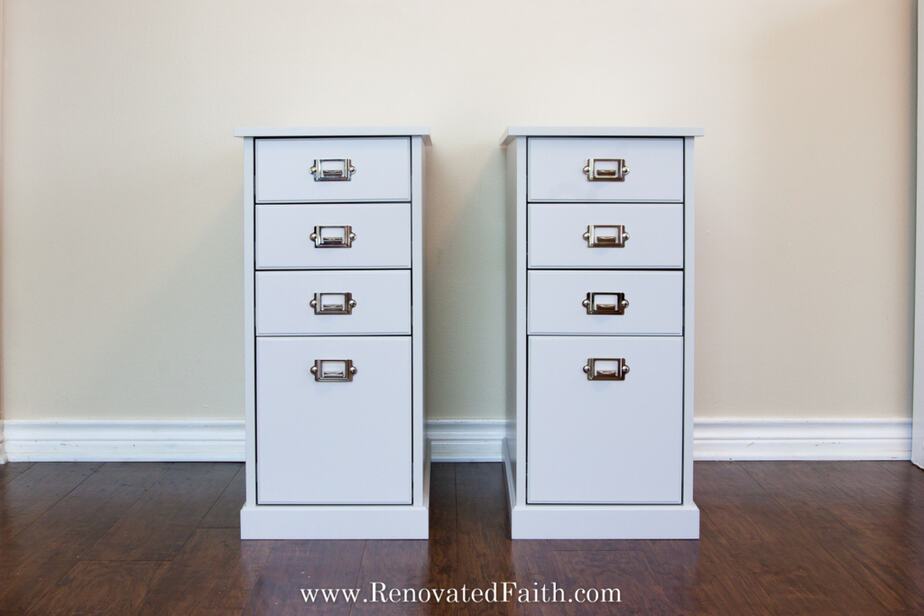 You also don't want to waste time painting pieces that aren't even going to be on the outside of the piece of furniture. Paint after assembly so you aren't painting pars of furniture that will never see the light of day – like the inside of a dresser.
Also, painting after assembly allows you to paint in corners which fills the cracks between furniture pieces, leaving a more consistent, professional finish.
Last, what if you paint the whole piece before assembly only to find you are missing a piece of hardware or a piece breaks during assembly. You can't return it because you already painted it!
The Process: How DO You Paint IKEA Furniture?
Painting laminate furniture is easy with this step-by-step process. You can follow along with the video tutorial to show you exactly what to do. If it doesn't pop up in this post, you can also find it here: How To Paint IKEA Furniture, YouTube Video
Step 1: How to Sand and Paint IKEA Furniture
I know what you are thinking… "Can I paint IKEA furniture without sanding?"
I guess you can….BUT there's a good chance the new paint will peel off in a month or less and you will have to repeat all your hard work over again.
THE GOOD NEWS: When I talk about sanding IKEA furniture, I don't mean you have to sand it so much you sand off the old finish. If there were the case, I would not be blogging about furniture projects, I can tell you that!
When you sand glossy surfaces, you are merely scuffing up the surface so that the paint grabs onto it (as shown in this post on how to sand furniture in less than 5 minutes). In fact, you do not want to sand off the top layer of laminate because you don't want the fiberboard underneath absorbing paint. Instead, give the furniture surface a light sanding to remove any shine from the laminate wood surface.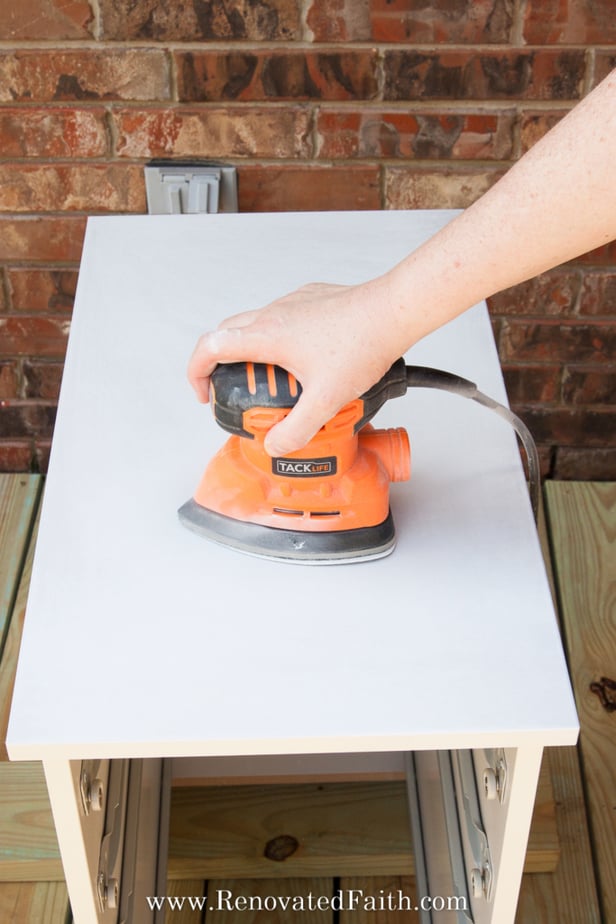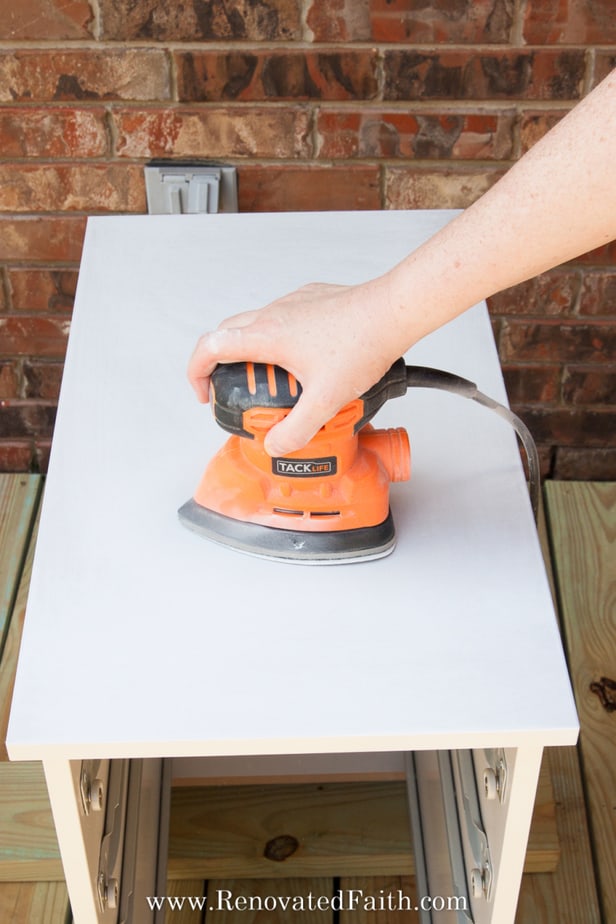 I recommend sanding with an electric sander and you can get one for less than $18 (see the current price here). You will be SO glad you got your own sander for this DIY project and any other furniture makeovers in the future.
As I mentioned in my post How to Sand Furniture in Less Than 5 Minutes, just run the sander across the surface, kind of like ironing. For laminate pieces like my painted IKEA desk, I use a lower grit number of sanding pad (a lower number means a rougher grit), like 60-80 to really rough up the surface.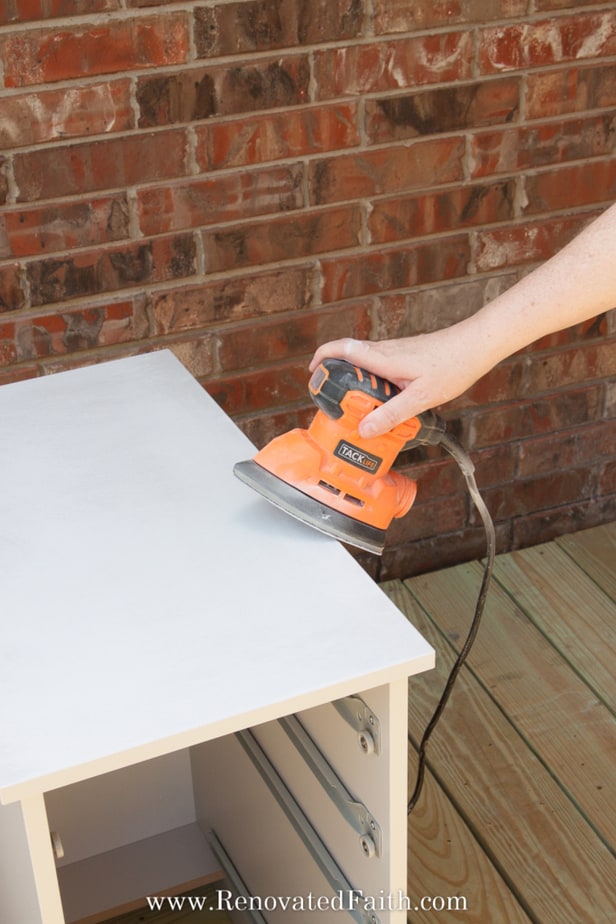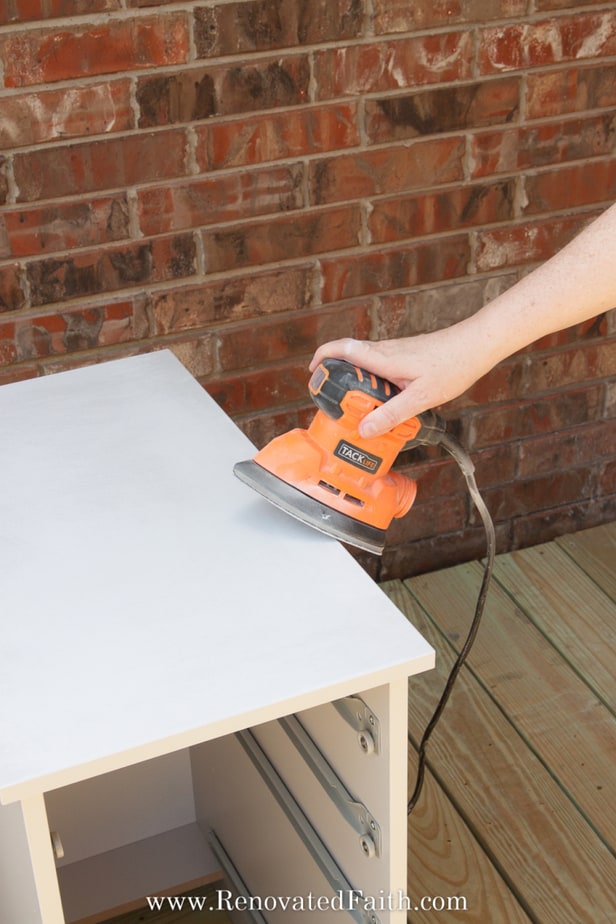 Once you start sanding, you might see little spiral marks on the surface. Don't panic. That is ok and will actually help the paint to stick without interfering with the final surface.
When you have sanded over the whole piece with a rough sanding pad, you can wipe off the dust with a damp rag or tack cloth.
One way to make IKEA furniture look high-end is by sanding the outer edges of your piece slightly. That's because one telltale sign of painted laminate is that it has very sharp corners.
A solid wood piece has slightly rounded corners because it expands some after drying. Yes, it's a subtle difference but it will keep someone from looking twice to wonder if it's painted laminate. So, run your sander up and down each edge, just to slightly round the corners.
Step 2: How to Make IKEA Furniture Look Expensive with the Right Primer
The next step is to prime! Primer is important because it helps your paint stick to the laminate like glue. I like to say that primer sticks to things and things stick to primer.
What is the Best Primer for IKEA Furniture?
Usually, I use a water-based primer but for laminate furniture, I recommend an oil-based primer called Zinnser Cover Stain (see the current price here) for the plastic veneer of IKEA pieces. Although it is oil-based, it doesn't have a strong smell and it has better adhesion than most water-based primers although I hear Stix is a great water-based primer for IKEA furniture.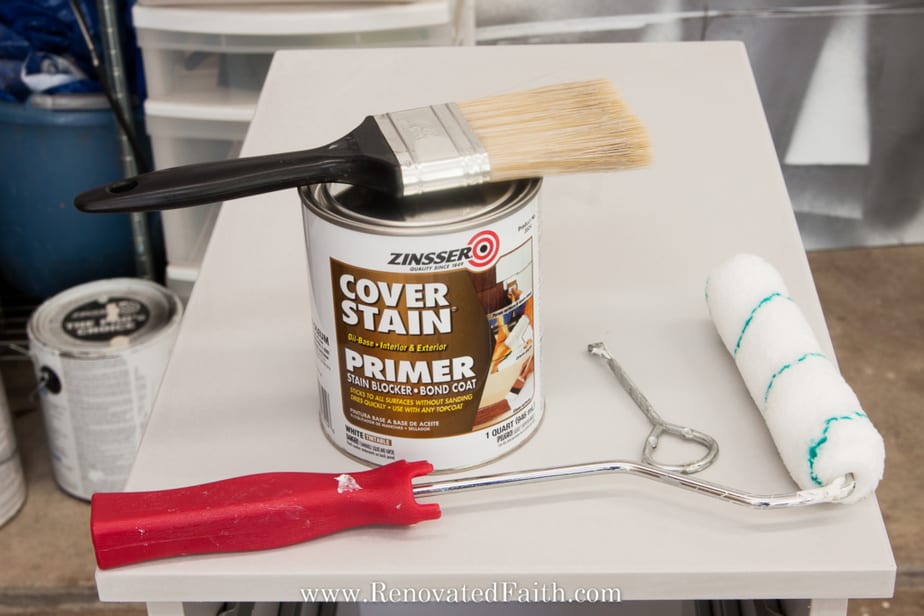 TIME-SAVING TIP! If your paint color is dark, this will save you a step! For dark furniture projects, I like to have my primer tinted. I do this because tinted primer provides better coverage and saves me from an extra coat of paint. If I just went with the primer as-is (white) I'd have to do an extra coat of paint because white is hard to cover. This way, I get the benefits of primer but the coverage of paint with no extra charge.
(If your paint is white or light, don't worry about having your primer tinted.)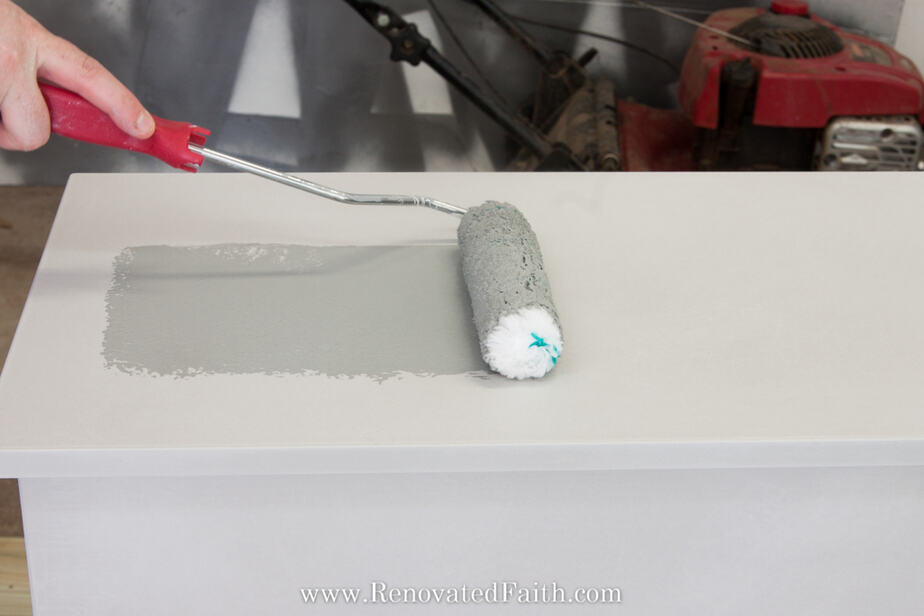 If you go the tinted primer route, pick out a paint swatch that is a little lighter than your paint color. Take it to the paint counter and tell them, "I'd like this primer to be tinted to this color." Then they might say something like "This product might be hard to match to this swatch EXACTLY" to which you will say, "that's fine, I'm just using it as a primer so it doesn't have to match perfectly." Easy peasy!
Paint on your primer with this foam roller for a super smooth finish. It never lets me down! Put on a thick coat so you don't have to put on a second coat of primer.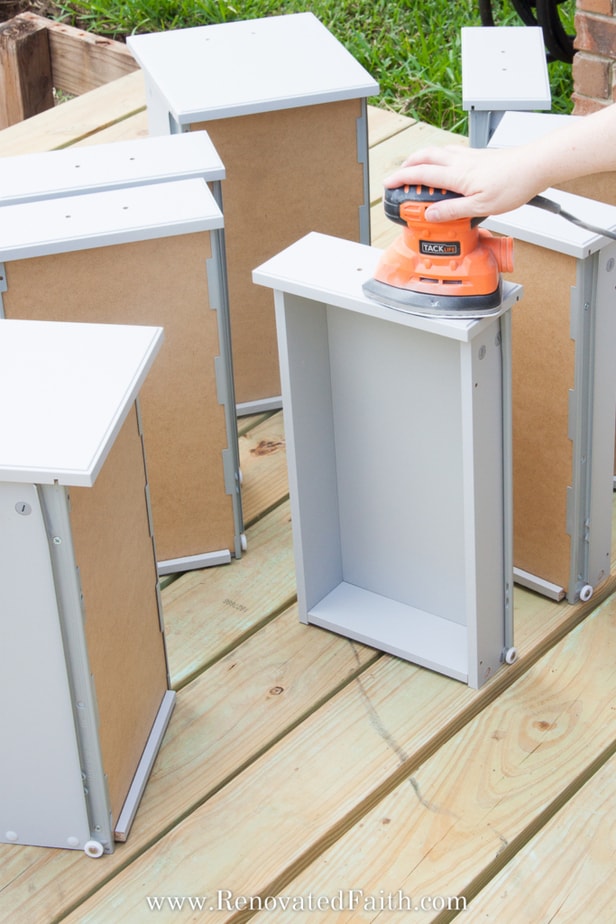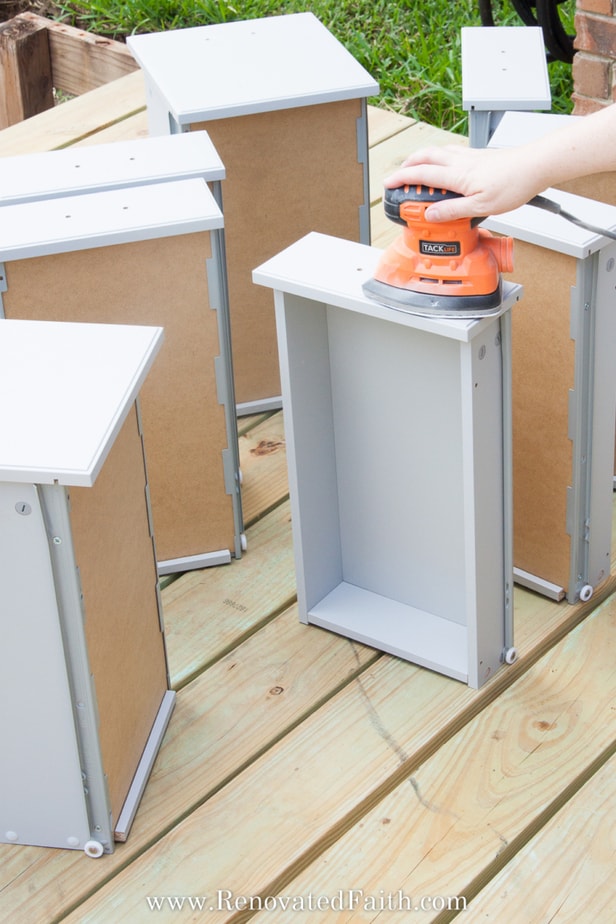 After I put a coat of paint or primer on a furniture piece, I like to go back and check for drips and smooth out any before they dry.
If you don't have total coverage (if it looks a little streaky) that's fine, you'll get full coverage with your paint. Let the primer dry for 2-3 hours.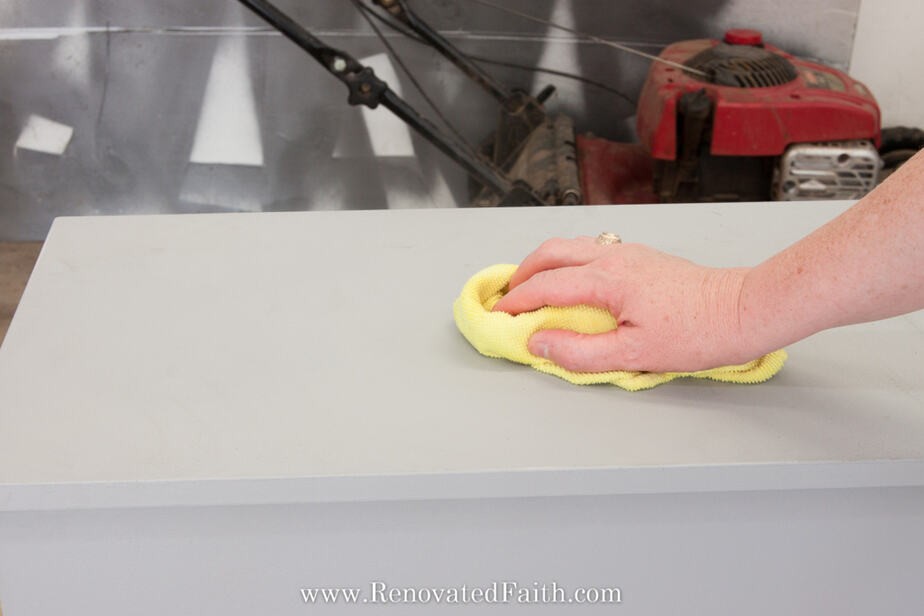 Step 3: How to Paint IKEA Laminate Furniture
After you complete step 2, it's time to paint! Use your paint roller again to roll on your choice of paint color working in long vertical strokes like in the video. I like to go over the edges first thing and then do the middle of each side. After you have painted your furniture piece, give each side a good look to catch any drips.
PRO TIP: If you want a super smooth finish, you can give your furniture piece's flat surfaces a light sand after the first coat of paint but this time with a fine-grit sanding pad (200-300) or fine grit sanding sponge. This extra step will even out any minor imperfections giving your final coat a sprayed-on finish. Wipe off the surface with a damp cloth before the final coat of paint.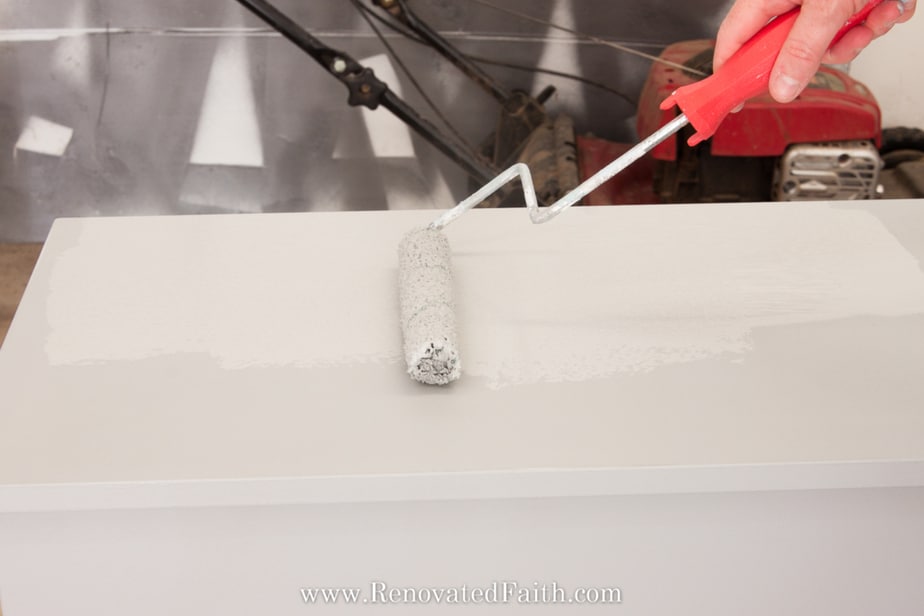 You will probably need a second coat of paint and possibly a third to get good coverage depending on the paint colour. But fortunately, it goes really fast with the foam roller.
To make the process go faster, you can check out my printable guide to my best painting tips for furniture from my resource library. Sign up at the bottom of this post to get access.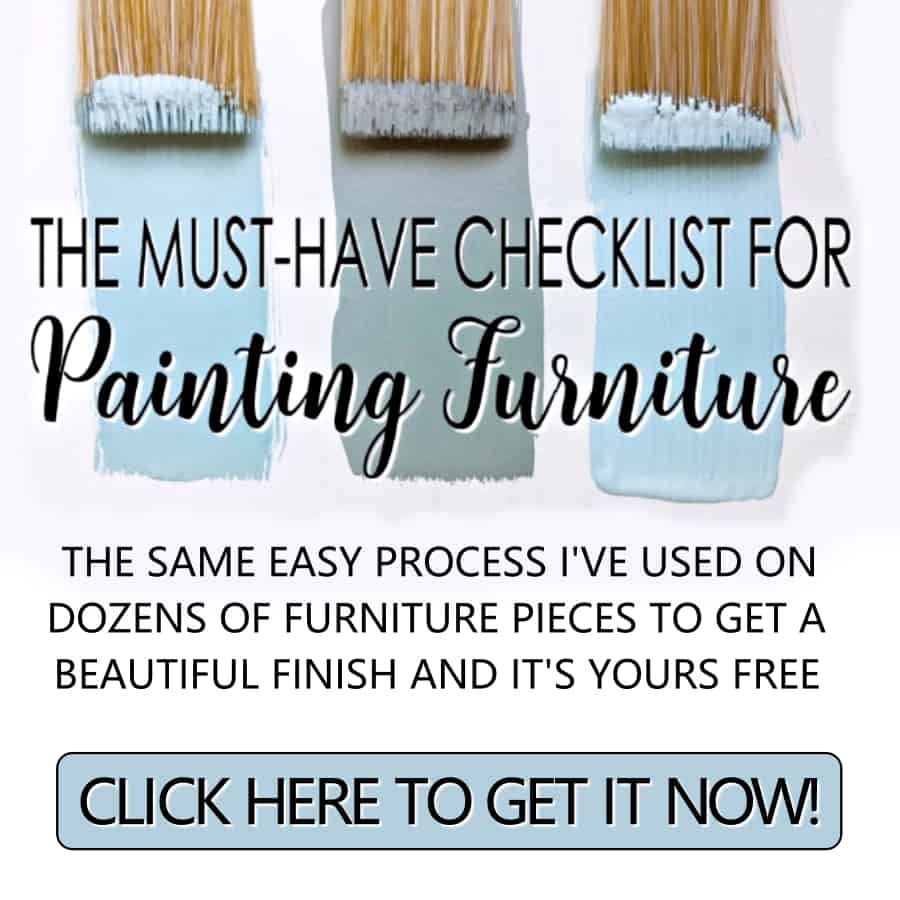 Step 4: How to Make Cheap Furniture Look Expensive with Hardware
A sure giveaway of low-cost furniture is cheap hardware. Sometimes replacing the hardware or just spray painting it can give the whole piece a major facelift!
The chrome hardware on my Klimpen towers looked kind of cheap. I actually looked online for something else but decided I liked the style – just not the finish.
So, I treated them to a coat of my FAVORITE gold spray paint – Rustoleum Universal Metallics Pure Gold (see the current price here). I like it because it's not a slap-you-in-the-face gold finish. It's subtle and maybe more of a champagne gold that looks really classy on just about anything.
My Best Tips for Spray Painting IKEA Furniture
For my favorite tips and tricks on getting a flawless finish every time with spray paint, click here for your free checklist: Best Tips & Tricks for Spray Painting Anything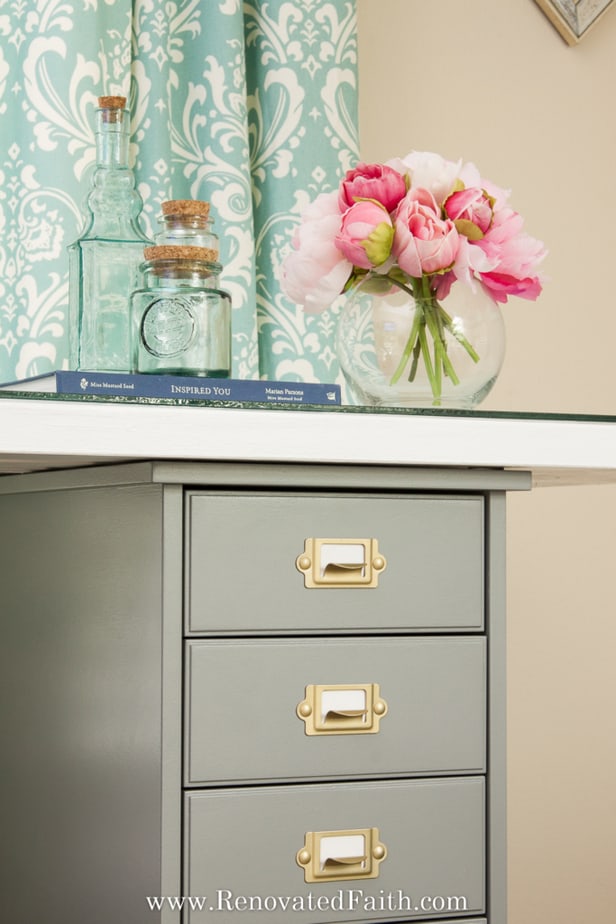 Step 5: How to Make IKEA Furniture Last Longer with a Clear Coat
If you want to make your painted IKEA furniture extremely durable and waterproof, you can add a clear coat after the last coat of paint has dried. Although this is an optional step, it's probably a smart move if you are refinishing a piece that will get a lot of use, is in a high traffic area or cold glasses will be set on it.
Just paint on the clear coat in thin coats with a foam brush and you can follow the directions on the can. In my post The Best Top Coats for Furniture, I recommend Varathane's Water-Proof Clear Coat because it held up best against water rings from glasses and went on the smoothest.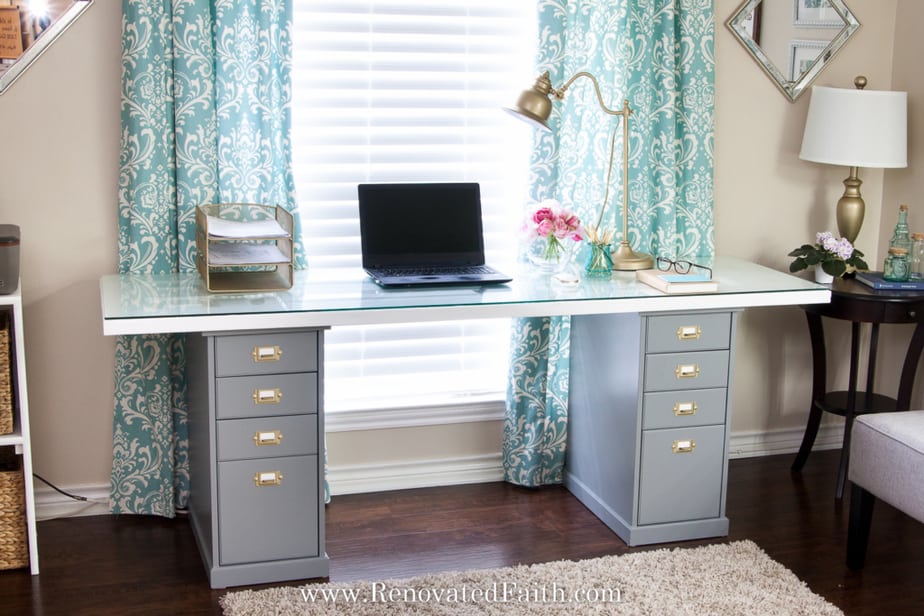 Here's how one of the Klimpen drawer units turned out! To see my full craft desk, you can see the reveal here: DIY Craft Table (IKEA Klimpen Hack).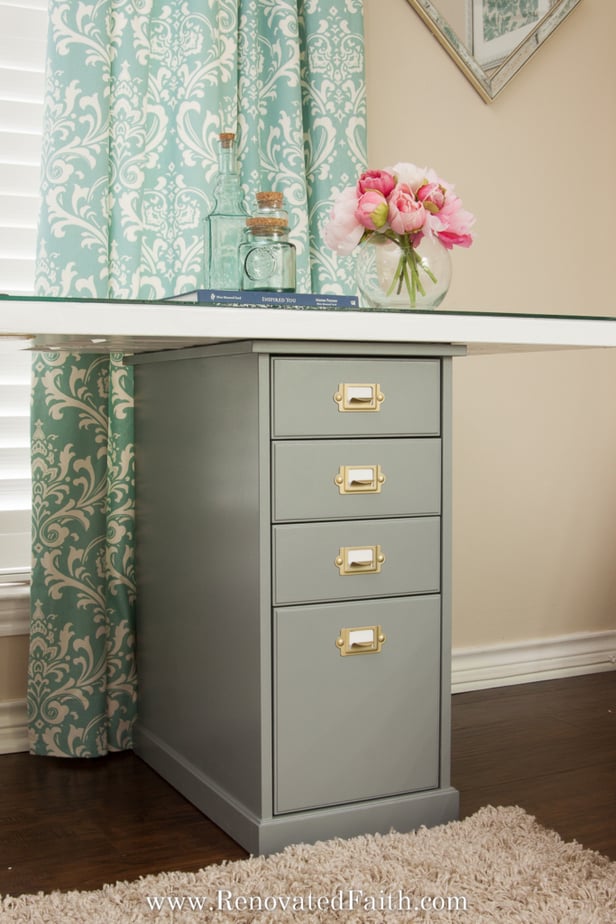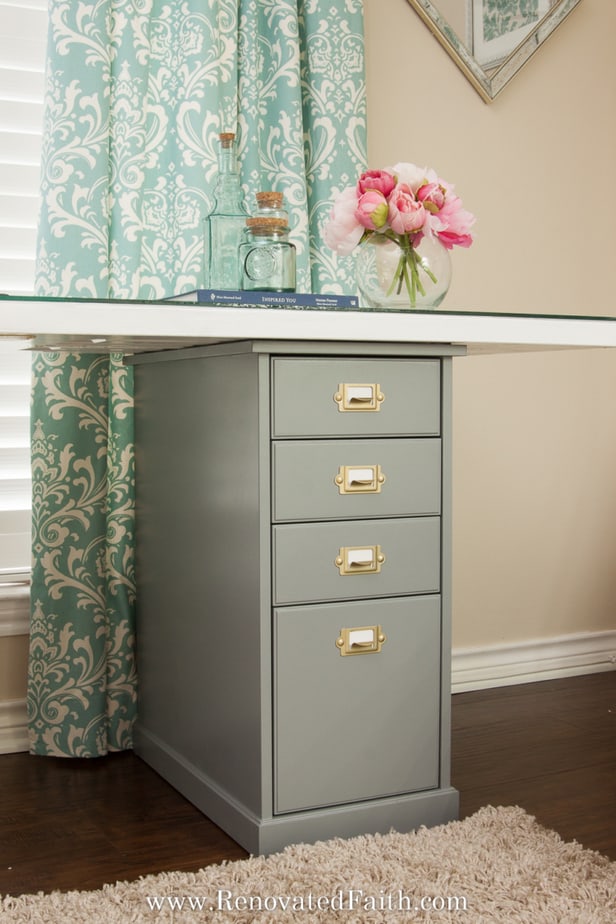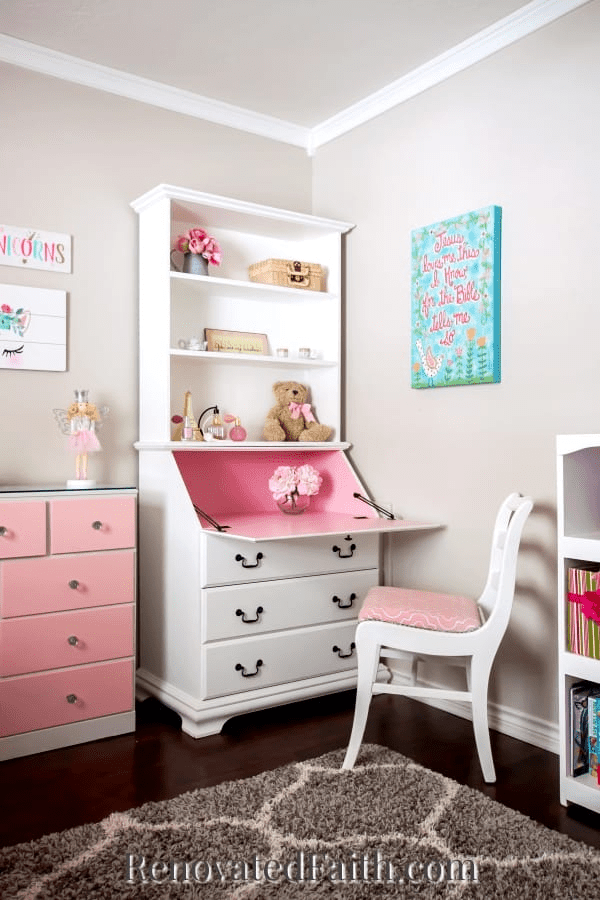 How to Paint Laminate Furniture to Look Like Wood
Did you know you can make any surface (even laminate!) look like wood? Be sure to check out this post with several faux stain options to choose from: How to Paint Laminate Furniture To Look Like Wood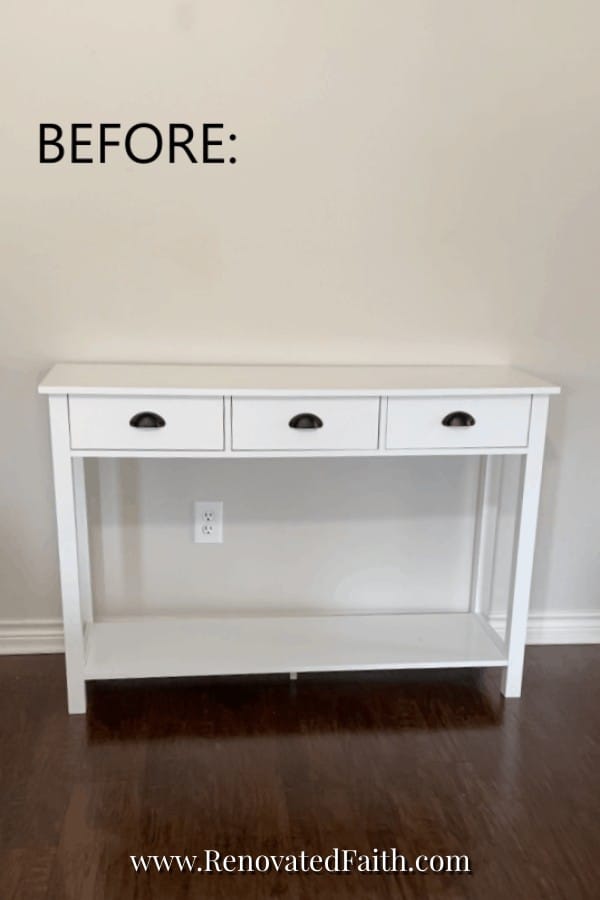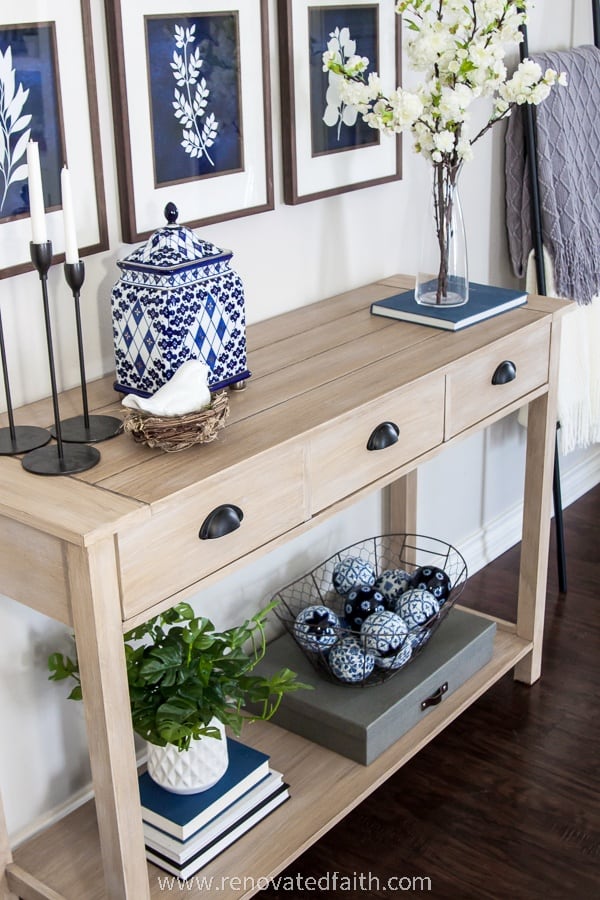 Two-Tone Laminate Secretary Desk Transformation
I saw this secretary desk on Facebook Marketplace and knew it had serious potential, and thought it would be perfect to re-finish as a desk for my daughter Morgan. I did not realize it was laminate until I saw it in person but that didn't stop me!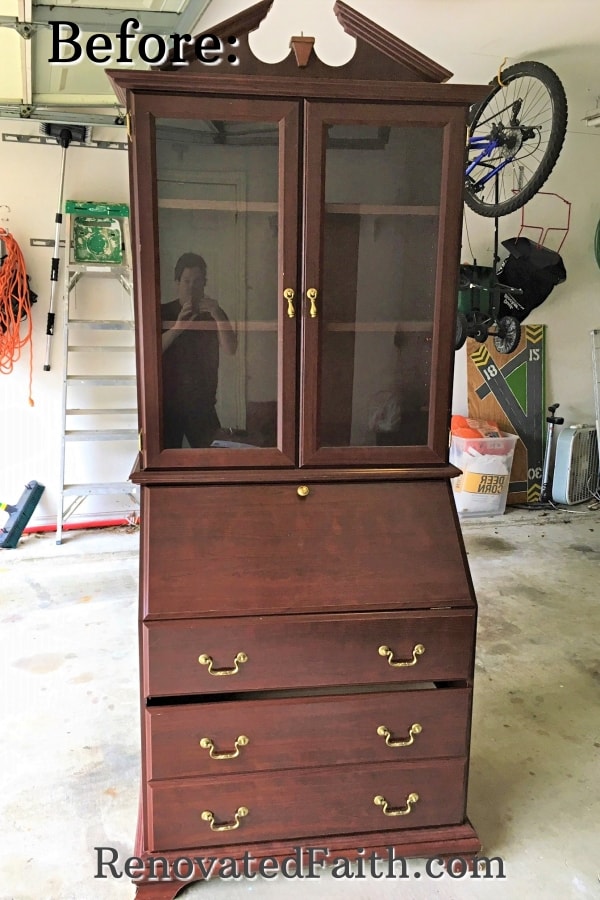 FURNITURE BUYING TIP – The good thing about mistakes is that you learn from them. I had committed to buy this piece before I saw it, not realizing it was laminate. I still probably would have purchased it but I probably paid more than I would have because I could have haggled some based on the fact that it wasn't solid wood. It also had some water damage that I didn't notice. Now I know to never commit to anything until I see it in person. Lesson learned!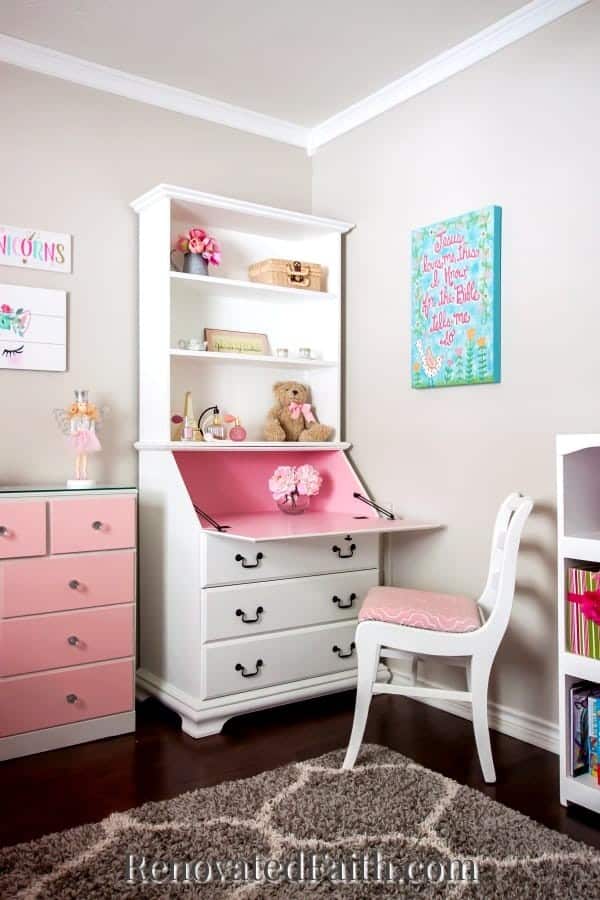 Regardless, the project was a great experiment to see how far you can make laminate furniture look so much better with a little wood filler and paint.
More Ways to Make IKEA Furniture Look Expensive
Accent Drawers with Molding
Nancy from Artsy Chicks Rule does two things I love here to completely transform this IKEA Dresser. For one thing, she isn't afraid of color. No one is thinking "IKEA" when you see that stunning blue that is accented with gold. The addition of the molding gives this dresser a pop of detail and glam! You can see the full tutorial here: Fancy Blue and Gold Chest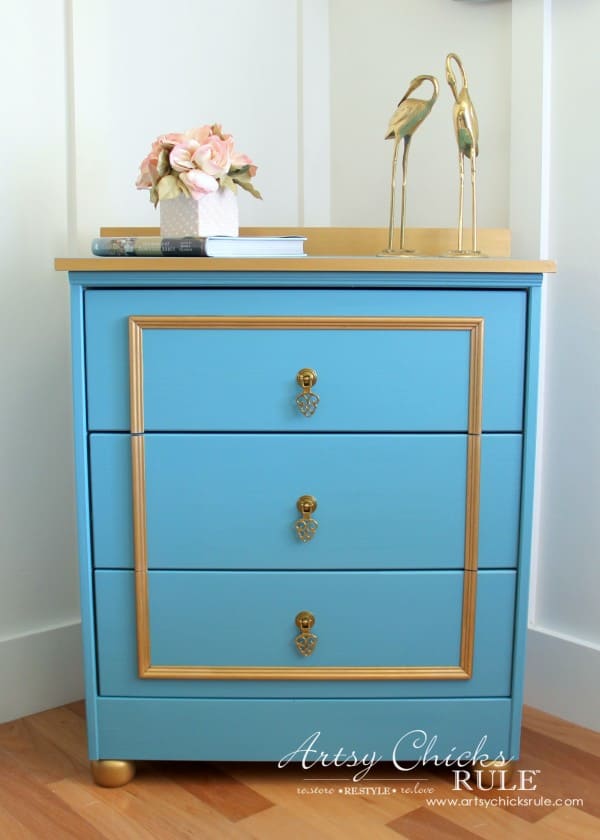 Add Some Fabric on Upcycled IKEA Furniture
Anika never ceases to amaze me with her projects and this one is no exception. She adds lots of texture and character by adding fabric to each door and framing each with molding. You can see the full details here: Textured Fabric Paneled Dresser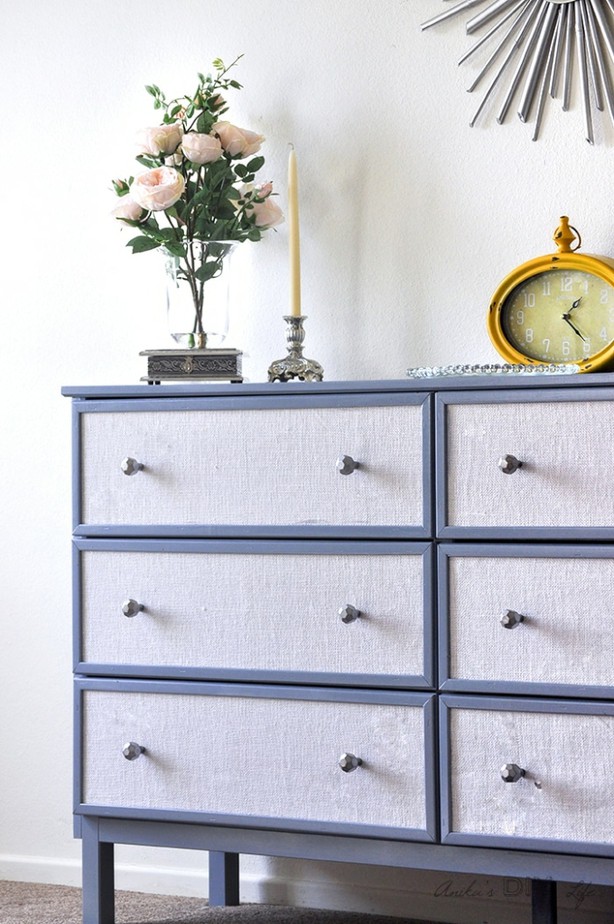 Use Inlays on Glam IKEA Hacks
One of the easiest ways to glam up laminate IKEA furniture is with an inlay like Monica did at Monica Wants It. She knocks this transformation out of the park by adding a gold inlay to the cabinet doors of this IKEA Besta Unit here: Home Office Decor Room Reveal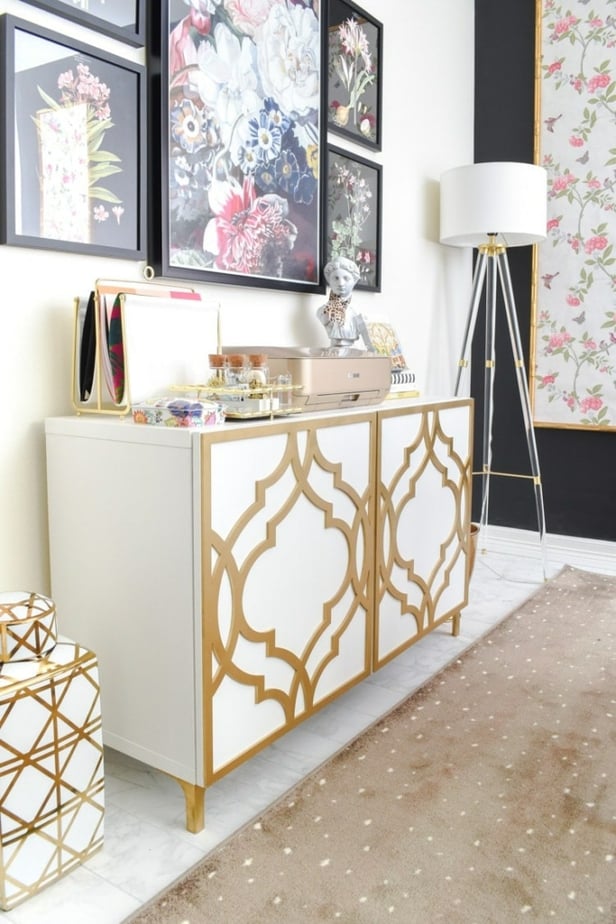 Everything Looks Better with Shiplap
Angela at Angela Marie Made completely transformed this IKEA Billy Bookcase with shiplap on the back panel. I also love that shade of navy! You can see the full painting process here: IKEA Billy Bookcase Hack with Shiplap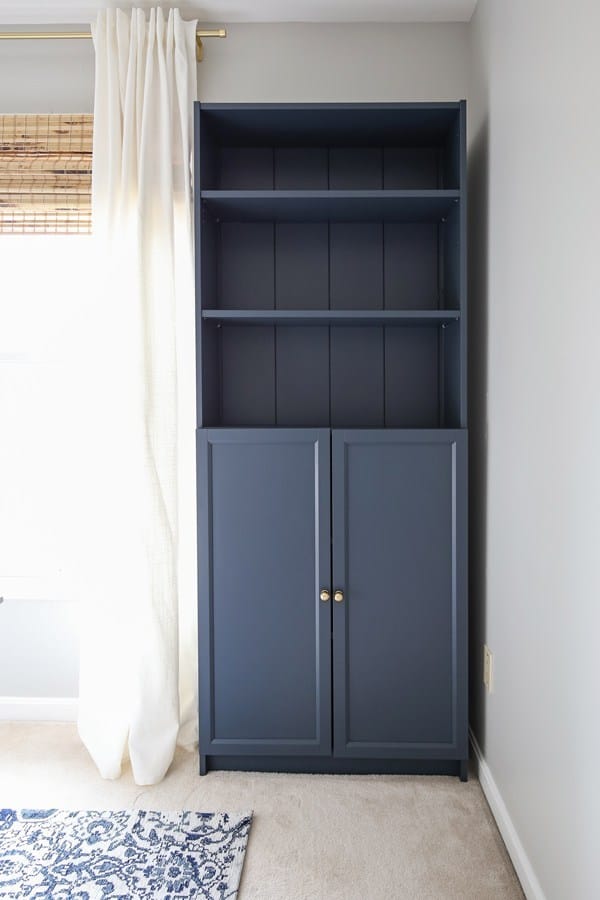 Spruce Up the Sides of Drawers
Morgan and Sean from Charleston Crafted gave this IKEA Hemnes dresser a major facelift by adding new legs, trim, fresh paint, and wallpaper to the sides of the drawers. I love how the wallpaper covers the raw wood and coordinates with their walls! You can see their full post here: IKEA Henmes Dresser Mid Century Modern Hack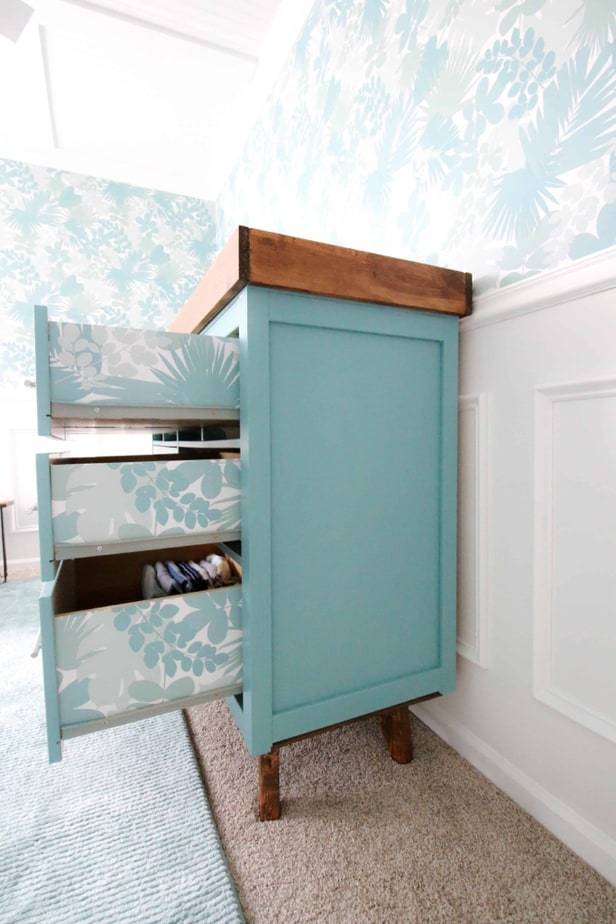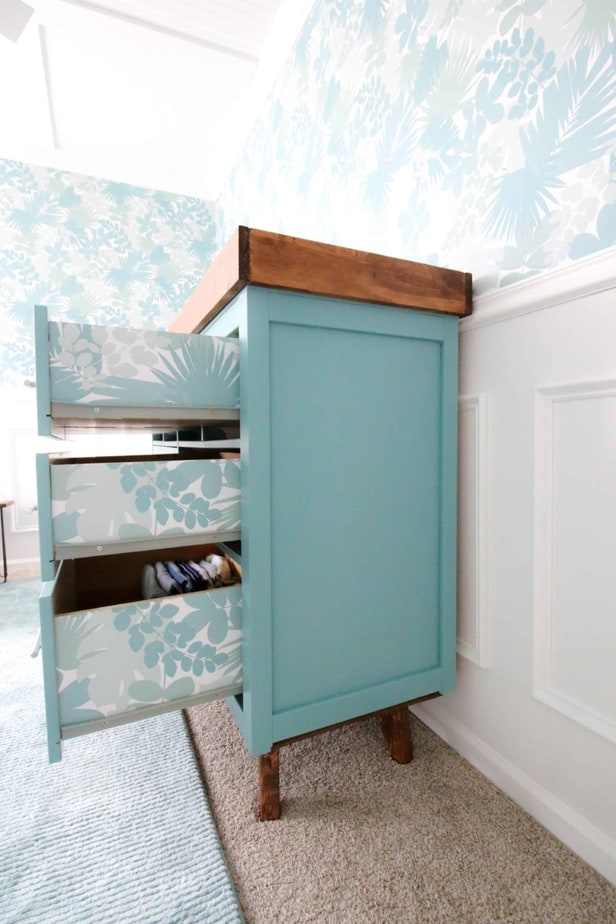 Add New Legs to IKEA Furniture
One easy update for any furniture piece is to add legs. Pick furniture legs that add more style and class to your furniture piece than the basic straight legs that often come with the furniture. Be sure to check out this post on How to Add Legs to Any Furniture Project.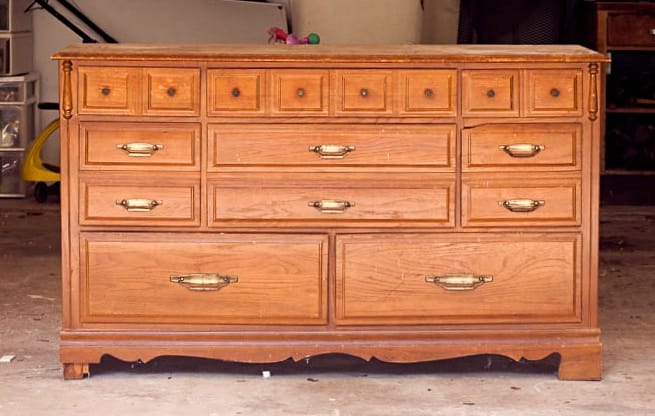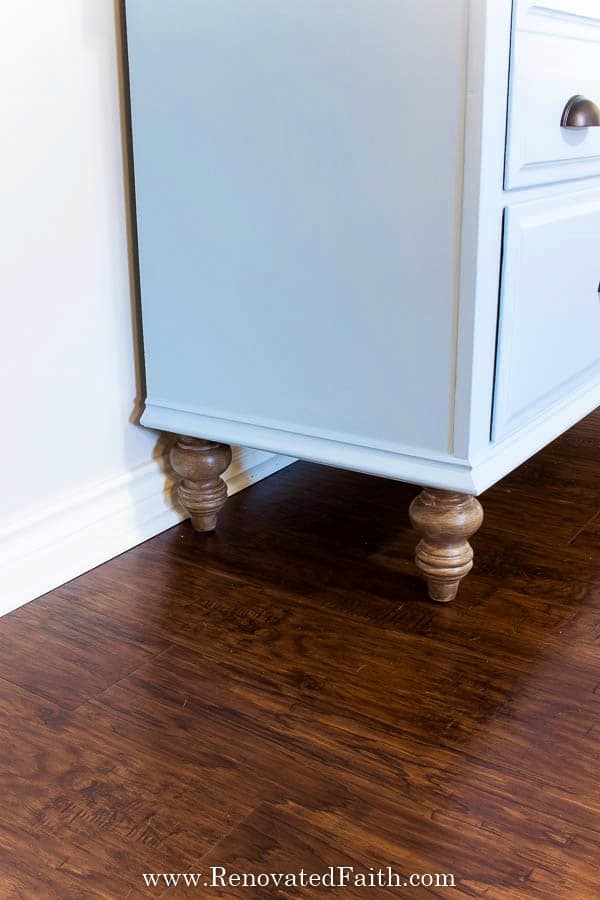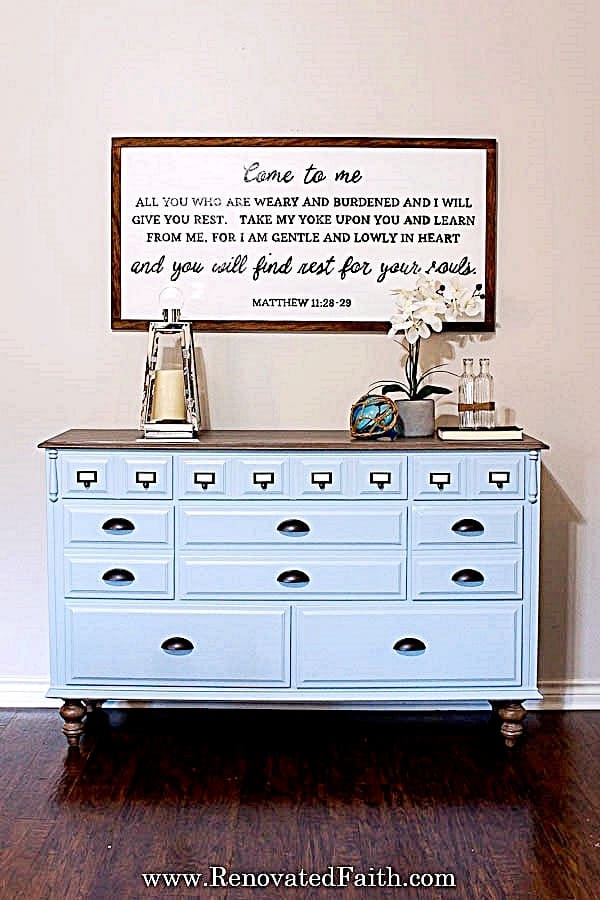 IKEA Makeovers Using Wallpaper
One of my favorite methods for an EASY transformation is beadboard wallpaper. You can see a full tutorial and get some ideas here: How to Add Beadboard Wallpaper to Furniture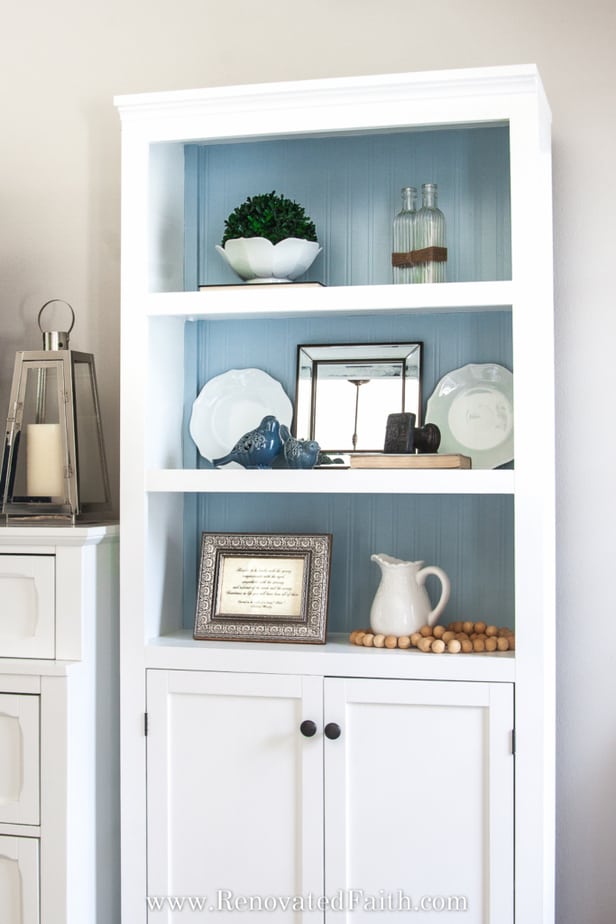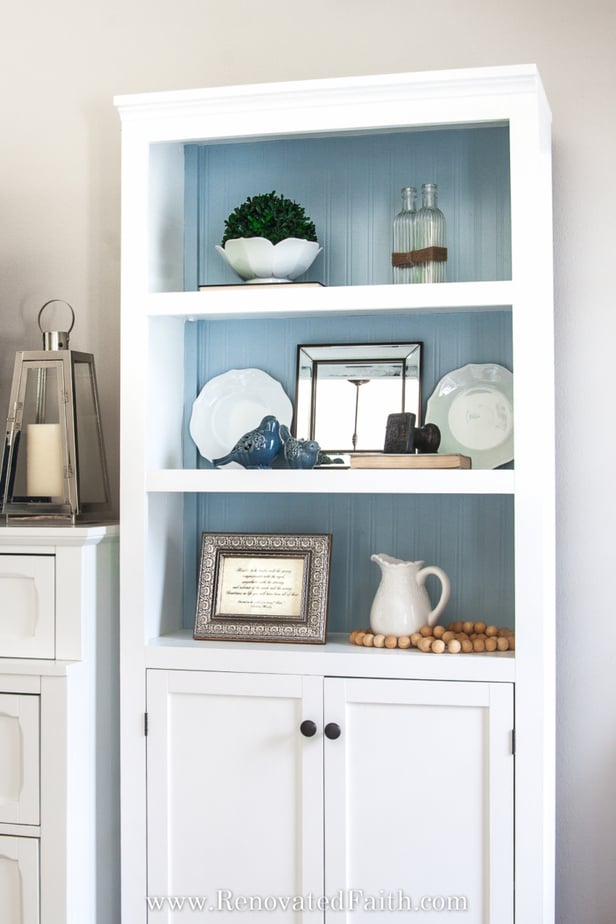 ☑️ My All-Time Best Furniture Painting Tips & Tricks (FREE PRINTABLE)
Don't forget to download the FREE step-by-step printable checklist that shows you the entire process I've used on dozens of furniture pieces while saving you time and money!
Before and After Painting IKEA furniture, YouTube Video
FAQ's on How to Paint IKEA Furniture:
How DO You Paint IKEA Laminate Furniture without Sanding?
One of the most common questions I get is, "Can you paint over IKEA furniture without sanding?" and the answer I give is always the same. As tempting as it can be, don't skip sanding IKEA furniture. Any time you save by not sanding will be wasted later on when you have to completely redo the entire piece because the paint surface is feeling off. Here's my post on How to Sand Furniture in 5 Minutes that walks you through how EASY it is and how much more durable it makes your final finish.
How to Paint IKEA Furniture with Chalk Paint / Can Chalk Paint Be Used On IKEA Furniture?
If you are considering painting IKEA furniture with chalk paint, I personally believe there are much better paints on the market that will give you the same matte finish but with better durability: The Best Paint for Furniture (24 Brands Blind-Tested and Reviewed).
But if you know you want to chalk paint IKEA furniture, be sure to sand and prime as laminate furniture is super slick and you need that extra gripping power to make sure your final coat of chalk paint adheres well. I talk more about the comparison of furniture paints in my post here: Chalk Paint vs. Milk Paint vs. Latex for Furniture
Can You Paint Pine IKEA furniture?
You can use the exact same process in this blog post for painting IKEA wood furniture but I'd include one small step. If you have any knot holes in the surface of the wood, you want to paint over them with Zinnser BIN shellac before the primer coat. I don't use BIN on the whole piece, just on the knot holes. Most solid wood varieties, but especially pine, can have knot holes and they can easily bleed through the final finish if you don't use the right primer.
Can you Wallpaper IKEA Furniture?
Absolutely! If you are painting laminate shelves, consider lining the inside back surface with wallpaper. Before adding wallpaper to IKEA furniture, be sure to sand and prime that surface just like you do above. Hop on over to my post How to Add Beadboard Wallpaper to Furniture to see my best tips for adding wallpaper to furniture projects!
How to Stain IKEA Furniture
Yes, you read that right! Whether you want to stain a solid piece or want the stain to be darker than the current faux stain, you can use this tried and true technique! You can add a Barnwood stain to IKEA furniture by following the process here: How to Stain Furniture with Latex Paint. The only difference would be to use the Zinsser Cover Stain primer since it's a little more heavy-duty than the one I have there. You can also add a driftwood finish to IKEA furniture by using this process here: How to Add a Driftwood Finish to Any Furniture Piece
How to Make IKEA Furniture Look Vintage
Just because you are redoing a piece of IKEA furniture doesn't mean you have to go with a modern look. You can give your furniture an aged look by adding a glaze wash. It's a super-easy way to mimic the look of dark wax without the hassle or learning curve. You can follow the process, I have here: Aged Finish on Furniture with a Dark Wax Alternative
How To Remove Laminate From IKEA Furniture
If some of the laminate is peeling off of your IKEA piece, you can use some Elmer's wood glue to glue it back into place. If the wood underneath is a solid grain, and not particle board, you can remove the laminate by wedging a putty knife in between the laminate layer and the wood.
How To Distress IKEA Furniture
For a distressed look on IKEA furniture, you don't want to distress it by sanding it the conventional way. Doing so would either just expose the initial color – which probably doesn't look like exposed wood or worse, expose the fiberboard underneath. If the fiberboard is exposed and gets wet, it can swell and ruin the surface. Instead, it's best to faux distress by using this technique here: How to Distress Laminate Furniture
What Paint Can You Use To Paint IKEA Furniture?
A good quality paint is so important when painting IKEA furniture. After testing 24 brands of paint including traditional paints and chalk paints, I found that Benjamin Moore Advance gave the best results. Not only did it provide the most durable finish but had the fewest brush strokes to give you a smooth finish and the best finish product possible. You can see the full results for each type of paint I tested here: What Paint is Best for IKEA Furniture?
Can You Spray Paint IKEA Furniture?
I don't generally recommend spray painting IKEA furniture unless it's a really small piece like a stool. That's because it's going to take more than one can of paint to spray paint laminate furniture. For a medium dresser, you'd need at least 6 cans of paint so it becomes cost-prohibitive pretty fast.
Also, it's hard to get a smooth, even finish when you are spray painting larger flat pieces of furniture. If you do decide to spray paint a very small furniture piece, I recommend using several thin coats. Be sure to check out this post: The Best Tips for Upcycling Home Decor with Spray Paint
Can You Repaint an IKEA Dresser?
If you are wondering how to repaint IKEA furniture a second time, you can use this same tutorial but this time you will not need to scuff sand the surface as much. You won't have as much sheen to sand off so sand just enough to remove any glossiness from the surface and repeat the rest of the process as is.
Can IKEA Drawers be Painted?
If you want to just paint the drawers of your IKEA laminate furniture to match the original color, it's very doable! Simply take one of the drawers into your local paint store so they can match it to the same color paint and make sure to get the paint in the same sheen. When you get home, don't just touch up any spots but be sure to paint the entire surface of the drawer to get an even finish using this tutorial. If the rest of the dresser isn't in good condition, it might be a good idea to paint the whole piece of furniture.
Should I Use IKEA Paint as Touch Up Paint? / Does IKEA Sell Paint?
On the IKEA website you can now find IKEA wood paint and stains: IKEA Products There aren't very many color options so your best bet is to take a small drawer of your IKEA desk or dresser into a paint store and have them color match it. You can get one of the sample containers of paint that is less than $5 and use that as your own IKEA furniture touch-up paint.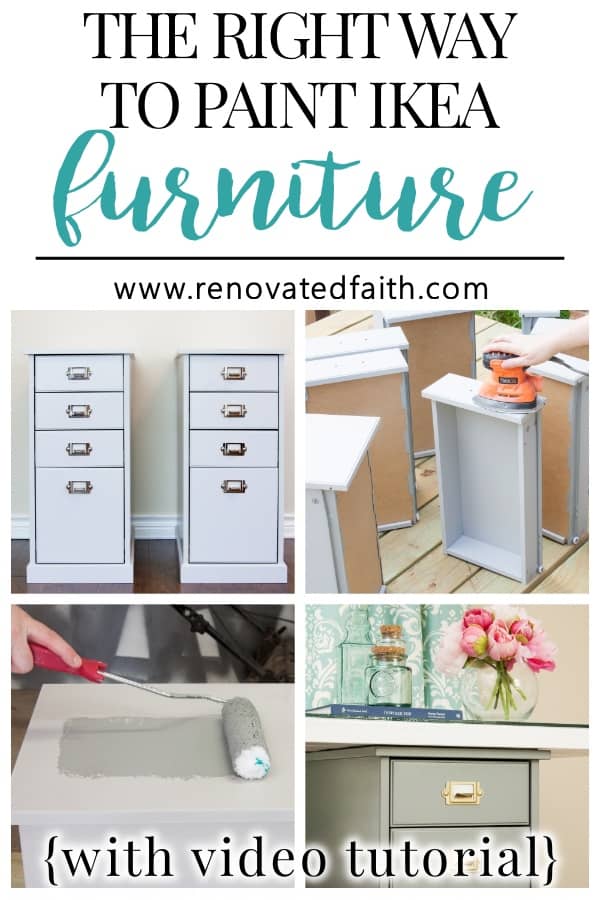 What is the Best IKEA Furniture Paint? What Kind of Paint Do You Use on Laminate Furniture?
The best paint for IKEA furniture is Benjamin Moore Advance. It has an incredibly durable finish and leaves no brush marks in the painted surface. While it does have a long drying time, the incredible finish is worth the wait. Also, it offers the same smooth durable surface of an oil-based paint but with easy soap and water clean up. To see why Benjamin Moore Advance will give you the best results, you can see my testing here: The Best Paint for Furniture (24 Paints Tested and Reviewed)
Can You Paint IKEA Furniture with a Paint Sprayer?
For beginners, I don't think it's the best way to paint laminate furniture, but if you are proficient with a paint spray gun, then go for it! Just make sure to spray on a couple coats of primer and light coats of paint. Be sure to cover the area with a drop cloth to protect the area from overspray.
Can You Use This Process When Painting IKEA Cabinets?
You can but I have a complete tutorial on painting cabinets that will walk you through every step of the process. Just make sure you sand the laminate surface enough on the first step. You can see the full process here: How To Paint Cabinets Like a Pro
Can You Paint Straight Onto IKEA Furniture?
Again, don't forget that you have to primer first before painting IKEA furniture. Don't settle with a paint primer combination because those won't adhere to the glossy surface of laminate. Instead, scuff sand, then use Zinnser Cover Stain, and then paint with a high-quality paint like Benjamin Moore Advance.
Can I paint IKEA furniture with a primer paint Combination?
Your first coat of primer should be a true primer and not a primer paint combination. Many paint brands at big box stores claim to be a paint and primer in one but there's really no such thing. Be sure to use my go-to primer – Zinnser Cover Stain. I have been told that Stix and Zinnser BIN shellac-based primer is also good.
DON'T FORGET TO TAKE A PICTURE!
Now that you are done, I'd love to see how it turned out! ❤️ Post your before and after painting ikea furniture photos here!
FREE Must-Have Painting Tips for Painting IKEA Furniture
Get the password for the resource library with the free this free printable guide by filling out this form:
More Posts Related To How To Paint IKEA Laminate Furniture
The Ultimate Guide to Refinishing Furniture (The ONLY Tutorial You'll Ever Need!)
Full Office Reveal – 7 Home Office Ideas for Women
DIY Closet Desk Transformation
How to Paint Laminate Furniture Easily
Insanely Easy DIY Industrial Shelves (Wire Shelving Hack)
Must-Have Painting Tips for Any Furniture Piece
How to Add Wallpaper to Furniture
The Easy Way to Add Legs to Furniture
How to Fix Damaged Wood: Caulk, Wood Filler, or Epoxy?
5 Light Fixture Transformations with a can of Spray Paint
How to Update a Metal Door to Look Like Hardwood With Paint
The Best Brick For A Backsplash (PVC Panels for Walls)
How to Paint Any Surface to Look Like Real Wood
The Ultimate Guide to Painting Furniture
How to Paint IKEA Furniture So It Looks Expensive
Can you paint IKEA furniture? Absolutely but it requires a little bit of prep work so it has a smooth surface that lasts for years. Nothing ruins the perfect IKEA hack like a bad paint job! Painting laminate furniture is easy but if you don't know the right steps, you can be setting your newly painted furniture piece on your front curb instead of in your living room. With this tutorial on how to paint IKEA furniture, I give you everything you need to give your new furniture a new look. Next time, make your IKEA furniture look expensive and last longer with these easy tips and ideas from the pros! You will be so happy with the finished product. It's truly amazing the difference a little paint can make. Good luck and feel free to ask any questions in the comments section.
CLICK BELOW TO SAVE THIS PIN ON BEFORE AND AFTER PAINTING IKEA FURNITURE: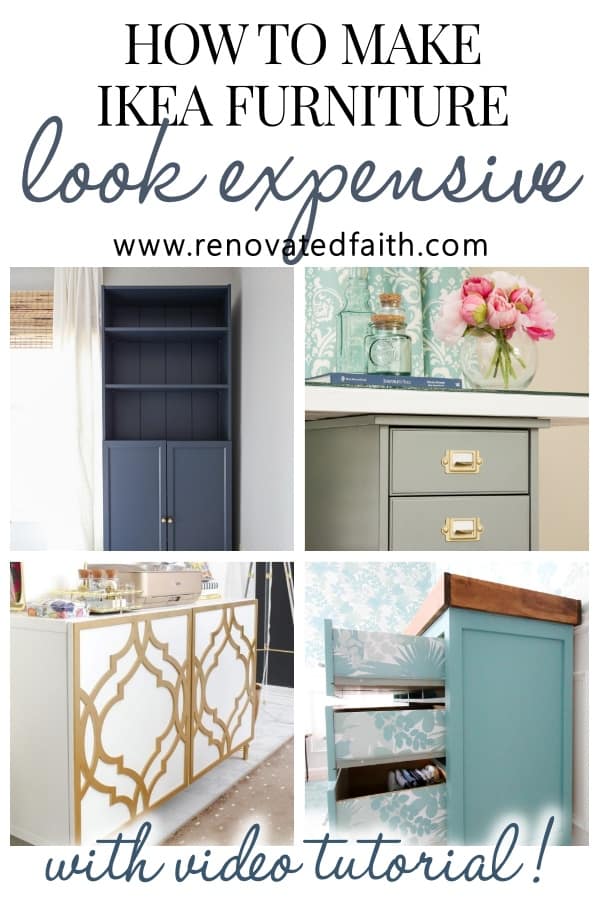 I love to hear your thoughts and questions on how to paint IKEA laminate furniture! Scroll down to leave a comment and I WILL reply! ❤️
Blessings,

Be sure to follow the fun here!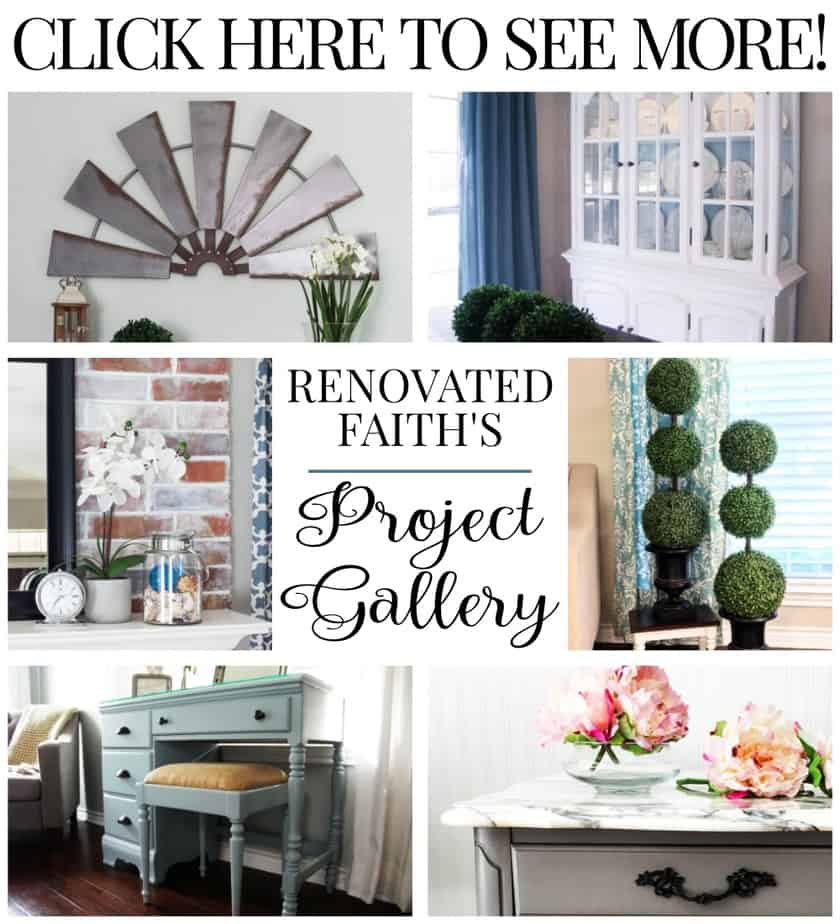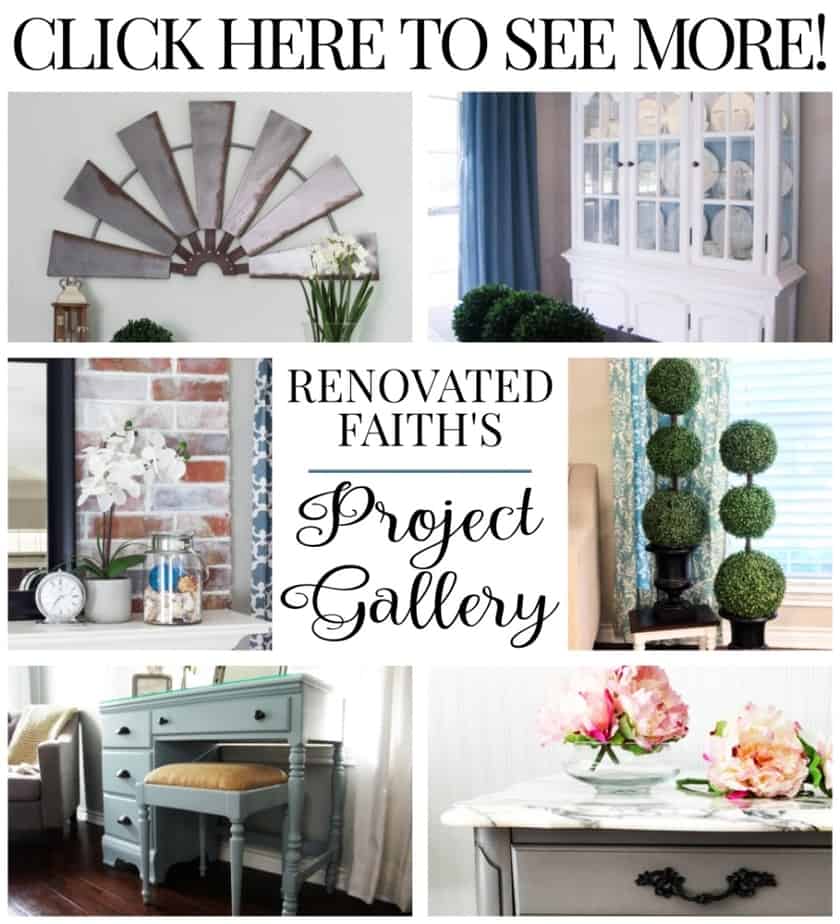 Before and After Painting IKEA FUrniture
Welcome to Renovated Faith, where I share about DIY projects, my faith and everything in between! When I'm not spending time with my family, you will find me redoing furniture in the garage or watering plants in my greenhouse. This blog is about transformation. Anyone can renovate a house but only God can transform our hearts!