The Easiest Way To Whitewash A Brick Fireplace With Paint (2022 Guide)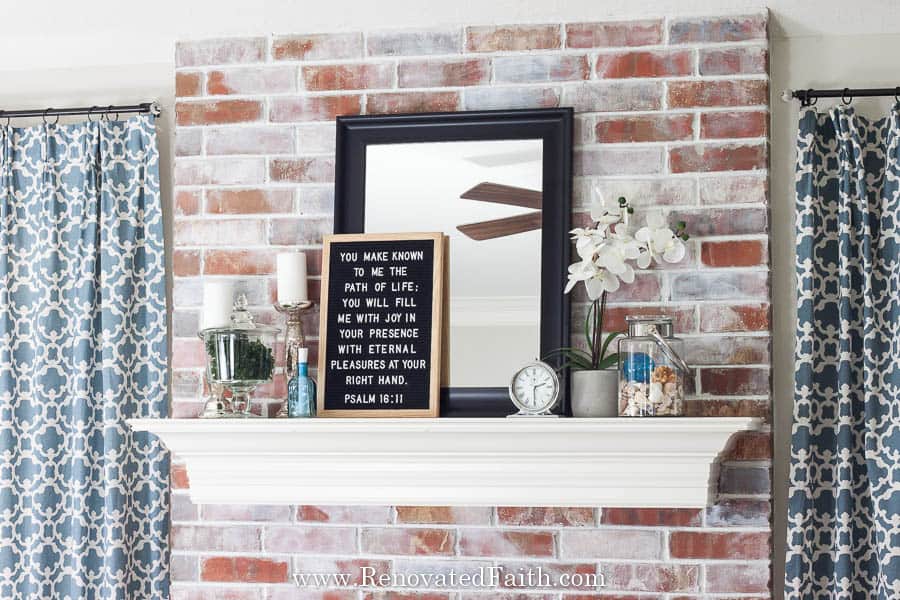 Faux German Smear Fireplace Finish with Paint
With this easy step-by-step tutorial & video, I'll show you how to whitewash a brick fireplace with paint so it transforms your entire room!
---
Those beautiful modern farmhouse fireplaces with their light and airy whitewashed finishes serve as a beautiful focal point for any living room.
On the other hand, if your fireplace is outdated you can re-decorate the rest of the room to your heart's content. But, it won't change the look of your fireplace.
But no worries! You won't need a brand new fireplace or even a professional painter to come in. I have an incredibly easy way to whitewash a brick fireplace with nothing more than a little white paint and clear mixing glaze.
I turned our eyesore of an orange fireplace into what is now my favorite feature in our home with a light whitewash!
I'll admit. When I told my husband I was going to "whitewash the fireplace" he rolled his eyes because he cringes at the thought of painting over perfectly good brick. And I get that!
Also, you don't have to lose the integrity and character of your home's original brick as with a painted brick fireplace. With a whitewashed brick fireplace, some of that brick color will still show through – and you can pick which bricks do and which will be covered!
This white washing technique allows you to allow you to completely hide even dark grout and the ugly bricks while allowing others to be a visible part of your fireplace's color palette.
This is a great tutorial for you if you:
Are wondering how to whitewash a dated brick fireplace in a way that lightens up the whole room
Don't want to spend a lot on a fireplace overhaul
Want an easy solution that can be fixed if you don't like it
Like to maintain the integrity of your home's initial brick, while updating it!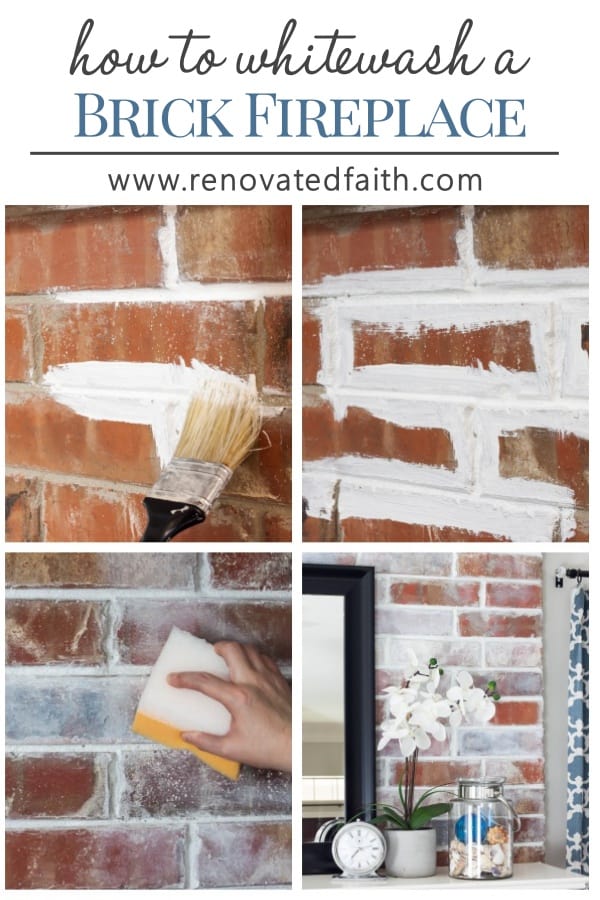 (As an Amazon affiliate I earn from qualifying purchases. Please see my full disclosure HERE) I only use affiliate links for products I love to use.
☑️ If you are curious or in a hurry, here is a quick link to the glaze I mix with latex paint: Clear Mixing Glaze (Click here for the Current Price) I have tried some different options and this is the best glaze for fireplaces and wood furniture!
How Do You Make A Brick Fireplace Look Modern?
For the last three years, I have stared at our boring fireplace trying to figure out how to easily update it for a fresh new look. As I looked through Pinterest, I gravitated to those beautiful farmhouse fireplaces with the German smear or mortar wash techniques. Fortunately, after a little experimenting, a found a simple way to get the same look with good old latex paint and a little glaze.
Common Methods to Whitewash Brick Fireplaces
As there are several ways to refinish brick, these terms can be confusing so hopefully here is some clarification on common ways to refinish fireplace brick:
German Smear – (sometimes referred to as German Schmear) This finish mimics the look of century-old castles and cottages in Germany with the combination of irregular stones and heavy mortar joints. With a German smear, the surface of the brick is covered with a layer of watered-down mortar in a back and forth motion. The mortar adds a rough texture, thus creating a rustic and distressed look, giving the brick partial coverage. German smear doesn't penetrate the brick's surface but just covers it.
Mortar Wash – It's means the same as a German smear.
Limewash – To limewash a brick fireplace, slated lime, water, and a tint are used to penetrate the surface of the brick to create a course, chalky look imitating a common look in Europe before paint was invented.
What's the difference between whitewash and paint? Whitewash is simply using thinned latex paint on parts or all of the brick's surface. It does penetrate the brick like a limewash but doesn't have the same texture as lime washing or German smear.
Lime-washing, German Schmear, and mortar washing are all involved processes that aren't only messy but require some specified skills to get decent results. However, whitewashing your fireplace with paint and glaze is easy for beginning DIYers as there are no special skills needed. Plus, no matter your brick or grout color this process will yield beautiful, long-lasting results.
How To Whitewash A Dated Brick Fireplace With Paint
This easy, mess-free tutorial shows you how to whitewash a brick fireplace to get the same look as a German smear or mortar wash just paint and glaze.
☑️ MY ALL-TIME BEST FURNITURE PAINTING TIPS (FREE PRINTABLE)
–
Want to transform a furniture piece but don't know where to begin?  Download your FREE step-by-step printable checklist that shows you the exact process I've used on dozens of furniture pieces while saving you time and money! And it costs you nothing. #confetti toss  Click here to access your checklist now : FREE Must-Have Painting Checklist
How to Whitewash a Brick Fireplace: My Technique
As I mentioned, I scoured Pinterest for pictures of farmhouse fireplaces, and what I liked the most were those that had a German smear or a mortar wash.
I thought about learning how to do a true German smear or how to whitewash a fireplace with lime. However, both looked really messy. Also, it didn't like how it looked, there would be no easy Plan B. However, I felt like I could get the same effect with paint and clear mixing glaze.
So, I did some experimenting with paint and glaze to get the same look but more "workability". Unlike some whitewash recipes, the longer drying time of the glaze allows you to wipe the paint off the bricks if you decide you added too much.
So you can get an idea of the process, we will first use our whitewash solution on the grout lines, wiping off any excess as we go. Then, we will be strategic about covering up the bricks you like the least. For example, I covered several bricks that were an orange-brown color. Because I love the look of a red brick fireplace, I left the red bricks exposed.
Next, you'll take a step back and whitewash in small sections leaving some bricks more exposed and others more covered. You can see the whole process step-by-step below and also in the video.
This same process can be used to freshen up a brick wall, porch or you can whitewash a brick backsplash with this faux brick hardboard paneling. Whether you are just updating or preparing to sell your home, this is such an easy technique that is super versatile.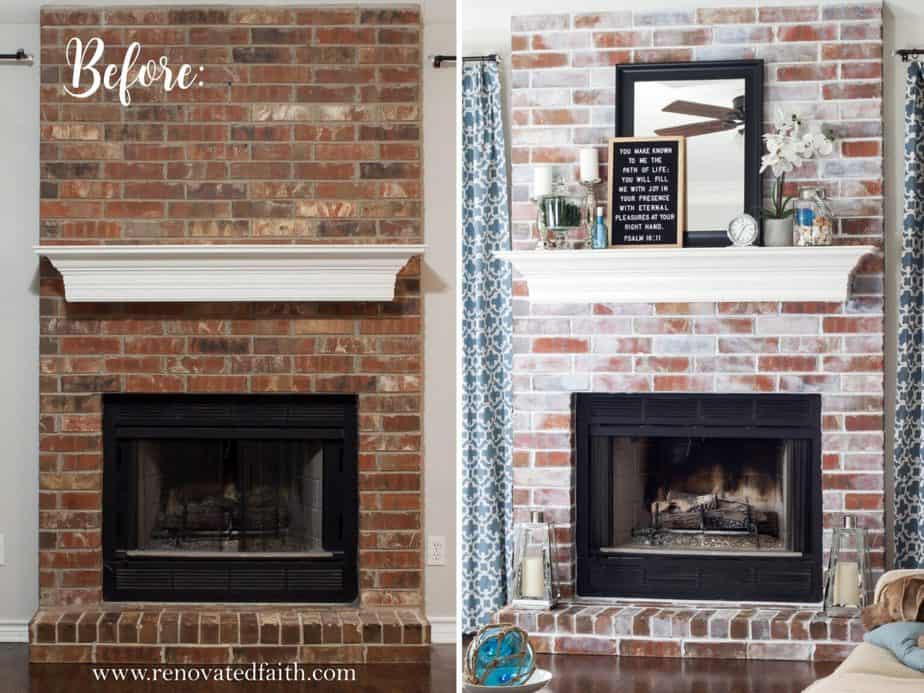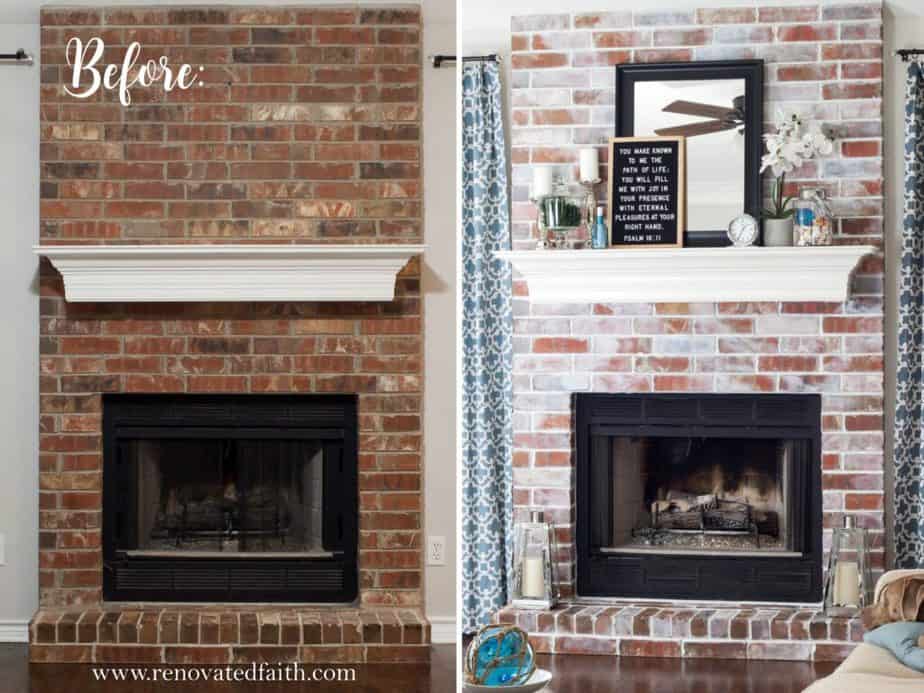 How Much Does It Cost to Whitewash a Brick Fireplace?
With this technique, you don't have to spend a lot to get an amazing brick fireplace! I spent less than $20 on the whole project. That's pretty incredible considering you are updating one of the main architectural features of your home.
How Long Does it Take To Wash a Brick Fireplace?
I started this process right after dropping off my daughter at school and finished by 2 pm that day. Also, I probably took a little longer because I was experimenting with what worked best. I love that this process was not only easy but could be done in a few hours.
Will Painting Brick Devalue Your Home?
If your fireplace is outdated, a whitewashed look is not only modern but also works well for various decor styles including traditional, coastal, farmhouse, or contemporary. This method allows you to maintain the natural look of the brick, whereas a white painted brick fireplace completely covers the look of your brick. Whitewashing is less dramatic and accentuates your existing brick as opposed to a completely white brick fireplace that hides it.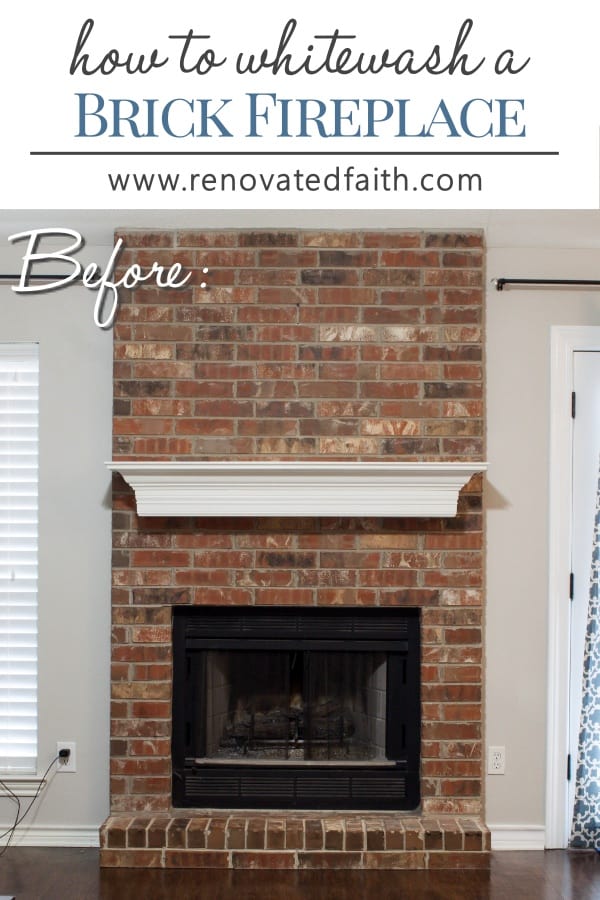 How to Whitewash a Dated Brick Fireplace – Supplies:
To keep costs low, we are mixing our own whitewash paint for brick:
White or Cream Latex Paint – (I had a leftover gallon of paint in my garage so I used that. Any flat or satin white latex paint will work.) If I'd bought a quart of white latex, that would have been more than enough to do the whole fireplace. It's also best to use a flat or satin sheen for the whitewashed look. (If you need to update the look on your mantel, now is the perfect time to repaint it and use the use leftover paint for the brick.)
2 Inch Paint Brush – This is my favorite set of low-cost paintbrushes: Presa Paint Brushes
Microfiber cloths – I used this set but feel free to use a clean rag or t-shirt.
Small, Dense Sponges – These are cheap and work well.
Papertowels and a trash can for easy clean-up
Rubber gloves (optional)
31 EASIEST WAYS TO INCREASE YOUR HOME'S VALUE (FREE PRINTABLE) -Want to add some serious character to your home while also increasing its value? Don't forget to download your FREE printable at the end of this post.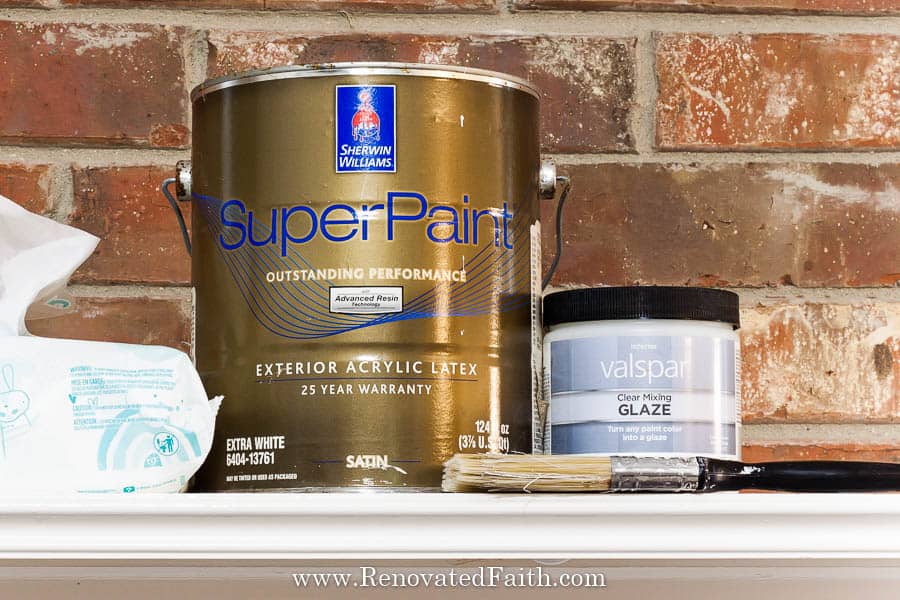 You can also use this technique on backsplash panels to get the same look in your kitchen. See the full tutorial here: The Best Faux Brick For a Backsplash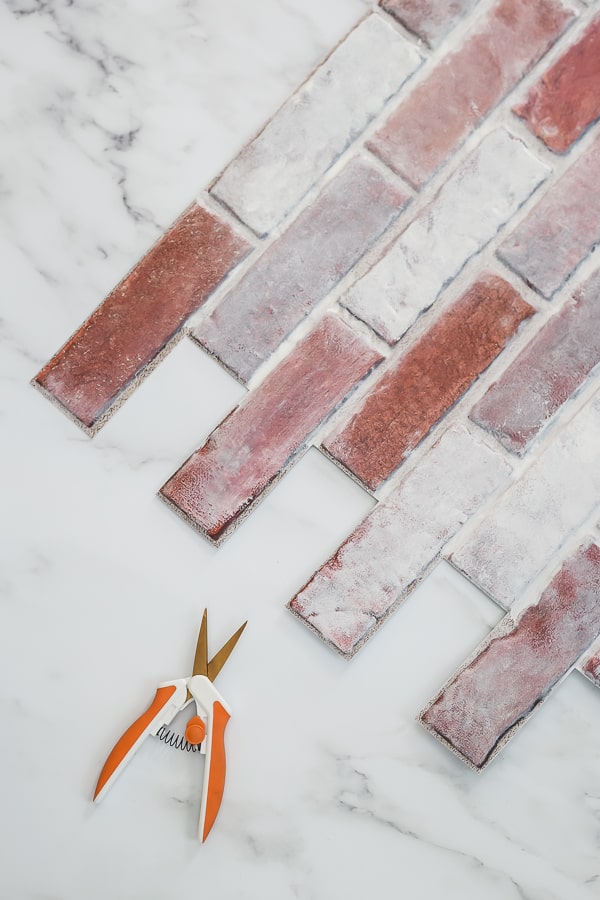 How To Whitewash A Fireplace: Video Tutorial
Below I give you ALL the details on how to whitewash fireplace brick but I also made a video tutorial so you can see the exact technique I am using!
How Do You Whitewash Brick? – DIY Tutorial:
Step 1: Faux German Smear with Paint – Find the look YOU want…
Don't forget to take a before picture of your fireplace! I'd love to see how it turns out so tag me on Instagram @renovatedfaith.
Before you get started, you should zone in on exactly what you want your fireplace to look like. It doesn't matter if the ideas you find are mortar wash, german smear, or limewash, just find some pictures of the exact look you want.
Take note of the following:
Do I want a heavy "german smear" look?
Do I want the grout to be white also?
Do I want a more even, translucent look or a more contrasty look?
Here are some ideas to get you started: White Washed Fireplaces
This pin was my inspiration for my own fireplace…Isn't it pretty?!?
|


Renovated Faith: What's in a Name?
God never leaves a project half-done…He continually works on each one of us, as a lavish expression of His amazing love and grace. So many of my DIY projects remind me of how God renovates our hearts. If you are a work-in-progress, just like I am, check out the Renovate Your Faith Devotional at the bottom of this post. Click here to get a weekly reminder of new posts by email.
Step 2: Dust the Brick Before Painting
Brush off all the brick of your fireplace with a broom to remove any dust particles that could get in the paint. The last thing you want to worry about is getting gunk out of your paint while you are trying to do your faux finish.
You can put a drop cloth down when you are done dusting to ensure the paint doesn't get on the floor.
Step 3: How to White Wash Fireplace Grout
My fireplace grout was dark gray and I wanted it to be white. If your grout is already white, you can skip this step.
What is the Best Paint to Whitewash Brick?
For this paint mixture, I used equal parts of paint and glaze so I combined 1 cup of glaze, and 1 cup of white paint. If you live in a particularly dry area, I would add a little water. If you want a less translucent, more chalky look, add 1/4 cup plaster of Paris to your mixture but I just stuck with the glaze and paint.
First, we are going to work on recoloring the mortar.
With the paint glaze mixture, paint the space between the bricks to recolor the mortar. Paint it on without being too concerned about getting the paint on the brick. After you have done a section of mortar go back with a damp, clean cloth and white off the excess on the brick.
I like microfiber clothes because they really scrub the paint mixture off the brick. If your rag starts dripping as you wipe the brick, you've got too much water in your rag. This goes faster a lot than the alternative which is using a small brush to only paint the grout lines.
Some bricks are more porous than others so if you are having a hard time wiping the paint off the brick, add a little more of the glaze to your whitewash mixture.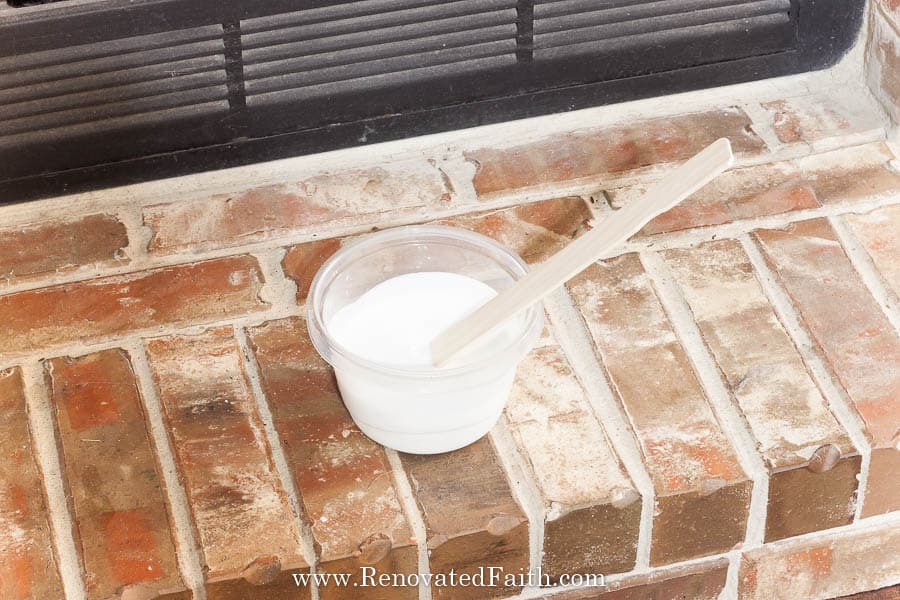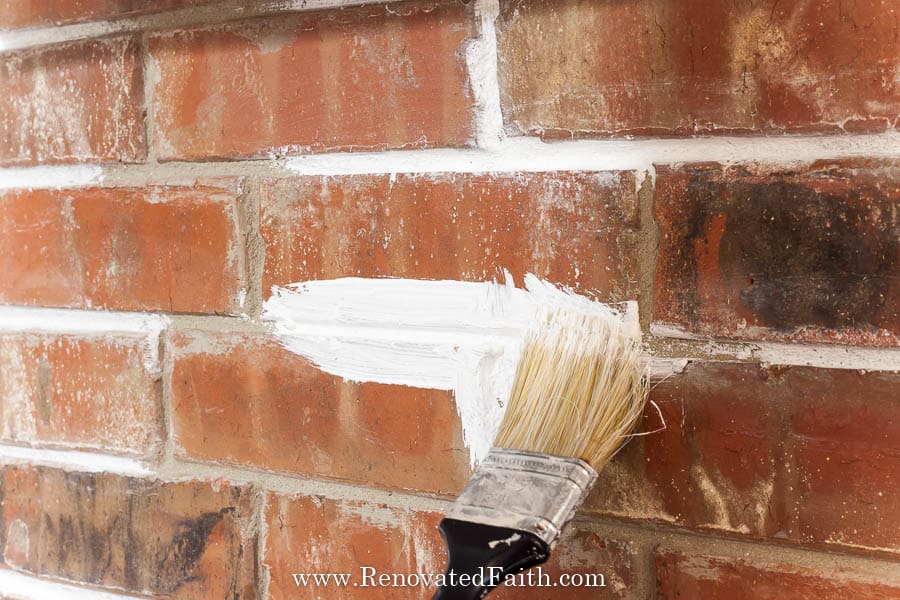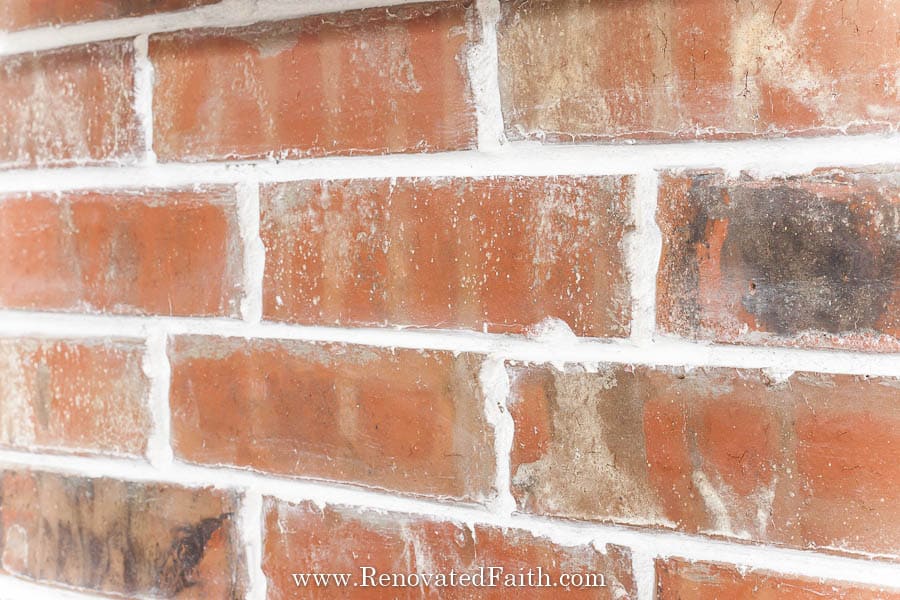 Here's how it looks once the old grout lines were painted white – already a huge improvement!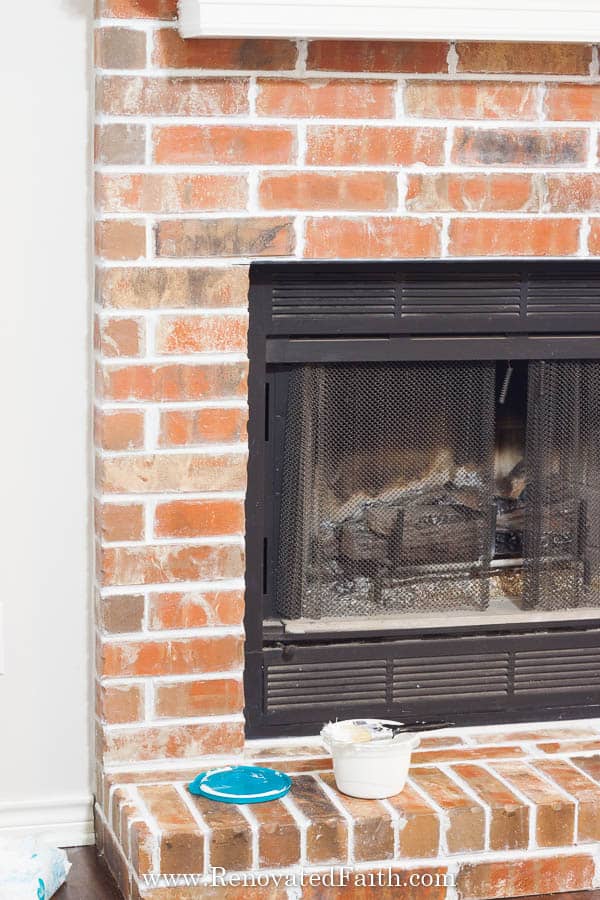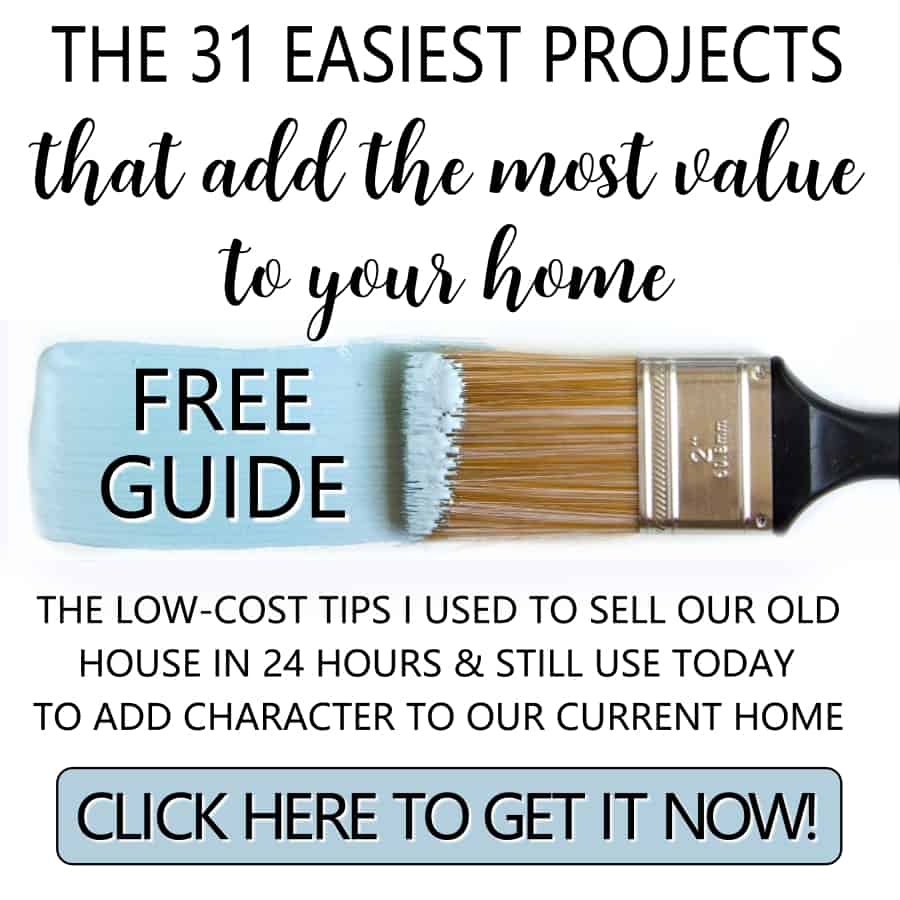 Step 4: How To Paint Fireplace Bricks For a Whitewashed Look
For the finish on the actual bricks, moisten one of the small sponges and dab it into the paint/glaze mixture.
If you have any ugly bricks as I did, start with those first! For me, these were the ones that were dark gray or a weird peanut butter color. Those were scattered sporadically throughout so I dabbed each of those bricks first. I added more paint to these bricks because those are the ones that I wanted to cover.
Here is a video showing the EXACT technique I used:
Next, it was time to whitewash some of the red bricks. Since I wanted most of the red to show through, I only partially whitewashed most of these. Basically, I started with the ugly breaks going on pretty heavy and slowly worked towards other bricks going a lot lighter so the wash was more transparent. Every few bricks I'd stand back to see what I thought.
Removing Whitewash From Brick – What if I Make a Mistake?
The great thing about using the glaze is that it has a longer dry time so if you do a few bricks too dark, you can go back with a wet rag and wipe off the paint. I promise you cannot screw this up. Just keep looking at your inspiration pic to give you a good goal to keep in mind.
Step 5: How to Whitewash a Brick Fireplace with Paint so it Looks Like a German Smear
Follow the same general pattern on the bricks in your inspiration picture with your whitewash mixture. Just lightly dab the parts of the brick that you want to be white like in the video above.
Because our whitewash mixture contains glaze, if you get too much paint on a brick, take one of your wet cloths and wipe it right off!
Here's the final look of the brick after I was done whitewashing. I played with it a lot getting the brick to look exactly how I wanted it – painting, wiping off, and then painting again in moments of indecisiveness.
With an authentic German smear with mortar, you scrape in one direction and then scrape in the other in an "X" motion to get the mortar in all the crevices. After you've painted most of your bricks, you can do this same action with a wet rag to give it the same look. You can see how I used that technique here.
If you get any of the paint mixture on your flooring or wall, simply wipe it off with water and dish soap.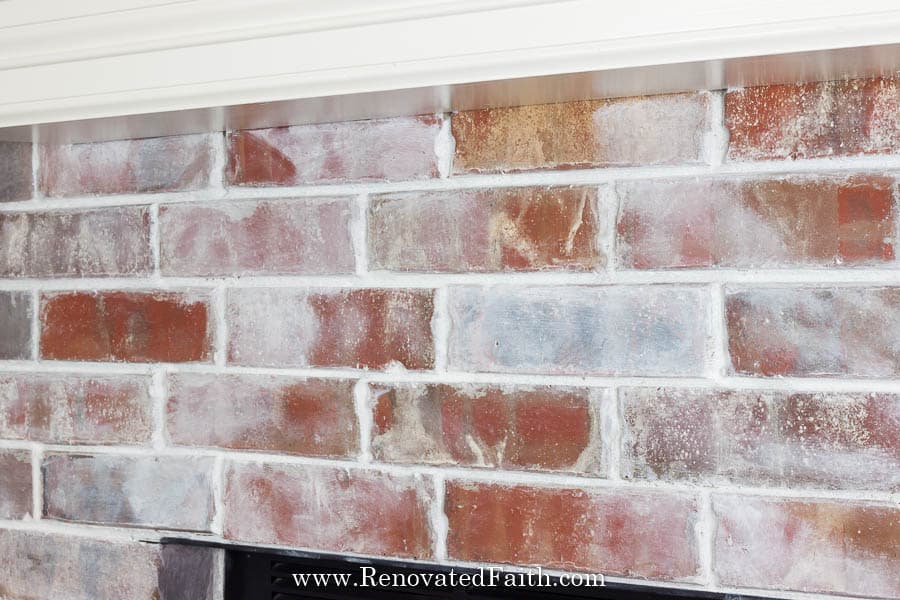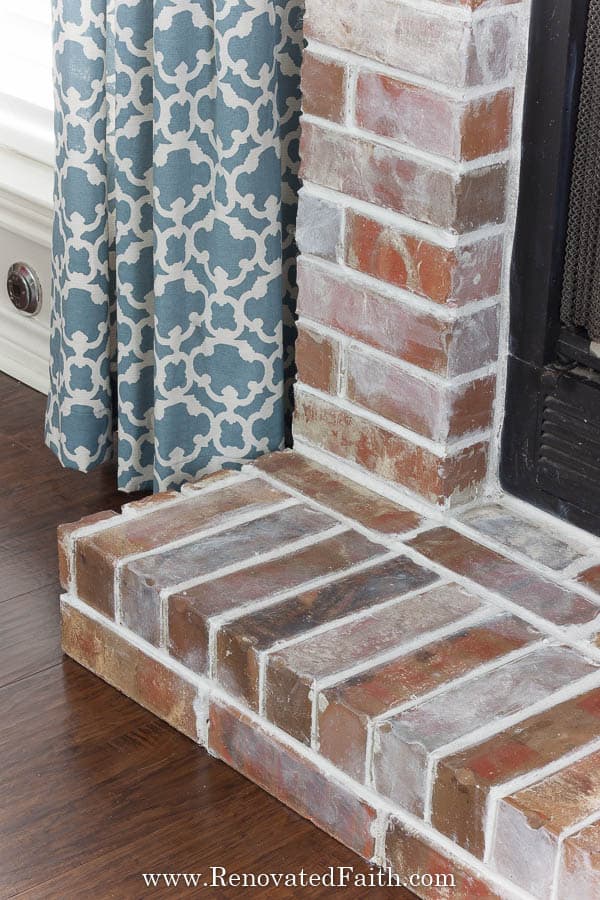 How To Whitewash A Brick Fireplace: Before and After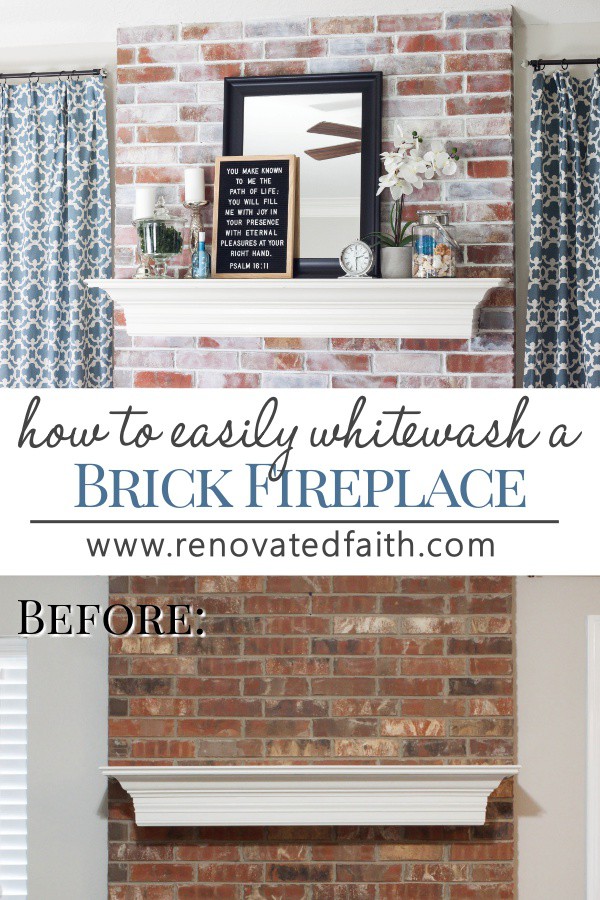 Isn't it a vast improvement? I love the final result and the way it brightens up the whole room. Also, it's a drastic change but you can still see the original surface of the bricks coming through as opposed to completely painting it white.
I've had several people say that it changes the whole look of the room and really brightens things up. The fireplace was a drab and dated eyesore before but now I'm so proud to say it is the focal point of our living room.
I'm so pleasantly pleased with how this home improvement project turned out and I only paid about $15!!!
DON'T FORGET TO TAKE A PICTURE!
When you are done with your fireplace makeover, I'd love to see how it turned out! Post your before and after photos here!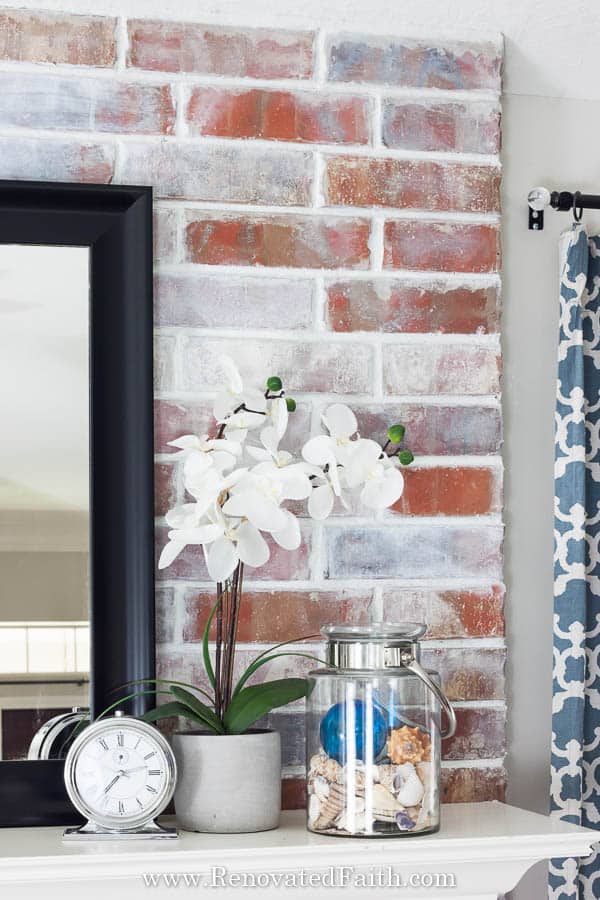 My sweet boy Jake loves the look of whitewashed brick too!

RENOVATE YOUR FAITH: Blessing In The Unexpected
This project was definitely out of my comfort zone, as with most things we can't control. When I refinish a piece of furniture, I know I always have a plan B. I always have the option to re-sand and re-finish, not if, but WHEN I mess up.
However, this project was a little different. I knew no matter what that the fireplace would remain unchanged. I would never be able to restore it to its old state and that made me a little uncomfortable.
Also, there was no way I could possibly predict how it would turn out. I printed a photo off the internet and I clinched that image in my hand and mind. I had expectations but this time there would be no guarantees and certainly no do-overs.
Sometimes in life, we hold onto expectations of God's blessings so tightly that we forget that the very thing that sneaks up behind us and surprises us is a harbinger of His blessings in disguise. What we see as an interruption, He sees as an intervention.
Our long-awaited expectations blind us from seeing the very blessings of God right in front of our eyes. Our own expectations can inhibit us from anticipating God's greatest blessings.
For God's preparation and gifts seldom come wrapped in the packages of our own control. Instead, His greatest prizes come in a gift box that we could have never contrived even if we tried.
My daughter Morgan went through a rare autoimmune disease when she was younger. Those were hard days, but through them, I see God's preparation for the kind, empathetic, caring woman she will one day become.
Recently, she was diagnosed with dyslexia. Again, this is not what I expected but I choose to anticipate God's blessings through our struggles.
Anytime God calls you to sacrifice, He WILL replace it with something greater.
Her learning disability was not on my radar but I know God has a better plan. For her brain works in an amazing way that is sure to prepare her for the plans God has already laid in her path.
In the same way, the results of the fireplace aren't something I could control. Does it look just like the image I printed? Not really. But despite that, the results are amazing and are far greater than I expected.
True transformation means we will be left unchanged, unable to ever revert to old habits and tendencies. Through God's grace, we can allow ourselves to let go of our expectations and can anticipate the freedom of being surprised by grace.
For more spiritual encouragement, click here for the rest of my project posts that also include Renovate Your Faith devotionals.
Every DIY or Home Decor post with spiritual encouragement has a Renovated Thinking section. You can see more of those posts by clicking here and can subscribe to the weekly newsletter by clicking here.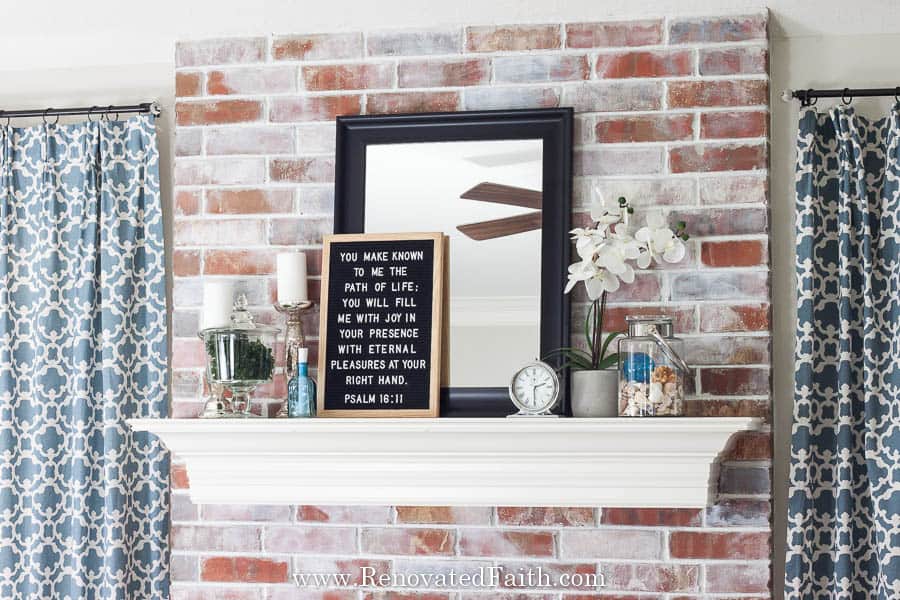 Now our fireplace retains the original character of the brick but is now updated and consistent with the rest of our decor.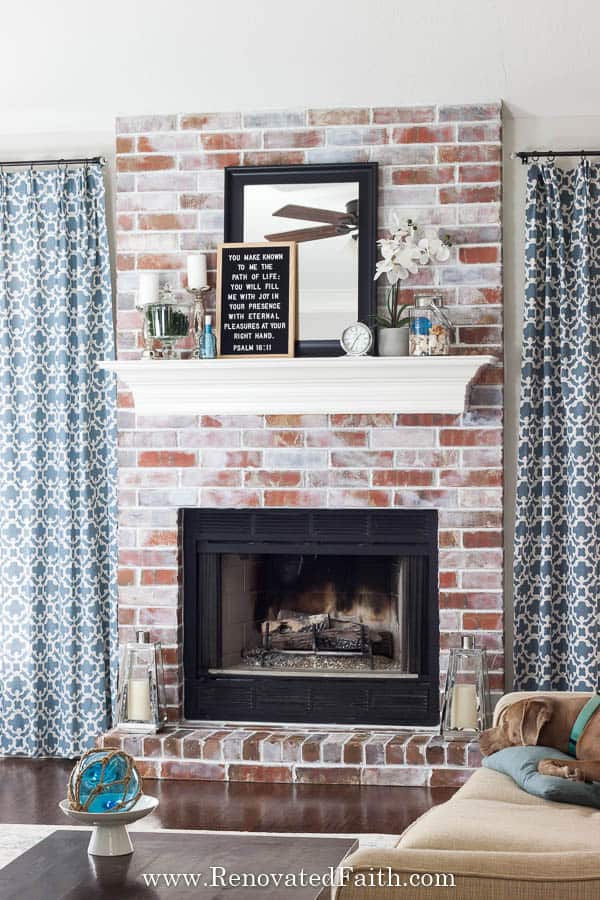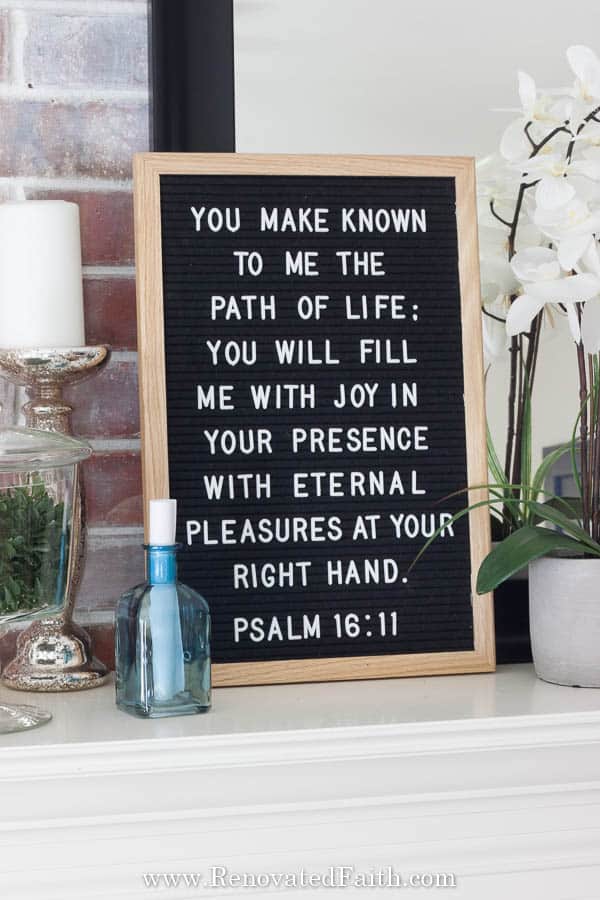 I had so much fun decorating the fireplace for fall with my blue thanksgiving decor here. It's amazing how its new look made me excited about decorating it for the first time. No longer was a dark, dreary eyesore but now it is has a fresh, updated look I can be proud of.
Here is how I decorated my fireplace for fall. You can read more about how I painted these dollar store pumpkins here: Fall Mantel with Blue Pumpkins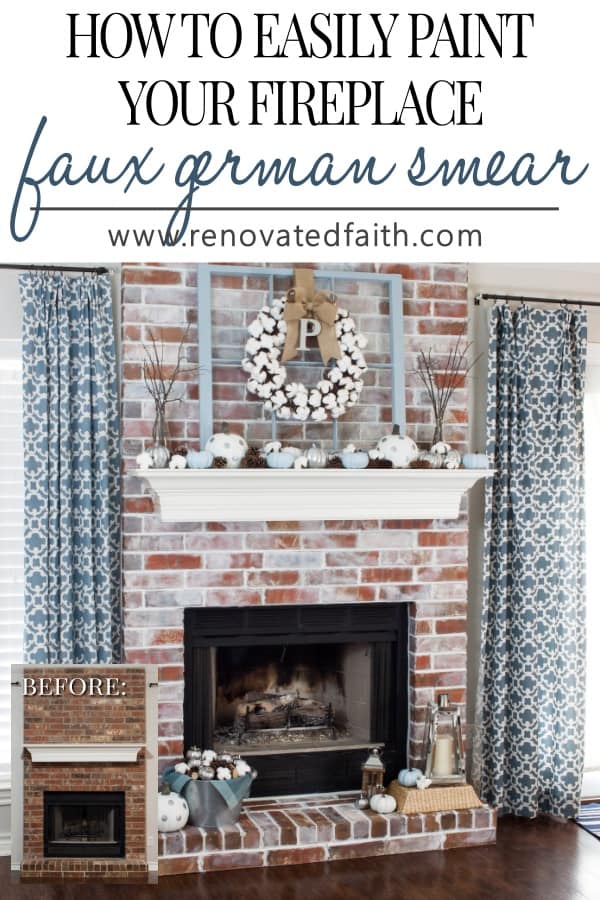 You can also see my Christmas mantel in this post here: Red and Aqua Christmas Decor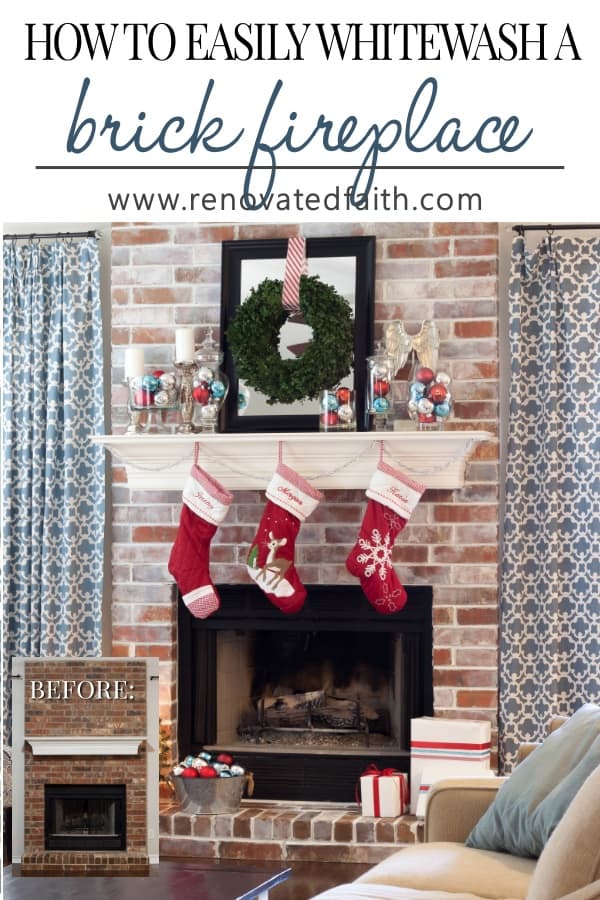 DON'T FORGET TO TAKE A PICTURE!
Now that you are done, I'd love to see how it turned out! ❤️ Be sure to post the before and after pictures on Instagram and tag me @renovatedfaith.

FAQ's: Whitewashed Brick Fireplace
Here are some common questions about this technique for refinishing a fireplace:
Is it hard to whitewash brick fireplaces?
This method for whitewashing brick is much easier than other methods and can be done at a fraction of the cost. One variable is the texture of the brick you are whitewashing. If your brick is extremely porous, you can add a little more glaze to your whitewash mixture to ensure that the paint doesn't dry up on you too fast.
Will I regret painting my brick fireplace?
I can understand being hesitant about painting your fireplace in any way, shape or form. When I started this process, I decided that if the whitewashing didn't work, I could always paint my fireplace white. Fortunately, the whitewashing technique was a big success and I'm so glad I took the risk!
Can you whitewash painted brick?
You could use this same technique brick that has previously been painted since the ingredients are just paint and glaze. For example, if a fireplace had been painted gray, you would probably use less of the whitewash mixture on your sponge since the painted brick will not absorb as much paint as brick will.
Can you whitewash a brick fireplace with lime?
You can certainly lime whitewash a brick fireplace using professional supplies like natural lime slate, and tint but the option in this tutorial with the plaster of Paris will give you the same look of lime wash or German smear because of the extra grit created from the plaster.
How to Whitewash Brick with Chalk Paint
One of the most common questions I get regarding whitewashing a brick fireplace is "Can you whitewash brick with chalk paint?" You can but the problem with most chalk paint is that it's very expensive in comparison to latex. Also, this technique includes the glaze which gives you more time to work with the finish before it dries where chalk paint will dry up on you making whitewashing a brick fireplace difficult. To read more about my thoughts on chalk paint, click here: Why I Don't Use Chalk Paint on Furniture A Better Alternative to Chalk Paint
German Smear Vs. Whitewash
This brick whitewash technique is so much easier than an actual German Schmear technique. Also, because it only involves paint and glaze, you don't make a huge mess and there's no learning curve involved. German smear is beautiful but sometimes it can be difficult to get a consistent look on the whole fireplace without getting it too heavy.
Can you use this same process to whitewash brick exteriors?
You could use this technique to whitewash brick exteriors but I think it would be time-consuming especially if you had to color the grout white also. To white wash a brick house, you'd probably want several people helping you. This technique would be much more manageable for a brick accent wall or brick backsplash in your kitchen. My aunt and uncle actually used it on the brick walls of their sunroom. Also, be sure to use exterior grade paint when whitewashing brick exteriors.
Does whitewashed brick last?
Whitewashed brick fireplace will hold up the same way a painted wall in your home will. The brick will retain the paint color as long as the fireplace is still standing.
What about whitewashing brick with gray paint? (How Do You Graywash a Brick Fireplace?)
If you whitewashed your brick fireplace with a light gray or charcoal-colored paint, it would definitely be more of a muted whitewash look, giving the fireplace a more subtle look than the contrasting look of German smear. I would test a small area first to make sure you like it. Otherwise, the process to gray whitewash brick fireplaces is exactly the same – just with a different shade of paint.
What About Giani Brick Transformations?
I consider this technique to be a light whitewash for brick fireplaces where Giani Brick Transformations is a much deeper wash that is almost a solid color. You can get the same effect by painting the whitewash mixture all over your fireplace. Just be sure to work in sections wiping off any excess as you paint.
How To Whitewash Brick With Black Grout
A question I received recently was "how do you whitewash a brick fireplace with dark grout?" This method will still work beautifully but you might need to repeat the second step where you paint over the grout to make sure the old grout color doesn't show through. Paint the grout once and see how it looks before painting it a second time.
When To Whitewash A Brick Fireplace (How Long Does It Take)
I did the entire process one day while my daughter was at school and I'm sure I took longer as I wasn't sure what I was doing at first. Considering that I was also taking pictures and videos, you should be able to paint a brick fireplace with this technique in a few hours.
Related Blog Posts to Whitewashing a Brick Fireplace
Enjoy Your Beautiful White Washed Fireplace – Final Thoughts:
With this tutorial, you can update the entire look of your fireplace and living room with a few low-cost supplies. It is a super user-friendly process and you can easily take off the paint before it dries if you decide the look is too heavy. My husband was also happy that we maintained the initial brick in our home but I love that it's no longer dreary and dated but adds a lot of character to our home.   So start looking on Pinterest for some ideas to replicate and before you know it, your own fireplace will be even more inspiring!
How to Whitewash A Brick Fireplace, Before and After Comparison

The Best Tips For Whitewashing a Brick Firepalce: YouTube Video
What are your thoughts, my friend? Do you think the makeover was worth it? Can you relate to what it feels like to be broken? I love to hear your thoughts and questions! Scroll down to leave a comment and I WILL reply! ❤️
Blessings,

Be sure to follow the fun here!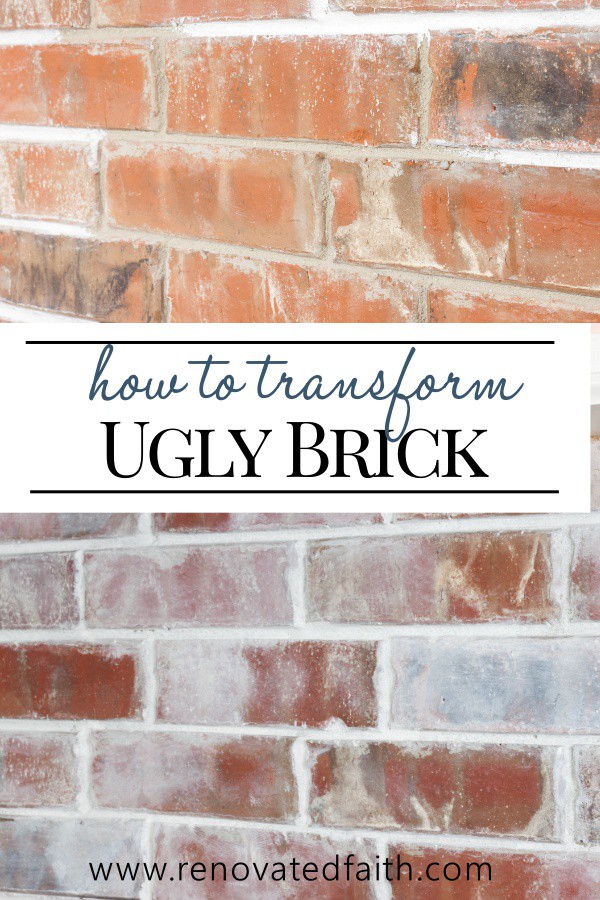 How To Whitewash Brick Fireplaces, The Easy Way
Welcome to Renovated Faith, where I share about DIY projects, my faith and everything in between! When I'm not spending time with my family, you will find me redoing furniture in the garage or watering plants in my greenhouse. This blog is about transformation. Anyone can renovate a house but only God can transform our hearts!